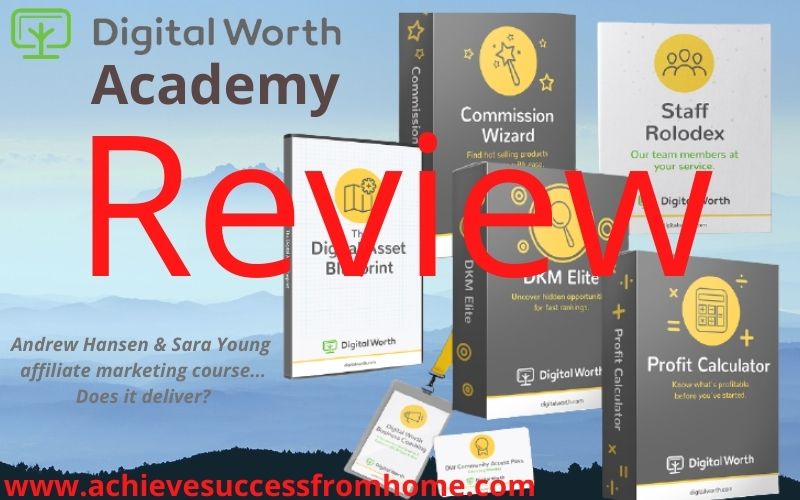 Hey Guys, welcome to
What is The Digital Worth Academy review.
The internet is growing at such a rapid pace and people are just crying out for ways to make money online.
However, it is also a breeding ground for a lot of unscrupulous behaviour and products and services that you should not be going anywhere near.
That's why we created this website, to help people like you avoid the numerous amount of scams out there and find legit programs.
This is why you are here, to find out if Digital Worth Academy is a scam or is it a legit course that can help you make a good living.
In the next few minutes, you will have all the information both positive and negative so that you can decide whether to join or pursue this further…
---
[Affiliate Disclosure: This Digital Worth Academy review has been thoroughly researched from information and testimonials that are in the public domain. This post may contain affiliate links which means we may earn a small commission, however, this won't affect what you pay!]
---

Product: Digital Worth Academy
Founder: Andrew Hansen and Sara Young
Website: www.digitalworth.com
Product Description: Affiliate marketing course
Cost to join: $797
Recommended: Maybe
Summary: Affiliate marketing is getting more and more popular and that is evident by the vast number of courses online that we can see today.
Digital Worth Academy is such a course that teaches you how to build small niche websites that can be created pretty quickly.
But is this course worth your time and can you really earn a good living by purchasing it?
Affiliate marketing is a straightforward business model however it's not as straightforward as you may think.

Digital Worth Academy Review – TOC
What is Digital Worth Academy About?
Digital Worth Academy is an all-in-one coaching program that teaches you what a digital asset is and how to go about creating one.
It's very comprehensive and covers everything, including tools that you would need in a step-by-step over the shoulder teaching method.
The website was registered in 2004 and according to their sales page says that they have been teaching this method for over 12 years.
However, Digital Worth Academy came onto the scene in 2018.
They specialize in teaching a method where you would create a small niche website with several pages that rank well on Google.
This can be done very quickly and we can see by some of the results of some earning around $1,000 a month.
If you can bring in revenue like that with only 8 posts then just think how much you could make with 4,5,6 similar sites?
Once they are generating revenue then they become a valuable asset that you will be able to sell them on too.
Take a look at what Andrew Hansen has to say and whether you resonate with him or not…
What he does mention in this YouTube video is if you have concerns about how long it might take before you start seeing revenue.
Is a minimum of one year for your site to be earning a minimum of $1/month which is only to be used as a guideline.
It all depends on how much time and effort you spend developing your business and many can/will be earning within 6 months.
We can resonate with his honesty because he isn't filling your head with false promises, not like probably 97% of product owners will do.
So that is a big plus in our eyes!
Who are the Creator's of Digital Worth Academy?
This accolade belongs to both Sara Young and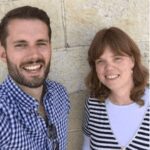 Andrew Hansen who have been actively teaching others for near on 2 decades.
They bring to the table a wealth of experience as marketers and it looks like Digital Worth Academy is their only product which is great.
That means they aren't spreading themselves thinly by becoming serial product owners like we often see.
This also means they are devoted to expanding DWA and constantly striving to make it a better product.
Let's take a look at them individually…
Andrew Hansen
Andrew started creating websites back when he was 19 years of age and like many do.
He went through many ups and downs before things started to work in his favour.
His first commissions came from promoting and selling supplements.
He's currently responsible for creating over 100 small niche websites.
Which if you broke down and said that each website earned a minimum of $1k a month then they would be generating $100k.
But that is a conservative estimate and besides most of those websites, he will probably have sold or fallen by the wayside.
Andrew is an SEO expert, supper affiliate and offers coaching courses.
Just by watching his videos, we get a good feel for who he is and definitely comes across as a genuine person.
Sara Young
Sara is a mother of 7 kids so where she gets the time to spend on her business is beyond us and should be congratulated.
She started her affiliate marketing career in 1994 when the internet was only 5 years old and has been teaching others since 2009.
Create her first course in 2010 followed by coaching in live group calls
Stepping forward to 2017 where she had her best month in commissions with just short of $60k and the site was only 12 months old.
So as you can see, anything is possible.
She is also the technical person who is responsible for a clever piece of software that helps you to find great niches and great products to promote.
More on that product a little later on.
What do they teach at Digital Worth Academy?
They teach anybody whether you have a certain amount of experience or are a complete beginner how to create an online affiliate marketing business.
What makes their business strategy different to most others is that they focus on creating small websites.
What drives your business is finding the right niche where there isn't too much competition and they have a great tool to help you here.
The process is pretty straightforward however just because it is doesn't mean that you will be earning straightaway.
Far from it because there is a lot of hard work involved and you need plenty of patience.
Find a niche
Create a website
Create content
Andrew mentioned that you should be looking at a 1-year minimum, but it depends on how much time that you are willing to put in.
The idea behind this process is that you can create multiple websites pretty quickly that can generate anywhere from $1k – $5k or even $10k a month.
Just 5 of these small niche websites earning a minimum of $1,000 could easily earn you $5,000/month
Can you see the potential?
What do you get when you join Digital Worth Academy?
The Digital Worth Academy is a complete online course that comes in a blueprint that is split into 7 sections.
Which contains over 30 modules that also include 150 video content with over the shoulder training.
Taking you through the whole process step by step along with advice on being able to sell these digital assets for big money.
You also get 3 bespoke software tools that are unique to DWA.
Here's a breakdown of what's included…
Component #1 – The Digital Asset Blueprint
Choosing the right market and products to promote
Building your website with WordPress
Researching keywords and creating content to attract customers
Getting ranked and finding traffic in Google
Customer clicks on your affiliate link and you get paid
Component #2 – Commission Wizard Software
This piece of software is the responsibility of Sara, in fact, all 3 software products are.
The biggest hurdle people find when they start affiliate marketing is selecting a niche.
Even though there are literally hundreds of thousands of them to choose from.
This software tool takes all the hard work away and gives you ideas of niches to choose from.
It will also bring back query results of millions of products from various networks including Amazon with performance stats.
To show you whether these products could be worthy products to promote on your website.
You might like to take a look at the software in action…
Component #3 – Profit Calculator Software
This piece of software takes a product that you are thinking about promoting on your site and it tells your monthly potential earnings.
Check it out and see what you think…
Component #4 – Diamond Keyword Miner Software
This piece of software handles keyword research in a way that we haven't seen through other keyword research tools.
Coaching Program
There is a team of coaches for anyone who is struggling and can't find their way, though it is not clear whether Sara and Andrew will be partaking.
They mention that the team is made up of former members of Digital Worth Academy.
There is also live webinars a support desk, one on one conversations and more…
Community
Part of becoming a member of DWA is access to their private Facebook group which is a great way to excel in your learning.
How much does it cost to join Digital Worth Academy?
As of this review, Digital Worth Academy is priced at $797 with the normal price being $1997.
If for any reason you are not happy with your purchase then you have 30 days to decide whether this is for you or not.
What we like about Sara and Andrew is Digital Worth Academy is their only online product which means they should be dedicated to their members.
Remember if you are looking for something that is going to generate you thousands in just a few weeks or months then this is not for you.
It's simply not going to happen and you aren't going to find anything where hard work is involved.
It's going to take a lot of hard work and if this is not you or you are after an easy ride once again forget it.
Digital Worth Academy FAQs
We have put together a few answers to questions that you might find yourself asking.
Is Digital Worth Academy Worth The Money?
Many people will probably say that DWA is overpriced and maybe it is at the full price of $1997.
But you are getting 3 tools that are really going to appreciate and the training is from 2 super affiliates who do their stuff.
Are Sara Young and Andrew Hansen Legit?
There is nothing to suggest that they aren't legit and both come with some good credentials which we have mentioned earlier in the review.
Is There A Refund Policy?
There is currently a 30-day refund policy which is there if you feel that affiliate marketing isn't for you.
Who Is Digital Worth Academy For?
DWA is for anybody who wants to escape the 9-5 working week.
For anybody who is serious about creating an online presence.
For forward-thinking people with the right mindset.
For people who are prepared to work extremely hard to succeed.
Who is Digital Worth Academy Not For?
People who are looking to make a quick buck in a few weeks
People looking for the magic button
People who are not prepared to put in the time
Are They Any Alternatives For Learning Affiliate Marketing?
There are plenty of affiliate marketing courses out there that you might like to take a look at…
Is Digital Worth Academy a Scam?
Is Digital Worth Academy a scam? Absolutely not!
It's a quality course created by 2 super-affiliates who have designated their time to build DWA and expand it further.
You won't find any negative stuff said about Andrew and Sara.
As long as you don't come into this course expecting to be earning in a few weeks or maybe months then you will be ok.
The hardest thing is in the beginning and you shouldn't stop at the first hurdle because there can be many things that go wrong.
You just have to battle through them!

Digital Worth Academy Pros and Cons
Overall, we thought that the course had a lot of potential, however, if you take a look at Clickbank where it's promoted.
We can see that the gravity level is zero which tells us that nobody is actually promoting this product.
PROS
A decent course that teaches a great business model that works
30-day money-back guarantee
Software tools are cutting edge
Good community help and support
CONS
Member's reviews can not be verified
Might be a little on the pricey side
We thought that we'd find more activity on their YouTube channel
Digital Worth Academy Review – Final Thoughts!
The affiliate marketing industry is going from strength to strength with it forecasted to be worth $12 billion by 2022 and that's in the US alone.
There is no better time to get involved and Digital Worth Academy is a decent course with some great tools that will certainly help you.
The course is currently reasonably priced but that may go up to what it's normally priced at so better be quick.
It's a great model that they are teaching and has proven very effective for them for a number of years. If it works don't change it!
What do you think, is it worth a punt or at least some further research?
How we make Passive Income Online
In 2017 I had no idea what affiliate marketing was.
Once I had researched the business model I realised it could be the method that we had been looking for.
I did try to work it all out myself through watching YouTube videos but ended up going noway very fast.
It wasn't until I came across Wealthy Affiliate and that was quite by chance, that's when things started to move in the right direction.
Everything that Digital Worth Academy  Affiliates teaches you is taught at Wealthy Affiliate but so much more.
Without a doubt, this is the best place for complete beginners to learn affiliate marketing.

Feedback, Comments and Subscribe
Hey guys, well that's about it for this review, hope you enjoyed it and that we could answer some of your questions.
Thank you for reading and stay safe.