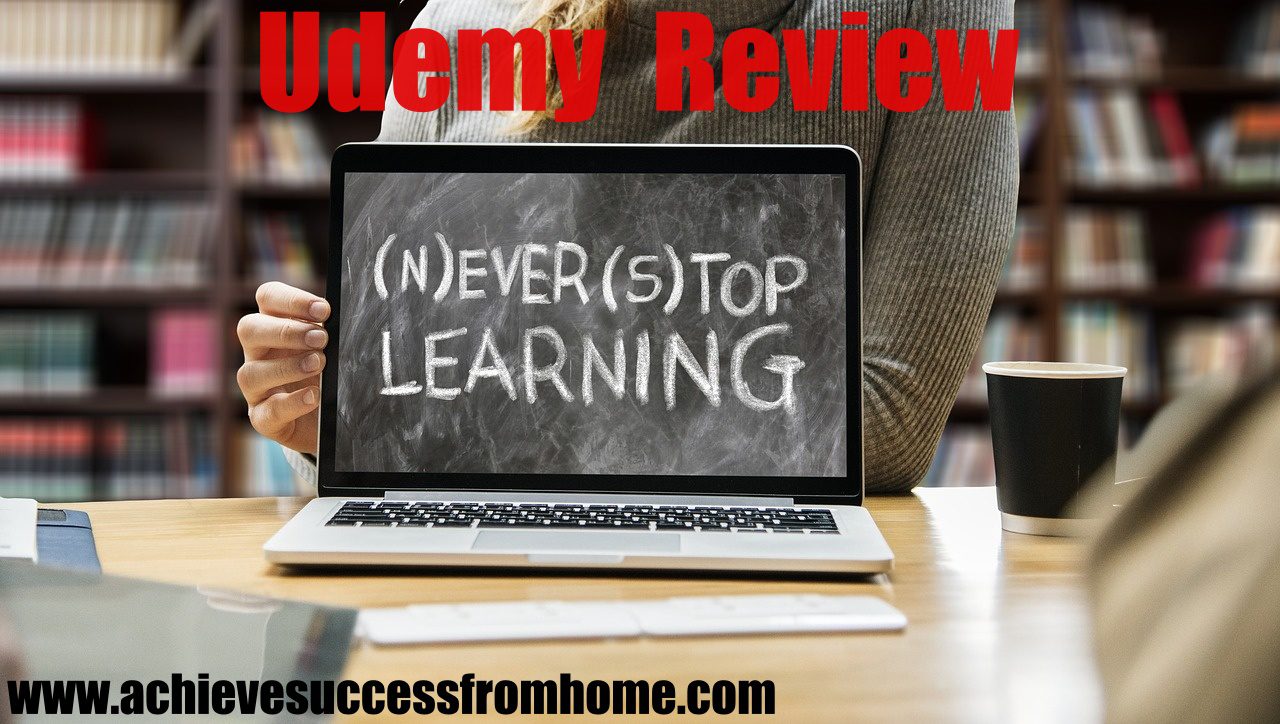 Welcome to this Udemy Review.
Online training platforms provide a much more approachable way of learning other than traditional learning in schools.
No pressure with online courses as opposed to schools, and no overheads make the costs of a course much more affordable.
Students are left to work at their own pace, without the daily drudge to get to school, and of course the strict demands of the instructors.
Udemy offers a vast catalogue which makes them one of the top training platforms for online training.
The unique way that Udemy operates, it serves as a middle-man between the instructor and student which unfortunately might not be to everybody's taste.
The teachers aren't required to be certified in order to be accepted by Udemy, which accounts for the vast amount of courses available to you, and therefore you can find many similar courses showcased by multiple instructors which means the student has plenty of options.
It must be said that there are so many similar training platforms around that just fall short of expectations, and whilst you will find some bad press in a limited capacity, from a person who has taken several courses, I only have praise.
I am here to reveal in my opinion why Udemy is one if not the top online education platforms around today, so, let's get right into this Udemy review.
---
[Affiliate Disclosure: This Udemy Review has been thoroughly researched from information and testimonials that are in the public domain. This post may contain affiliate links which means we may earn a small commission, however, this won't affect what you pay! ]
---
Product: Udemy
Founders: Erin Bali, Gagan Bayani, Octay Caglar
Founded: 2010
Website: www.Udemy.com
Product description: Online education/training platform
Price: Free to signup + many free courses available
Recommended: Yes
Synopsis: Udemy has become one of the largest online education platforms currently in operation today. Used by thousands of industry experts to showcase their courses and available in over 65 languages.
Used by many fortune 100 companies to upskill their employees and currently has around 300 million student enrollments.
If you are looking to expand your knowledge check out the website first because you are sure to find that "course" here at Udemy, and another thing to watch out for is the heavily discounted courses that crop up all the time.
I recently found a course listed at £200 that I fancied and the very next day it was heavily discounted right down to £10.
There is also an abundance of "Free" courses available too.
Free Udemy Courses – Table of Contents
What is Udemy about?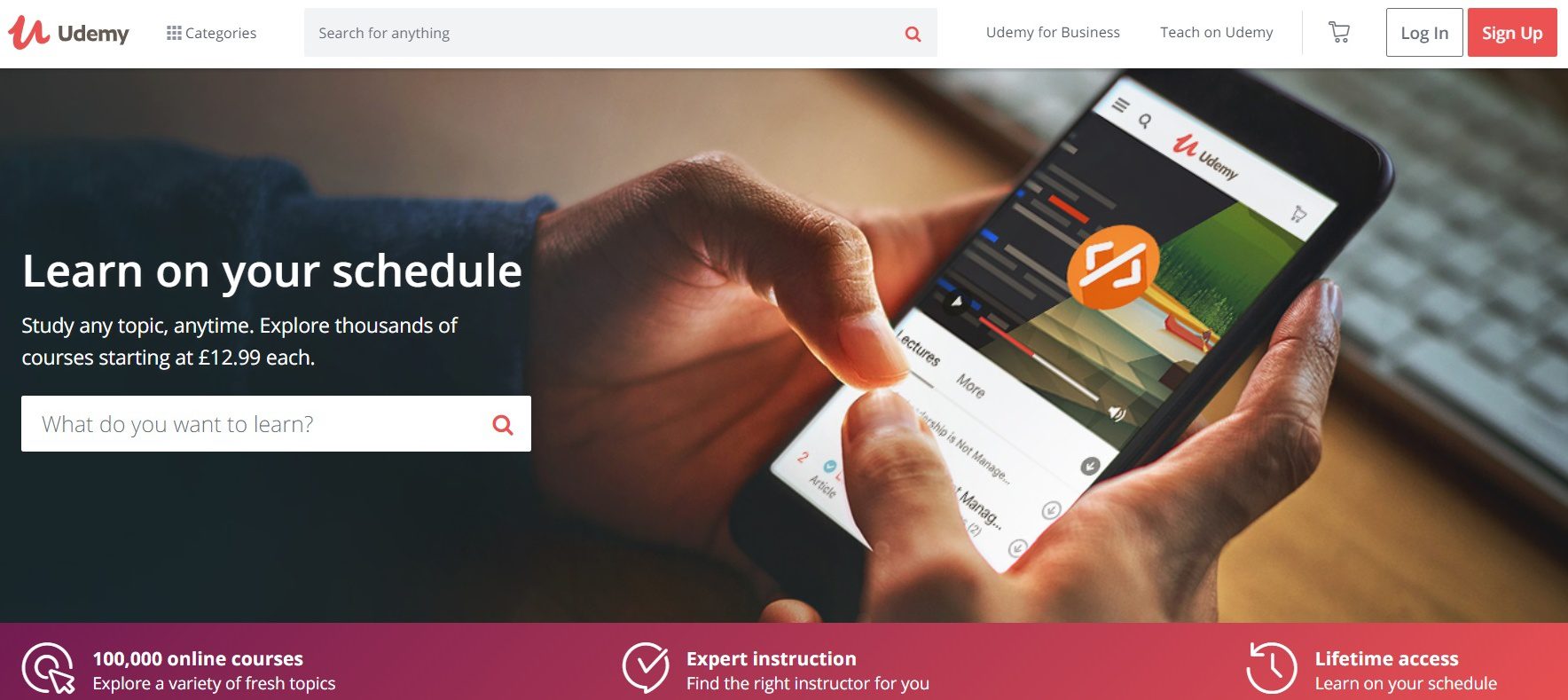 Udemy is an e-commerce training/education platform that is aimed at all kinds of students who are looking to develop their skills, and with well over 100,000 courses available, you are sure to find a course that suits you.
Udemy has been around since May 2010, with over 50 million students, enrolled and with near to 60 thousand instructors teaching in over 60 languages.
Instructors from all around the world host their courses here with a view to passing on their knowledge.
The courses here at Udemy are not accredited which means the certificates that are handed out aren't recognized in the real world.
It also means that anybody can teach here, and because of this, the quality of some of the courses come into play.
If it is a recognized certificate you are looking for it also comes with a cost factor involved.
Then there are other training platforms like Coursera which are accredited with around 4,000 courses to choose from.
If you are looking for free Udemy courses then don't worry, three are currently over 10,000 here.
Most courses cost as little as £9.99 all the way up to around £200.
Udemy has even attracted many Fortune 100 companies to enhance the skills of their employees.
Who is Udemy for?
Maybe you're looking for some training to expand your knowledge at work and put you in a position for future promotions or just to help build your resume to make you more marketable.
It could be that you are the entrepreneurial type who fancy yourself more as an instructor and looking for somewhere to market your course and share your knowledge with the rest of the world.
Anybody who wants to learn a new skill or advance his or her current skills.
Restrictions apply if you have a course that you want to market or sell and are between the age of 13 and 17, providing you have permission from an adult then not a problem.
Covers a wide area of skills with the main category's listed below
Development
Business
Finance and Accounting
IT and Software
Office Productivity
Personal Development
Design Marketing
LifeStyle
Photography
Health and Fitness
Music
Teaching and Academics
Within those main categories are sub-categories that you can drill down into and find the course that takes your interest.
If you don't find the course you are looking for, just type it straight into the search box and see what Udemy suggests.
The Udemy Community
Udemy stands out above its competitors due to the volume of subjects and the rating system which makes it so much easier to select the right course.
You can connect with like-minded people through the active community, by taking part in conversations in forums, and a great place for anybody thinking about going the route of instructor and running your courses there.
Udemy produces a monthly newsletter available for users who have signed up keeping you abreast of information regarding courses new and old that you may find helpful.
You could go directly to the area and find the information yourself by clicking the link here.
Let's take a look inside Udemy
You will find the Udemy Platform is a very professional-looking and well-designed application which makes it so easy to find what you are looking for.
You don't even need to signup to check out the courses although signing up is free anyway.
So, let's take a look at the selection process.
Say you are interested in courses related to Web Design and WordPress, then by selecting the categories tab, a dropdown list will be displayed like the image below.
Of course, you can type the subject of interest straight into the search bar.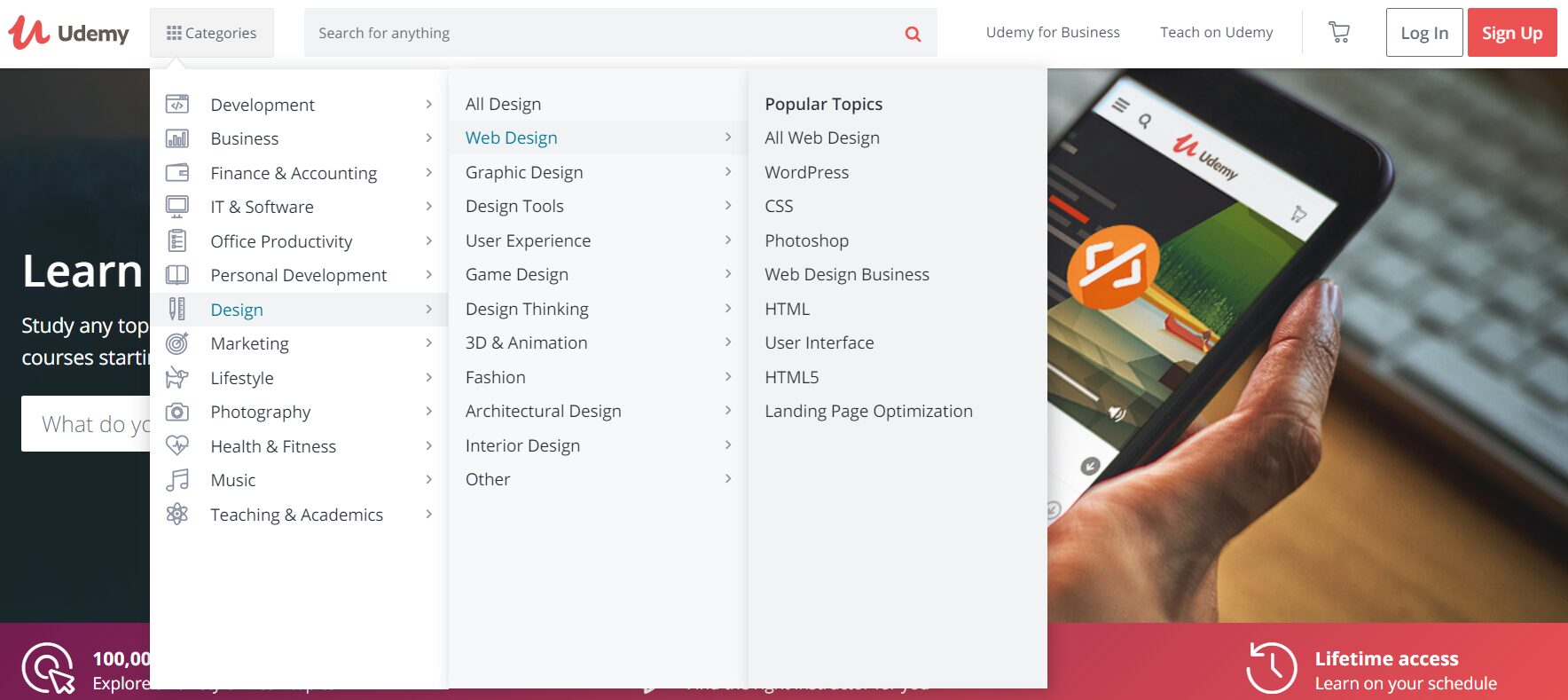 Once you have made your selection a whole load of courses relating to WordPress are displayed.
In fact, the number of courses available can be overbearing, because there are so many.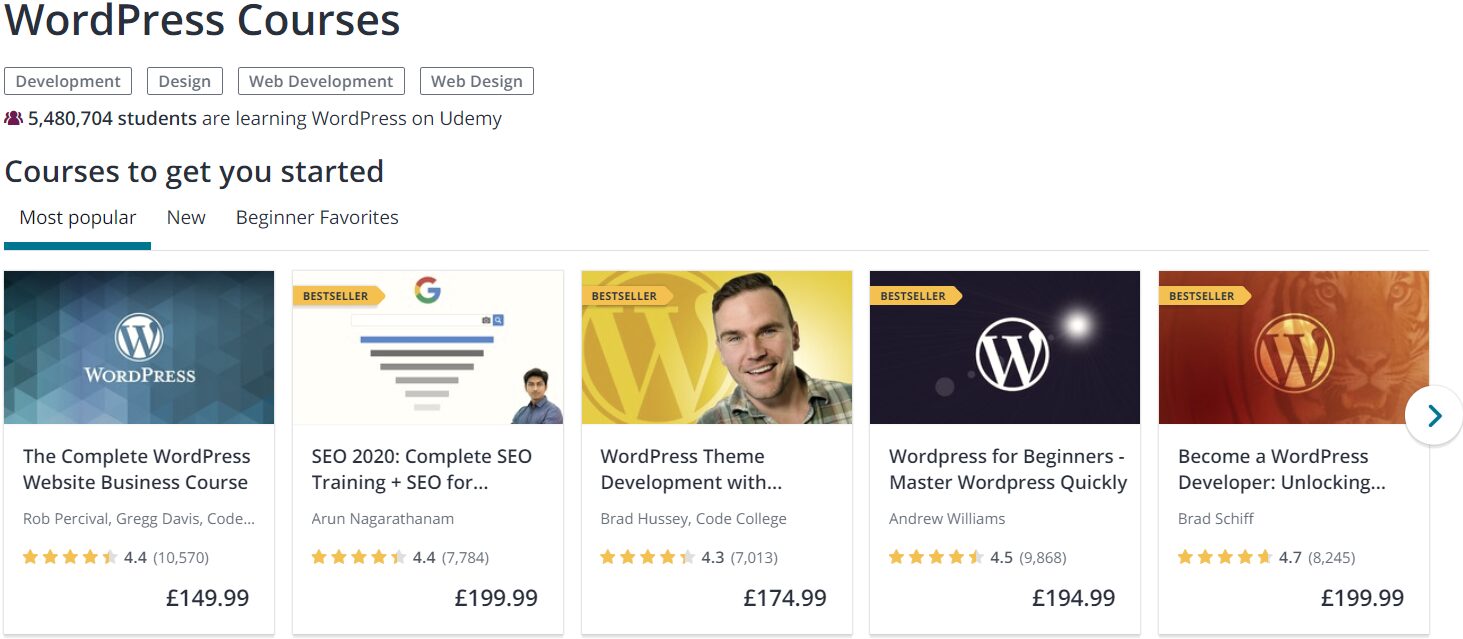 What you will notice on this display is the number of students who are actually learning WordPress on Udemy.
Here you can see 5,480,704 and that is across the board.
The default is the most popular and by selecting the right arrow a whole bunch of similar courses will be displayed.
You could also check out what is "New" or maybe you are just starting out and looking for something a little easier. Then choose the "Beginner Favourites"
Due to Udemy's Rating System, it is easy to do your research and find exactly what you are looking for, and besides if the course you select ends up not what you were looking for you have a 30-day money-back guarantee.
To find out more about the course, just select it and everything you would want to know is displayed, you can even preview the course first.
Just by selecting the course, you can see the number of students who have enrolled on the course. Here you can see 56,583, so a very popular course.
Scroll down further and the course content is displayed in further detail.
A full breakdown that really goes into greater detail.
Don't forget when you sign up that you select the option to receive emails, exclusive deals and recommendations from Udemy.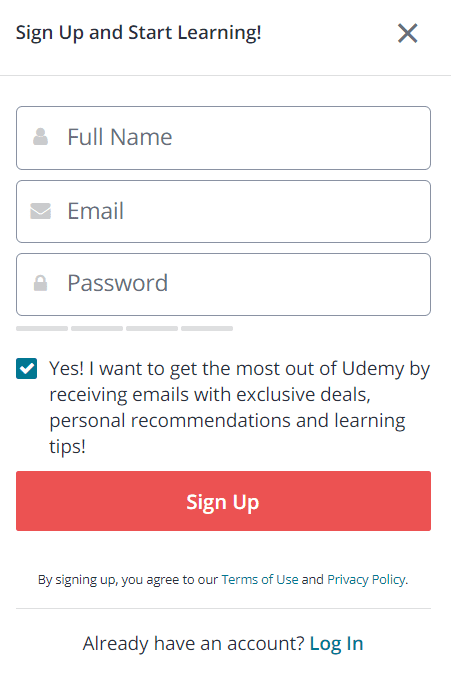 The best way to find out about Udemy is to experience it for yourself.
You can do this by just signing up here and taking a look for yourself. Remember it is free to join!
Udemy's Lifetime, Mobile and Offline Access
All courses that you have taken are available to you for life.
What that means is all the courses you have taken which are listed against your profile are available for you to go back and retake if required, and as everything is online then nothing gets misplaced or lost.
Not like a course taken at a school or university, where the course literature comes by way of manuals.
Whilst the brain is very powerful, we can't remember everything so going back and retaking a certain part of the course is there if you need it.
Udemy has a mobile app that is very handy when you are out and about.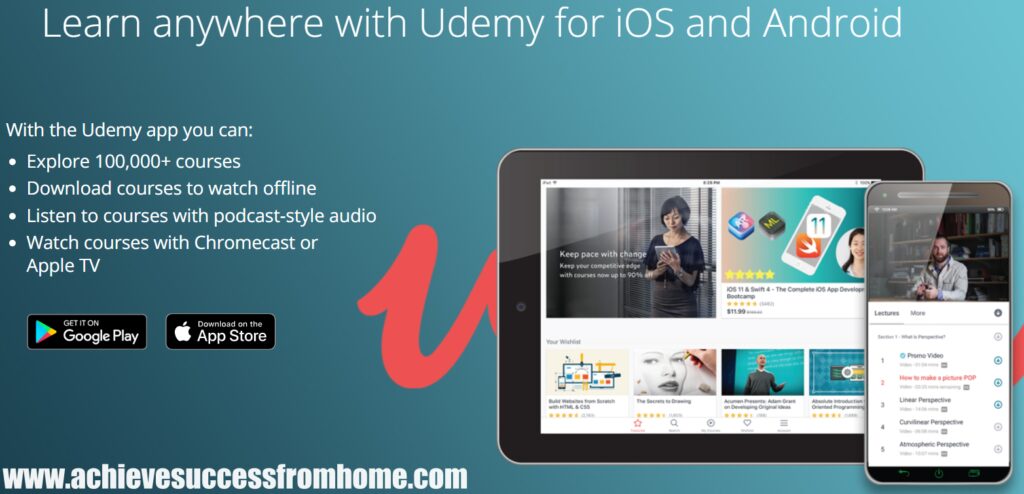 Almost everybody has a mobile device of some description, what better way than to study whilst on the move.
We are not talking about what happens if your internet crashes.
What this means is whilst in the comfort of your home you might want to transfer the course to a bigger monitor like a TV.
You can do this by casting to the TV from your PC or Mobile device.
All that is required is Chromecast.
Is Udemy a Scam?
Absolutely not!
Udemy is the most widely used e-learning platform that offers so much more than its predecessors.
OK, some of the courses are not worth bothering with because instructors aren't vetted.
This means you are going to have to be a little more selective when searching for the right course.
What I like about Udemy
Udemy for me is a place I check out first when looking for knowledge in a particular area and whilst the certificates may not be accredited, for me, this isn't an issue.
It could be that you are just looking for a taster in a particular area and on a tight budget and don't wish to invest too much because you are unsure whether this is really what you are looking to do.
The course prices are extremely low, from as little as £9.99 with some up to around the £200 mark.
There's a vast amount of courses to choose from at all levels, so much more than you will find on any of Udemy's competitor's platforms.
Courses are discounted all the time, and a course you have your sights on could be marked at £200 one day and very next day discounted right down to £10. I can attest to this as it happened to me!
For anybody who is on a very tight budget and just looking to test the water, as of writing this review there are over 10,000 free Udemy courses to choose from.
The training platform is very professionally laid out and easy to find what you are looking for.
Student reviews are a great source of information when searching out the right course before you part with your hard-earned cash.
All courses come with a 30-day money-back guarantee.
All courses have lifetime access which is great for refreshing your knowledge.
Courses can be accessed offline and cast to a TV monitor.
Great if you are looking to venture out as an instructor. With no formal qualifications required, Udemy is a great place to learn and showcase your courses.
Udemy has a community area that you can sign up for and use as a great source of information. Where you can discuss any topic.
There is a Mobile App for those who like to study on the move.
What I don't like about Udemy
Whilst you are always going to find things you don't like about something, no matter how good it is, my main dislikes weren't too great.
Udemy doesn't impose a strict regime on potential instructors, meaning that anybody can upload a course no matter what level of skill the person has.
Whilst this could be an issue with quality, just make sure you do your research first and check out a number of important factors first, which I have listed in the "How to select the best Udemy courses" further on in this review.
Udemy isn't accredited in any way which means that the certificates handed out aren't recognized by universities and employers.  You can check out what Udemy has to say about this here.
How to Earn with the Udemy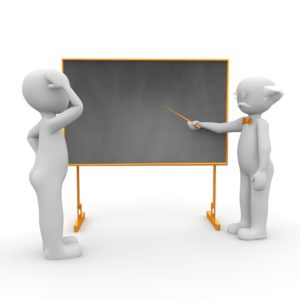 There is no strict code of practice to become an instructor on Udemy, meaning that anyone can literally create a course and upload it to the platform.
It is 100% free to create a course and host it on Udemy and there are no limitations to the number of courses you can own.
I have read reviews of disgruntled instructors not being paid what they thought they should have been paid, and therefore it's worth paying particular attention to the Instructor's promotion policy as this works on a Revenue Share Scheme, then I would check out the rules here too.
As an instructor, it certainly pays to promote your own courses, whether through social media or your own website, this way when a student enrols for your course through your link you get 97% of the revenue share.
Whilst any sales through Udemy promotions where no instructors link or coupon is used then you would receive a 50% revenue share. This is great because Udemy does all the marketing for you, which means you don't have to do anything.
Another factor to bear in mind is student enrolment through the Udemy iOS and Android Apps means that Apple and Google would take a 30% stake too.
The Udemy affiliate program, whilst great for the instructors because it's the affiliate marketers that do the marketing and get the students to your course, there is a cost factor involved, currently at 20%.
So, before you decide to go down this route just make sure you know all the ins and outs of how this revenue share scheme works.
I'm going to assume that you know all about affiliate marketing and becoming an affiliate at Udemy, but if you don't you can check out the link that goes into more details regarding the Udemy Affiliate Program here.
As an affiliate, you get a 20% commission on each course that the student enrols on within 7 days of clicking on your link, and of course, Udemy provides all the links and banners to promote the courses.
How to select the Best Udemy Courses
With the vast amount of courses available you have to do your homework first.
With Udemy, this is pretty straightforward providing you do your own research, and follow a few simple steps that I'm going to show you here.
You can type in the subject of interest and see what the dropdown list suggests, and this might be the only way if the course is somewhat a little obscure, something like "Needle Craft"
or
Go through the categories and sub-categories.
Once you have found the courses that relate to your subject, what I would do is select maybe 3 of the courses and add them to your wishlist. You can do this by selecting the course and clicking on the wishlist at the top right of the display.
The image below is from the WordPress example we did earlier and selecting the course tells you everything you need to know.
What you need to check are the…
Number of students who have enrolled
The number of students who have rated the course
The actual rating
Instructors BIO and maybe a quick Google search too. Just click on who created the course or scroll down to the bottom of the page.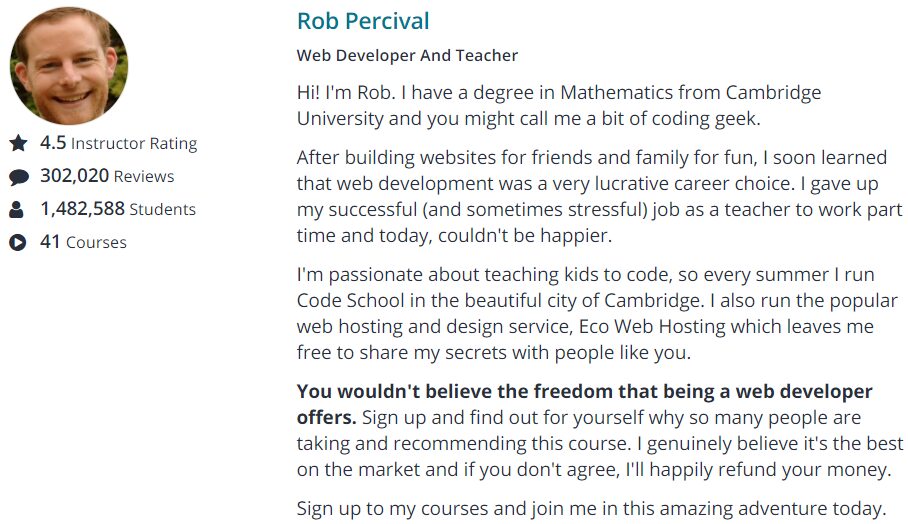 By clicking on the instructor's name you can dig down deeper and check out his/her other courses on Udemy. You can also check out his/her Website, Facebook, Twitter and Youtube accounts.
Check out the course content and videos to see if the course is what you are actually looking for and the quality. I'm sure you'll agree this course is a top one!
Check out some of the reviews, but don't go straight to the negative reviews and assume the course is no good.
This shouldn't take you long especially when you come across BIOs like the one highlighted above
My own experience with Udemy
In the last couple of years, I have learned so much about who we are and why we are here, which brought my direction towards energy healing.
Whether you believe in this or not isn't important, but what is, is my journey, and what brought me to Udemy in the first place.
I always thought of this alternative healing as BS without even attempting to research the subject, so I checked out a person locally and had a first-hand experience of this happening and it blew my mind. So much so that I wanted to get to know more.
Just trying to find a worthy teacher was going to be expensive and I noticed a few marketing adverts regarding Udemy cropping up on YouTube and Facebook so I thought I'd check it out and glad I did.
Mind you the actual course I chose was listed at £194.99 at the time which I wasn't about to pay, I mean what happens if the course wasn't all it was cracked out to be.
Because I had shown interest in the course a few days later the course was heavily discounted at £9.99 and for that price, it was a no-brainer.
You can see the course in the above image. It's the first one to the left listed back at £194.99
Udemy also listed other courses that related to my chosen subject and ones that I didn't even know about at the time. Now I find my learning path going in other areas related which is great!
Is Udemy Worth It?
In my opinion, Udemy is definitely worth it.
Whilst the company isn't accredited but is that really an issue if it is then you can check out several other similar sites that are with probably a cost factor attached.
"In all my years as a software developer with a number of courses under my belt, I have never been asked to prove whether I took the course or not."
What you won't find on other sites is the vast amount of similar courses related to your subject as you do on Udemy, meaning your choice will be limited.
It just means that you have to do a little research before paying for the course.
It also means that when you have completed the course, you are sure to find another course that Udemy will find for you, and one that you probably hadn't even thought about.
At the last count, there were over 10,000 free Udemy courses which are far more than the entire catalogue on Coursera's site.
Give it a try, what have you got to lose!
Feedback, Follow, Subscribe
Over the years through some bad experiences online, I have become a bit of a sceptic when letting go of my hard-earned cash.
The internet is full of free information and all we have to do is "Just Google It" and the answers to every question you can think of is instantly displayed.
The information available to you is just staggering, but you have to decide what information is valid and what isn't, and that's when it can become a big headache and of course time-consuming.
For me, it's all down to the quality of information and how quickly it can become available.
The vast number of courses available just leave the competition by the wayside, but you have to do your research to find the best ones available.
You will find that many of the negative reviews are down to the student picking the wrong course, and that will obviously be down to a cost factor and not doing their research correctly.
Many of these courses would cost you £100s maybe £1000s if you had to go back to college or university, at Udemy you can find most courses well within everybody's budget.
Lifetime access to the course and material is a big plus, and the 30-day money-back guarantee is a huge bonus.
I found that the instructors I came across at Udemy were vastly experienced and owned many courses.
Like I mentioned earlier I love learning and if you can't find what you are looking for on Udemy, then it pretty much doesn't exist,
but…
if you are looking for some great training that really specializes in a specific area then you might want to check out my review about Wealthy Affiliate.
They teach you everything you would want to know about affiliate marketing and the beauty about this is it's free to join with no credit card details asked for. A training platform I would highly recommend.
or you could join and find out for yourself what this incredible platform is all about.

Hope you enjoyed this review and if you have any questions at all just jot them down in the comments area and I will get back to you.
Thanks and have a great day