Welcome to this Income School Project 24 Review
A full-blown training course that teaches you how to build an online business through blogging.
Sounds familiar, well it should do because there are literally hundreds of courses that claim to do the same thing!
But, how is Project 24 any different and can it produce results that many others that we have reviewed in the past can't?
I'm sure you have come across your fair share of Income School Project 24 reviews.
Most of them are from affiliates trying to make a commission by selling you the course themselves.
I don't have an issue with that because that is what this course teaches you, it's just that all those reviews are biased.
This means that you are only going to get one side of the story, one side of the coin!
Rest assured that is not who we are and what we will provide today is a no-holds-barred unbiassed account.
With all the facts, you can decide for yourself whether project 24 is the right course for you.
If you have questions like… Is Project 24 worth it? Is Project 24 a scam? What is Project 24 for?
All questions that anybody will find themselves asking when researching a training course like Project 24.
In the next few minutes, we will answer those questions and more to the best of our knowledge so let's get started.
---
[Affiliate Disclosure: This Income School Project 24 Review has been thoroughly researched from information and testimonials that are in the public domain. This post may contain affiliate links which means we may earn a small commission, however, this won't affect what you pay!]
---
Income School Project 24 Review – Summary
Product: Income School Project 24
Founder: Rick Kesler and Jim Harmer
Website: https://incomeschool.com/project24
Product Description: Affiliate marketing blogging course
Cost to join: $449 for the first year, $249/year thereafter.
Recommended: Yes
Summary: Affiliate marketing is, without a doubt, one of the most popular business models that anybody can learn.
You don't need any previous experience or academic qualification to get started.
Project 24 Income School is one of the better affiliate marketing training courses that we have happened to review.
Alternative Solution:
Although we have no hesitation in recommending Project 24 the link below teaches everything Income School does but in more detail.
Besides, they have seen over 2 million members with thousands of success stories since 2005 and are responsible for me ending my 9-5 job.
Income School Project 24 – TOC
What is The Income School Project 24?
Income School Project 24 is an affiliate marketing course that teaches you from scratch.
How to build an online business through blogging and YouTube which came onto the scene in 2018.
Meanwhile, the Income School Project has 24 courses that come with the membership.
Cover everything that you would need to build a successful online business.
Niche Selection, Content Marketing, SEO, Keyword research, Mastering YouTube, Monetization, Paid Traffic, Email marketing and so much more.
The reasoning behind the "24" is not just the number of courses that are included within the Project 24 training course.
But the number of months that they are looking at to get your business up and running at a sizeable profit margin.
Here there is no BS about earning thousands in just a few weeks, they are telling you how it is and 24 months is a good guideline.
Obviously, some will be successful sooner but this is average.
Many out there looking for a business opportunity that may take upwards of 12 months might see this as too long a period.
But just think how long it could take to build a conventional business and what that would entail.
With overheads, utilities, staff, marketing, manufacturing costs…
There is none of that with this type of business!
Income School is where it all started way back in 2015 and nearly didn't happen because things just weren't working out.
The initial concept with Income school was to use it as a podcast but that wasn't working and they nearly sold the site.
That was until they had a brainstorm and started a YouTube channel to find and direct traffic.
But out of all the sites they created Income School was the slowest moving.
Who is Ricky Kesler And Jim Harmer?
It was Ricky who went down the conventional route after studying for an MBA.
Worked in a research lab, as an engineer at a manufacturing plant, marketing analyst and project manager.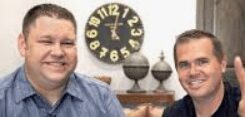 It wasn't until he received a phone call out of the blue from his friend Jim that turned things around.
Jim had already seen success with his website ImprovePhotography.com and had just started Income School.
So he made a business proposal and the business partnership was born.
Both Ricky and Jim can be found passing on their experience through talk shows and conferences and are highly thought of by their peers.
To get a better idea of who Ricky and Jim are we would suggest heading over to the Income School YouTube Channel where it all started.
Where, as of this review you can find well over 200k subscribers and 333+ videos full of valuable information with over 13.5 million views.
How Does Income School Project 24 Work?
Income School teaches you how to build an online business from scratch through blogging and Youtube.
They provide all the training and tools to support you along with access to their own community forum (not Facebook).
The training comes by way of 27 courses with a step-by-step approach which is constantly been updated and added to.
This is broken down into 60 steps with a total of 123 lessons included.
The Project 24 training course teaches you how to build niche sites with the end goal of you becoming an authority.
Learn…
About affiliate marketing and what it takes to build an online business
How to select a profitable niche
How to master YouTube
How to create a WordPress site
How to create keyword-rich content that ranks high on Google
How to find affiliate program offers to promote your content
They base the course on you taking up to 24 months to see massive success, with some already earning within 6 months as you can see below.
What Do You Get With Income School Project 24 Training Course?
Project 24 currently comes with 14 courses that come in various formats, including podcasts, tutorials and videos…
Module #1 – 60 Steps to a Successful Niche Site
Module #2 – Search Analysis
Module #3 – How to Select a Profitable Niche
Module #4 – No Nonsense SEO
Module #5 – Web Traffic Snowball
Module #6 – Email Marketing 101
Module #7 – Myth Busting
Module #8 – How To Find Content Writers
Module #9 – Professional Photography
Module #10 -Website Reviews
Module #11 – How To Improve Your Speed And Writing Skills
Module #12 -Monetizing Yor Website With Ads
Module #13 – The Success Mindset
Module #14 – How To Use Pinterest To Drive Traffic To Your Site
Tools That The Income School Project 24 Course Use
Business tools are an important factor in building an online business and there's an additional cost involved.
I wouldn't be too concerned in the early days though!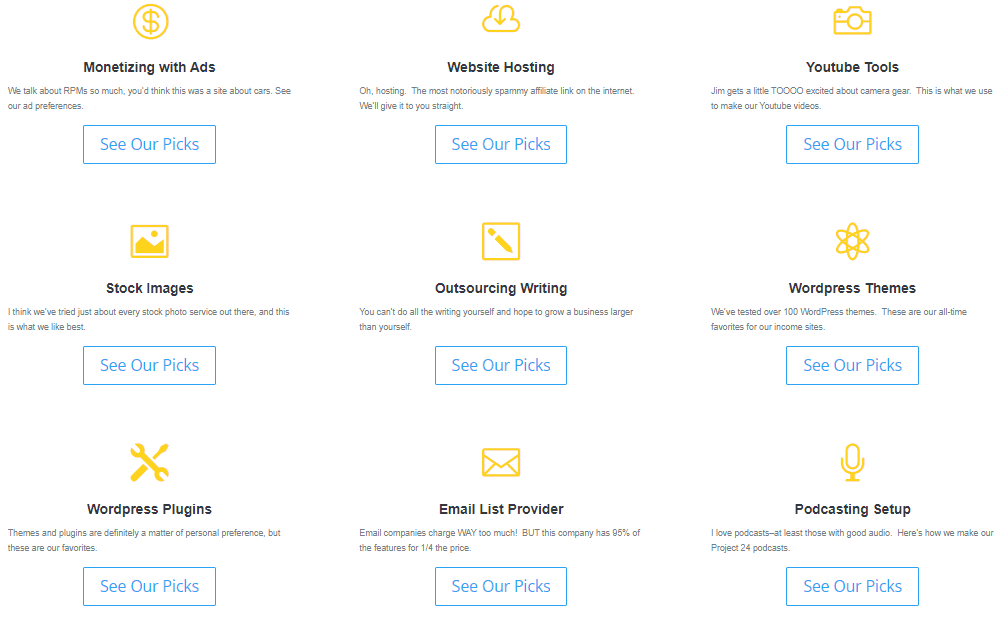 Monetizing with ads
The 2 ad networks that they use are Ezoic and Adthrive.
Ezoic – They typically approve sites as long as the sites meet Google standards.
That means there aren't any prerequisites like a minimum number of page views although they recommend at least 1,000 page views a month.
Adthrive – Is harder to get approved and requires a site to have at least 100k monthly page views.
Website Hosting 
There are so many agencies where you can host your website but the ones Income School use are Cloudways, Bluehost and Bigscoots.
YouTube Tools
When it comes to creating videos which is where it is nowadays because in general people are lazy and would rather watch a video than read a piece of text.
When it comes to cameras, microphones, editing software…It can cost as much as you are prepared to pay.
However, in the early days, this is not going to matter too much and is something that you could invest in when the site takes off.
Stock Images 
There are a host of sites out there like Pixabay, Shutterstock, Pexels, and Dreamstime…
Some are free but some you have to pay for, but the one I use all the time is Canva which costs I believe $9.99/month and is a great tool.
Outsourcing Your Content
This is something else that you shouldn't have to think about whilst you are going through the Income School Project 24 course.
But, seriously if you want to expand the business then you aren't going to be able to do everything yourself, right?
When the time comes, finding the perfect writer is not going to happen but you might be lucky.
WordPress Themes
There are literally tens of thousands of WordPress themes you can choose from and can be a nightmare so the recommendation is great here.
The guys at Income School recommend using Acabado and Divi which Jim highly recommends.
WordPress Plugins
Plugins like themes are a personal preference but one thing you need to know is that too many plugins can affect the speed of your site.
With over 60k plugins that pretty much do everything and the reason why nowadays developing a website is a piece of cake.
Email List Providers
At some point, you will need to invest in an autoresponder and once again there are so many to choose from.
The guys at Income School recommend using SendInBlue or Hubspot but I prefer Aweber as it is free for the first 500 subscribers.
Here's a detailed look at what they recommend for the Income School Project 24 course.
Who is Income School Project 24 For?
Project 24 is a comprehensive course for anyone who is serious about building an online business through blogging and YouTube.
I can hear you saying huh, writing and creating videos but I'm crap at doing anything like that.
Anything new is always going to be a challenge but the Income School Project 24 course will teach you how to overcome those fears.
 Income School Project 24 Pricing And Refund Policy
As of this review, you can join the Income School Project 24 for a one-off payment of $449 and that is for the first year.
Thereafter any subsequent year will cost you $249.
We think the course is very reasonably priced and what you are getting is a quality course from 2 dedicated professionals who do know their stuff.
A course like Project 24 could easily go into the thousands and the best way to get a grasp of what you are paying for is to break it down.
First-year – $449 which equates to $1.25/day
Subsequent years – $249 equates to $0.69/day
Are There Any Upsells With Income School Project 24?
There are no upsells with Project 24, what you pay for is what you get.
Are There Any Hidden Costs With Income School Project 24?
Obviously, when you start any business there are always additional contingencies to take into consideration.
In the early days, you will be able to start this business on a small budget but the more you grow the business the more tools you will want to pay for.
Is There A Refund Policy With Income School Project 24?
In the early days of Project 24, a full refund policy was in place and you were able to get a refund but what the administrators realized.
Were Project 24 members who had access to all the tools and training documentation taking advantage?
Some were just using the Project 24 training platform to access sensitive information as well as user experiences within the forum.
Then they were asking for a refund.
So that means if you join for the year then you will have to commit to that period as there are no partial refunds given out.
This is something I haven't come across before and the Project 24 team should be commended for this.
At the end of the day, Project 24 members have to be protected.
Here are a few similar courses that you might like to check out but do not discard Udemy…
Is Income School Project 24 a Scam?
In our opinion, the Income School Project 24 is not a scam but a legit comprehensive training course.
That will take a complete beginner from knowing absolutely nothing about affiliate marketing to building a successful business in 24 months.
Having said that, 24 months may seem like a long time to build an online business where you are seeing success.
But it isn't really and this can be achieved much sooner if you get your head down, work extremely hard and put into practice what they teach.
So, is Income School Project 24 worth it?
Absolutely it is if you fully commit yourself!
Remember, there is no refund, which isn't a bad thing because that should mean only serious people will join Project 24.

What Others Have to Say About Project 24 – Income School Project 24 Student Reviews
We couldn't really find any negative feedback and the ones we did find were hardly worth mentioning.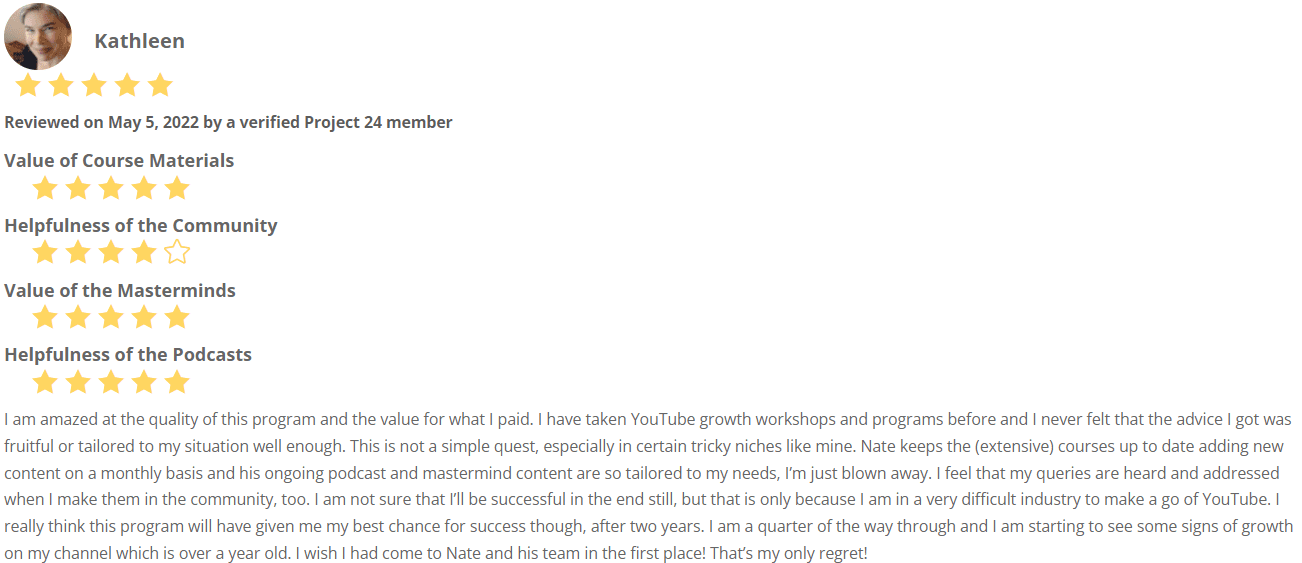 In the review below, the Project 24 student complained that he couldn't access the course due to the mobile device they were using.
I know some people are on tight budgets but to fully commit to a course like Project 24 you need a Laptop or a PC.
As you can see they managed to get their money back!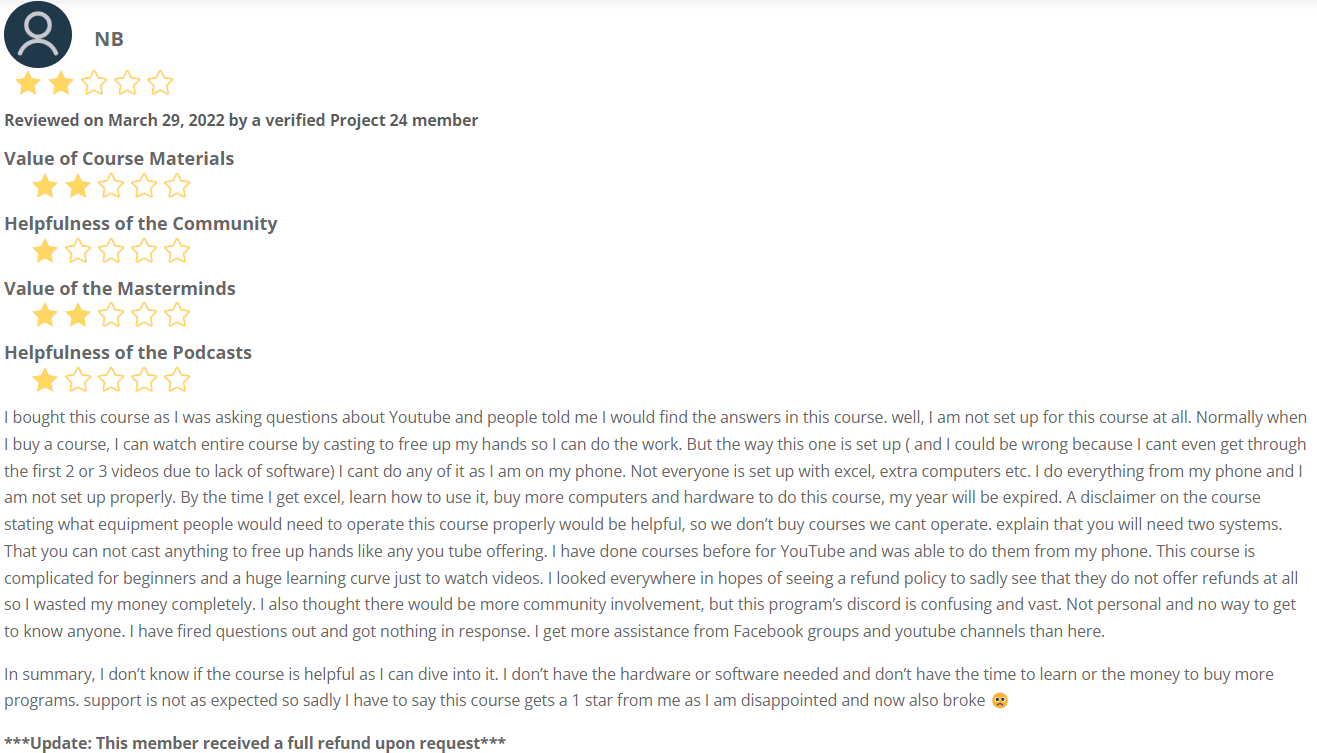 Can You Make Money With Income School Project 24?
There are many School Project 24 students making money that range from just $100/month through to some who are earning $5,000+/month.

How quickly you get to making a full-time income with Project 24 all depends on the type of niche that you select.
Niche selection is very important but Income School covers that topic in more detail.
What we like about Income School is that everything is an open book with regard to Jim and Rick.
They show you the websites that they created, so there is nothing left unturned as you can see which niches they used.
The course is long, and detailed and will take a lot of hard work, but put in the hard work and follow the training and 12-24 months later you could have a very lucrative business.
Income School Project 24 – PROs
This is an in-depth and comprehensive course so anybody can learn a lot from it.
The course is very well priced
The course owners, Jim Harmer and Ricky Kesler are experienced legit entrepreneurs who did it the hard way.
Support comes via a forum that is specific to Project 24-course members.
Income School Project 24 – CONs
There is no refund policy.
You will require an additional budget for business tools.
It takes a lot of hard work to take a new website and turn it into an authoritative site.
Lack of third-party reviews and the only ones you can find are from students on the Income School website which can't be verified
 Income School Project 24 – Final Thoughts!
Just before we wrap up this Project 24 review we'd just like to add a few things.
Overall we thought the course was extremely well laid out and covered pretty much anything that you would need to know in order to succeed.
We thought the membership was very well-priced, in fact, we have seen many similar courses that cost thousands.
But you will need to pay for additional tools that you would need when building your business.
Ok, there is no refund but that shouldn't be an issue because if you are serious about this then no refund policy would not be an issue.
The YouTube training will probably be one of the courses that you pay particular attention to as video nowadays is what everybody wants.
Income School Project 24  is a training course that we would have no hesitation in recommending.
But if you want to know about another affiliate marketing training platform where we learned our skills and is responsible for a mid-4 monthly income please continue to read.
Income School Project 24 Alternative – How we Make Passive Income Online?
Affiliate marketing is without a doubt probably the best way to make money online.
Wealthy Affiliate can provide all the training and tools for a fraction of what it will cost you to join the Ministry of Freedom.
Furthermore, you can test-drive the system without it costing you a dime, and how many training platforms offer that? Very few, I can tell you!
I have personally been a member of Wealthy Affiliate since 2017 and the main reason why I was able to kiss goodbye to my 9-5 job.
Just check out the reviews on Trustpilot.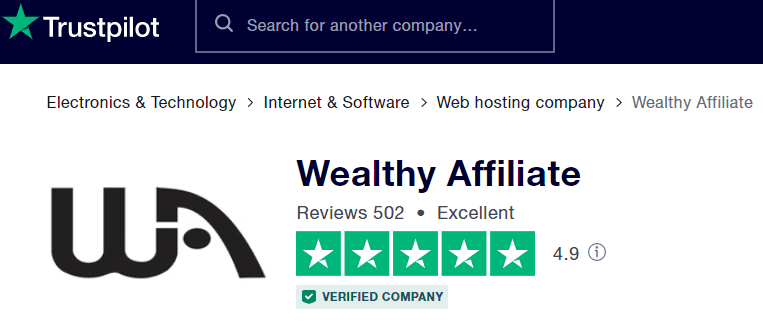 The training platform is a fully integrated one-stop-shop meaning that everything you need to succeed is in one place.
Education and training, Web development, Hosting your website, and a community that cares and is full of experience on many levels…

Income School Project 24 Review – FAQs
In this section, we have highlighted questions that people are asking in the search engines which should help with your decision-making.
How Much Does The Project School 24 Cost?
As we have already mentioned Project 24 will cost you $449 for the first year followed by $249 or $0.69/day for any subsequent years.
Each successive year is auto-renewed.
Is Project 24 Worth It?
We think that Income School Project 24 is one of the better courses that we come across that teaches affiliate marketing.
At the end of the day you get out of Project 24 what you put in, so if you are not prepared to work hard then don't expect to see results.
Are Rick Kesler and Jim Harmer Legit?
Both Rick and Jim are experienced entrepreneurs who have learned the hard way and once everything started to click,
Then they decided to share their knowledge with the world.
I like the way they approach the training, all you have to do is check out their Income School YouTube channel for confirmation.
In fact, we would suggest you head over there before making a commitment and besides, it was YouTube where it all started for them anyway.
Is There A Refund With Income School Project 24?
Unfortunately not, due to people abusing the Project 24 course in the early days and now when you make a commitment to join.
Then it better be the right decision, but with this, no refund policy in place should tell you that only serious people will join.
Is Project 24 For Beginners?
Yes, it is but you may well find members with more experience, Project 24 was designed with the complete beginner in mind.
The training is a step-by-step approach and very easy to understand so if you know nothing about blogging or Youtube then this course might be for you.
How Long Will It Take For Me To See Success With The Project 24 Course?
The course is called Project 24 which is the number of months that you should give to be in a place to turn into a full-time income.
Some are seeing success within 6 months which is not too uncommon and the more determined you are the quicker you will see results.
So, don't expect to be seeing results in a few weeks because that is not going to happen.
How Much Support Is There From The Project 24 Team?
For me, help and support are up there as the 2 most important things because without them you don't have a course.
They do have an Income School Project 24 forum that everybody has access to and looks pretty good.
You can find Jim and Rick in there most of the time answering questions but you have the whole community that is there to help each other.
Is Income School A Worthwhile Investment?
Project 24 is a great investment if you are looking for a change in your career, but don't expect too much too soon, we found that you need plenty of patience.
Feedback, Comments And Subscribe
That's about it for this Project 24 Reviews, hope we managed to answer most of your questions.
If you are or were a Project 24 member and would like to share your experience with us, we'd love to hear about it.
Once again thank you!
Take care!
Stay safe