Welcome to my LiveGood Review
This is a company that has recently been founded and making a bit of a stir in the nutritional health industry.
We could all do with a little help sometimes when it comes to our health but often it becomes down to cost and choice because there are so many.
LiveGood claim to have addressed the cost element and we can see that they have but are the products any good?
You have obviously heard of this new company otherwise you wouldn't be here now looking for answers.
Let me introduce myself.
I am Mick and I created this website to help people like yourself find the right products and systems and break those down.
So that you are better informed and hopefully don't end up wasting valuable time and money.
We have reviewed over 450 systems, courses, training, affiliate marketing, MLM, real estate, investing, crypto and more.
Some are good, some bad but some are out-and-out scams that you should not go near and that's what we are trying to avoid.
So, just to be transparent with you before we get started.
We are not associated with LiveGood in any way shape or form which means that we aren't getting paid for this review.
What we will promise you is an honest and factual account of LiveGood and whether there is potential to make some extra money.
So, if you have questions like is LiveGood legit? Do the products work? Can the products harm you? Is LiveGood a scam?
Then in the next few minutes, all will be revealed in this LiveGood review.
With that said, let's begin.
---
[Affiliate Disclosure: This review has been thoroughly researched from information and testimonials that are in the public domain. This post may contain affiliate links which means we may earn a small commission, however, this won't affect what you pay!] 
---
LiveGood – Summary
Product: LiveGood
Founder: Ben Glinsky
Website: www.livegood.com
Product Description: Nutritional supplement MLM
Cost to join: Membership – $9.95/month or $99.95/year
Recommended: Maybe
Best For: Experienced network marketers with large following and not afraid of cold calling
Summary: LiveGood could be the ideal cost-effective platform to help your health and well-being by putting back nutrients that the immune system is missing.
With so many of these nutritional health companies promoting very similar products and advice it's literally a minefield.
For a company that has only just started its life, we can see by the number of reviews that they must be getting something right.
But, as they are a multi-level marketing company their importance is always to get you to join and help promote their company.
Ok, so you are sometimes rewarded for your hard work but for many, this never turns out to be a good experience.
Therefore, if you need to know more about LiveGood then you need to keep reading this LiveGood review.
LiveGood – Table of Contents
What is LiveGood?
LiveGood is a new direct-selling company that manufactures and promotes nutritional health products.
They appeared in late 2022 and are based in Florida, the US.
They have a marketing slogan which claims that 92% of residents of the US have a vitamin deficiency.
This may be the case, especially with the lifestyle most people have and the fact that foodstuffs tend to be polluted with all sorts of chemicals.
We are living in a world where pollutants are everywhere so yes we could do with a little help.
LiveGood doesn't just offer to help in providing the right nutrients for our immune system.
They also provide the right nutrients at a price that is now more affordable to people who don't have the funds.
In such a short period they have reached around 195 countries with in excess of 30,000 distributors and also access crypto.
In the next section of this LiveGood review, we will be taking a look at the founder.
Related Business Opportunity: Juuva Nutritional Products
Who is Ben Glinsky?
Ben Glinsky is the current CEO and founder of LiveGood who is familiar with this type of industry.
Since he founded a similar company Skinny Body Care back in 2010 but appears to have been closed in around 2018.
With the proceeds of the company that were sold off to Valentus back in 2019.
But, you know companies come and go for all sorts of reasons and possibly for not what you are thinking now.
Is LiveGood a Pyramid Scheme?
The consensus is that because a company
operates under the guise of a pyramid-style business model they are automatically classed as a pyramid scheme.
This is not the case, as all businesses operate under the same structure but it is how they operate that is sometimes questionable.
But in the case of LiveGood, they manufacture and sell products that on the whole.
People are delighted with, and people can make a living from selling the products and not relying on recruitment.
However, for a company like LiveGood to survive they do have to recruit more people to replace the ones that will leave.
So LiveGood is not a pyramid scheme however many might say that they are a pyramid scheme in disguise since recruitment is key to their success.
Just for clarity on what a Pyramid Scheme is…
For a company to be declared as an out-and-out pyramid scheme they would have to be paying their members solely for recruiting other people with no product or service evident.
The way around this would be to have a service or product which really doesn't have any value and would be used as a smokescreen.
This is sometimes called a pyramid scheme in disguise.
The FDA or Federal Trade Commission explain this in a document they devised some time ago which you can read here.
You might like to check out this short video…
Related Business Opportunity: Touchstone Essentials Nutritional Products
Success is Rare With LiveGood
Obviously, you are going to be asking why is success rare since everybody you talk to say's the complete opposite.
Well, for starters, people are never going to tell you the truth since making money is their number one priority.
Buy, hey that is why you are interested in LiveGood in the first place, right?
Would you be interested if you knew that at least 97% of people who join a company like LiveGood don't make a dime?
Most people who leave are in debt because they felt obliged to purchase the products themselves to stay active as a member.
So when I say "rare" we are referring to the top .1% which is where all the money tends to go.
Did you also know that on the pre-launch date, successful network marketers are invited and in some cases paid to join?
This is to set the foundations before the real launch when you and I are invited.
Moving forward in this LiveGood review we shall take a look at the products and whether the business opportunity appeals to you.
Related Business Opportunity: Zogena Nutritional Products
LiveGood Products Line
The LiveGood products cover a wide area with nutritional benefits coming from multi-vitamins, plant-based, organic greens and reds and CBD.
They even have a CBD product for pets.
If you want to take advantage of their multi-packs then you can but looking at the products and it seems that LiveGood can't meet demand.
There is also a number of limited products but when the offer expires we aren't sure.
Why not head over and check out the LiveGood products here?
LiveGood Products Business Opportunity – What You Need To Know
With the recent exposure of LiveGood and the amount of interest shown then maybe this section is what you have been looking for.
How Much Does it Cost to Become a LiveGood Affiliate?
If you just want to just take advantage of the great discounts then you can by becoming a member which will currently cost $9.95 a month or $99.95 for the year.
For anyone who is interested in making some additional money then you can take part in the LiveGood affiliate program for $40.
But becoming an affiliate still means that you have to pay the membership fee too.
How to Make Money as a LiveGood Affiliate
Like with all multi-level marketing companies, there are only 2 ways to make money.
Purchase the products and sell them at retail.
Recruit other members into your team and make a commission on what they sell along with the commission of any new members that they recruit.
Let's Take a Look at The LiveGood Compensation Plan
There are 6 different ways to make money through the LiveGood comp plan which goes down 10 levels as well as incentive bonuses which are attached too.
This is a part of the LiveGood review where we tend to not get too involved with explanations and something you can figure out at a later date.
However, we have managed to find the LiveGood Compensation plan in pdf format which you can read here, or you can chill out and listen to the founder explain it below.
Are LiveGood Affiliates Actually Making Money?
This is always a difficult question to ask especially as LiveGood is a new MLM and only time will tell if and when they provide us with an income disclosure statement.
However, the ones we do come across never paint a decent picture, especially for anybody who has never been a part of an MLM company before.
What we do know is that as many as 97% do not earn enough to replace a full-time job.
If you are looking for confirmation then why not read what the Federal Trade Commission has to say here?
Can You Make Money as a  LiveGood Affiliate?
Absolutely you can and that is on the proviso that you have experience as a network marketer.
But don't get me wrong we aren't discarding the fact that anybody without prior knowledge can't make money, it is just a lot harder than what people make out, especially if you are approached by a LiveGood sponsor.
But to excel at this business requires a lot of communication with people and being prepared to take a lot of rejection because that is the nature of cold-calling.
Learn how to market properly and hopefully, if you find the right sponsor then they can teach you.
Having said that, most sponsors you will find too busy recruiting themselves, with no time to spare, however, it is in their interests to stop you from leaving.
Is There a Refund Policy With LiveGood?
The product refund policy certainly does come out top with a 90-day empty bottle guarantee.
This basically means that if you aren't satisfied with your purchase, send the bottle back regardless of whether the bottle is empty or not.
Related Business Opportunities: Zilis Nutritional Products
What Others Have To Say About LiveGood Products
As we have already mentioned there has been a lot of interest in LiveGood since they started the business.
With a number of reviews that we have managed to capture through Trustpilot.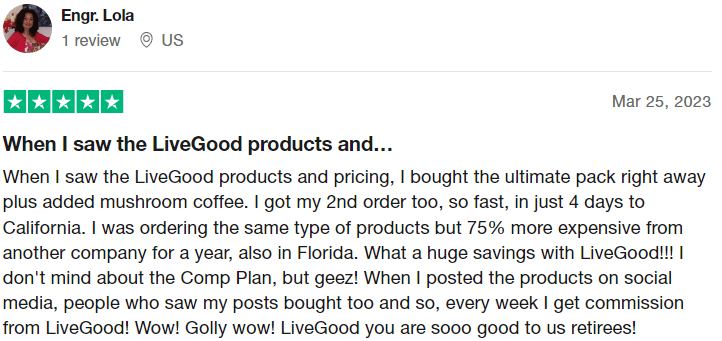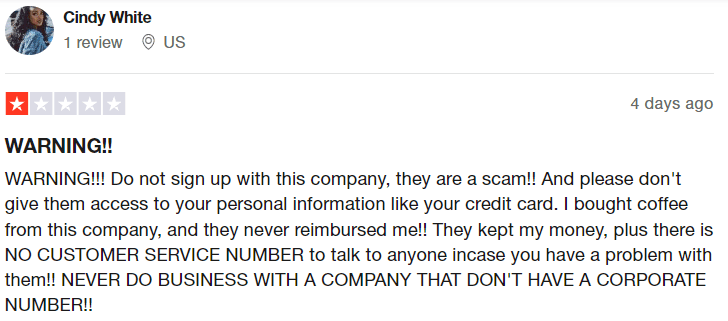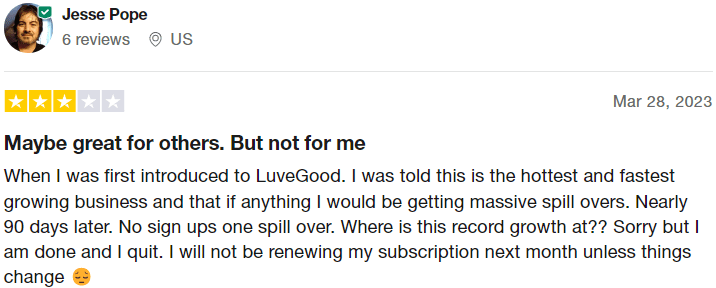 Does The LiveGood Scam Exist?

Well, no it doesn't and the reasons are very clear.
Firstly the company is very new and showing a lot of interest like new companies tend to do.
They have a solid foundation with plenty of experience from their founder Ben Glinsky all the way down the ranks.
The products according to reviews are very good and the pricing is at a very competitive level especially for the MLM industry and beyond for that matter.
The membership and discounts are very good and will appeal to most people and even the affiliate program has its benefits.
So, all looking good, right?
In the next section of this LiveGood review, we are going to take a look at what we like and don't like.
What we Like About LiveGood
It's a brand new multi-level-marketing company which is the best time to get involved if you are thinking about making some extra cash.
The products are very reasonably priced with some very good discounts for members and affiliates alike.
We like the compensation plan which isn't over complicated and geared towards retail sales.
There are plenty of great reviews to be found online, especially when you look at third-party review sites like Trustpilot.
What We Don't Like About LiveGood
There is no income disclosure but I guess that is to be expected with the company being so new.
We don't like the tactics that many affiliates apply just to get you to join.
It is still an MLM and unless you are a competent network marketer then the likelihood is that you will struggle.
We hate cold-calling which has never worked and it means you have to be able to take a lot of rejection.
The multi-packs don't seem to be able to meet demand.
Conclusion – What We Thought About LiveGood!

Any new company is going to ensure that they have everything in place otherwise they are setting themselves up for failure before they even start.
We have mentioned previously that LiveGood has a lot going for itself but only time will tell.
There is very little in the way of negative feedback that we came across so if you are thinking about becoming a member or maybe even an affiliate.
Check out the products first before getting too heavily involved.
But if it's an online business that you are interested in and still undecided then why not look at affiliate marketing?
Is Affiliate Marketing The Best Way to Make Money Online Right Now?
Affiliate marketing is a simple concept, where you act as the middle person and connect customers to merchants.
What better way than to build a business about something that you love rather than sell something that you don't?
If you have a passion (and we all have) for anything then let Wealthy Affiliate provide you with all the training to succeed.
Just check out the reviews on Trustpilot.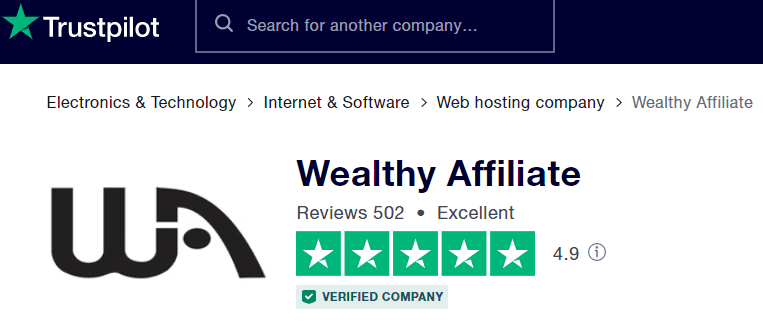 They can provide you with all the training and I'm sure you will agree that the training platform is one of the best around.
Education and training, Web development, Hosting your website, and a community that cares and is full of experience on many levels…
Under no obligation, no credit card information is required and no spam!

LiveGood Review- FAQ
Here we found some of the questions that people are asking in the search engines and hope they help.
What is LiveGood? 
LiveGood is a new direct-selling company that offers nutritional health products at extremely competitive prices.
There is also a way to make some money through their affiliate program which is also very reasonably priced.
How Much Does It Cost To Join LiveGood?
To take advantage of the great discounts that LiveGood offer you can become a member which is currently $9.95 a month or you could pay annually which would cost $99.95.
If you want to take part in the affiliate program then that will cost you $40.
Are LiveGood Products Organic?
All the products are manufactured in California using only 100% organically sourced materials.
Can You Tell Me About The Refund Policy?
Yes, this is one of the better refunds that we have seen which is a 90-day empty bottle guarantee.
This basically means that if you aren't completely satisfied you can send the product back used or not for a full refund.
What Are The Benefits Of The LiveGood Products?
All users have access to management tools where they can evaluate the performance of the products and they provide an affiliate program for members to network and recruit others.
Where Is LiveGood Based?
LiveGood is based in South Pasadena, California, 91030
Related Business Opportunity: Life Activated Brands
Feedback, Comments and Subscribe
Ok, guys, that's about it for this LiveGood review and hope you enjoyed it and that we managed to answer most of your questions.
Anything to add, then drop us a line in the section below.
Thank you for being so patient, until next time, stay safe!