Hey Guys, welcome to the Zogena Review
You might have heard of Zogena through a friend or a Zogena distributor trying to get you to join.
That's why you found yourself here checking them out and wondering whether Zogena is a scam or a pyramid scheme.
I would like to quash any rumours and tell you that they are neither, in fact, first impressions do look good for Zogena.
But new companies come and go all the time within the multi-level marketing industry with many just not surviving their first 5 years.
So where does Zogena stand?
Are their products as good as they say and is there a legit home-based opportunity which I guess you are interested to know more about?
All will be revealed within the next few minutes so don't go away.
---
[Affiliate Disclosure: This Zogena Review has been thoroughly researched from information and testimonials that are in the public domain. This post may contain affiliate links which means we may earn a small commission, however, this won't affect what you pay!]
---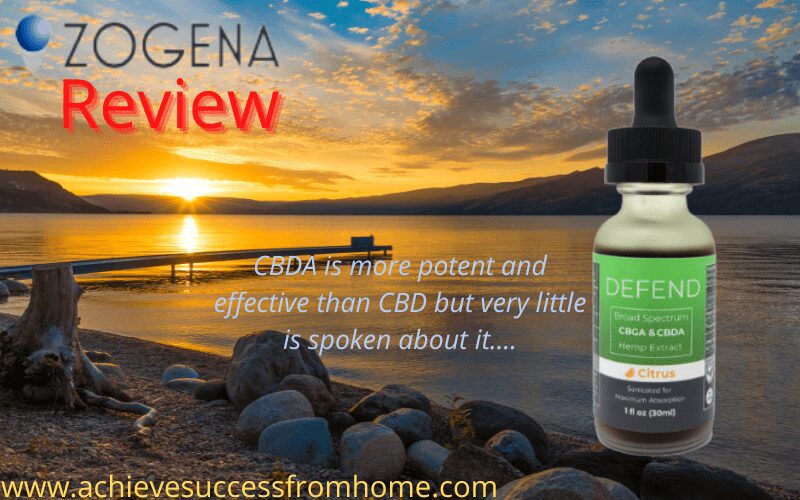 Product: Zogena
Founder: Anthony Huff
Website: www.zogena.com
Product Description: Multi-level marketing company in the health and wellness industry specializing in CBD products
Cost to join: $29/lifetime
Best For: Experienced network marketers
Recommended: Maybe
Summary: Since the 2018 farm bill was passed the CBD oil industry has really exploded in terms of financial growth.
The CBD oil industry is a multi-billion dollar industry that analysts predict will be worth around $48 billion by the year 2028.
Zogena is just one of the many MLMs startups that we are seeing but you have to be very careful.
At the end of the day, it should be all about the products but what you will find is more attention on the work-at-home opportunity.
This means that the focus is more on recruiting than the products which are a little shady, to say the least.
After all, these MLMs would not exist without people joining regardless of whether the products were any good or not.
Zogena Review – Table of Contents
What is Zogena?
Zogena is a network marketing company that was founded in October 2019 by Anthony Huff and is based in Indiana, US.
They specialize in a range of products that are derived from the Hemp plant as opposed to the Marijuana plant.
Simply because of the THC regulations which in the Hemp plant is almost zero per cent and the easiest to control.
Whereas in the Marijuana plant this can be as high as 35% and trying to control THC levels is almost impossible.
US law states that the THC level should be no more than .3% and in the UK this is lower still at .0%.
They offer one of the better business packages that we have seen with free shipping, no annual fees, and no auto-ship…
They base their business on transparency, integrity and quality which we can see throughout our research.
Zogena is an offshoot of the company Bocannaco which was only around for a couple of years but we don't know the reasoning behind this.
Who is The Founder of Zogena?
Anthony Huff is the founder and CEO who is behind Zogena and there isn't a great detail of information about him online.
Other than working as an assistant store manager at Walmart with his last role as a recruiting director for Digital World.
As for that, we couldn't see any experience in the network marketing industry.
Is Zogena a Pyramid Scheme?
Even in its very short life, we can honestly say that Zogena is not a pyramid scheme in any shape or form.
You can make money by purchasing the products wholesale and selling them retail for a profit without having to recruit anybody.
There is always some doubt though with any MLM, and that is whether it could be a pyramid scheme in disguise.
Let me explain.
Just for clarity on what a Pyramid Scheme is…
A pyramid scheme is when a distributor is paid solely for recruiting where there are no products or services involved.
That obviously isn't the case here with Zogena.
A pyramid scheme in disguise is where distributors are still paid but they use a product or service to hide behind.
This can be more difficult to ascertain whether the products are legit or not.
The FTC compiled a report about the performance of MLMs which you can read here.
You might like to check out this short video…
Success is Rare With Zogena
It is not just Zogena that we are talking about here, but all MLMs in general.
As many as 99.78% do not earn enough to replace a full-time job and we know those figures seem a little far-fetched but this is very real.
With many who are left in debt!
Yes, left in debt because you have to maintain an active status which means either you accumulate a number of sales monthly yourself.
Or your team which is your downline are able to sell the products to help towards your monthly sales volume.
Now, if you are struggling to recruit others or you can't sell the products then to stay active you will have to purchase the products yourself.
Normally the amount of sales is around 100 CV which equates to around $100.
This over a year is equal to $1,200 which is stock that you accumulate and have to sell to recoup those costs.
That is why between 50 and 75 per cent of members do not last the first 12 months.
Zogena Products Line
Before you consider joining as a Zogena distributor you have to have a deep understanding of the products and what they will actually do.
After all, it's the products that are your number one concern and not recruiting others because if the products do not work or are too expensive.
Then how are you going to convince other people to buy them?
Here are a few of Zogena's best-selling products…
Relax – Full Spectrum Formula – $129.95
Rest 1:1 CBD/CBN Formula – $129.95
Relief Broad Spectrum Hemp Extract – $159.95
3K Citrus-3000mg CBD Oil – $159.95
Soothe –  Hemp Extract and Magnesium – $69.95
If you are looking for further reassurance of what CBD is and a full description of the range of products that Zogena provide you can here.
You should know that there is a lot of competition in this industry as can be seen with the companies below selling very similar products…
Zogena Business Opportunity – What You Need To Know
If your interest in Zogena is because of the work-from-home business opportunity then this section would be for you.
How Much Does it Cost to Become a Zogena Distributor?
There is a one-off fee of $29 which gives you a lifetime membership.
That gets you to access the training, back office and your own personal website for showing prospective customers.
You will however have to purchase products for showing your customers.
How to Make Money as a Zogena Distributor
There are several ways to make money with Zogena with additional ones that come with the compensation plan.
Retail commissions based on wholesale-retail
Residual commissions are based on sales from your downline or team
Various bonuses based on team sales
Zogena Compensation Plan
The compensation plans are often extremely complex and would take a Harvard graduate to decipher so of them.
The one at Zogena seems to be pretty straightforward and one of the fairest we have seen.
For a detailed look at the compensation plan or sit back and listen to the plan explained by one of the distributors.
Are Zogena Distributors Actually Making Money?
This is a hard question to answer especially as there isn't an income disclosure statement provided.
What we do know though based on hundreds of MLM reviews is that around 99% do not earn enough to replace a full-time job.
If you are looking for confirmation then check out what the Federal Trade Commission has to say here.
What About The Hidden Costs at Zogena?
Something that is very rarely talked about when you are approached by a Zogena distributor is the additional costs that would be incurred.
We have already mentioned that to maintain an active membership you have to be able to sell $100 of products per month.
This could mean you having to shell out $1200 over the year not to mention what you are going to have to pay for marketing.
Zogena will teach you to use social media to recruit others but for the amount that you would need in your team to make it profitable, this won't cut it.
You would have to use paid advertising if you want your offers to be seen globally.
We would recommend between $50 and $100 a month for paid advertising.
That would be between $600 and $1200.
On top of staying active, you could be looking at between $1800 and $2400.
Is Zogena a Scam?
Technically speaking, Zogena is not a scam.
They manufacture and sell legit products that most people are happy with.
Zogena as we can see is the result of a rebranding from Bocannaco, as to why this has happened is unclear.
What you will find are disgruntled people who have tried to make a success of Zogena.
Due to them not having the experience or not being prepared to work hard they leave and then start pointing the finger.

What we Like About Zogena
Not Expensive To Join:
There's a one-off fee of $29.95 and that would give you a lifetime membership.
The CBD Industry Is Booming:
The CBD oil industry by the year 2025 is forecasted to be worth around $20 billion and will continue to grow.
Not often do we come across free shipping in an MLM but it does here with Zogena.
What We Don't Like About Zogena
Not Registered With The BBB:
They are currently not registered with the Better Business Bureau but that is probably down to the fact that the company is relatively new.
Competition is a major issue due to the enormous number of similar companies selling the same type of products.
There are MLM companies where the products are expensive which is to boosts income potential and non-MLM which are much cheaper.
Not part of the Direct Selling Association but just like the BBB this is probably down to the company operating just for a few years.
Mind you it doesn't take away the fact that becoming a member is not straightforward and means the company going through a strict vetting process.
This is not uncommon but in Zogens's case, there would not be enough data to properly produce one.
Zogena MLM Review – Final Thoughts!
It is still early days but the writing is on the wall for this company to become an MLM that you might consider.
We like the fact that there is free shipping which also comes with a 30-day money-back guarantee.
The products are free from chemicals and toxins and are all THC free and you can buy into the purchase program at a cost of $10 to $16.
So you can test the products first before making a commitment.
Zogena even provides lab tests for the products.
At the end of the day if you are interested in Zogena because of the work-from-home opportunity then the odds of you succeeding are slim.
Not impossible because there are some who do succeed in MLMs but these are normally very experienced network marketers.
If you are looking for a better way and one where there are no restrictions then please continue to read.
How we Make Passive Income?
It's not that we don't like the MLM business model because it's bordering on illegal or anything like that.
This is due to the restrictions that come with MLMs and the fact that it isn't your business.
Besides, have you not thought about what happens if/when the business closed down? You are left with nothing!
Just a few differences where…
You can promote any product or service you like
You do not have to purchase or stock products
You do not have to answer to a sponsors
You do not have to recruit
You do not need to handle customer orders, shipping or returns
All you have to do is connect the customer with the merchant and your job is pretty much finished.
If you have a passion or love for something, then why not turn it into a profitable online business?
We can provide you with the tools, the rest is down to you.

Feedback, Comments and Subscribe
Hope you guys enjoyed this review and that we were able to answer most of your questions.
If you have anything to add then feel free to add your comment below and we will get back to you.
Until next time, stay safe