Hey Guys, welcome to this Vasayo Review
If you have been approached by someone telling you great things about Vasayo products with the intention of signing you up.
Then you are right to stop and research this company further before you make a big commitment.
If you didn't already know, there are a hell of a lot of similar companies jumping on the bandwagon nowadays.
Trying to capitalise on what we all strive for, good health and longer lives.
As it is an MLM company then you are probably fully aware of the bad press that they get and that you have to be cautious.
In this review, you will learn all the important things, like is Vasayo a scam or a pyramid scheme.
Are the products legit and do they do what they say they will on the tin?
But more importantly, is there a work-from-home opportunity worthy of your attention?
Before we get started, let's set the record straight, we are not associated with Vasayo in any way.
So, rest assured we aren't going to pitch or try to sell you anything.
In the next few minutes, you will hopefully have all your answers so let's get started.
---
[Affiliate Disclosure: This Vasayo Review has been thoroughly researched from information and testimonials that are in the public domain. This post may contain affiliate links which means we may earn a small commission, however, this won't affect what you pay!] 
---
Vasayo – Summary
Product: Vasayo
Founder: Daniel Picou, Dallin Larsen and Karree Larson
Website: www.vasayo.com
Product Description: Nutritional supplements direct selling company
Cost to join: $35 or $64
Best For: Experienced network marketers who know how to sell and recruit which means a massive learning curve for newbies.
Recommended: Maybe
Summary: Vasayo is a multi-level marketing nutritional company in the Health and Wellness industry.
Providing various products that can help in your everyday life.
While the products might be great, you have to test them first before even considering their work-from-home opportunity.
Which is something we are going to dig deep into a little later on!
Vasayo – Table Of Contents
What is Vasayo About?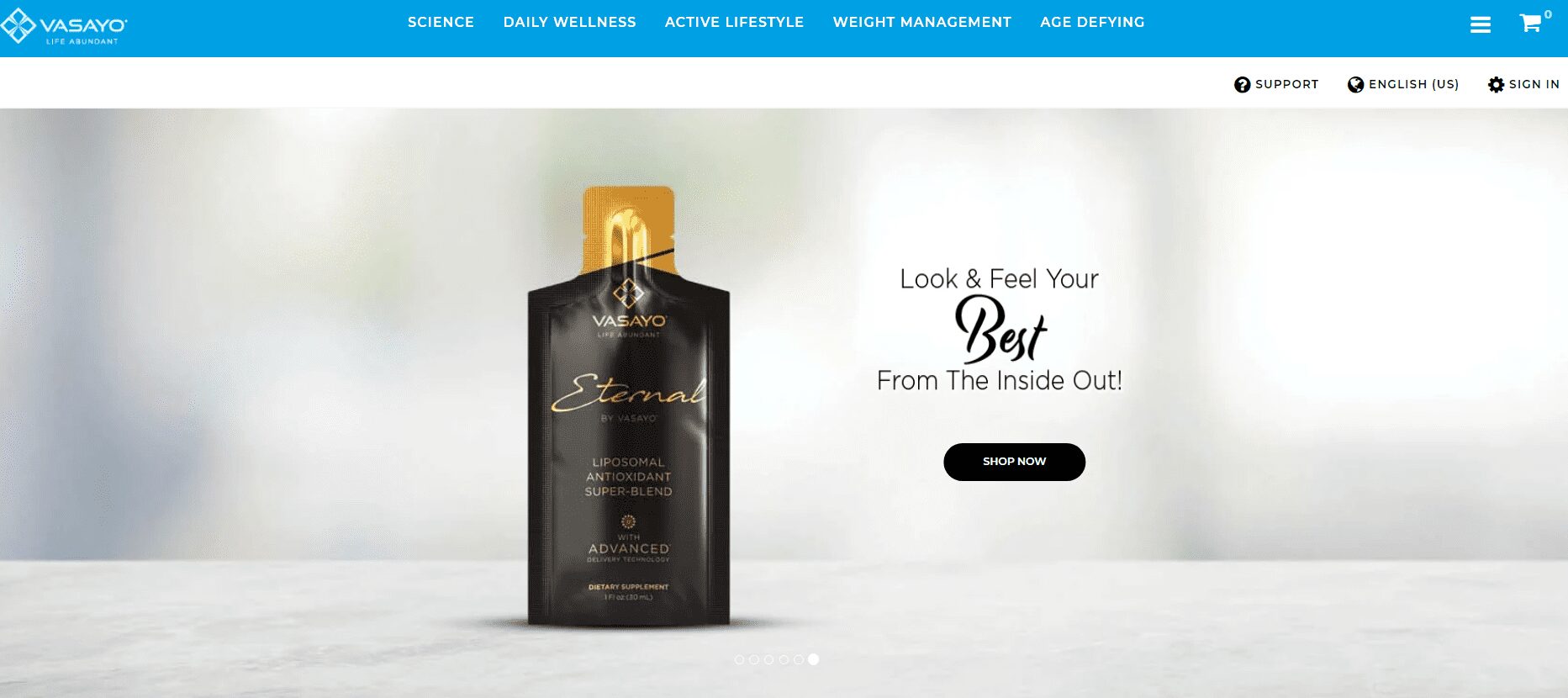 Vasayo is a direct-selling company or MLM that has been making waves in the health and wellness industry.
They came onto the scene back in 2016 after the collapse of one of the co-founder's previous companies but more on that a little later.
They are very similar to other companies like…
As they are under the MLM business model they do provide for anyone who is interested in a way to make some money from home.
What is useful to know is their philanthropy work through the foundation Hearts and Hands which supplies clean water to regions of Africa.
Who Are The Founders of Vasayo?
Vasayo is a husband and wife combination in the form of Dallin and Karree Larsen.
Along with their business associate who Dallin has worked with in the past, in fact, it was Dallin who convinced Daniel Picou.
To move to Utah to take on the role of co-founder and CEO.
We can see that the business has really taken off in the short years they have been active.
However only the year before Vasayo was founded, Dallin's previous venture with MonaVie collapsed and went into foreclosure through to defaulting on a $182 million loan.
Now that business went from zero to nearly a billion dollars within 5 years so what went wrong you might ask?
Some serious business management issues, I mean where did all the money go?
As a result of this, the business was sold to Jeunesse Global for $15 million which is quite laughable really.
His wife Karree who at the time was bringing up 4 kids on her own against all the odds of 4000/1 became a commercial pilot.
She has an eye for particulars and it's her skill that she has used to develop the Vasayo brand.
Daniel Picou is experienced in business strategy and development and has a deep understanding of how every decision can affect the well-being and overall culture of how a business thrives.
As well as responsible for building 2 successful businesses also.
Is Vasayo a Pyramid Scheme?
Vasayo is not a pyramid scheme per se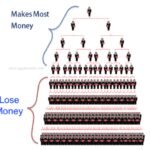 although they operate with all the traits of a pyramid scheme.
In fact, many people due to the pyramid-style business structure will continue to label them as such.
An out-and-out pyramid scheme would be when someone is getting paid for recruiting people without a product or service.
You see, you can still make money by purchasing the products and selling them without recruiting.
However to give yourself a chance of making some real money then you will have to recruit others and build a large team.
All the same, they could still be deemed as a pyramid scheme in disguise.
Just for clarity on what a Pyramid Scheme is…
A pyramid scheme is where the affiliate or in the case of Yasayo Brand Partners would be paid for recruiting others to join.
This would be where there wasn't a product or service.
Often there is a product or service but with very little value and something to hide behind to mask their real intention.
In this case, they do have legit products but you can't get away from the fact that you get paid on the strengths of sales coming from your team.
The FTC explain things in more detail which you can read about here.
You might like to check out this short video…
Why You Will Struggle With Vasayo – Something That You Need To Know!
We are not just talking about Vasayo here, this is about MLMs in general and whilst their products might be great.
Three important things that always let the side down are that the products are expensive, competition and the work-from-home opportunity.
Let's take a look at how an MLM starts and what's involved.
The journey begins with a start date and you and I are not invited, not unless you are an experienced network marketer.
People who are invited already have big followings, large email lists, and that sort of thing.
You are probably not aware but some network marketers are actually paid to join, in this case, Vasayo and yes that does happen.
This is through the invited marketers who bring their own in some cases massive followings.
A solid foundation needs to be in place first and this all happens prior to the gates being open to the likes of you and me.
It is important to start in this manner due to the life expectancy of an MLM which is 5-10 years.
They need to get off to a good start, sorry great start!
Sustainability is very important and to keep the engine moving people have to be recruited to prop up the company or pyramid.
What often happens is that your sponsor who you signup under should be training and motivating you.
But this very seldom is the case due to the focus on recruiting and building the biggest team they can before it all eventually collapses.
Ok, that might be a little extreme!
Unless you are experienced then you will struggle which is the reason why between 50 and 70 per cent leave within 12 months.
Not only that but around 99.78% do not earn enough to replace a full-time job with an average income of around $2,000 to $3,000 for the year.
Yes, you will find some earnings in the region of $20k-$30k but those will be few and far.
Don't believe me then please do your own research thoroughly!
Now if you are happy with those stats then all we can say is good luck.
MLMs always start off with a lot of interest because the best time to get involved is right at the beginning.
Once interest starts to slip it could be for many reasons, like lawsuits, poor quality products, too expensive, and people struggling.
Then people will struggle to recruit and all sorts of underhanded tactics are applied. That's when desperation sets in!
Once recruitment slows down then we see the founders looking for investment from "Angel Investors" to keep the engine moving.
Eventually, they will default on the debt because there is no money coming through and the company will go into foreclosure.
This is exactly what happened with Dallin Larsen's previous business Mona Vie.
That is if they haven't already been closed down by the Federal Trade Commission.
But, you know what? The marketers at the very top in the .22% will still be earning the megabucks and a few million less isn't really going to matter.
This is the short version of this documentary and the full version can be found on YouTube.
Having a passion for something is what gives you the drive so wouldn't it be more appropriate to build your own business from the ground up?
That way it is only you can fail!
This is not what an MLM will allow, and all it takes is for the business to fold and you are left with nothing, out of pocket and possibly in debt.
I know this isn't probably what you want to hear because you probably have your sights on joining.
Vasayo Product Line

Through extensive research, Vasayo discovered a unique way to deliver the nutrients inside liposomes to substantially improve bioavailability.
Vasayo is the first company to do this which helps to bypass the digestive system for better delivery.
It's the products that are key in any business and whilst the nutritional supplements industry is very competitive.
These have to be top quality in order to compete at the highest level.
The products are split across 4 main categories…
Daily Wellness

Eternal
Core Complete
Kaedia
V-Mune
Neuro Caps
Sleep
Active Lifestyle

V3
Coffee
Renew
Eternal Active
Weight Management

V-Tox
V-Burn
V-Shake-Whey
V-Shake-Vegan
Vasayo V-Slim
Age Defying

Beleza Hydrating Mist
Premere
Beleza Serum
Beleza Rejuvenating Cream
Beleza Collagen
For a full description of the products and price head over to their website.
Vasayo Business Opportunity – What You Need To Know
For anybody who is looking to take Vasayo to the next level with a home-based opportunity, this section is for you.
How Much Does it Cost to Become a Vasayo Brand Partner?
The initial fee to become a Vasayo brand partner is currently $29.95.
In addition to this, you will be required to purchase one of the 3 packs…
Intro Pack up to 160PV priced between $110 and $299
Builder Pack , 160PV – 500PV which will cost between $299 and $799
Pro Packs, 500PV+ and that will cost you between $974 and $1499
How to Make Money as a Vasayo Brand Partner…
The 2 main ways to make money as a Vasayo Brand Partner…
Buy the products yourself and sell them to family and friends
Join as a Brand Partner and build a team and make commissions from the sales from your team
Recruiting isn't for everyone, it wasn't for us because we hated cold-calling.
But if you come from a sales background or are just willing to learn then who knows where you could take this business.
Vasayo Compensation Plan
The compensation plan is how you get paid and is what creates the pyramid-type structure.
There are 12 ranks to climb if you want to be in the top 1% which can take years of hard work.
These have been extended since Vasayo came onto the scene.
They are often complex but the one here at Vasayo is quite easy to comprehend.
Are Vasayo Brand Partners Actually Making Money?
There really isn't an income disclosure at Vasayo but what we did find was this snippet which doesn't really tell you very much.
In our experience from reviewing hundreds of MLM reviews, we find that they all follow a similar path and figures don't change much.
The top .22% is where all the money is earned which leaves 99.78% that do not earn enough to tell their boss where to go.
I know those figures probably seemed far-fetched and are too ridiculous to take on board but this is the reality of it all.
If you are looking for confirmation then check out what the Federal Trade Commission has to say here.
Is Vasayo a SCAM?

Is Vasayo a Scam? Absolutely not!
They are a legit multi-level marketing company manufacturing products through scientific research.
It is noted that Vasayo which is a relatively young company has already received many rewards.
For outstanding commitment to the health industry.
In 2109 they were awarded the top 50 companies throughout the world in healthcare.
However, as it is an MLM company then they attract plenty of negative feedback which sort of puts a damper on the products.
But, without recruitment Vasayo would not survive on pure sales alone, simply because of competition.

The Truth in Advertising
The Truth in Advertising is like an independent watchdog that monitors things like poor performance and underhanded going on.
If a company has been performing in a manner that goes against business ethics then be sure to find a mention in the TIN database.
As it is, Vasayo has not been involved in such activities.
What Others Say About Vasayo
We have done a bit of digging and couldn't really find much in the way of bad feedback however if you keep looking you are sure to find something.
There is nothing untoward on TrustPilot but Reddit has a bunch of stuff if you have time to read.
Here's an article that we found on Reddit that stood out and think is worth reading about preying on the sick.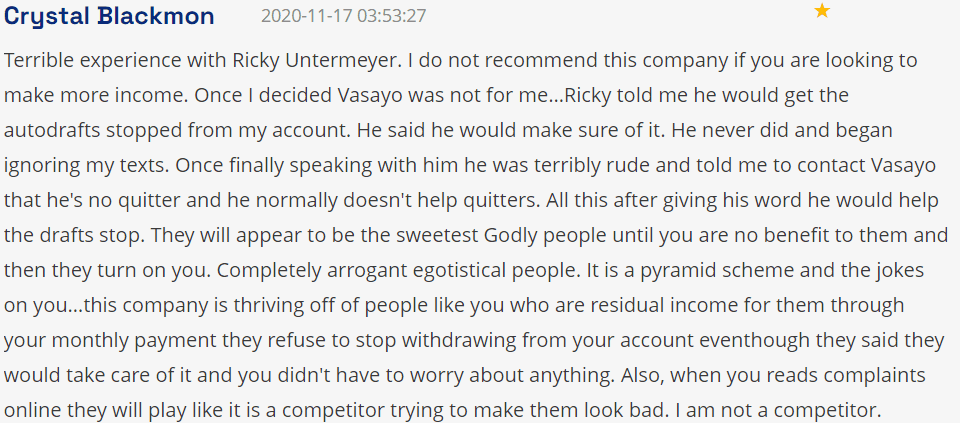 Thought you might like to read this complaint which is on the Better Business Bureau site and this is after 5 days of joining.
Is Vasayo FDA Approved
The Food And Drug Administration have strict guidelines to work to after all they are responsible for regulating certain products and our health.
The FDA is responsible for…
Human drugs and Biologics
Animal drugs
medical devices
Tobacco products
Food including animal food
Cosmetics
Electronic devices that emit radiation
But even they don't all go through the FDA process.
In the case of Vasayo, if they say or indicate that their products can cure then they have a problem unless they have been approved by the FDA.
Even if they were found out to be doing this then all that would probably happen is a caution and told to change or remove said comments.
Vasayo does not make any such claims on its website or mention FDA approval which is in this case is fine.
What we Like About Vasayo
Accredited With The BBB:
They are accredited with an A+ at the Better Business Bureau and the customer complaints which you can find there were handled and taken care of.
Legit Company That Is Clear Of Misdoings:
Throughout our research of Vasayo there wasn't much in the way of negative feedback that we could find and people, in general, are happy with the products.
What We Don't Like About Vasayo
Not Part Of The DSA:
Becoming a member of the direct selling association isn't as simple as paying your dues and hey presto.
They follow strict guidelines and would have to go through a vetting process before they are considered.
This can take a while and as Vasayo are a relative newcomer then there might just not be enough data for the DSA to work on.
This is just something that you can't get away from and it looks like we are constantly repeating ourselves.
But if you are looking to improve your life then this is not the way to go especially if you are complete newbie to making money online.
Trending Is Somewhat On A Downward Spiral:
As you can see from the image below interest was at its peak when Vasayo came onto the scene which is what we expect.
But over the years the interest has dwindled somewhat.
Vasayo Review – Final Thoughts!
We are at the point where we are about to wrap things up but before we do we just like to go over a few things.
We get the feeling that what has sparked an interest in Vasayo is probably the earning potential and a way to better your life.
If you have been approached by one of their Vasayo Brand Partners.
Then they will have told you how brilliant the business is with more of an emphasis on the make-money opportunity. After all, that is why you are here!
Unfortunately, MLMs are not the answer because as you have seen everything is stacked against you.
Well, not unless you were invited at the launch date and already have a large following.
However, it doesn't matter how much evidence we can give, people have a tendency to not believe what is right in front of them.
Are you that person? Hope not!
We have experience in MLMs ourselves and the reason why we have written hundreds of reviews to highlight the issues.
After wasting a couple of years we eventually found a way that works for us and it will work for you.
If you want to know more then please continue to read as we would love to share with you what is it what we do.
How we Make Passive Income?
Earning multiple passive income streams is what we all want to achieve and the best business model for this is affiliate marketing.
This means that you can leave the business working in the background 24/7 with very little intervention.
But what really sets this business model apart from an MLM business is the lack of restrictions…
You do not have to recruit, cold call…
You don't have someone pestering you all the time like a sponsor…
You can promote any product or service you like…
You have no stock to purchase…
You don't even have to handle the customer orders, shipping or returns…
You can run this business when and where you like…
This business is YOURS not like an MLM where it isn't
Extremely cost-effective and you can start today for free
Have a passion for something, then why not build a business around something you love?
Here is the link which will not cost you a dime with no credit card so what have you got to lose?

Vasayo FAQs
How Much Does It Cost To Become Vasayo Brand Partner?
To join Vasayo there is the initial enrollment kit which costs $29.95
Plus you will have to purchase one of the 3 packs which can range from as little as $110 for an Intro pack, all the way up to a Pro Pack costing $1499.
How Much Do Vasayo Products Cost?
The cheapest price would cost you $49.95 and that would be for the Vasayo V Shake going up to a bulk pack costing $1499 for the Life Abundance Pro Pack.
Can You Explain The Refund Policy To Me?
Products may be returned within 30 days of the original order date and not the delivery date.
So that means if the products were delivered 15 days after you ordered them then you have 15 days to comply.
Shipping costs are the responsibility of the customer/Brand Partner with a 90% refund returned.
If for whatever reason the customer/Brand Partner asks for a refund with a value of $500+ within a calendar year.
This may be grounds for involuntary termination.
What Percentage Of Customers Against Brand Partners Are There?
Around 85% of Vasayo associates are customers who join to take advantage of the discounts, whilst around 15% go on to become Brand Partners.
What If I Decide To Change My Mind And Cancel My Enrollment Fee?
You have up to 7 days to request a refund from the date of enrollment for which your enrollment fees will be paid within 10 days.
With regards to any products purchased as part of the enrollment, you will have to check with your sponsor to see if these products qualify also.
Feedback, Comments and Subscribe
Thank you for being patient and staying with us till the end hope you enjoyed and got some benefit from this Vasayo review.
As always, if you have any questions don't be afraid to put them down in the section below.
Until next time, stay safe