Welcome to my Ruby Ribbon Review
The chances are that you have been approached by a family member or friend.
Telling you about this fashion company that sells some cool products where you can also make some money.
This is why you are doing research and looking at the various Ruby Ribbon reviews to see if this is a legit opportunity.
But before we get started we'd just like to make a small disclaimer that we are not associated with Ruby Ribbon.
That means we are in a position to provide you with an honest unbiased account.
So if you have questions like is Ruby Ribbon a scam or a pyramid scheme then all will be answered in the next few minutes.
That way you should have enough information to make an educated decision about whether Ruby Ribbon is for you or not.
---
[Affiliate Disclosure: This Ruby Ribbons Review has been thoroughly researched from information and testimonials that are in the public domain. This post may contain affiliate links which means we may earn a small commission, however, this won't affect what you pay!]
---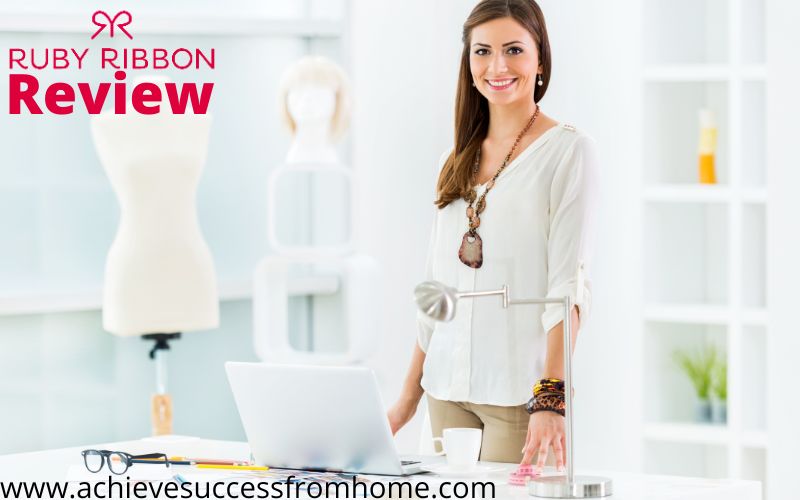 Product: Ruby Ribbon
Founder: Anna Zornosa
Website: www.rubyribbon.com
Product Description: Women Fashion MLM
Cost to join: From $99
Recommended: Maybe
Summary: If you are a woman and looking for an alternative to a wired bra with support and real comfort.
Then Ruby Ribbons might have the answer with their range of camis.
If you end up liking the products that much then maybe you'd like to take a punt at their work-from-home opportunity.
But this isn't quite as straightforward as you may think which this review is about to reveal.
Ruby Ribbon Review – Table of Contents
What is Ruby Ribbon About?
Ruby Ribbon is a fashion company offering a range of extensive women's clothing which should appeal to most women.
Founded in 2011 by Anna Zornosa and is based in Silicon Valley.
They have had a number of mentions in various magazines such as Instyle, The Oprah Magazine and Forbes just to mention a few.
The current CEO is Clint McKinlay who joined Ruby Ribbon in 2020.
Here's a short promotional video…
Who is Anna Zornosa?
Anna Zornosa is the founder of Ruby Ribbon who created this unique shapewear fashion company.
Through many studies, she came up with the
concept to do away with wearing bras and replace them with camis
Who has a wealth of knowledge in business and entrepreneurial ship and has provided help for several years to business startups?
She's an author and speaker who regularly writes on various topics about women's health and the success of women in business.
Is Ruby Ribbon a Pyramid Scheme?
Ruby Ribbon is not a pyramid scheme even though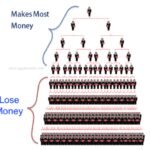 you may see many people quipping that it is one.
They provide a vast range of women's clothing that many women love and provide a way to make money from home.
An actual pyramid scheme does not have any products or services and relies totally on recruitment and building large teams.
Ruby Ribbon could however be looked at as a pyramid scheme in disguise since the only way to stay in business is through recruitment.
Just for clarity on how to spot a pyramid scheme…
How Ruby Ribbon Works
Ruby Ribbon is pretty much like any other multi-level marketing company where they rely heavily on their stylists to keep the wheels in motion.
Stylists also take away the vast marketing costs since stylists are doing the marketing for them.
They also help to spread the word and to reach a wider audience across many countries.
All this goes towards Ruby Ribbon saving a vast amount of money on marketing which allows them to create incentives that come as bonuses.
Who is Ruby Ribbon For?
Ruby Ribbon would be ideal for fashion-conscious women who are looking for a range of clothing that is different.
That way it would be easier to market the products since the products are the main reason that you would be joining.
It would also benefit experienced network marketers rather than complete newbies to making money online.
A prerequisite would be excellent sales and recruitment skills, since building a large team is the only way to succeed with Ruby Ribbon.
Ruby Ribbon Products Line
The products are designed and manufactured for comfort and confidence with the core values…
We CARE about ourselves and one another
We offer COMFORT, physical, emotionally and financially
We believe CONFIDENCE is beautiful
We EMPOWER women to feel and be their absolute best
We are REAL in who we are, what we say and what we do
We find SOLUTIONS, not problems
The products are key here and whilst the products are loved by many they have to be as good as they say and the only real way is to test them yourself.
Here you can check out the products yourself.
Here are some similar companies that might be of interest to you…
Ruby Ribbon Business Opportunity – What You Need to Know
If your interest in Ruby Ribbon is primarily because of making money at home opportunity then this section is for you.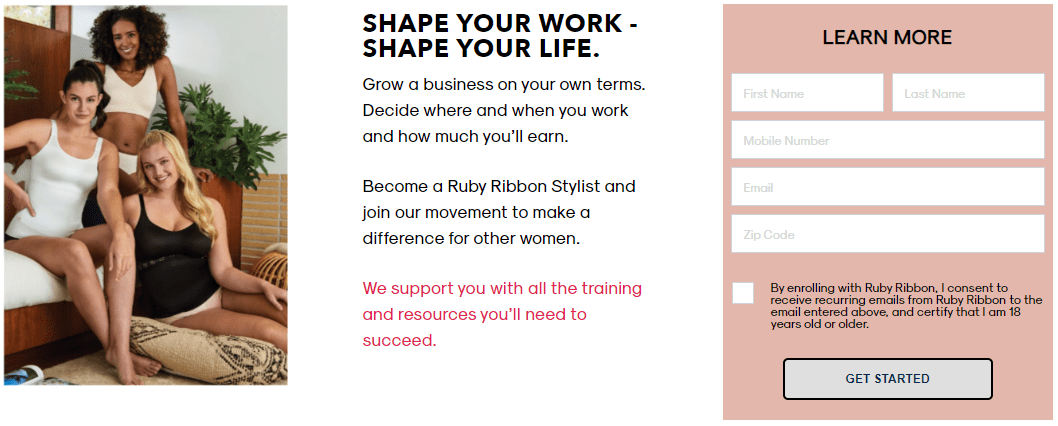 How Much Does it Cost to Join Ruby Ribbon?
There are 2 options when deciding to join Ruby Ribbon.
Join as a stylist and sell the products with commissions as high as 40%
Join as a stylist and become a leader, build a team where you make commissions based on what you sell and what your team sell with commissions of as much as 40%.
If you want to turn this opportunity into a business then there are 4 membership options.
Starter Kit – $99
Starter Kit Plus Basic Booster – $299
Starter Kit Plus Best Sellers Booster – $399
Starter Kit Plus Delux Booster – $599
A full list of what this entails and what you get regarding the business side.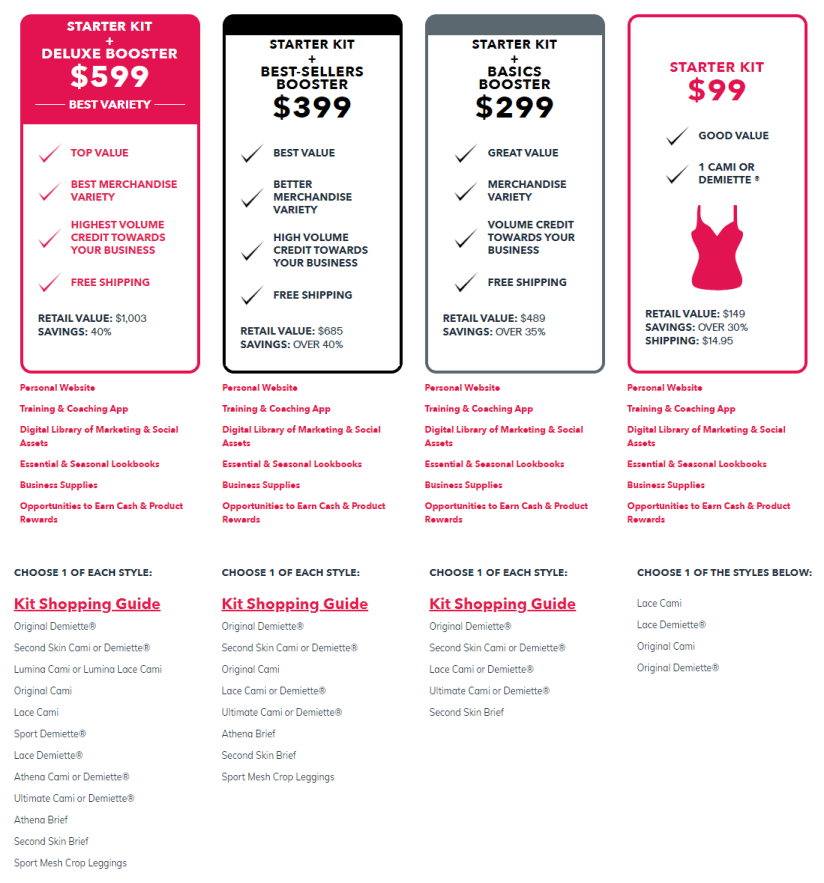 How to Make Money With Ruby Ribbon
There are a number of ways to make money with Ruby Ribbons but the 2 main ways are selling the products yourself.
Or building a team and making commissions from the sales of your team.
There are additional ways but these are dependent on your performance with recruitment and building a team.
These are bonuses that will be explained further in the compensation plan which is coming up in the next section.
Ruby Ribbon Compensation Plan
The compensation plan is how you would get paid and are often overly complicated, that's if you can find one.
This is something that the majority of MLMs provide, whether through their website or some other mechanism.
Unfortunately, Ruby Ribbon does not provide a pdf version but you can find it all explained in the video below.
Are Ruby Ribbon Stylists Actually Making Money?
We did manage to find a current income disclosure statement and as you can see, 94.3% earn an average of $2,100.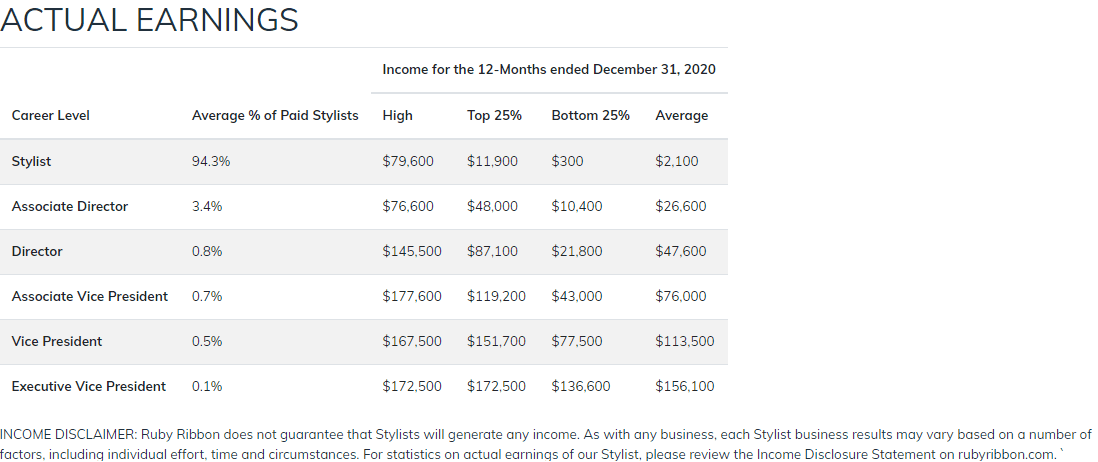 If you are looking for confirmation then check out what the Federal Trade Commission has to say here.
Can You Make Money With Ruby Ribbon?
Well, we would be lying if we told you that you can't earn anything as a Ruby Ribbon stylist.
But we would also be lying if we told you that this is a great business to get involved with, certainly if you are thinking of turning it into a success.
Having said that, if you are prepared to take this seriously and are prepared to learn, work hard and be patient then anything is possible.
We do however know just how difficult MLMs are through our own personal experiences and sales and recruiting just weren't for us.
Cold calling is just full of disappointment and rejection which you have to learn to put up with but most people just can't.
What About The Monthly Costs at Ruby Ribbon?
The majority of MLMs require that you meet sales quotas in order to stay active as a stylist and Ruby Ribbon are no different.
As a stylist, you have to meet your sales target of $300 on a quarterly basis.
Now providing you are good at sales then that shouldn't be an issue but with all MLMs, we do find this to be an issue.
What normally happens is if you still want to take advantage of discounts and bonuses, stylists end up purchasing the products themselves.
That alone could cost you $300 * 4 = $1,200.
Then you have to factor in additional costs like autoresponder for storing your customers – $25 -$35 a month.
There are fuel, food and venue costs for party planning and what about hotels if you are to attend conferences.
Truth in Advertising
The Truth in Advertising is a dedicated non-profit company, pretty much like a watchdog who keep an eye on things.
A place you should check out first because you never know TINA could end up saving you a lot of time and money.
If there is anything to report or maybe someone has got in touch with TINA regarding an issue with a company that they would like to look into.
Any negative outcome will be on the TINA database for all to see.
There are a whole bunch of interesting facts on the TINA database for Ruby Ribbon.
What Others Are saying About Ruby Ribbon
There are a few mixed feelings regarding the quality, sizes and support which could be down to the fact that they are made offshore.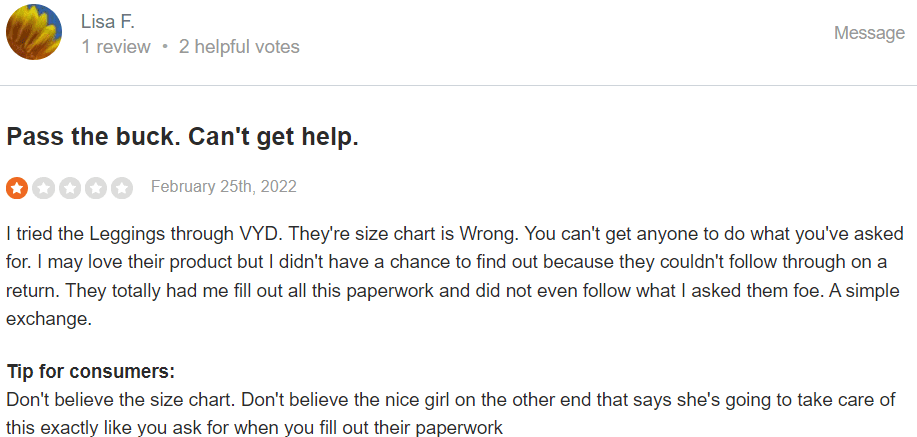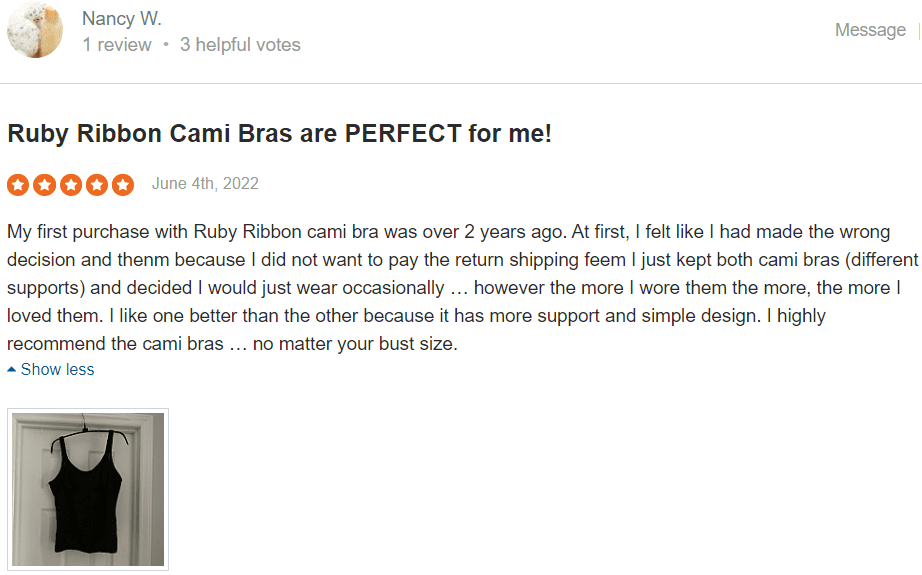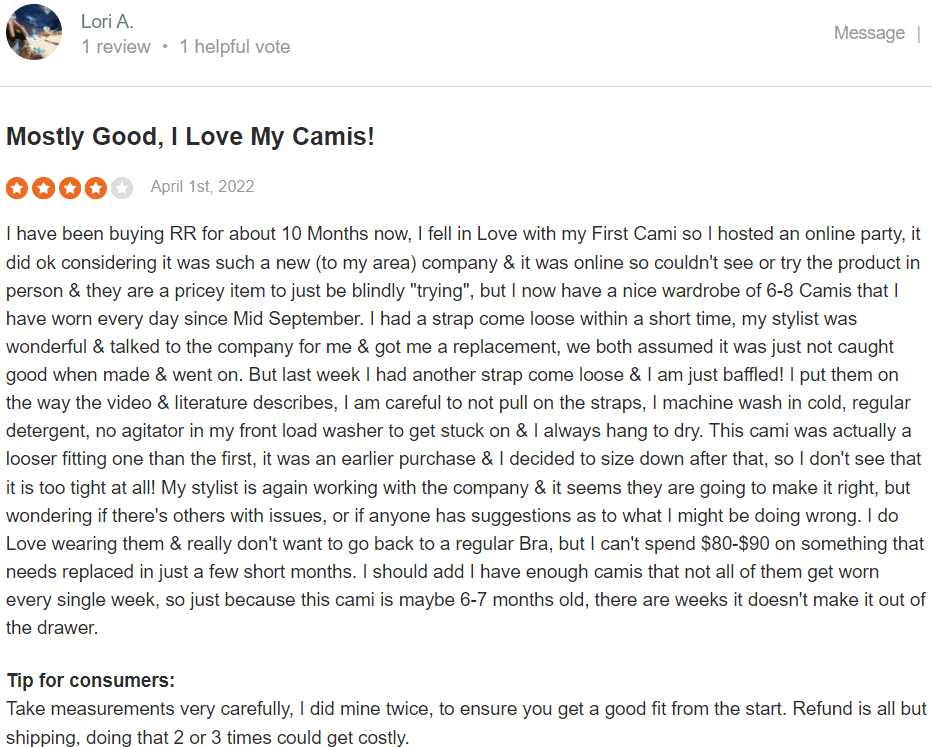 Is Ruby Ribbon a SCAM?
Ruby Ribbon is definitely not a scam however you may come across some disgruntled past stylists.
That is pretty common amongst MLMs.
They are a legit company that has been around a decade which in MLM terms is a good sign.
However making a success of this business is going to be difficult but with the right attitude, anything is possible.

Ruby Ribbon Review – PROs
Ruby Ribbon Is A Member Of The DSA:
You might say that becoming a member of the Direct Selling Association is a step in the right direction.
Well, it is because it is not easy to get accepted and requires that the company goes through some stringent rules before getting accepted.
The Niche Isn't Overly Saturated:
They have settled on a niche where they are targeting women who would like to have the bras replaced with an alternative more comfortable garment.
They Are An Established Company:
Founded in 2010 they have managed to survive the dreaded 5 and 10-year period that not many MLMs manage to get through.
In fact, 1 in every 3 MLMs actually manages to get through the 5 year period which should tell that Ruby Ribbon is going to be around for a while.
Ruby Ribbon Review – CONs
Not Accredited With The BBB:
Google trends show the interest of people who are showing interest in the search engine.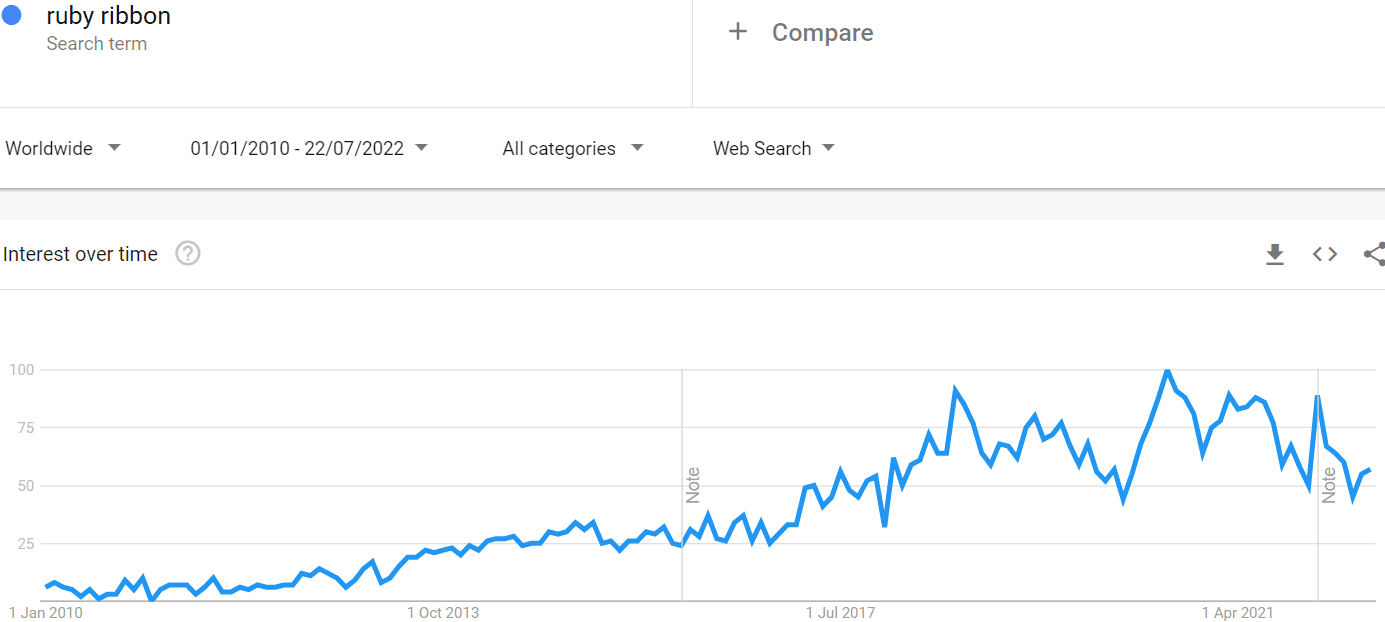 The Potential For Income Growth Is Very Poor:
The average income earned for 94% of the stylists is only $2,100, now does that give you the confidence to get involved with this opportunity.
Overall Feedback Is A Little Mixed: 
Issues with quality and sizing coming from a number of customers and we believe is down to the fact that products are manufactured in China and Vietnam.
There's a lot to be said about products made in the country of origin!
Tools And Support at Ruby Ribbon
The tools and support are provided when you become a stylist which you will find on the website's back office.
Now, the big thing here when you join is to find a sponsor who is experienced and prepared to share with you how it is all done.
That's if you are a complete beginner!
This is something that people do not spend time researching and end up joining a sponsor who spends all their time trying to build a team.
They seldom have any time for their team members and one of the main reasons why stylists end up leaving.
My Ruby Ribbon Review – Final Thoughts!
The multi-level business model is not easy to succeed in unless you already come from a network marketing background.
So if you have a large following then the commission rates up to 40% might appeal.
What makes Ruby Ribbon stand out is the niche that they have adopted for women with a more womanly figure.
The compensation plan is simple and straightforward.
When it comes to women's fashion I would have thought the retail highstreet would be high on the agenda.
So it is obvious that the initial interest in an MLM is primarily for the work-at-home opportunity.
Now you know the pitfalls is it still an avenue that you want to go down?
How we Make Passive Income?
After a couple of years of trying the MLM business model and failing miserably, we settled on affiliate marketing.
With an MLM business, it isn't actually your own business because if/when the company closes and it happens all the time you lose everything.
Now is that even worth the risk?
An affiliate marketing business is your own and nobody can take it away from you and you can promote anything you like.
It is also one of the best ways for making passive income.
Wealthy Affiliate is the company providing all the training, just check out the reviews on Trustpilot.
The training platform is a one-stop-shop meaning that everything you need to succeed is there.
Education and training, Web development, Hosting your website, and a community that cares…

Ruby Ribbon Review – FAQs
Here's a bunch of questions that people are keying into the search engines that might be of interest.
Who Owns Ruby Ribbon?
Anna Zornosa is the actual founder who seems to have passed over the reigns to Clint McKinlay who took over as CEO in 2020.
How Much Does It Cost To Join Ruby Ribbon?
As of this review, you can join as a stylist for free but if you want to take part in the compensation plan it will cost a minimum of $99 and as much as $599.
How Do You Care For Ruby Ribbon?
Wash the demiettes and camis in cold water using a regular wash detergent or a lingerie bag if you possess one.
Don't use Oxyclean, fabric softener or Woolite.
Does Ruby Ribbon Have Latex?
All Ruby Ribbon products are free of latex which is labelled inside the garment. Information on the actual website can be found to confirm this.
Are Ruby Ribbon Camis Worth It?
There are some mixed feelings on quality and sizing which may have been rectified but I would suggest checking first.
These are made for the above-average bust size and whilst they don't support like underwired bras many do prefer them.
Where Are Ruby Ribbon Camis Made?
The actual fabric is made in the US but the products are made in China, Vietnam and Nicaragua.
That might account for the discrepancies in the sizes.
Is Ruby Ribbon In Canada?
Unfortunately, Ruby Ribbon is only shipped within the US and the 50 states and does not offer international shipping including Canada.
What Is A Demiette?
Is part of the Ruby Ribbon product range which is a bra replacement that supports and lifts without wires.
Feedback, Comments and Subscribe
Hope you enjoyed the review and that we managed to cover most things that you need to know before taking the plunge.
Maybe you have had experience with Rub Ribbon and feel like sharing it with our readers.
If you have anything to add please add it in the next section below.
Take care!
Stay safe!