Welcome to Lilla Rose Review
Maybe you have been approached by a family member or friend telling you about a company selling hair clips and how

attractive they are.
That they do exactly what they say and that you can earn yourself some money by working in the comfort of your home.
This probably all looks like a great opportunity but you thought you'd check them out first to see if there was anything untoward.
For the last couple of years, we have been helping people just like you find the right opportunities.
Rest assured you are in the right place as we are not associated with Lilla Rose and therefore we can provide you with an unbiased review.
With all the facts so that you can decide for yourself whether Lilla Rose is the right opportunity for you or not.
With that said, let's begin.
---
[Affiliate Disclosure: This Lilla Rose Review has been thoroughly researched from information and testimonials that are in the public domain. This post may contain affiliate links which means we may earn a small commission, however, this won't affect what you pay!] 
---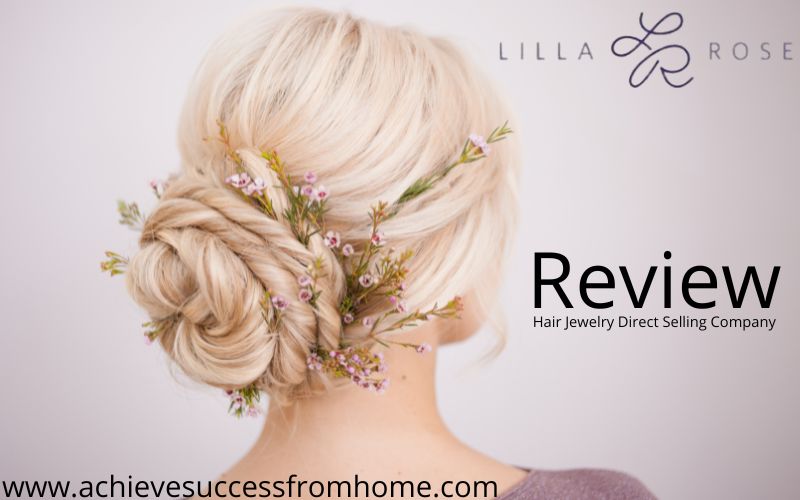 Product: Lilla Rose
Founder: John Dorsey
Website: www.lillarose.biz
Product Description: Hair clips and accessories direct selling company
Cost to join: Free
Recommended: Maybe
Summary: Lilla Rose is a unique multi-level marketing company manufacturing a range of.
Women's hair products and accessories for everyday use.
There is also a work-from-home opportunity for anybody who would like to make some extra cash to help on a financial level.
If that is what has sparked your interest in Lilla Rose then stay with us because there are a few things you need to know first.
Lilla Rose Review – Table Of Contents
What is Lilla Rose About?
Lilla Rose is a family-run multi-level marketing business that manufactures and sells various hair accessories.
They came onto the scene way back in 1992 and were founded by John Dorsey and are based in Southern California.
The idea all came about due to John's wife who needed a pair of beaded chopsticks and so he set about making some in his garage.
Very early on he realised that he'd hit on a market which wasn't saturated and so he started to market various products for major companies.
The product that started it all off was the Flexi Clip which john actually has a patent for.
Obviously, the big problem was getting the products to a wider audience and that's when he decided to branch out as a direct selling company.
Employing consultants which they call Lilla Rose Stylists to do that very thing.
It is still a relatively small MLM compared to many others that are out there but has a friendly and family feel about it.
Here's a short promotional video that might interest you…
Who is John Dorsey?
John Dorsey is the founder and CEO of Lilla Rose
which started in his garage in the early 90s.
After years of struggling and trying to do everything himself the company eventually went down the direct selling route in 2008.
To offset a lot of the marketing and obviously to reach a wider audience.
John comes from a family of seven with only two surviving and had to contend with his sibling's and mom's addictions.
So most of the time he felt that he was left to his own resources.
He has even had to endure the death of his brother through a drug overdose which gave him a wake-up call.
This has helped him to become a stronger person and more giving and this can be seen in his enthusiasm through his videos.
Is Lilla Rose a Pyramid Scheme?
Is Lilla Rose a pyramid scheme? Absolutely not!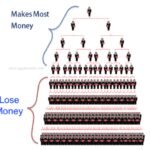 Pyramid schemes are companies that promote the lifestyle but do not have any products or services to promote and sell.
Lilla Rose has a whole range of products that people are loving and you don't even have to recruit to make any money.
However, if you want to progress and earn some real money then you will have to learn to recruit and build a large team.
Just for clarity on what a Pyramid Scheme is…
A true pyramid scheme is when the distributors are paid a commission for recruiting only.
This doesn't happen often nowadays but something you need to know because of what you may find often.
Are companies who use a product or service of some description to hide behind to disguise what really is going on.
Where these products and services have no real value to anybody.
Eventually, they come under the scrutiny of the Federal Trade Commission and closed down.
The FTC did thorough research on MLMs in general and can be found here.
You might like to check out this short video…
Success is Rare With Lilla Rose
Most people struggle with the multi-level marketing business model for all sorts of reasons but mainly down to not being fully committed.
We can see why because of all the bad press around the direct selling industry.
People are very sceptical and only go into this type of venture halfheartedly instead of making a full commitment.
You can't expect to be earning a good income overnight and certainly not within the first 6-12 months.
That commitment should be 2-5 years but nobody wants to waste that amount of time, right? With no guarantees!
This is no different to any other business venture which takes time, hard work, consistency and above all patience and being prepared to learn.
That's why as many as 50-65 per cent who enter this type of business leave within 12 months.
Lilla Rose Products Line
With any business venture that you may undertake the most important is the products or services that the company provides.
You have to know that they will do what they say and you have to have confidence in the products otherwise what is the point?
Lilla Rose hair clips are popular because they cater for all styles of hair from thin air, to thick and long hair.
The products come in various sizes and you are sure to find the right clip for your style.
They also come in various materials from hard plastics to metal clips which won't break, not like many similar products you can find in the high street.
I know only too well what my wife goes through with them breaking, tangles and even headaches because they are far too tight.
The product range extends into the hundreds and at various prices from $5 all the way up to $91.
Check out the full range here.
You might like to check out some similar companies…
Lilla Rose Business Opportunity – What You Need To Know
If your interest in Lilla Rose is because of the home-based business opportunity, then this section is for you.
How Much Does it Cost to Join Lilla Rose?
The cost of becoming a Lilla Rose Stylist is free where there are no monthly or yearly membership fees to pay for.
You will however have to purchase a starter pack…
They have a monthly kit which obviously changes each month but I guess the price may not alter much.
July Enrollment Kit – $49
July Enrollment Kit Plus Fast Start Mix – $549
Ready Set Style – $89
Ready Set Style Plus Fast Start Pack Mix – $589
You will get access to a personal website to promote the products, and business tools, access to the back office and training.
How to Make Money With Lilla Rose
There are 2 ways that you can make money as a Lilla Rose Stylist.
Sell the products yourself
Recruit a large team and make commissions from their sales.
There are other ways of making money which are highlighted within the compensation plan.
Lilla Rose Compensation Plan
The compensation plan is how you get paid as a Lilla Rose Stylist and are often complicated but no need to worry here.
There are only 5 ranking levels to climb, not like some MLMs where I have seen 15+ and to get to the top level would take a lifetime.
So here we go…
Consultant
Supervisor
Manager
Director
Unit Director
You can earn between 30% and 45% based on sales volume and this applies to all the ranking levels.
Sell $2000 worth of products and you will make around $900 which is a good return but you are going to have to sell an awful lot of hair clips.
Here's the compensation plan to check out or you might like to listen to the founder talk you through it in the video below.
Are Lilla Rose Stylists Actually Making Money?
This is a hard question to answer considering there isn't an income disclaimer statement available.
It all depends on what you are looking for regarding income.
Is it that you eventually want to replace a full-time job or is this more of a hobby to get together with family and friends and make a little on the side.
We know that there are some stylists making decent money like there is always in any MLM.
But this tends to be in the top 1% in fact more like the top .22%.
Can You Make Money With Lilla Rose?
Of course, you can make money as a Lilla Rose Stylist and we'd be lying if we said you couldn't.
This is all down to each individual and how much effort you are prepared to put into the business.
It goes without saying the more you put into something the more you will get out of it.
But the key element here is knowing how to sell and recruit and build a large team.
Because you are going to have to sell a lot of products because of the low cost and besides the product do appear to pretty robust.
This means they are not like consumables but there is an extensive range which could mean people coming back for different styles on a regular basis.
What About The Monthly Costs at Lilla Rose?
Most MLMs come with hidden costs which tend not to be spoken about and only find out when you decide to join.
The only costs for you are that you will need to carry some stock so that you can show prospective customers.
Other than that it all depends on how you want to market the products.
You will need to consider either paid marketing through social media and maybe Facebook ads or Bing advertising.
You might be looking at $50-$100 a month but it could be a lot higher and then there's an autoresponder for email marketing for $30-$50 a month.
Or you could create your own website if you are not able to maintain the personal website that you are given.
Create great content about anything to do with hair and what people are searching for in the search engines like Google.
This is called SEO (search engine optimization) which takes a little time but is free and eventually you could have yourself a passive income generator.
Truth in Advertising
Truth in Advertising is a non-profit organisation which monitors and reports on companies that are not running a business in the correct manner.
People like you and I can and do report any business and TINA will do extensive research and report their findings just like a watchdog.
If there is anything untoward then rest assured there will an entry or maybe several on the TINA database.
We can see that there are no entries for Lilla Rose so nothing to worry about there.
Is Lilla Rose a SCAM?
Lilla Rose is definitely not a scam as the business format has been going since the early 90s.
You may find a few negative reviews from past stylists who struggled and didn't make a dime and probably ended up losing money.
There is bound to be some negative feedback about the products that may not be up to the same quality but that goes for all businesses too.
This could have something to do with where the products are now manufactured as the manufacturing process has changed.
With rising costs, tends to mean lower-quality materials.
We have listened to genuine Youtube videos of stylists who have gone into this business venture extremely sceptical.
But after 2 years they have been able to resign from their full-time jobs.
So, there's nothing to worry about on whether Lilli Rose is a scam!

Lilla Rose Review – PROs
Legitimate Company With Plenty Of Years Behind It:
The business model has been around since the early 90s however the direct selling business didn't exist before 2008.
Very Inexpensive To Get Started:
It's free to start however you will be required to purchase a starter pack but once that is done your costs regarding the business are minimal.
Most MLMs have a sales quota to meet just to stay active as a distributor, but that isn't the case here.
Money-Back Guarantee Policy:
There is a money-back guarantee for anyone customer who isn't satisfied with the product within 30 days of the purchase date.
The guarantee extends to 90 days if you have a defective, damaged or incorrectly sized.
For any product that is defective that guarantee extends to 1 year.
Billa Rose Is Showing Popularity:
They have shown a steady increase in popularity from 2008 up until around 2017 when things started to dwindle.
But as you can see now an explosion of interest has developed.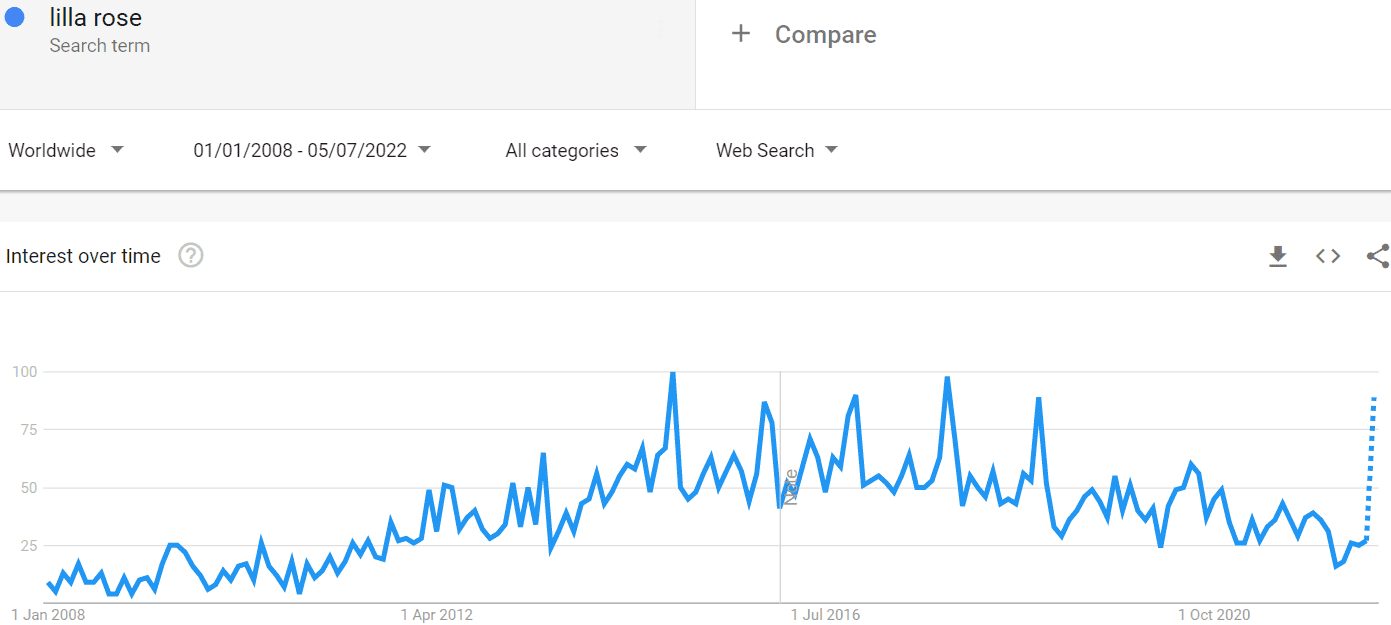 Lilla Rose Review – CONs
The Potential To Earn A Decent Income Is Not Good:
It is common knowledge that all MLMs are difficult to succeed in with as many as 99% who do not earn enough to replace a full-time job.
This Is Not Your Business Even Though You Think It Might Be:
The problem with any MLM is that the owners and sponsors try to convince you that this is your business and it really isn't.
What happens if/when the MLM closes and they do all the time?
That leaves you with no business and all those years that you spent building it up all for nothing.
They are registered with the Better Business Bureau but they aren't rated
What About The Monthly Expenses:
The monthly expenses are something that is not talked about when you are approached by a sponsor.
Hence why so many people who join MLMs end up leaving in debt.
That's why you need to know about things like autoresponders, landing page creators, and paid traffic. These all mount up!
Lilla Rose Review – Final Thoughts!
What we instantly noticed when we started this Lilla Rose review is that it is a legit family-run multi-level marketing company that has been around a while.
Whilst Lilla Rose didn't come into fruition until 2008 the business concept was already in place as early as 1990.
MLMs have a life expectancy of between 5 and 10 years with many just not even reaching the 5-year cutoff.
It's not the biggest MLM and shows no real signs of even wanting to achieve better things.
We are not a fan of the MLM business model because of previous experiences and the amount of time and money that we wasted.
That shouldn't however deter you from at the very least researching this company further though.
Especially if you have a background in sales and recruiting, the two main criteria for succeeding in this industry.
However, if you are looking for an easier, better and more cost-effective way to make an income online then please continue to read.
How we Make Passive Income Online?
Affiliate marketing is what we settled on as it gives you so much more flexibility and it allows you to promote any product and service you like.
There are no restrictions like you will find in an MLM business and probably one of the better business models for creating multiple passive income streams.
Wealthy Affiliate is a company that teaches complete beginners and has been doing now since 2017.
The education is extensive and with a community that you will struggle to find anywhere online just willing to help in any way they can.
No sales quotas to meet
No recruiting and been pestered by a sponsor
No customer orders to handle
What better way than to create a business about something that you love.

Lilla Rose Review FAQs
People are asking all sorts of questions in the search engines, we just thought that we would grab a few that might be of interest to you.
Who Is Lilla Rose?
Lilla Rose is a company that manufactures and sells a range of fashion jewelry for the hair.
They are sturdy and help solve the problems of headaches due to the tightness of the pulled hair that went put up.
Is Lilla Rose A MLM?
Lilla Rose is not like your normal MLM in terms of quotas and membership fees that you don't have to meet.
They are however still an MLM.
Which Countries Can Promote Lilla Rose?
As of this review, the business opportunity is only open to residents of the US.
How Long Has Lilla Rose Been In Business?
The Flexi Clip was developed in the early 90s and was sold to retailers until a change in direction when the company changed to become a direct selling company and was rebranded in 2008.
So the name Lilla Rose has been around since 2008.
Can More Than One member Of The Same Household Operate As A Stylist?
You can have as many household members as you like running the same business but only one stylist.
How Do You Use The Lilla Rose Products?
You can head over to the Lilla Rose Youtube channel where you can find all the various ways of applying the hair clips and ribbons.
What Are Lilla Rose Flexi Clips Made From?
All the Flexi clips are made from robust durable materials that should last you years with some even made of metal and strong music wire.
Remember, if the product becomes faulty within 12 months you can ask for a replacement sent out to you.
Do Lilla Rose Ship Internationally?
Lilla Rose currently ships to over 80 countries internationally but if your country isn't in the dropdown list.
Then please get in touch with the Lilla Rose stylist who is responsible for the website you are trying to create an order on.
They will add the country so that you can complete your order.
Feedback, Comments and Subscribe
Well, we are at the point where we wrap things up and hope you enjoyed the review and that we managed to cover most things.
If you have anything to add or maybe you have had experience with Billa Rose then why not share this as we'd love to learn more.
Until next time, stay safe