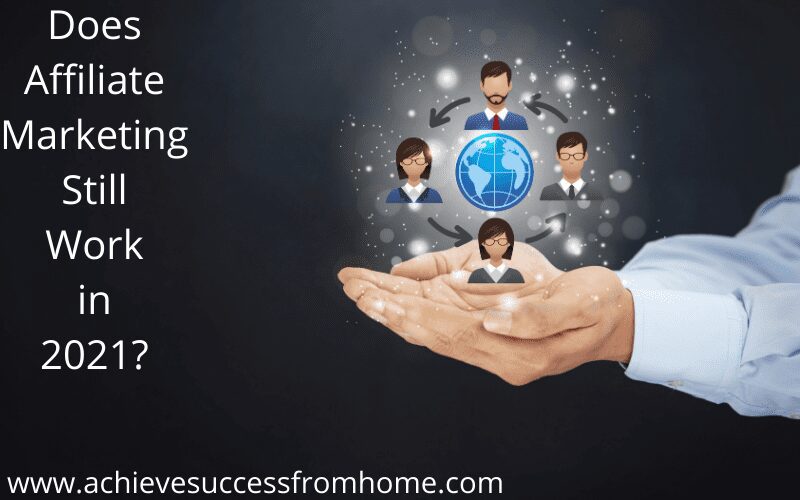 Welcome to Does Affiliate Marketing Still Work in 2021?
You can't deny that the Internet is probably one of the discoveries of the 20th centuries, that has opened up a very big world for everybody and how we handle information.
The dream for many of us is to work from home and not to have a boss to answer to, and the reality of it all is that it is more than possible for anybody to do.
There are numerous ways of making money but the internet brings us so many more options.
One of those options is affiliate marketing which I came across a few years ago but many say that the affiliate marketing industry has had its day and is now dead in the water.
So, let's see if we can shed some light on this.
---
[Affiliate Disclosure: This post may contain affiliate links which means I may earn a small commission if you purchase anything through one of the links. However, this will not affect what you pay!]
---
Internal Summary and Navigation
---
Why wouldn't Affiliate Marketing still work in 2021?
Since the first affiliate marketing program came into fruition way back in 1989, PC flowers and gifts had generated $6 million in the 2 years to 1991, the affiliate marketing industry has gone from strength to strength.
Since 2015 we have seen a yearly increase in revenue of around 10% and from 2010 to 2020 has tripled in value.
There is around 4.5 billion who now have access to the internet and approximately 4.2 billion of them are using the Google Search Engine on a day to day basis.
That's over 7.2 billion keyword searches daily and increasing, these are people looking for information, services and products, so the answer to the initial question of…
Does Affiliate Marketing still work in 2021?
Yes, absolutely it does!
Check out this affiliate marketing 101 article for more stats that will help to reinforce what I have just confirmed.
---
A Misconception that Affiliate Marketing is Easy…
Whilst the Internet in my mind is probably the biggest single gift that anybody could have given us, it is also a place that breeds a certain type of person just out to try and trick you into whatever it is they are offering.
Unfortunately, where there is money to be made you will find many unscrupulous people out there trying to sell you crap and the internet is full of them.
With so-called gurus churning out "done for you" affiliate marketing systems almost every month where they claim all you have to do is press a button and the money will just keep on coming.
They ply their trade on affiliate marketing networks like Clickbank and Warrior plus where they teach you to pick up a product, create a basic landing page and send the campaign off into the Abyss and hope someone clicks on the link and buys.
A very important fact that they leave out is the amount of money that you will end up paying for getting your campaign in front of people if indeed it ever gets to those people.
These people and there is a lot of them, give the affiliate marketing industry a bad name; they give you a false promise like "How to earn $5k in the first week" or  "Watch how easy it is to earn $30k in the first month"
However, there are some genuine and honest people out there and I'd like to think I am one of them who tells you exactly how it is.
Telling you that affiliate marketing is a real business that takes a lot of hard work and that you may not see results in the next month, 6-months or even the first 12-months.
You must be prepared for this otherwise you will call it a day far too soon.
---
Why do so Many People Fail At Affiliate Marketing?
Everybody who as access to the Internet wants to know how to make money online.
However, for some reason, people think that there are systems out there where they can just sit at their desk, press a button and automatically make money.
There are many ways to make money online and most of them are a complete waste of time, like those crappy surveys and clicking on adverts that all pay you cents on the dollar.
If you are after pocket change then that is exactly what you will get going down this route.
However, affiliate marketing is still probably the best way to make money online today, because it gives you a lot of flexibility.
Many affiliates will tell you that affiliate marketing is easy but in reality, it isn't.
It's easy for me to tell you what you want to hear just so that you will follow my suggestions but that is not me and I like to be upfront.
Mind you there are a few things to watch out for…
Choosing the wrong niche with too much competition – This is a classic mistake.
People do not hang around long enough – Probably the biggest issue with people is that they expect results too quickly. Some people see results in the first few months but you should be looking at 12+ months for your website to start making traction in the SERPS or the Google Search Engine Results Pages.
Do not take into consideration the importance of building relationships – It's all about building a rapport with your readers and subscribers, as we are in this business hopefully for the duration.
The urgency to make money instead of helping others – Always a big mistake is chasing the money rather than spending time to help people. We all like money and we wouldn't be in this if it wasn't but helping should be your priority. The money side will take care of itself.
Move quickly onto several niches thinking you can speed up the success process – Too many marketers jump into several niches before the first niche as started to make headway. Building one website takes a lot of hard work, so spreading yourself across several niches is a sure way to fail.
Do not select the right product – The right product is essential and one that you believe in.
Take on board bad advice – If you are trying to learn all this the way I did, through YouTube, then it is more than likely that the advice you receive may not be good advice. Finding the right training platform must be your number one priority.
The wrong mindset – Starting anything new requires a full commitment and a positive outlook otherwise doubts will creep in.
Not persistent enough – Hard work and persistence along with patience is what you need to succeed.
---
Affiliate Marketing and how it works Today
The basis of affiliate marketing and how it works has never really changed over the years, but because people think it is an easy business model to adapt to then with more interest comes more competition.
However, most people who try affiliate marketing do not stay the course which is great for me and anybody who's serious about this business.
 Customer
We are all customers and we all search for information on the internet which often leads us to purchase a product or service.
Research is important, and whilst we may go straight to the retailer like Amazon and Walmart, we often find our information on websites like the one you are on here.
Affiliate Marketer
The website that the customer comes to for more information about the product or services that the affiliate marketer is promoting.
Our job is to connect the customer with the product or service, and when that happens, all the sales order processing and delivery options, including any returns are done automatically.
Vendor
The vendor or retailer is where the actual products and services come from.
You can clearly see the whole process in the diagram below.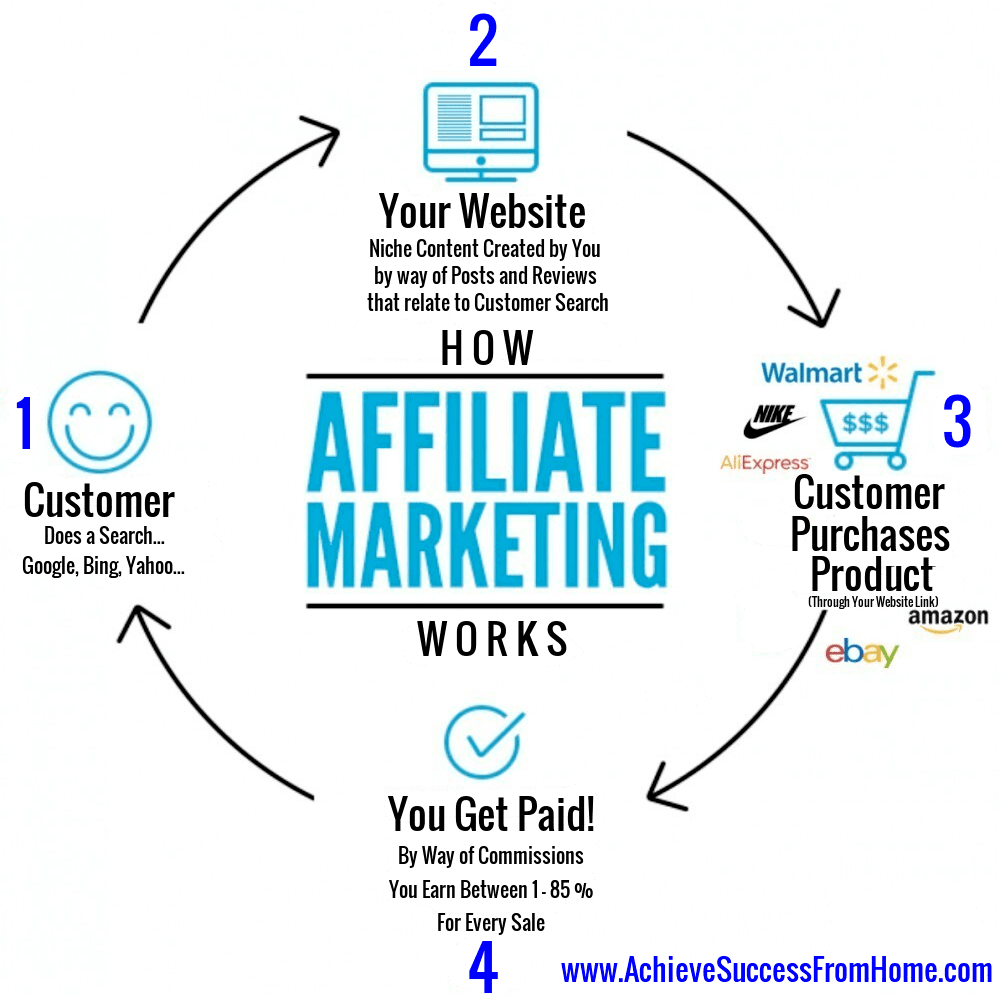 ---
Affiliate Marketing and which way is Best?
There are many different ways of doing affiliate marketing and there isn't a right way and a wrong way as they all have their own benefits.
It just depends on whether you are going to take affiliate marketing seriously as a real business or something that you are going to pursue now and again.
Many people who test the water with affiliate marketing go down the route of finding digital products from affiliate networks like…
Clickbank
Warrior Plus
Awin
ShareASale
Plenty more to choose from…
Just look at them as a database that holds vendor products to promote, which are normally digital products.
Once you have signed up for one of these networks all you need to do is select the product that you want to promote get your unique link then promote.
There are many places you could promote your affiliate link, like on Facebook, Instagram, YouTube etc.
If someone clicks on your link and purchases the product then you would make a commission.
Simple right?
Well, not exactly and that's where people go wrong.
---
The next step which would be more appropriate but takes time which involves a landing page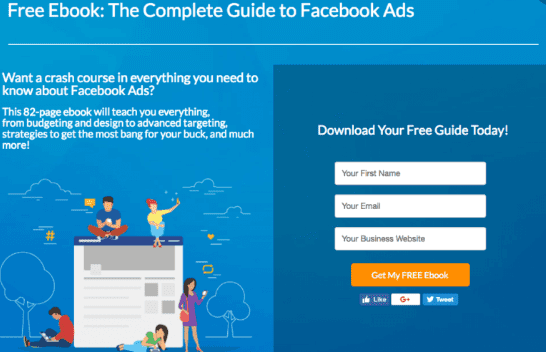 Look at a landing page as a webpage and the goal is to offer something that is free, with the hopes that someone clicks on your marketing campaign and subscribes to your email list.
The email list is part of your email autoresponder and a way of connecting with your subscribers with the hopes that these subscribers may in the future be your customers.
However, affiliates promoting campaigns this way normally use PPC(pay per click) advertising.
Where you pay an advertising company to send your campaign hopefully in front of people who are searching for what you are promoting.
To get a better idea of costs, providing you have everything in place. A good looking landing page with a great product.
A rough guide would be to look at a CTR(Click through rate) which is the number of clicks against the number of impressions.
For every 100 impressions look for 5 clicks but that doesn't necessarily mean those 5 clicks will be customers.
The big downside is…
Paying for traffic is an extensive subject in its own right and normally only used by experienced marketers.
Although this method wouldn't be my first choice, it has the benefit of creating an email list which is what we all want to achieve as an affiliate marketer.
A few years down the road that email list could become another passive income if nurtured in the correct way.
---

If you are serious about building an affiliate marketing business then my recommendation would be to choose a niche and build a website around that niche.
Finding the right niche and one that isn't too popular is key to your success and try and find one that you have a passion for. That way it will make building your business enjoyable.
Creating a website is what frightens many away, but it doesn't have to be that way, maybe a few years back when there was a requirement to have some form of programming skill in JavaScript, HTML and web design etc.
Nowadays, a website can be created in just a few minutes.
Finding people to look at your website is what takes the time because there is so much involved.
Keyword research to find out what people are searching for in Google that relates to your niche and we could use a keyword research tool like Jaaxy to do this.
Once you have found the right keywords that people are keying into the Google search engine then you need to write content that will help your readers.
---
Does Affiliate Marketing still work in 2021-Finding the Right Training?
A few years back now I decided to look at ways to make money online but wasn't about to spend money because I didn't believe what people were telling me.
Having said that I did believe some of the BS that I was told as I tried a couple of MLMs or multi-level-marketing businesses, but quickly found that what I was told were just lies and I didn't earn a dime.
I then researched affiliate marketing and thought that this might be the right strategy for me, however, I didn't know what to do.
I tried to learn affiliate marketing through watching YouTube videos and found that wasn't working and I came across a company called Wealthy Affiliate.
I must admit I was very sceptical, even when I joined as a free member but very quickly found that this was the place for me and I upgraded to a Premium Member and never looked back.
However, this is not some fly-by-night company and will involve a lot of hard work which is not for everyone, but very rewarding.
Why not check out the training platform for free to see what you think with no credit cards asked for.

---
Feedback, Follow and Subscribe
Hope you got value and enjoyed this post on does affiliate marketing still work in 2021.
Still one of the most popular ways of making money online today.
Any questions at all please put don't hesitate and put them in the comments section below.
Until next time, and stay safe!