Welcome to this Peter Pru's Ecommerce Empire Builders Review
They provide e-commerce training or you can let them build your e-commerce business for you.
Maybe you have seen the advertisements on social media or a friend suggested taking a look or maybe you just came about it by accident.
Whatever the reason, it doesn't really matter!
What does matter is that you decided to research Ecommerce Empire Builders first before taking a leap of faith and jumping in feet first.
You have to be commended for this as it's the only way to find legit opportunities and a way to discard the scams.
But firstly, I'd like to introduce myself as I'm sure you would like to know who it is that you are listening to.
I'm Mick and I created this website for people like you who are looking for ways to make money online which are more difficult than you could imagine.
I have created over 400 reviews of opportunities to help you find your way in what you might consider very frustrating.
There are far too many scams out there with a mix of some good, some ok and some that you shouldn't go anywhere near.
So where do Ecommerce Empire Builders fit in amongst those categories?
That is why you are here and what we are about to reveal and in a few minutes, you will know all the important facts that you need to know.
So that you can go away and decide for yourself whether this Ecommerce Empire Builders course is worth it or not.
---
[Affiliate Disclosure: This review has been thoroughly researched from information and testimonials that are in the public domain. This post may contain affiliate links which means we may earn a small commission, however, this won't affect what you pay!]
---
Ecommerce Empire Builders – Summary
Product: Ecommerce Empire Builders
Founder: Peter Pru
Website: www.ecommerceempirebuilders.com
Product Description: E-commerce training platform
Cost to join: $1,997 (E-commerce Empire Academy)
Recommended: Read this review first to find out
Summary: Ecommerce Empire Builders is a business where you can learn everything about e-commerce or you can let them build your business for you.
E-commerce is extremely popular and more so since the pandemic lockdowns.
Because people nowadays haven't a clue where they stand with regards to their jobs.
That also means that it opens the floodgates for every Tom, Dick and Harry to create their own form of training and become a so-called guru!
However, first impressions do look good but read this Ecommerce Empire Builders review in its entirety to find out.
Ecommerce Empire Builders – TOC
What is Ecommerce Empire Builders?
Ecommerce Empire Builders is a training platform that provides a number of training courses in e-commerce.
The training platform was started by Peter Pru with no clear intention of where it was heading and just sort of expanded from there.
Nowadays it seems to have come together and has been described as some sort of movement which has affected thousands.
Where there's a community of e-commerce entrepreneurs all dedicated to building and helping each other create their online businesses.
They provide a number of individual products that you can purchase separately.
But the 2 main products or services available are the done for you or business in a box, where they create your business for you.
These come in the way of…
Business in a box
Paid advertising management
Advertisement and product creation
Email marketing
Or there's the very popular self-study Ecommerce Empire Academy which is what this review is about.
The training platform Ecommerce Empire Builders first started life as Six Figure Funnels, I guess aimed at his success as a 6 figure earner.
The training at Ecommerce Empire Builders is not your traditional dropshipping via a store like Shopify.
In fact, Peter claims that whilst you can apply this training to traditional Shopify stores, he reckons the low conversion rates will hold you back.
He uses sales funnels as part of the dropshipping process.
Related Business Opportunity: Affiliate Marketing
Who is Peter Pru
Peter Pru is the founder of Ecommerce Empire Builders who has built and scaled a number of six and seven figures businesses.
He teaches everything that you'd need to know about e-commerce and this comes by way of training or services.
Not too long ago he became one of the few to be awarded the Clickfunnels 2-Comma Club award which was gained for making over $1 million in sales.

That award alone should tell you that he is a serious and legit business entrepreneur.
He is also responsible for the supplement, "Untapped Focus" which is a supplement that can boost energy and focus.
Like most entrepreneurs, he uses YouTube to great effect to get his word around with over 61k subscribers and over 1k videos.
There is a lot of great stuff amongst these videos however they are all leading you to the Ecommerce Empire Builders training platform.
Related Business Opportunity: Drop Ship Formula
What's Inside Ecommerce Empire Builders
This is a 7-week Masterclass which will have your business up and running and earning within 30 days.
I'm not sure that I agree with the 30 days things as in my experience it can take months to see any real results!





Here is a summary of everything that you'll get today!
The Complete E-commerce Empire Academy Program
Access to The Elite Mastermind
Weekly Q & A Recordings
7 Figure Funnel Template Library
Real-Time Business Buildout Case Study
Plus Bonuses…
Empire Business Calendar
$10k/month Product Picker
Private 1-on-1 Strategy Call
Related Business Opportunity: Drop Ship Unlocked by Lewis Smith
Who is Ecommerce Empire Builders For?
Ecommerce Empire Builders is for anyone who wants to learn all about e-commerce and build a business from scratch.
It is also for struggling e-commerce entrepreneurs as peter doesn't use the traditional way of dropshipping as he uses sales funnels.
Related Business Opportunity: Savage University
Can You Really Make Money With This Ecommerce Empire Builders Course?

You can make money with most courses that you can find online, the problem seems that people who join these courses.
Do so with the wrong intentions.
They either don't have any faith in the course or just jump around from course to course with no clear indication of what it is they are looking for.
Half the battle is finding the right course and mentor and once you do then you should make a big commitment.
You should also discard any beliefs that you are going to become rich in only a few weeks because that ain't going to happen.
This should be a long-term commitment and you need to work hard and have bags of patience, and you need to be able to handle failure because in business that is going to happen more than once.
Related Business Opportunity: Best Affiliate Marketing Course For Beginners
Is Ecommerce Empire Builders Worth The Money?
The course as we see it has been increased from
just below $1k to where it is now a grand dearer but we aren't seeing any changes in the actual course.
It is still the 7-week course that it started out as so we'll leave that up to you whether you think the course is worth it or not.
We personally do not think the course is worth it because of the lacking of more advanced details.
But looking at the feedback on Trustpilot and people seem to be more than happy.
Related: Why Failure Is So Important For Success
Ecommerce Empire Academy Costs And Refunds
There is a one-off fee which as of this review will cost you $1,997 which means for life and any future updates of the program.
Can You Pay For Ecommerce Empire Academy In Instalments?
If you want more time to pay then you can take advantage of spreading the course fee over 5 equal payments of $497 which will bring your total to $2,485 which is a difference of $488.
Are There Any Upsells With Ecommerce Empire Academy?
There are no upsells although there are many add-ons that you might want to take advantage of especially when paying for the done-for-you services.
Is There A Free Trial With Ecommerce Empire Academy?
There is no free trial with Ecommerce Empire Builders.
Are There Any Additional Costs We Should Factor Into The Ecommerce Empire Academy?
There are always additional costs to consider and whilst Pru suggests you need between $250 and $500 that is without mentioning paid advertising.
We suggest another $300 to $500 for finding your target audience.
Does Ecommerce Empire Academy Come With A Refund?
Well, this is a bit sketchy and comes with conditions like you have 30 days but you have to prove that you have gone through the course.
Here you can read the refund policy in the terms and conditions.
Related Business Opportunity: Drop Shipping Blueprint
Is Ecommerce Empire Builders a Scam?

We can't see any indication that Ecommerce Empire Builders is a scam and that is clearly evident by the number of reviews you can find online.
Peter Pru obviously knows his stuff but he made a name for himself marketing and selling ClickFunnels which we have seen done before.
This course also markets ClickFunnels so you should know that he will make a sizeable commission if you take him up.
Which, if you follow the training will have to do which is not cheap either.
This alone will cost you an additional $1k/year.
So as you can see the initial cost is $1997 + Clickfunnels($1,000) and on top of that you will have to pay for apps and traffic.
Which can cost another $300 to $500 a month.
So your first year is going to come to around $8,000.
Now that is without any guarantees which of course can't be given with any business venture.
But at the end of the day, the decision is down to you but all we can say is be careful.

Ecommerce Empire Builders Student Reviews 
You can find plenty of testimonials on the Ecommerce Empire Builders website but they are all going to be biased, right?
That's why you have to find reviews and testimonials outside of the website and on third-party sites like Trustpilot.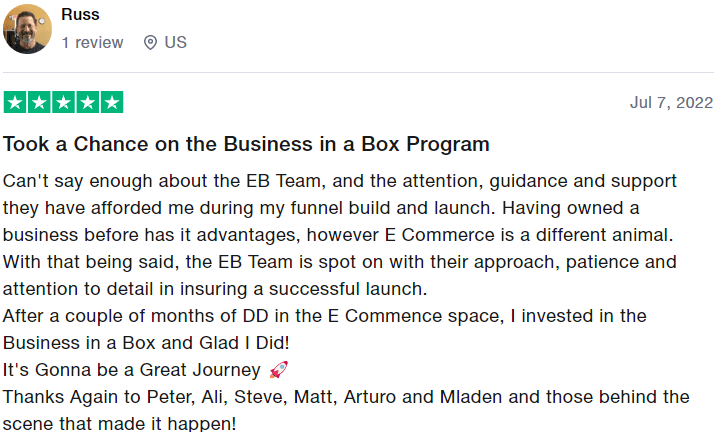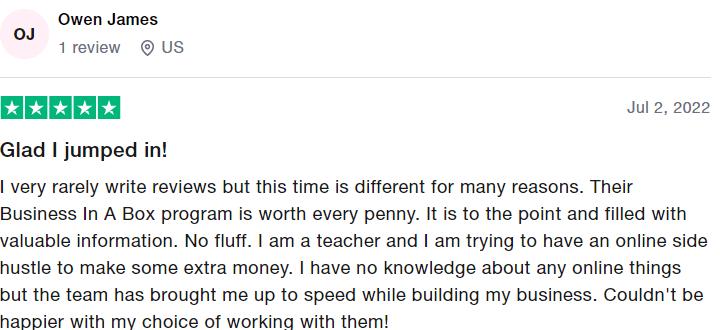 Here are a few testimonials from the Ecommerce Empire Builders website.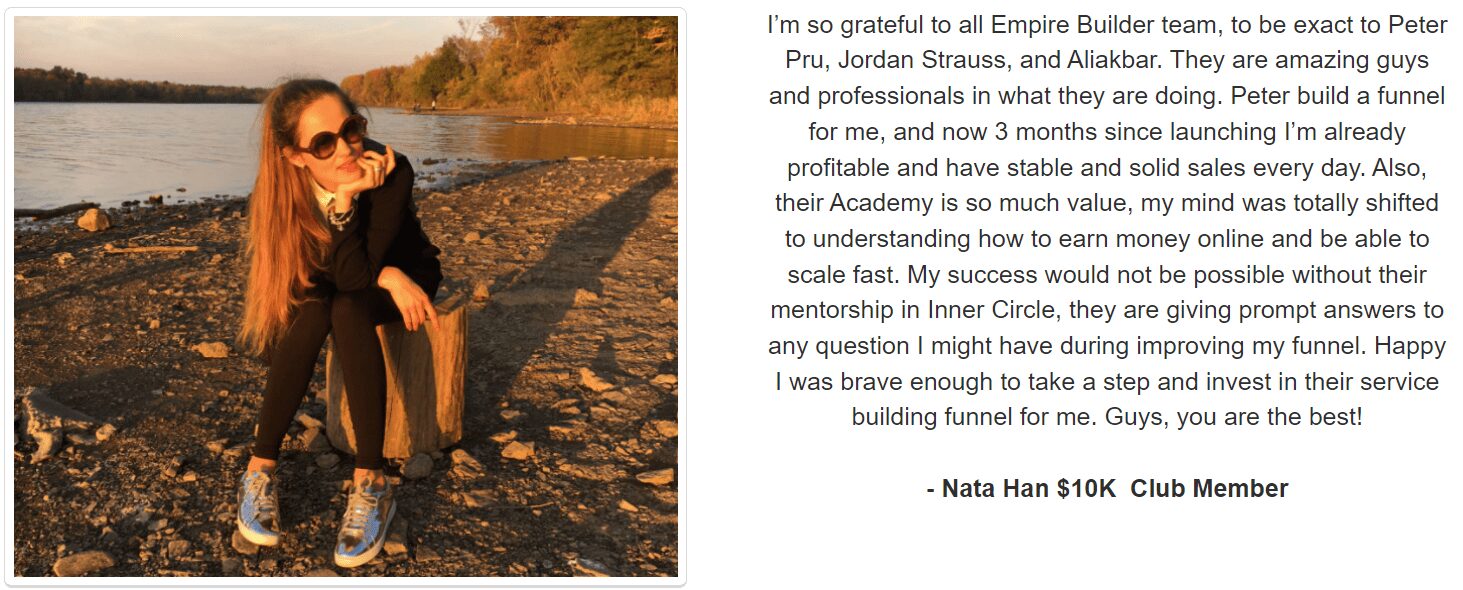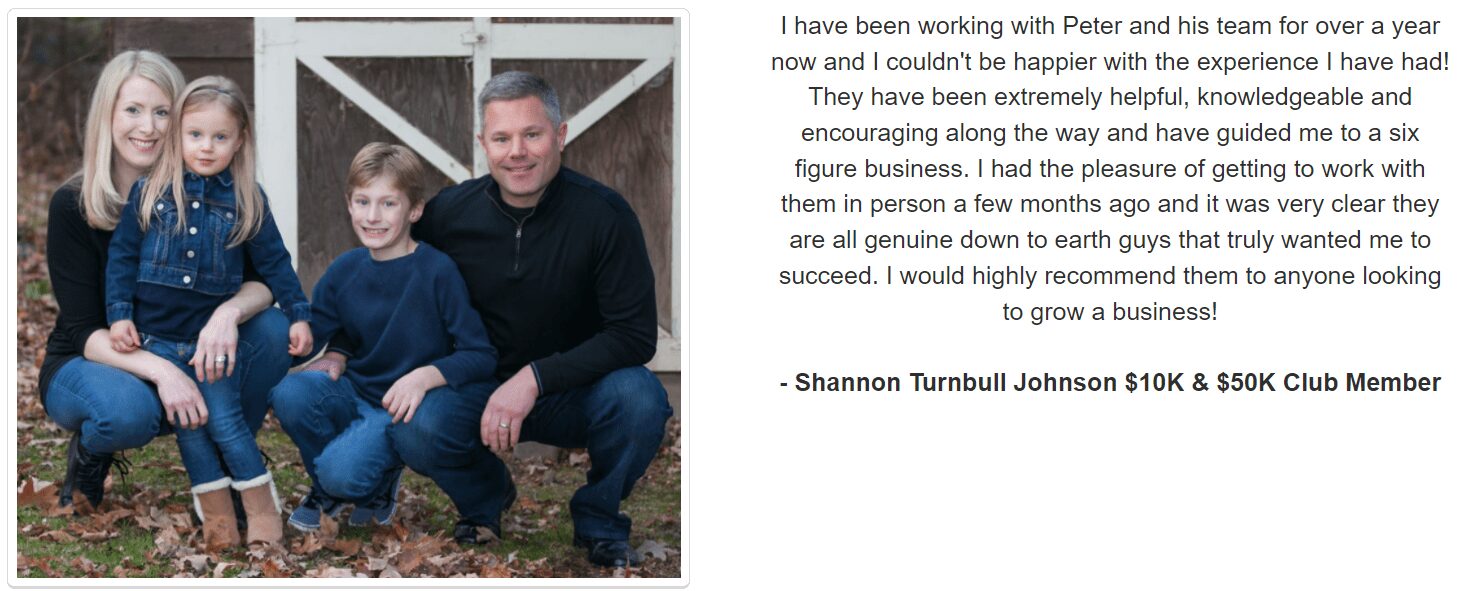 If you want to check out many testimonials just like the ones above, you can but just be careful when basing your decision on them.
Related Business Opportunity: Advanced Dropshipping Academy
What we Like About Ecommerce Empire Builders
Peter Pru is a legitimate e-commerce professional
Great feedback on Trustpilot
The Ecommerce Empire Builders platform offers many products
You can pay for your business to be managed if you want
If you don't make any sales within 3 weeks you can get your money back
The course covers free traffic methods
What we Don't Like About Ecommerce Empire Builders
The refund comes with conditions making it difficult to get a   refund
They imply that you are going to become a success within 30 days
The course is too expensive and doesn't offer advanced topics
With additional costs, we can see this business venture hit $8k+
Ecommerce Empire Builders – Final Thoughts!

Overall the training that is offered on the Ecommerce Empire Builders website is quite considerable but confusing how it is laid out.
If you want and you have the money you can get Pru's team to handle your business in its entirety but it is going to cost around $10,000.
Peter Pru and his training platform is legit and he does offer a different way to run your dropshipping business through sales funnels.
But as we have mentioned this is going to cost an additional $1,000/year to use ClickFunnels and remember Pru will be making a big commission on you.
After all, if you have followed this review then you will see that he made his wealth through ClickFunnels.
Then he incorporated his courses to include ClickFunnels.
So, if you want to give Peter's course thorough testing then you are safe in the fact that this course is not a scam.
But as we have mentioned earlier the course will end up costing you a considerable amount of money.
Which brings me to this, if your budget is what is holding you back then why not check out what we do for a living below?
It's a training platform we have been part of since 2017 and has been teaching people to become successful marketers since 2005.
Alternative Solution to E-commerce
It's called affiliate marketing which is very similar to dropping shipping except you don't have to worry about using a digital store.
The principle is the same in that you are the middle person and direct the customer to the merchant except you get paid a commission on a sale.
It also means that you are not restricted and are much more flexible.
Is one of if not the best ways to create multiple income streams.
I have personally been a member of Wealthy Affiliate since 2017 and the main reason why I was able to kiss goodbye to my 9-5 job.
Just check out the reviews on Trustpilot.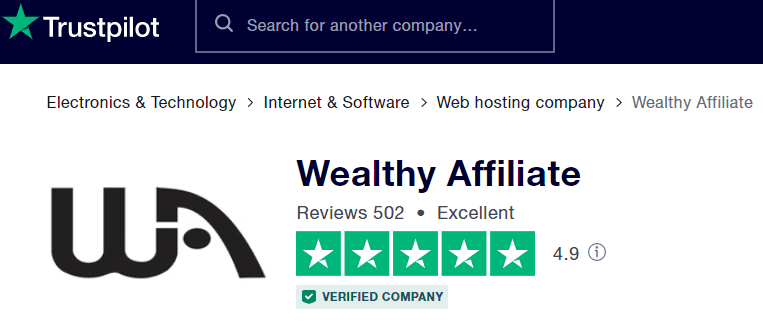 The training platform is a fully integrated one-stop-shop meaning that everything you need to succeed is in one place.
Education and training, Web development, Hosting your website, and a community that cares and is full of experience on many levels…

Frequently Asked Questions
We found a few questions that interested parties are asking in the search engines and thought they might help in your decision-making.
I Have Tried Ecommerce In The Past And Failed. How Is This Different?
According to Pru, most other so-called mentors, gurus and their programs either are out of date or incorrect and misleading.
I guess what he is saying there is that things move on and change with the times and he sees the use of the sales funnels as the way to go.
How Often Does The Program Get Updated With New Content?
Some things don't change and that's sales and marketing principles but as more students join the program and technologies change.
Then the program is quickly updated to take advantage of any changes and to help students and the way the core information is digested.
I Can't Afford The Program Right Now. Are There Any Other Options?
Yes, there are 2 options available to you.
The first is that you can pay for the program over 2 months or you could take advantage of the credit facility that Paypal offers.
This allows you to spread the costs over 6 months but you would have to talk to PayPal about this as each person is treated differently.
Do I Need A Shopify Store To Do This?
According to what Pru says if you want you could apply what you have been taught in the program to a Shopify store or equivalent.
But he reckons this is no longer required as it can all be done through sales funnels.
When you think about it all Shopify is a bridge to the merchant or retailer and is only a place to store product information and that's it.
How Quickly Can I Make Money Back And Seeing Results?
The program is based on a 30-day action plan and they will have you up and running within that period.
According to them, you should see sales coming through and in some cases, students have managed to hit $10k a month in sales in their first 30 days.
I wouldn't pay too much attention to those figures though and yes you might have some sales within that period.
But it is likely, and that is if you have everything in place that 3-6 months is a reasonable figure to work on.
Listening to the likes of Pru suggesting that you are going to be earning anything like $10k is a pipe dream and a sales gimmick so be warned.
How Much More Money Do I Need To Get My Business Off The Ground?
Pru suggests that people have grown their businesses organically using social media and free traffic but that just ain't going to work.
He also talks about setting aside between $250 and $500 for a software subscription.
Something that escapes his attention is the money that you will require for paid marketing and we suggest between $300 and $600, more if you can manage it.
How Does The Double Your Money Back Guarantee Work?
If you can prove that you have followed the training and applied what you have learnt but have seen no sales within a 3 weeks period.
Then they will refund your money plus (wait for it) another $997 for your time.
Now I have not heard from anyone who has taken this offer up so does that mean all the students are having success within 3 weeks?
What If I Can't Follow Instructions And I Am Struggling?
You can take advantage of their "done for you services" which basically means you can pay Pru and his team to create and run your business.
This however is quite expensive but if you have the money and it works then why not.
Feedback, Comments And Subscribe
Hope you guys enjoyed this Ecommerce Empire Builders review and that we managed to answer most of your questions.
If you have anything to add please don't hesitate to ask!
Thank you for listening!
Take care!
Stay safe!