Welcome to this review and the question today is what is Year Up?
A non-profit organization that provides training for adults who aren't blessed with a university degree and are on the poverty line.
If you are looking for a helping hand to find that well-paid job leading to a great career that you have always been looking for.
Then Year Up might have the answers.
But, before we get started we'd just like to make it clear that we are not associated with Year Up in any way.
That means we aren't getting paid to create this review.
What we do promise is that this review will be unbiased and honest with all the information.
To help you make an educated decision whether to pursue Year Up further or not.
That said, then let's get started.
---
[Affiliate Disclosure: Year Up Review has been thoroughly researched from information and testimonials that are in the public domain. This post may contain affiliate links which means we may earn a small commission, however, this won't affect what you pay!]
---
Product:
Year Up
Founder: Gerald Chertavian
Website: www.yearup.org
Product Description: Business and IT training platform
Cost to join: Free
Recommended: Yes
Summary: Year Up provides the means for any young adult to fulfil their dreams and reach their full potential.
We see it so often nowadays that unless you have a university degree then you are going to struggle in life.
The internet provides a mechanism where any skill-set is within reach but it is companies like Merit America and Year Up.
That provides so much more.
Year Ups' mission is to close the divide within the employment sectors that have always been there for young adults without university degrees.
Year Up Review – Table Of Contents
What is Year Up?
Year Up is a non-profit training platform that offers ways for young adults to better their lives by bridging the gap.
Between postgraduates and people without degrees.
There is a growing need from employers for talent which for many years has been disconnected.
This could be down to the zip code, lack of education etc and Year Up hopes to change this.
Year Up simply stands for 1 year of hands-on education and training with the possibility of an internship if you are age is less than 25.
They offer 2 ways that you can study with Year Up.
Either directly with Year Up remotely or at a designated college within your location.
No matter which you choose you will receive credits that are recognized by over 2,000 education institutions nationwide to extend your education.
Founded in 2020 by Gerald Chertavian who is a Harvard postgraduate and on the board of advisors for the Harvard Business School.
He has been actively committed to working with not-so-privileged young adults for nearly three decades now.
Year Up is regarded as one of the fastest-growing non-profit companies in the country providing this kind of service.
What do They Teach at Year Up?
There are over 10 career paths to choose from at Year Up.
Every person who takes part in the training regardless of which professional route they choose.
Will undertake the Year Up's general professional and business communication skills.
This training covers 5 key areas…
Business writing
Career development
Public speaking
Advanced excel
Computer applications
The main courses available at Year Up are listed below…
No matter what career path you choose, how business works is very important and how everything fits together.
In this category, expect to learn broad skills that can align you with a business degree.
Such as customer service, accounting principles, marketing, data analysis, business ethics and law, project management and more…
Expect to learn…
Business Operations

Business Fundamentals
Project Management Support
There are many areas within a company but the one area that upper management is most interested in are the margins.
This is what the board are interested in as though nothing else matters, after all, they are shareholders.
Expect to learn things like ledgers, preparing reports, using accounting applications, business analysis, analysing data…
Expect to learn…
Financial Operations

Accounting and Corporate Finance
Investment Operations
Information technology is the core of all businesses and it's all the related cogs connected that ensure a business runs smoothly.
Nowadays with the internet security plays a major role in keeping information secure.
Helping and supporting others is very important so good communication skills are required as this tends to be a very busy area.
Expect to learn such things as risk management, firewalls, computer hardware and networks plus a whole lot more…
Expect to learn…
Information Technology

Cyber Security
Helpdesk/Desktop Support
Without sales, we don't have a business and customer support is so important and I would put that right up there.
It's the after-sales for me that tells you just what type of company you are dealing with.
Of course, the key here is communication but expect to learn sales and client services, CRM systems, and email and telephone communication…
Expect to learn…
Sales and Customer Support

Client Service and Sales Support
Consumer Banking
Customer Service
Software development provides a service to help expand current software applications and produce apps to make the business more efficient.
Expect to learn, databases, flowcharts, analysis, programming, testing, object-oriented concepts, pls so much more…
Expect to learn…
Software Development and Support

Application Development and Support
Data Analytics
Quality Assurance
For a more detailed look then we recommend you take a look at this document.
Who is Year Up For?
Year Up is for young adults between the ages of 18 and 24 from areas that have and are affected when it comes to education and employment.
Primarily for young adults who are been held back from pursuing worthwhile careers.
Either through lack of education due to lack of money and therefore not being able to go to university for that all-important degree.
Year Up provides a way to study for free and get those all-important skills to get that foot on the ladder to a better life.
There is also a way to offset some of the costs that you might incur from attending college through an educational stipend.
The training also is slip where you spend a certain amount of time in an internship with some influential businesses.
How Much Does it Cost to Join Year Up?
If you get accepted on one of the yearly programs there are no course fees to pay which is a massive headache out of the way.
However, if you decided to take the course by attending one of the colleges that partner up with Year Up.
Then there will be course fees of some description to pay for such as travelling, stationary etc.
We have already mentioned there could be help there through the educational stipend.
The Year Up Application Process
The application to join Year Up is a five-step process.
Step/1 – Complete the application form
Just click the apply button anywhere on the Yearup website which will enable you to create a student account.
There is other important information that will be privy to you at this stage and the whole process should take no longer than 20 minutes.
Step/2 – Interview
At this point, Year Up is going to get to know you and see what motivates you and whether this training would be suitable.
They want to know what you hope to gain through taking a course at Year Up
Step/3 – The decision letter
Once they have reviewed your application and made a decision as to whether you've been accepted or not.
You will be notified either via email or if you created a Year Up account can be viewed on the website.
Step/4 – Completing pre-work before the course
This only applies if you are thinking about taking the program through one of the partnering colleges.
Step/5 – Begin the course
This is where your new life begins, with the support of your peers, staff and a supportive community.
Career training in both professional and personal skills.
The programs are eligible for college credits, stipend payments, a professional mentor, and a corporate internship.
Plus ongoing support throughout the length of the program and beyond.
Is Year Up a Scam?
Is Year Up a Scam? Absolutely not!
Of course, you will find people calling it a scam but people are very quick to judge and without any proof whatsoever.
Year Up is a legit company providing the skills and education to help young adults break away from the poverty cycle.
The choice is up to you whether you take a course remotely or at a class and this would depend on your location.
We would have no hesitation in recommending Year Up to anyone who is highly motivated and prepared to work hard.
Just off-topic a little…
I remember when I once took a 3-month intensive analyst/programming course many were there to make up the numbers.
It took me 3 months after the course was completed and around 400 letters to find that all-important job so it's all down to the individual.
Yes, I was a freelance software developer for many years, working in many countries and had a great time but I no longer do that.
I now work from home as an affiliate marketer and if that might interest you then you can check out the link further into the review.
Year Up PROS and CONS
Overall, based on our research we find Year Up to be a great source for young adults to get those important skills and rewarding careers.
Here are a few things that we liked about Year Up.
PROS
The Company Is Established:
Founded in 2000 that can only operate through donations from other sources like businesses and people like you and me.
The money would appear to be not an issue but in recent times over 250 companies have got involved.
Like Microsoft, Facebook, Bank of America, Amazon, JP Morgan, and Harvard just to name a few.
We have even heard that Google has got on board and helped by investing $100 million.
This is all leading up to the government getting on board.
Great Opportunities For Young Adults:
The programs offered are for one year with half of this on placement, so it could be that you find experience working for someone like Microsoft.
The programs cover all the important areas of business which is so important for white-collar workers.
Don't forget that the courses are FREE also.
All skill sets no matter what can lead to high-paying careers, it's just how motivated the individual is.
All you have to do is take a look on Jobserve for clarification of what jobs are out there and what rates they pay.
Obviously if/when you find a job you aren't going to be jumping straight into a high-paying job unless you have a lot of prior experience.
Over 36 thousand students have gone through the Year Up training.
With 80% of the graduates either moving on to further education or found jobs.
Around 93% of graduates are satisfied with Year Up.
CONS
Only Really For Students In The US:
They do welcome international students either with international or US high school diplomas or GEDs.
You do still have to have a US work permit which is understandable.
Interest Is Not That Great:
The image below shows the interest of people searching on Google for the term "Year Up".
They peaked around 2014 and interest isn't so great but that could be down to many things.
Such as an increase of training platforms offering similar courses.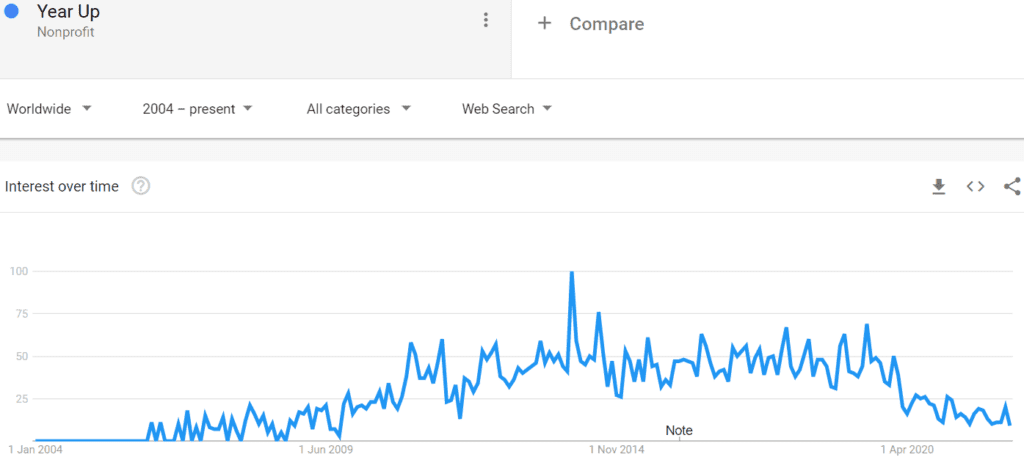 Year Up Review – Final Thoughts!
The internet makes it so much easier for everyone to get the chance to improve their lives.
Companies like Year Up and Merit America provide opportunities for anyone without university degrees to find great jobs.
Here are a few other training platforms that you might like to check out…
I spent many years in business as a freelance software developer and had a great life working in other countries.
But decided to give all that up for something else and if you want to know what I do now for a living then please read on.
How we Make Passive Income Online?
The 9-5 working week no matter how you look at it can be stressful because unless you love your job then it is sort of forced upon us.
I loved my job but I decided to go freelance because it gave me more freedom however the 9-5 still doesn't escape you.
That's why I decided to try something else that did and the affiliate marketing business model was the best fit for me.
The 9-5 mentality completely disappears because now you can take your life back and work on your own terms.
Everybody would love to have a business that creates multiple passive income streams and this truly allows this.
If you are looking for a 4, 5 and 6-figure monthly income then we believe this is the best way to do it.
Wealthy Affiliate is the training company that can provide this and one I am still a member of and will continue to be.
No commitment is required here as it is free to look and if you don't like it then just call it a day, but you won't know unless you try.

Year Up Review FAQs
Am I Guaranteed An Internship With Year Up?
There is a learning and development phase that prospective students have to go through and providing you meet that criteria then you will be accepted.
Is Year Up Free?
Year Up will work with you to offset some of the basic expenses through an educational stipend.
They will also work with you where they can to ensure that you will receive grants and funding.
How Much Can I Make After Year Up?
Obviously, salaries will vary but a recent study shows that students earn on average around 34% and more.
What Kind Of Support Does Year Up Offer After The 12 Months Is Up?
Once you have completed your year you will automatically join a network of 23k+ Alumni.
Year Up also provides access to a no-cost associate's degree program and career coaching.
Feedback, Comments and Subscribe
If you are here then we can probably assume that you enjoyed this review but more importantly we hope you got some benefit.
If you want to ask me any questions about Merit America or maybe you'd like to know more about my career in it and freelance.
Then please drop us a line below and we will get back to you.
Once again, thank you and stay safe.