Welcome to this Jeunesse Global Review
Another one of the vast number of MLMs trying to capitalize on the health and wellness industry.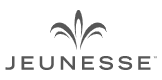 If you are here because someone approached you on social media or maybe it was a friend or family member.
Telling you about this amazing company and their products, but more importantly, how Jeunesse Global is helping to transform people's lives.
Then, you are definitely in the right place because in the next few minutes you will have all the hard facts.
Which should help you decide whether Jeunesse Global is the right company for you or not.
I'm sure you will have noticed many Jeaunesse Global reviews, so does that mean it's a popular company or is it just a scam?
If it's a home-based opportunity that you have been looking for and have done enough research as we have.
Then you should know enough by now to take every word that is said lightheartedly and with a pinch of salt.
We are not saying that what you have heard is incorrect, just that you have to do your research thoroughly.
This way you are sure to find the right opportunity, enough said then let's get started.
---
[Affiliate Disclosure: This Jeunesse Global Review has been thoroughly researched from information and testimonials that are in the public domain. This post may contain affiliate links which means we may earn a small commission, however, this won't affect what you pay!]
---
Product: Jeunesse Global
Founder: Randy Ray and Wendy Lewis
Website: www.jeunesseglobal .com
Product Description: Nutritional products in the health and wellness industry
Cost to join: Free
Best For: Experienced network marketers
Recommended: Maybe
Summary: The health and beauty industry is massive with hundreds of MLMs opting in to try and benefit.
You should know that if their products were as great as they say they are then they wouldn't need to recruit others to spread the word.
Having said that though, Jeunesse Global started turning heads when they brought to market their anti-ageing range of products.
Still, the products are expensive with many similar products that are out there doing the same thing, just take a look at Avon.
Jeunesse Global Review – TOC
What is Jeunesse Global?
Jeunesse Global are a multi-level marketing company in the health and wellness industry.
That produce essential oils, skincare and nutritional supplement products.
Founded in 2009 by a husband and wife combination and in their very short life managed to take Jeunesse in 6 short years to sales of a billion dollars.
Since 2015 they have grown as much as 42% year on year with sales hitting the $8 billion mark in 2021.
With their products spread across the beauty and wellness range paying particular attention to skin and anti-ageing.
Best known for their best-selling product, Instantly Ageless which is still up there and making waves.
There are over 600k Jeunesse distributors in over 200 countries and territories with distribution outlets in over 140 countries worldwide.
Its mission is to create a positive impact on the world by helping people look and feel young as well as create the life they deserve.
Who Are The Founders of Jeunesse Global?
This is down to Randy Ray and Wendy Lewis
who are husband and wife even though the name suggests otherwise.
They both have a wealth of experience in the direct selling industry as well as connections to other companies.
Such as MarketQ Inc which is like a holding company.
They even had a business venture with a company called Fuel Freedom International which is now a defunct multi-level marketing company.
They apparently came up with a way to increase fuel economy by dropping a pill or tablet into the fuel tank when you refuelled the vehicle.
They even claimed that Nasa was using this but there was no proof of this, in fact, this was tested and found not to work.
Is Jeunesse Global a Pyramid Scheme?
No, Jeunesse Global is not a pyramid scheme because you can make money as an affiliate without having to recruit.
However, this way you are only going to make some pocket change but some people treat Jeaunesse as a hobby anyway.
If you want to take it to the next level and to give yourself a chance of earning some real money, then you have to build a large team.
That is when you become part of the compensation plan and where it can be sketchy.
Because then Jeunesse could be operating as a pyramid scheme in disguise.
Let me explain!
Just for clarity on what a Pyramid Scheme is…
A pyramid scheme would be when the distributor or affiliate is paid for recruiting other people without a product or service.
We can see that Jeunesse Global does have what seem like legit products which tell us they are not a pyramid scheme.
But often companies like this use products and services to hide behind which is where the pyramid scheme in disguise comes in.
We are not saying that Jeunesse is either but this is certainly something to be aware of before you decide to join.
You might like to read a report from the Federal Trade Commission here.
You might like to check out this short video…
Jeunesse Global Products Line
Before you even consider Jeunesse Global as a work-from-home opportunity you have to ensure that the product is legit and do what they say they will.
A product that sort of put Jeunesse Global on the map is their anti-ageing cream, Instantly Ageless to be precise.
I think anti-ageing is probably not the right term, after all, all this cream does is stretch the skin for a short period of time.
However, it does appear to do what it says on the label.
Here are a few of their best-selling products that are part of the anti-ageing range…
These are the products that really put Jeunesse Global on the map.
Instantly Ageless Vials – $52.95
Luminesce Cellular Rejuvenation Serum – $151.95
Luminesce Daily Moisturizing Complex – $75.95
Luminesce Advanced Night Repair – $107.95
Luminesce Youth Restoring Cleanser – $48.95
Luminesce Ultimate Lifting Masque – $75.95
Luminesce Essential Body Renewal – $64.95
Luminesce Flawless Skin Brightener – $143.95
Luminesce HydraShield Mask – $90.95
The range of products on the Jeunesse website extends to around 61 which you can find here.
Jeunesse Business Opportunity – What You Need To Know
For the entrepreneurial-minded, if you are considering taking a punt at the Jeunesse Global home-based opportunity then this section is for you.
How Much Does it Cost to Become a Jeunesse Distributor?
It will cost you an initial fee of $49.95 to join which is for the starter kit and for that, you will get.
Personalized website, retail store and shopping cart, product images, videos training pls access to your back office.
Your personalized website will be maintained by Jeunesse which means any new products that will be added when the time comes.
You can access the Office either via your desktop or the Jeunesse mobile app.
After the first year, a fee of $19.95 will automatically be deducted from your account unless you have accrued over $1k in annual sales in which case this fee will be waived.
You are going to want to purchase products to show your customers and Jeunesse has created 4 "massive action packs" for you to get started with.
Introductory – $274.95 / 100CV / $25 retail bonus
Builder – $637.95 / 300CV / $100 retail bonus
Business – $1,439.95 / 600CV / $250 retail bonus
Professional  – $2,449.95 / 900CV /$450 retail bonus
How to Make Money as a Jeunesse Affiliate
The two main ways of earning with any MLM are through…
Purchasing the products at wholesale and selling them retail
Build a team through recruiting and make a commission on their sales
There are other ways through the compensation plan which are discussed in the next section.
Jeunesse Global Compensation Plan
The compensation plan is one of the easiest to understand and allows you to earn several additional ways through bonuses.
Team Commissions
Matching Bonuses
Customer Acquisition Incentives
Rewarded For Leadership
Bonus Pools
There is also 15 ranks to climb which can take you years and considering the life expectancy of an MLM is 5-10 years then are you prepared to possibly waste that amount of time?
All will be revealed in this document on the Jeunesse website.
Or you watch this short Youtube video.
Are Jeunesse Distributors Actually Making Money?
There is an income disclosure statement on their website but the figures just don't tally up.
According to this report in the US alone in 2020/21 out of 6,134 who were active and sponsored someone, 24.25% earned no commissions.
Now considering there are over 600k distributors worldwide then I think there should be a lot more than that figure.
As I said this report is confusing but be my guest and take a look for yourself.
What About The Hidden Costs?
To stay active as a Jeunesse distributor you have to accrue 100CV each month.
This can be achieved through building a team and the accumulation of sales volume but if you do not have a team or they aren't selling.
Then you would have to purchase stock to get to that 100CV.
Unfortunately, the report doesn't explain what the value of 1 = CV is but through our experience, it works out at about 1CV = $1.
That means it is going to cost you between $100-$150 each month which means over a period of one year that would be $1200 – $1800.
Not to mention what it is going to cost you in regards to paid marketing which is something that you are going to need to do.
Simply because posting links to social media just doesn't work.
So we estimate you would need between $50 – $100 a month for marketing so do the math.
Truth in Advertising
Truth in advertising is a non-profit watchdog organisation that reports on the performance of businesses.
They also keep close ties with the FDA, FTC and the Better Business Bureau.
Any lawsuits, and serious complaints are sure to have an entry on the TIA database.
It might be worth heading over to the TIA before considering Jeaunesse as a home-based opportunity.
Is Jeunesse Global a Scam?
Jeunesse is not a scam as they do have legit products and they do pay their affiliate and distributors.
Meanwhile, there are a lot of disgruntled ex-affiliates and distributors out there who have an axe to grind.
Many venture into opportunities like the one here at Jeunesse on the basis of fabrication (distortion of the truth) that come from already active members.
Instead, people should be doing proper research like you are doing here.
The products are expensive and they do not have any scientific claims that the products will do what they say.
In many cases, we find that the products are legit but it's the home-based opportunity that just doesn't sit right with us.

What we Like About Jeunesse Global
The Company Is Established:
As you can see in such a short space of time they have hit massive sales figures and expanded to almost every country in the world.
With well over 600k distributors and with that only around 15% which means there are over 4 million preferred customers.
Always a good place to start looking when researching a home-based opportunity is for an entry on the DSA database.
The DSA or Direct Selling Association is not straightforward to become a member and a company would have to go through a vetting process.
What we Don't Like About Jeunesse
You Will Struggle To Make An Income:
MLMs have always been extremely difficult to prosper in and this information is all over the internet.
Something that concerns me is that people tend to not look and its only several months down the road'
When they are out of pocket that they realise this wasn't what it was meant to be.
Health and beauty is a massive industry which also means competition which is something you have to account for.
Not Accredited With The BBB:
They became a member of the Better Business Bureau in 2015 yet they are still not accredited.
But they do have an A+ rating which is heading in the right direction.
Trending Is On The Decline
There was certainly a lot of interest around the 2015/16 period when sales had rocketed to $1 billion.
Ever since they have been in decline which doesn't make sense that by 2021 they had over $8 billion in sales.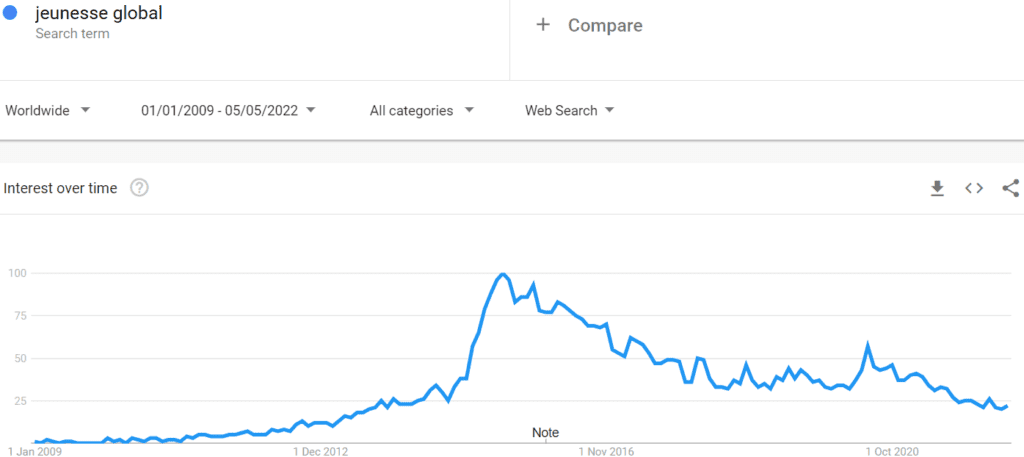 Jeunesse Global Review – Final Thoughts!
It is clear that the company is legit as they have outperformed many other MLMs in the same niche.
Their sales tally of over $8 billion in 11 years if indeed this is true has to be commendable.
Feedback however has some mixed feelings and this can be seen in the 3rd party review sites like TrustPilot.
We'd all love to be financially secure and whilst there are some who do succeed in MLMs around 99.78% do not.
We know that Jeunesse Global sell these products through Amazon at a price that is lower than what you and I can sell them at.
Do you think this is fair when competition is so great because we don't?
If you have a passion for something and if it's a home-based business then start your own and one that you can call your own.
How we Make Passive Income?
The reason we are not fans of the MLM business model is not that they are illegal or unprofitable because they are for some.
It's because of all the restrictions and costs that come with them.
That is why we think affiliate marketing is the best business model and so simple and straightforward that anybody can prosper.
Where…
You can promote any product or service you like
You do not have to purchase or stock products
You do not have to answer to a sponsors
You do not have to recruit
You do not need to handle customer orders, shipping or returns
If you have a passion or love for something, then why not turn it into a profitable online business?
We can provide you with the tools, the rest is down to you.

Jeunesse Global FAQs
Can I Make Money With Jeunesse?
You can ask this question about any business venture and the answer is always going to be the same.
Work extremely hard, continue to learn and improve, consistently, and patient, and in an MLMs case, a good background in sales and recruitment.
Jeunesse does have one of the better compensation plans in the industry.
Is Jeunesse Trustworthy?
Most MLMs don't have the best of reputations and Jeunesse fall into that category with multiple lawsuits and complaints.
Even the FTC which you don't want to upset declares them a pyramid scheme although nothing was set in concrete.
With any MLM you have a 5-10 year period with many not even reaching the 5 years but Jeunesse has survived the decade which is commendable.
What Is Jeunesse Used For?
They offer a range of products for skincare which include peels, serums, masks and eye creams to help in reducing the look of age.
We know there isn't any cure for getting old so the next best thing is making those wrinkles disappear.
With products like Luminesce, Naara, RVL, NV and Instantly Ageless.
Is Jeunesse Global Cruelty Free?
All their personal care products are approved under cruelty-free laws and have a gold standard which is recognized internationally.
What Kind Of Company Is Jeunesse?
Jeunesse Global are a leading network marketing company that is at the cutting edge of science.
In stem cell technology, nutrigenomics and DNA repair, are based in Florida with all products developed and manufactured in the US.
How Much Is Jeunesse Global Worth?
After recently celebrating 12 years Jeunesse has accumulated worldwide global sales of close to $9 billion.
Why Do People Fail With The MLM Business Model?
For many reasons, at the top of the list is a lack of experience in sales and recruitment.
Expecting too much too quick, wrong mindset, lack of patience, not prepared for failure, listening to others…
Feedback, Comments and Subscribe
Thank you for staying until the end of this review and if there is anything you would like to add just drop us a line below.
We hope you enjoyed this Jeunesse review and feel free to share it with family and friends.
Until next time, stay safe