Welcome to this Vida Divina Review
More and more people are turning to the internet nowadays for ways to make some extra money to help with their everyday needs.
Choosing an MLM company might seem like a good thing at the time especially as you will have been told great things about Vida Divina.
But it is always worth taking whatever you have been told with a pinch of salt and doing what you are doing now with thorough research.
Before we get started we would just like to make a small disclaimer that we aren't associated with Vida Divina in any way.
That means that we aren't getting paid for this review but what we can promise you is an honest unbiased review.
That way you can make an educated decision about whether Vida Divina is the right opportunity for you or not.
With that said, let's get started.
---
[Affiliate Disclosure: This Vida Divina Review has been thoroughly researched from information and testimonials that are in the public domain. This post may contain affiliate links which means we may earn a small commission, however, this won't affect what you pay!]
---
Vida Davina Review – Summary
Product: Vida Divina
Founder: Armand Puyolt and Esther Ramos
Website: www.vidadivina.com
Product Description: Health and Wellness MLM
Cost to join: Free + Starter packs
Recommended: Maybe
Summary: Vida Divina is a direct-selling company in the health and wellness industry.
That provides various dietary and nutritional supplements along with various blends of coffee and tea.
They do offer a way to make some money from home but that isn't as straightforward as it may seem.
Alternative: If you are looking for a business opportunity where you are in complete control then affiliate marketing is a great way.
There are no restrictions as to what you can promote and you are not constantly pressured to produce results.
I know this because I have tried on 2 occasions to be successful in the direct selling business but it didn't work and I wasted a lot of time and money.
Vida Divina Review – Table Of Contents
What is Vida Divina?

Vida Divina is a multi-level marketing company that manufactures and sells nutritional products in the health and wellness industry.
The company was founded in 2016 by Armand Puyolt and Esther Ramos and resides in California.
The products range from tea, and coffee, to refreshing vegetable and fruit beverages, shakes and supplements.
Is Vida Divina a Pyramid Scheme?
Vida Davina is not a pyramid scheme as they have a range of legit products that people are happy with.
True pyramid schemes do not have any services or products and rely primarily on recruiting new members.
With the promise of a hefty return on their investment.
You could ask the question, "Is Vida Divina a pyramid scheme in disguise though?"
Just for clarity on what a Pyramid Scheme is…
Any Success is Rare With Vida Divina
Success is rare with any MLM and not just Vida Divina.
They all operate in the same manner where you have to be able to recruit and build a large team so that you can make commissions.
It is no good just selling the products yourself, not if you want to earn enough to replace a full-time job.
The figures fluctuate but not by such a great margin, with around 85% and 99% that end up losing money within an MLM.
A lot of that is down to the hidden costs that people aren't made aware of before they join and are led to believe it is an easy business.
Monthly sales quotas have to be met just to stay active and most members end up purchasing the products themselves.
It is not uncommon for members to end up with thousands of dollars of stock that they can't get rid of.
That's why between 50 and 70 per cent end up leaving within the first 12 months.
How Vida Divina Works
Vida Divina is no different to any other MLM.
Normally in business, a company has a large budget for marketing but with an MLM this is different.
The distributors handle the marketing themselves saving a company like Vida Divina a fortune in costs.
If you want to excel in a business-like Vida Divina then you are required to attend conferences away from home normally at your own cost.
To grow and expand the business, you have to recruit people into your team which isn't as easy as it may seem and not for everyone.
Then you have to train the members of your team, and motivate them so that they hopefully do not leave.
It's a constant battle because people will leave and you have to replace those with new members just to keep the ship afloat.
Vida Davina Products Line
The products and services are key if you are thinking of becoming a member.
That's why around 80% don't join as a distributor, they become preferred customers first.
That way you can try the products yourself first to see if they do what they say they will.
Here are a few of their best-selling products…
Cafe Divina ($30 – $65) – A range of flavours that are all organic and come with the reishi mushroom.
Vida Extracts ($70) – Seven different mushrooms to help the immune system and compliment skin complexion.
Liquid Gold ($65) – This is a skin moisturizer, formulated with 23-carat gold flakes and infused with Emu oil to help the skin, hair, scars…
Vida Lean ($70) –  These are 3 milkshakes that come in chocolate, strawberry and vanilla. All include the reishi mushroom and help to maintain weight and build lean muscle mass.
For a more detailed look, we would suggest heading over to the Vida Divina website here.
Here are a few other companies manufacturing and selling similar products…
Vida Divina Business Opportunity – What You Need To Know
For anybody who is interested in the Vida Divina for the work-from-home business opportunity, this section is for you.
How Much Does it Cost to Join Vida Divina?
At Vida Divina, there are no subscription fees to pay but what you will have to do is purchase one of the starter packs.
Which are…
Standard ($120)
Popular ($300)
Premium ($600)
Supreme ($1,200)
You'll get access to your own personal website, and training material, and access to the community and back office.
How to Make Money With Vida Divina
There are 2 main ways to make money with Vida Divina and the 3rd is based on climbing the ranks and qualifying for the bonuses.
Purchase the products and sell them on…
Recruit other people and build a team and make commissions…
Climb the ranks and qualify for a number of bonuses…
The 3rd option is spoken about more through the compensation plan below.
Vida Davina Compensation Plan
The compensation plan is how you get paid and are often complicated and hard to understand.
They do, however, change at times and why we don't get involved with explaining them in detail.
Here's the pdf format if you have a little spare time but if you are like me then I would prefer to sit down and let someone explain it to me.
Are Vida Davina Affiliates Actually Making Money?
This is a question we are always asked and it's a bit of a closed shop if the truth is known.
Obviously, Vida Divina affiliates are earning money otherwise the company would have folded.
Just how much is a little hard to say even with an income disclosure statement, if at all you can call it that.
It doesn't really tell you much other than the average annual income ranges from $500 – $2000.
Obviously in that average income range are people who are earning 5 and 6 figures but those are in the top 1%.
Also, there are around 35% that don't even earn a penny.
Can You Make Money With Vida Davina?
Yes, of course, you can make some money with Vida Divina but it won't be easy.
Like any business, you should not expect too much too soon and remember this should be a long-term commitment.
This means that you shouldn't go into this or any other venture halfheartedly and expect to work hard for results.
Some of the big earners will have been here from when Vida Divina started in 2016 which is why getting in at the start is very important.
Especially as we don't know how long the business will be around, seeing that 1 in 3 survives the first 5 years.
This is not a get-rich-quick scheme and shouldn't be treated as one!
What About The Monthly Costs at Vida Davina?
Monthly costs are something that isn't talked about at any great length when you are approached by a Vida Davina affiliate.
I mean why would they?
They are trying to recruit people and not scare them away, right?
To stay active as an affiliate requires that you achieve a monthly sales quota which in this case is 120PV.
1PV equates to around $1 so you would have to sell at least $120 worth of stock.
Now, if you are experienced in sales and recruiting that shouldn't be a problem.
But if you aren't the only way to stay active is to purchase the products yourself and during the first month, you might say well that's ok.
Because things are going to turn around, but when it doesn't and you find that you are purchasing more stock.
Then before you know it your first year is over and it has cost you $1,440 just to stay active.
Plus between £120 and $1,200 for a starter pack.
That means your first 12 months could cost you between $1,560 and $2,800.
There are still additional costs to take into consideration such as marketing, travel, attending conferences, hotels, food, and gasoline…
These are all hidden costs which you will not be aware of when you consider joining and are certainly not spoken about by the sponsor.
Truth in Advertising
Is a non-profit organisation that relies on people like you and me to keep them going through private donations.
They do provide a great service and research complaints that people send to them.
Once they have decided that the complaint is justified an entry is made on their database for all to see.
There isn't a mention at this time of Vida Divina which is a good thing.
Is Vida Divina a SCAM?
Is Vida Divina a scam? Absolutely Not!
They provide a range of health and wellness products that people seem to like.
Whether they do as they say is unclear as there is no scientific evidence to prove it.
You are going to find a lot of negative feedback and these are most likely from past members who weren't aware of the hidden costs when they started.
People join with all the right intentions but it doesn't take very long before they realise that an MLM might not be the right opportunity.
This is usually down to the monthly sales quota that has to be met as well as many other costs.
Alternative: Affiliate marketing is a great way to make a passive income with no restrictions and you are your own boss.

Vida Divina Review – PROs
There wasn't too much that we liked about Vida Divina.
Accredited With The BBB:
For a company to have only been on the scene since 2016 we found it commendable that they have managed to have an A+ accreditation.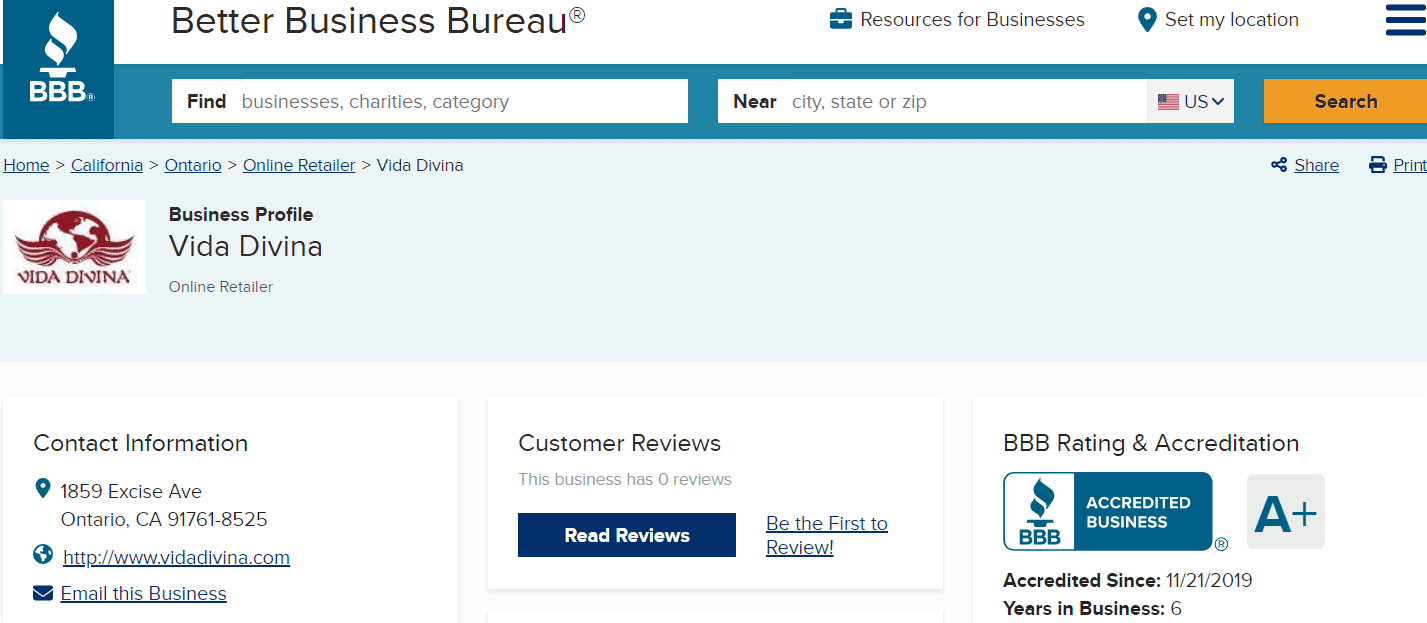 The Company Is Established:
Any MLM that has achieved 5+ years in business is doing pretty well, considering 1 in 3 MLMs do not reach the 5-year period.
The next step is achieving 10 years in business and there aren't too many MLMs that achieve that milestone.
Vida Divina Review – CONs
Products Can Be Found On Various Shopping Sites:
You can find the products on Amazon, Etsy as well as other sites which isn't a good thing for Vida Divina affiliates.
It means that selling the products is going to be a lot harder.
What we mean by this is that in order to be successful you have to be able to sell and recruit and build a large team.
Only a handful of people are able to do this and why we wouldn't recommend beginners join.
The Direct Selling Association is a non-profit organisation where you will find companies that have gone through the vetting process and been accepted.
This is usually a good place to start when researching any MLM.
Interest That Is Shown In Google Trends Is Dwindling:
Google trend is a place that will show you the level of interest that people are showing in the search engine.
As you can see interest did in fact peak around the time of the pandemic lockdown but has dwindled somewhat since.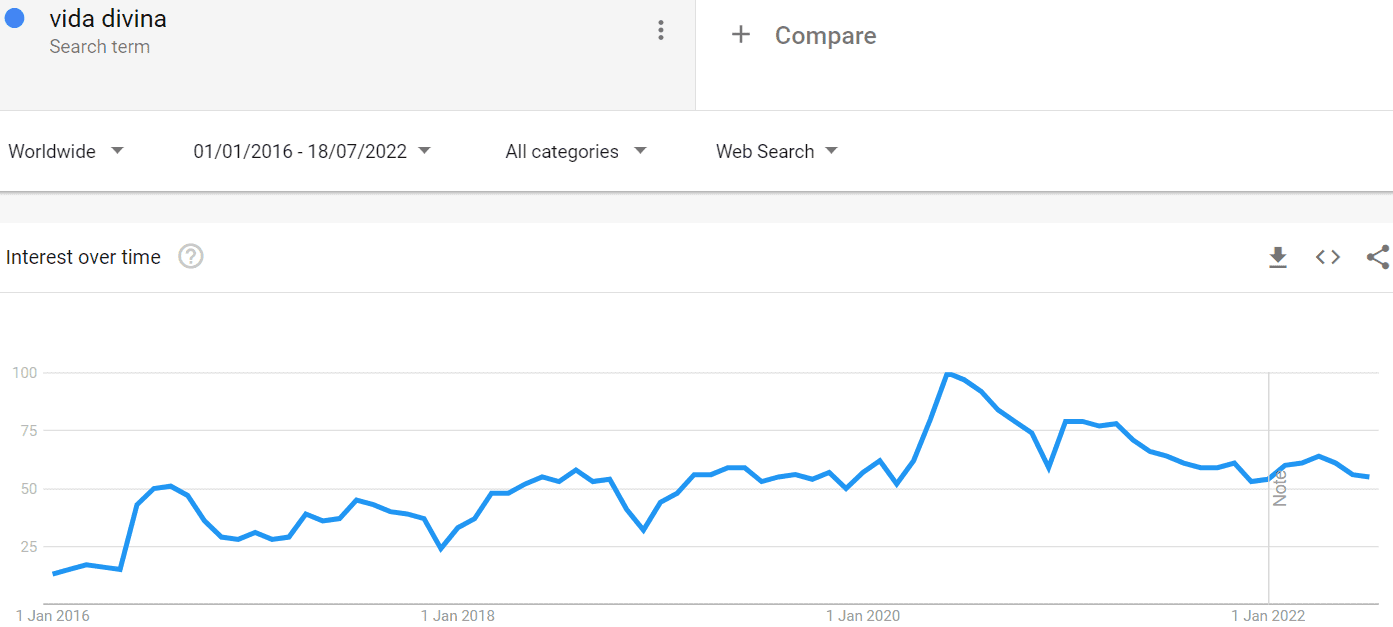 The Health And Wellness Industry Is Very Competitive:
In the direct selling industry, you are swamped with the number of companies that are coming on stream daily.
This adds to the competition, not only with similar companies but you have the major companies that are non-MLM and have been doing this for years.
Just to stay active you have to meet a sales quota which many are only aware of when they actually join.
At $120 a month, not to mention all the other costs that we mentioned earlier.
If you want to stay qualified for the bonuses then you have to meet this sales quota.
If you ain't able to meet this quota then the only way to ensure that you stay active is to purchase the products yourself.
That's why as many as 70% leave within 12 months in debt.
Vida Divina Review – Final Thoughts!
Before we wrap this Vida Divina review we'd just like to go over a few things.
Vida Divina is a legitimate company providing products that people do appear to like.
If this is a company that you are still considering then just to remind you that the only way to succeed is through building a large team.
Recruitment is key here and because it is aggressive then you are going to end up misleading people into joining.
This is how we see it and how it has always been within the MLM industry.
All you are doing is passing the buck onto someone else which in our eyes isn't an ethical way to run a business.
There are much better ways, which offer much less hassle, and flexibility and only cost a fraction.
How we Make Passive Income Online?
MLMs are a legit business model that makes some people a lot of money but there are a lot of downsides.
That's why would always recommend affiliate marketing above any MLM business.
Where…
You don't have to recruit
Can promote any product and service you like
This truly is a business that you can call your own
A company called Wealthy Affiliate have been operating since 2005 and has helped over 2 million people.
It's what we call a one-stop-shop marketing platform that has everything that you would ever need to succeed.
What better way than to create a business about something that you love?

Feedback, Comments and Subscribe
OK, guys, we hope that you enjoyed this review and that we managed to help answer most of your questions.
If there is anything you would like to add then feel free to add your comment down below.
Until next time, stay safe