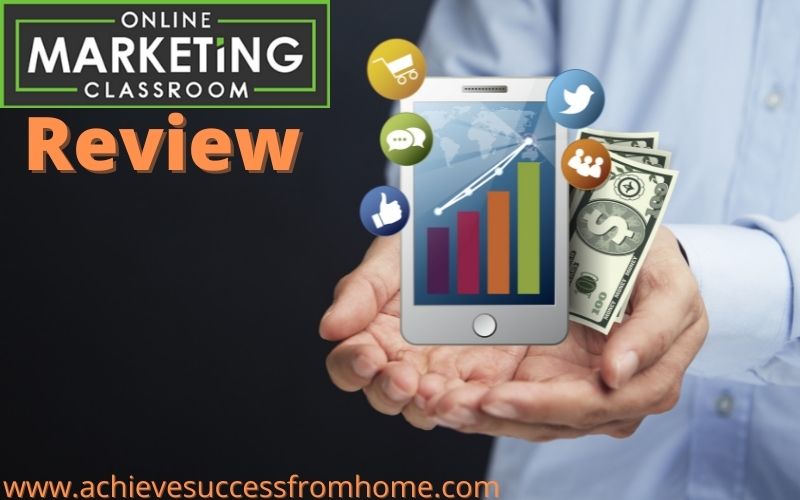 Hey Guys, welcome to the Online Marketing Classroom Review
A training course that we have had on our list of reviews to-do list and thought it was about time we got around to it.
This is a training course by two popular internet marketers, Aidan Booth and Steve Clayton.
We have reviewed online products before from these two and they do seem to be pretty good.
But is the online marketing classroom going to be the same or is it another product that you should discard and not bother with?
Well, that is why you are here, to see if the online marketing classroom is a scam or a legit training course that you can benefit from.
But, before we get started we would like to make a disclaimer, that we are not associated with OMC or Steven and Aidan in any way.
That simply means that we ain't getting paid for this review.
This also means that we promise to provide you with an honest full account of all the facts.
Which should put you in a better position to come to your own conclusions as to whether to pursue this training further or not.
So sit back and in the next few minutes, you should have all the answers that you could ever want.
---
[Affiliate Disclosure: This Online Marketing Classroom Review has been thoroughly researched from information and testimonials that are in the public domain. This post may contain affiliate links which means we may earn a small commission, however, this won't affect what you pay!]
---
Product: Online Marketing Classroom
Founder: Aidan Booth and Steven Clayton
Website: www.onlinemarketingclassroom.com
Product Description: Affiliate marketing course
Cost to join: $37 – $1497
Recommended: Yes
Summary: The Online Marketing Classroom is a training platform that will teach you how to build an online business from scratch.
But we have seen this type of training course many times before and a very large percentage of them never really hit the mark.
Of course, the products and systems that we are talking about were not connected to Aidan Booth and Steven Clayton.
We have always found them to be legitimate and there aren't that many of them about bringing products like this to market.
But will the Online Marketing Classroom review live up to expectations?

Online Marketing Classroom Review – Table Of Contents
What is Online Marketing Classroom about?
The Online Marketing Classroom is a training platform brought to you by Aidan Booth and Steven Clayton.
A membership site that teaches you how to make money with digital products, eCommerce and consulting businesses.
That comes with a lot of material covered in sections referred to as Labs, Tutorials and Workshops which we will cover later.
This training course currently can be found on Clickbank and according to what we have read, over 50,000 have taken this course.
It also comes with a 60-day full money-back guarantee which adds to its credibility but don't get your credit card out just yet.
Who are the founders of the Online Marketing Classroom?
Steven Clayton and Aidan Booth are behind the
OMC and owners of several other products and systems.
Products like…
The BluePrint Academy
100K Factory training series
7 Figure Cycle
Parallel Profits
Kibo Code
What is unique and commendable about these two is that several of their training programs only take a limited number.
This means if you are looking for a product like the 100K Factory training series or 7 Figure Cycle.
The likelihood is that you will probably find it closed as they are only open about once or twice a year for new members.
Now, this say's to us that they put more on the onus on the training aspect rather than the money side.
Aidan Booth is from New Zealand and started in 2005 knowing nothing like most of us when we first start.
Until he made his first $30 in 2006 and was ecstatic.
Shortly after, he had a plan, where he put together a team of developers, including.
A project manager, and built over 1500 websites which he named "The Factory".
Like all good things, they come to an abrupt end when a third on his website was hit with one of Google's algorithm updates.
That's about the time he and Steven got together and started building training courses.
Steven Clayton on the other hand comes from a background in finance working for a Fortune 500 company as a CFO.
For several years before making a break and starting his online journey.
Whilst Aidan was flying by the seat of his pants, it was the partnership with Steve that gave them stability and a way forward.
When you become a member of OMC you get access to…
6 Business Labs
45 Tutorials
40 Live Workshops

The training is broken down into 9 core elements, which include software, execution plans, traffic generation blueprints…
Along with done for you sales funnels and web pages to make your life a lot easier.
The 9 Core Elements…
Week #1 – About niches and how to select a profitable one
It all starts with a niche that can make or break a business. Learn how to choose a profitable niche, product selection and your audience.
Also covered in this section is domain names which are very important as this will be your brand and it needs to have meaning.
Week #2 – eCommerce store setup and optimization
How to set up your domain, installation of Shopify, customise the store theme and add products to your store.
Week #3 – Facebook setup and final store optimization
In this course, you will be using Facebook ads to drive traffic and before you get into the nitty-gritty there is some preparation to be done.
Week #4 – Creating ads and case studies
In this week's training, you will learn about creating videos, ad images, sales channels as well as an update on the case study product and content.
Week #5 – Big case study, web conversions and Facebook ads
In week 5 there's a big update in the case study plus website conversions and Facebook ad strategy along with Facebook page optimization.
Week #6 – More case studies and fulfilling orders
This week the focus is on the case studies, how to manually fulfil customer orders and how to use Limespot to improve customer sales.
Week #7 – Scaling
Once your campaigns are bringing in sales then it's all about scaling to make the most profit.
Week #8 – Extended scaling and email marketing
This week there is more on scaling taking it to the next level as well as setting up and building an email list through Klaviyo.
Week #9 – Clarification of what you have achieved
in the final week, there's is a series of videos that discusses what are the most common issues.
What you get with the Software Suite
There's a lot of thought and money invested in the software suite which will save you a considerable amount of money.
Normally there are a lot of other costs incurred when starting an online business.
Which people don't take into consideration or aren't aware of until they have paid their dues.
Aidan and Steven have paid particular attention to software tools that you would need and have spent thousands developing them.
Here's a list with a brief description…
Crowdforce: Free traffic source generator
Bounce Breaker: Helps you convert leads into sales
Landing Page Launchpad: Drag & drop landing page / sales funnel creator
Traffic Spy: Analytics tool to track visitors like Google Analytics
Hawkeye: Search for high performing sales products
Domains On Fire: Find domains expired that still rank
ECOM Product Finder: Instantly finds profitable eCommerce niches
Viral Search Tool: Searches and retrieves ranking content
Free Trust Seals: Extracts free trust seals for your website
Who is Online Marketing Classroom For?
The Online Marketing Classroom was designed with the beginner or complete beginner in mind.
This means, the beginner might already have some sort of knowledge and maybe tried several other products first and got stung a few times.
Whilst the complete beginner has just come onto the internet and is trying to find their feet, someone who really knows nothing.
First and foremost though, you have to be serious about starting an online business and prepared to put in the work.
This is not easy even though the gurus may hint it is; it will take hard work, consistency,  the right mindset and the will to succeed.
You are hardly going to find marketers who are experienced using this platform, other than to market this product and make some money.
What does it cost to join the Online Marketing Classroom?
There are currently 3 memberships at OMC to choose from and depending on which membership you choose determines what type of access you get.
Online Marketing Classroom Blue Membership: $37/month
With this membership, you'll get access to tutorials, labs & cheat-sheets and live workshops.
But, you don't get access to any internal training courses, case studies and software suite.
Online Marketing Classroom Gold Membership: $97/month
In this membership, you have access to everything that is available on the OMC training course.
However, if you decide on this membership then over a year it is going to cost you $1,164 and should consider going with the Platinum.
We do understand that budgets are everything and it just may not be an option.
Online Marketing Classroom Platinum Membership: $1497
The top membership is for members who are focused and ready to commit.
With this membership, you have access to everything just like you do with the Gold membership.
Also, you will be saving $831 over a two year period if you went with Gold.
Don't forget… 
You do have the 60-day money-back guarantee to fall back on if you decide this isn't for you.
That should be more than enough time to decide whether this is what you want to do.
Online Marketing Classroom FAQs
Is the Online Marketing Classroom Worth It?
You can go down the free route and try and work it all out through Youtube videos but we'd suggest you don't because it won't work.
The information is scattered with most just not worth bothering with.
If you go down that route I can guarantee that at some point you will seek out a mentor.
You have to invest in yourself if you value what it is that you are trying to do and therefore we think OMC is worth the money.
Can The Course Be Paid In Instalments?
As it is a membership site then you will be paying on a monthly basis for both the Blue and Gold memberships.
The Platinum membership still has to be paid upfront in full.
Does Online Marketing Classroom come with a refund policy?
Yes, there is a 60-day money-back guarantee.
Can You Trust The Product Creators?
We have reviewed several of their products in the past and have looked extensively at the course creators and could find nothing untoward.
Realistically what is this going to cost to get started?
We have covered the costs but in addition to what you will initially payout because of the software suite and the tools provided.
Your biggest concerns are marketing costs and an autoresponder for email marketing.
What About Help And Support:
Help and support come via the Facebook group and through the email support system.
However, through past experience, these methods tend not to work and could mean you waiting 24+ hours for a response.
There is nothing worse than having to wait several hours for what turns out to be an easy problem to solve.
Is There A Better Alternative That You Could Suggest?
We are members of Wealthy Affiliate which is a similar training platform but far more advanced and we have no reason to leave.
However, Online Marketing Classroom is reputable and a course that we would recommend.
Is Online Marketing Classroom a Scam?
Online Marketing Classroom is definitely not a scam?
The products that Aidan and Steven bring to the market come highly recommended by many and even us.
It doesn't go down well when you are looking for feedback from current and past members and there is nothing to find.
Except on the website and we tend to take those with a pinch of salt.

What we like about the Online Marketing Classroom
Aidan Booth and Steven Clayton are legit and experienced marketers
Best for beginners
Invaluable software tools that are provided
There's a full money-back guarantee provided
A membership site that is reasonably priced
Lifetime access to step-by-step internal training courses
60 day eCommerce challenge
What we don't like about the Online Marketing Classroom
No third party feedback from past and present members
Marketing costs can expire out of hand
The Online Marketing Classroom Review – Final Thoughts!
Just before we wrap up this review we'd just like to recap.
There are far too many similar courses out there that promise so much but deliver so little.
We don't see this with The Online Marketing Classroom.
We love the fact that they decided to go down the membership route which will mean so much for people on tight budgets.
It doesn't matter how good a training course is if you are not prepared to pull out the stops and make a full commitment.
Then it just isn't going to work.
We believe the course is very reasonably priced but at the end of the day, you will have to invest in yourself.
Whether it is with Online Marketing Classroom or some other training course.
There is a 60-day money-back guarantee which will benefit all especially members who have taken out the platinum membership.
There is nothing sketchy about the founders or any of the products that they have developed now or in the past.
We would have no hesitation in recommending the Online Marketing Classroom.
Which is one of the better training courses that we have had the pleasure to review.
The only person who can fail is you.
But if this training course is not on your agenda and you want to know what we do for a living then please continue reading.
How we make Passive Income Online
Wealthy Affiliate is similar to the Online Marketing Classroom except more established and more advanced as a training platform.
They specialize in affiliate marketing and we believe is one of the best business models for creating multiple passive income streams.
If you are looking for a genuine way to build an online business then you have to check out this highly-rated program.
This company is and has been helping thousands of complete beginners to succeed as marketers since 2005.
If you want to be the next success story check it out and see what you think, it won't cost you a dime and there are no credit card details required.

Feedback, Comments and Subscribe
Hope you guys enjoyed this review and that you got something out of it.
As before, any questions don't forget to pop them down in the section below.
Take care and stay safe!