Welcome to this FBA Masterclass Review
A training course that teaches you all about Amazon FBA and the processes that you need to go through in order to start a business using Fulfilment by Amazon.
For years now, Amazon has been the focus for many, after all, it is the biggest retail outlet there is so why not use them to your benefit?
People were and still are making millions, but the goalposts are constantly changing with Amazon policy changes and rising costs which is making it all the more difficult to make an impact on this platform.
But before we get started I just like to introduce myself.
My name is Mick and I created this website to help people like you find your way when it comes to making money online.
I have reviewed over 400 products/courses/services and know only too well how difficult it is to find reputable businesses.
We'd also like to mention that we are not associated with the FBA Masterclass course or Tom Wang for that matter.
What you read today will be an honest and unbiased review with all the facts so that you can decide whether Amazon FBA is a business you'd like to start.
Let's begin.
---
[Affiliate Disclosure: This FBA Masterclass Review has been thoroughly researched from information and testimonials that are in the public domain. This post may contain affiliate links which means we may earn a small commission, however, this won't affect what you pay!]
---
FBA Masterclass Review – Summary
Product: FBA Masterclass
Founder: Tom Wang
Website: $6997
Product Description: Amazon FBA training course
Cost to join: $6997

Recommended: Maybe
Summary: It's never easy deciding which business model to go with as there are so many of them online.
Most of them are just not worth your time or effort but there are a number of legitimate gurus out there teaching you what they know.
Tom Wang and his FBA Masterclass are just one of them!
Amazon FBA on the surface looks like a great business model.
You find a great product under $50 that everybody wants, find a supplier or manufacturer and purchase the product for the least amount of money possible.
Ship it to Amazon and start promoting it to the people who might be interested.
Amazon does the rest…Piece of cake right?
Tom has had a lot of success teaching what he knows with many of his students earning $25k, $100k, or even $200k a month, yes you heard that right.
Many of these business owners are earning in just months rather than years, so is this FBA Masterclass as good as Tom say's
Continue reading to find out.
FBA Masterclass – TOC
What is Amazon FBA?
FBA which stands for Fulfillment by Amazon basically is a business solution that allows you as a seller to use one of the many warehouses that Amazon has around the country as a store.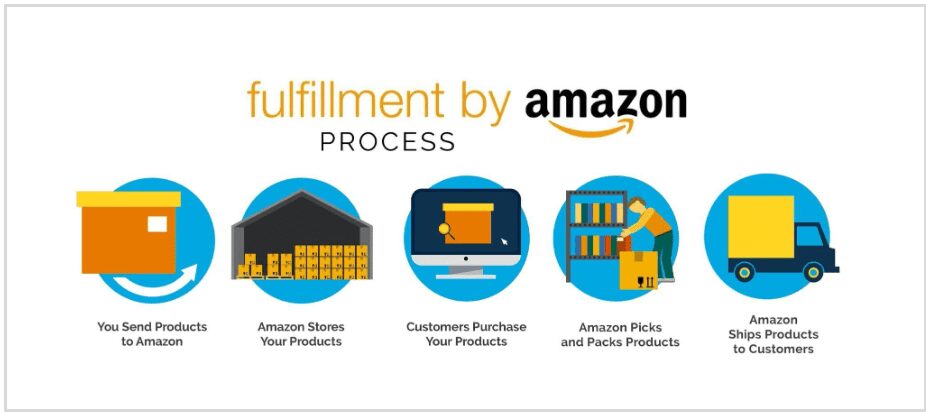 This is a simple process, yet is a very powerful process which can save you thousands in staff wages and storage facilities.
Just to give you some sort of idea of what Amazon can do for your business.
You have done your research and found some great products that are selling extremely well on Amazon.
As a result, you decide to see how these products will sell for yourself and after you see success then you decide that you need to purchase more stock.
The only problem you have is the lack of space to store these products and the funds to do this.
Not only warehouse space but you only have yourself to manage the customer orders and customer queries.
Does that mean your dreams of building a business are shattered?
Not at all, because that is where Amazon FBA come in as they can provide all the resources you would ever need to succeed.
They handle stocks, customer orders, queries, labelling, picking, packing, distribution and returns and refunds.
This a service that started in 2006 and the reason why so many people have succeeded in business but it takes time to put everything in place.
So in a nutshell this is how it would work…
You source the products from a supplier or manufacturer and send the products to the Amazon FBA.
They will inspect the products for any damage and then store them in their warehouse.
You as the business owner will then market the products and find customers.
Once a customer selects and purchases a product then Amazon FBA takes over the process.
They will pick, label, pack and ship the products to the customer, ensuring that stocks in the warehouse are maintained.
Amazon will handle most of the customer services which would include refunds and returns.
Every couple of weeks Amazon will deposit your sales minus what is owed to them for handling the whole process.
What is FBA Masterclass?
This is an advanced training course brought to you by Tom Wang, a successful Amazon FBA entrepreneur.
The program is designed to teach anyone no matter what experience you have how to create an online business selling products through Amazon's fulfilment warehouses.
He teaches a process called the "single product profit system"
Basically, you find a product that sells on Amazon pretty well and then you need to find where to source the product at the cheapest price.
Normally, this is China.
The course is constantly updated to reflect any changes within the Amazon platform.
You get weekly coaching calls which anyone can interact with and there's a Facebook group to discuss with other business owners.
Here's the training video that you might like to watch to explain how the whole process works.
Who is Tom Wang?
Tom is someone who has always had an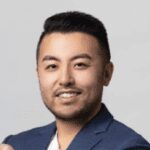 entrepreneurial instinct and has sold all sorts of things from watches in local markets to hoverboards.
Which incidentally was his first crack at selling on Amazon which was in 2015.
That however was not successful at all with it costing him his entire investment of $5,000 on hoverboards from China at $300 a pop.
At the time they were trending products but in the batch, he had purchased, all but five were defective.
He ended up trying to make his money back through Craigslist.
A chance meeting saw him partner with another seller and that's when he learned how to sell through Amazon.
After a few failures, he eventually learned what was required and created FBA Masterclass.
That was in 2019 and since then he has helped thousands to achieve various amounts of success through Amazon FBA.
He is a public speaker and has spoken with thousands of other like-minded individuals.
What Comes With the Training?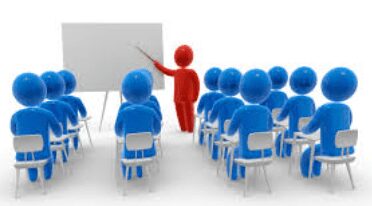 The training that comes with the FBA Masterclass is broken down into 7 chapters which use to be 13 so the course has been shortened and simplified.
With over 200 modules with step-by-step instructions.
Chapter One: Welcome & Setup with 28 lessons
Chapter Two: How to find your first winning product with 36 lessons
Chapter Three: Sourcing, negotiating, and logistics with 44 lessons
Chapter Four: Building the foundations for the launch with 18 lessons
Chapter Five: 4-week launch plan with 27 lessons
Chapter Six: How to get reviews on Amazon
Chapter Severn: Maintain and scale with 25 lessons
Bonuses…
FBA Masterclass referral program
Brand exploration & audience connection
Coaching call info and recordings
Access to the private Facebook group
Direct access to VIP guests
VIP course
Related Business Opportunity: The Land Geek
How Much Does FBA Masterclass Cost?
Tom Wang's FBA Masterclass is not cheap with it currently costing $6,997.
Besides the amount you pay for the mentorship, you will need access to between $5,000 and $10,000 so you are probably looking at between $10,000 and $15,000 to get the business off the ground.
Can You Pay With Instalments?
Apparently, there are payment plans in place which you will be told about on the telephone call.
Are There Any Other Costs To Take Into Consideration?
There will be other costs to take into consideration, like paid marketing, and tools you will need to ensure the business runs smoothly.
Are There Any Upsells?
Well, at some point they could try and sell you…
The ultimate diamond course @ $30,000
2nd tier VIP course @ $12,000
3rd tier VIP course @ $9,000
Is There A Free Trial?
There is no free trial.
Is There A Refund?
There is no refund.
Related Business Opportunity: EYL University
Is Amazon FBA Worth it in 2023?
It only seems like yesterday that Amazon FBA was a great business model and it still can be but the costs associated with this business have made it so much more difficult.
The big issue is where to source products from and since China is no longer a recommended country, that means sourcing products nearer home which means additional costs.
Due to the state of the economy, everything has gone up in price and this will eat into your profits.
Some say that the industry is oversaturated but I'm inclined to disagree with that as there is always room for one more.
Having said that it wouldn't be my number one choice as there are so many parameters that you have to get right for this to work.
Who is FBA Masterclass For?
If you are serious about building an online business in Amazon FBA then this FBA Masterclass could be right for you.
The course is constantly updated with changes made to the Amazon business model, terms and policies.
This is a business that will take a certain amount of input just to get it off the ground and therefore you will have to work at it.
This is not for someone who doesn't want to do anything.
You will have to learn this business and it isn't going to happen overnight either.
Is FBA Masterclass Really Worth The Money?
If you are prepared to not go into this business venture halfheartedly and follow the training and take action then yes it will be worth it.
Tom mentions that it will take a 2 to 3 hours a day commitment but if you are serious then we would suggest discarding that advice.
It is a business that you hope to be running for years to come and maybe once you have the experience and the business is making money, then you can ease back on the reigns. Maybe employ someone to do your job.
Just to reiterate what we have said, you will need some extra cash set aside for any issues you might have. Maybe $5k.
Mentors like Tom who have already suffered from bad business decisions can ensure that you don't repeat his past mistakes.
Related Business Opportunity: Digital Real Estate Secrets
Is FBA Masterclass a Scam?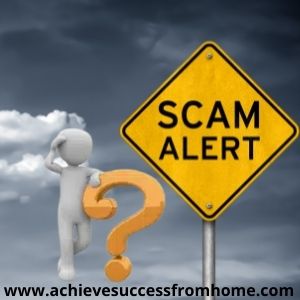 The one thing that Gurus are good at and that's simplifying a business process like Amazon FBA.
They make it all sound too simple and that you can make back your investment within 30 days which is highly unlikely.
There are no guarantees in any business venture and you have to go into it knowing that the chances of failure are more than likely.
Since everybody will fail in business at some time.
Another thing to take on board is the testimonials that you will come across especially on his website.
When they say they have made sales of $100k that is turnover and not profit.
Expect to clear around 15-20 per cent on that figure which is around $15k or $20k which is considerably lower.
Mind you it's not to be sneezed at though.
What do The FBA Masterclass Students Say?
There is a lot of conflicting information about Tom Wang that you can read about on Reddit. Just click here!
Trustpilot gives an excellent rating based on 54 reviews.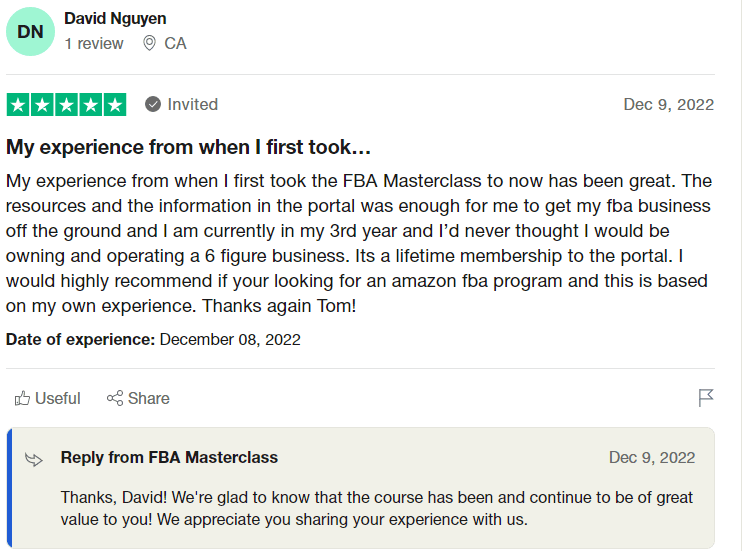 Here are a few testimonials from the FBA Masterclass website.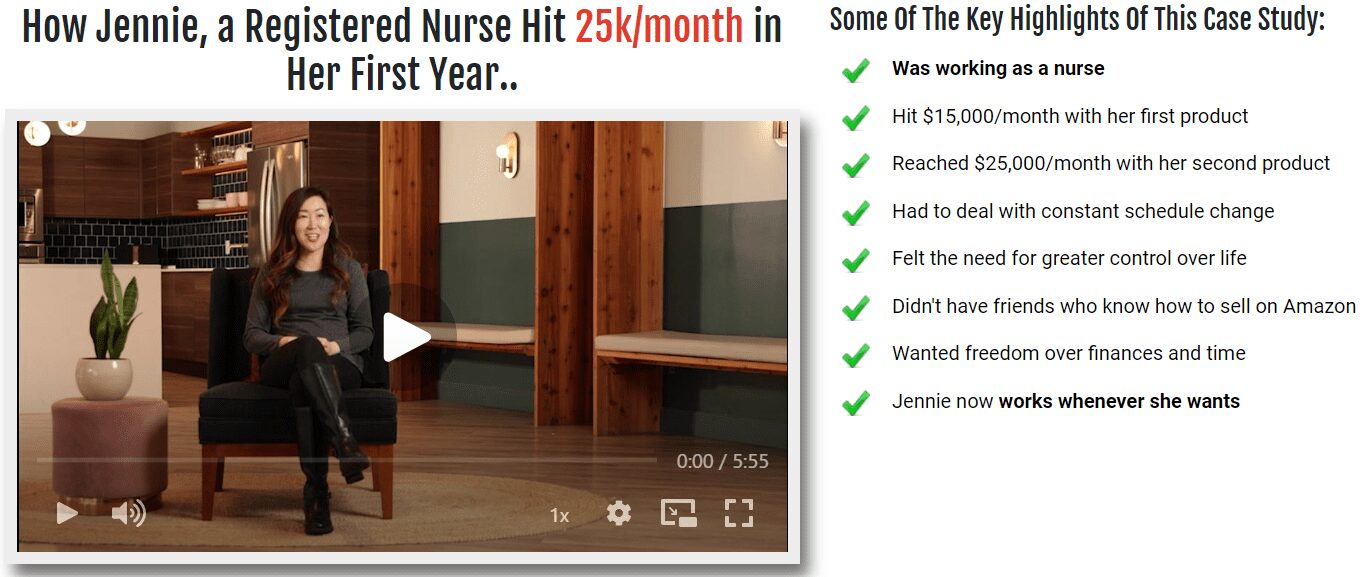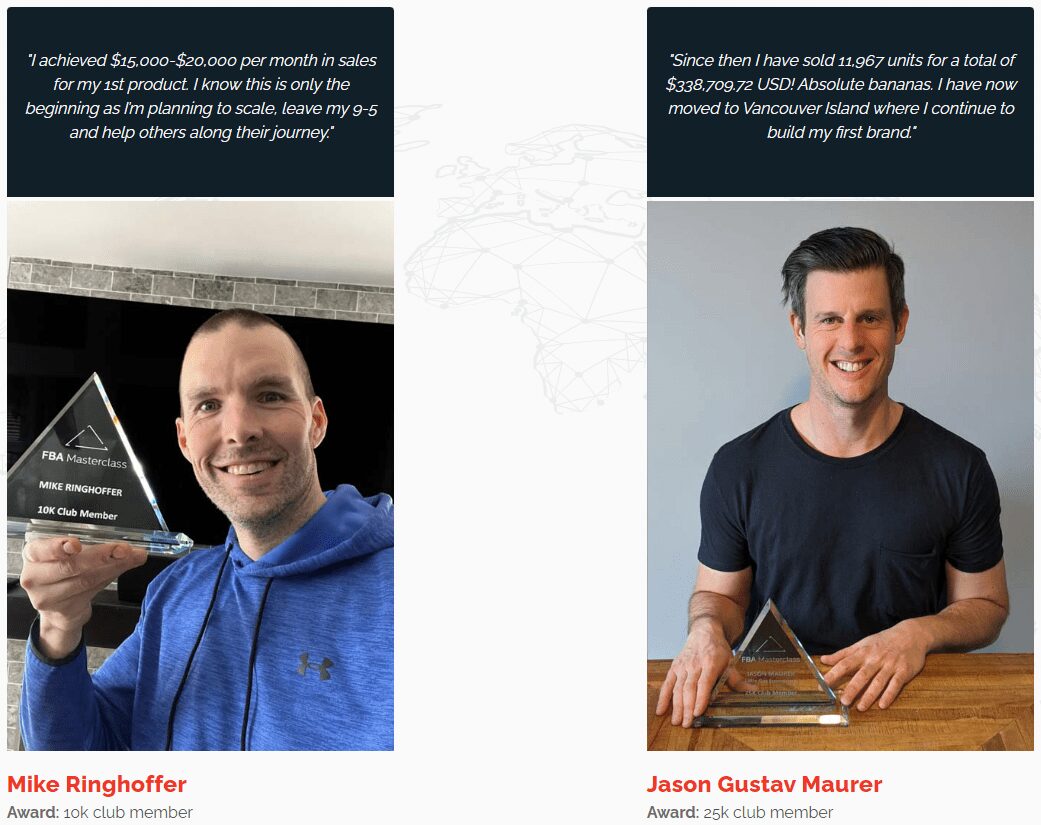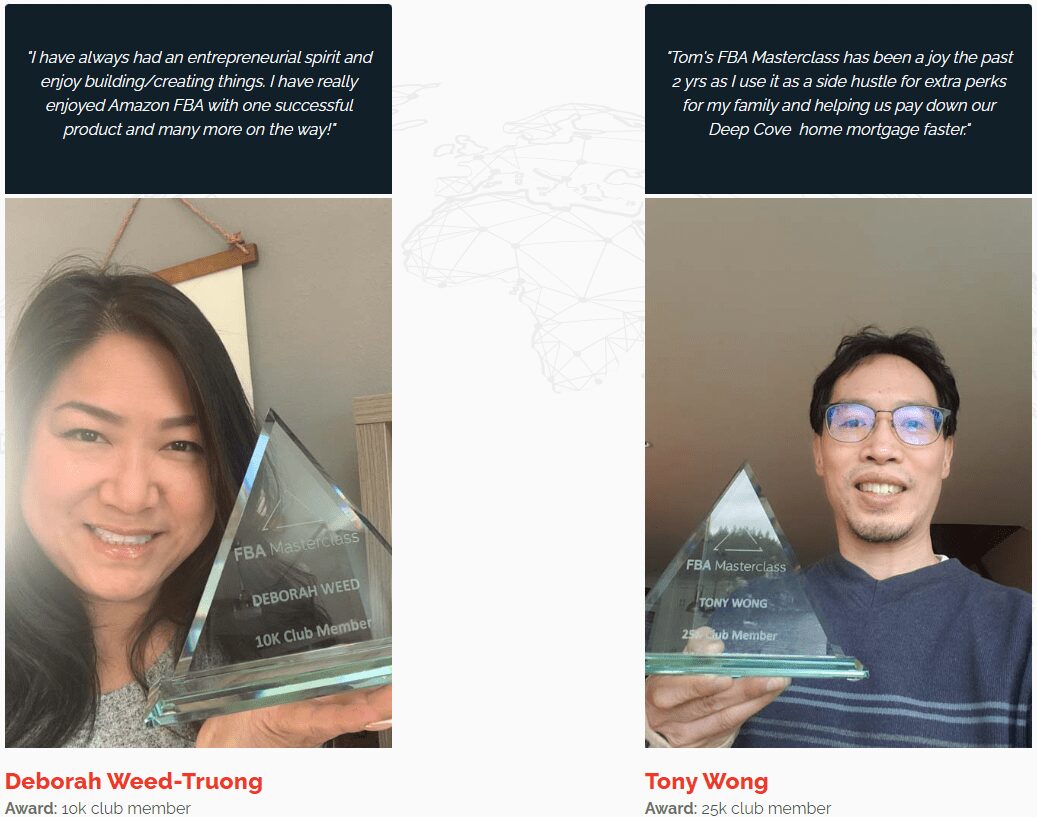 PROS And CONS
PROS
Plenty of positive third-party reviews and testimonials from students:
Tom Wang does appear to be legitimate:
The course is updated regularly to comply with Amazon's policies:
Weekly live Q&A by the FBA Masterclass mentors:
CONS
The course is very expensive:
Is not recognised by the better business bureau:
There are a few disgruntled past and present students on Reddit worth reading:
Business owners are moving away from products from China but this will add to increased costs:
With the current state of the economy might not be a wise move to start an Amazon FBA business:
FBA Masterclass – What we Thought?
Overall we thought the course was in-depth and comprehensive and covered a lot of advanced topics and was well put together.
It is clear that Tom knows what he is talking about and is experienced in Amazon FBA even though he hasn't been in the industry that long.
It looks like the new version of the course has been condensed as it used to based on over 13 sections or chapters as they call them.
One thing to note is the Amazon policies that you have to comply with, as it wouldn't take much to get yourself banned.
The overall expense to start such a business would be in the region of $15k which we thought was a little steep.
Is There a Better Solution For Making Money Online?
Affiliate marketing is like Dropshipping except you don't need a shop and is a simple business model that anyone can learn.
Finding the right training can be difficult and that's where Wealthy Affiliate come in.
They are a training company that was founded in 2005 and helped over 2.3 million start their online business.
They provide everything, from all the training, tools, website building, search engine optimization, keyword research, hosting, community, support plus so much more…
Affiliate marketing is regarded as a simple business concept that anybody can learn but finding the right mentor and training can be difficult.
Wealthy Affiliate is a company that has been around since 2005 and helped over 2.3 million to start their first online business.
If you are looking for a 100% passive online business where you can work when you want then this is it.
Just check out the reviews on Trustpilot.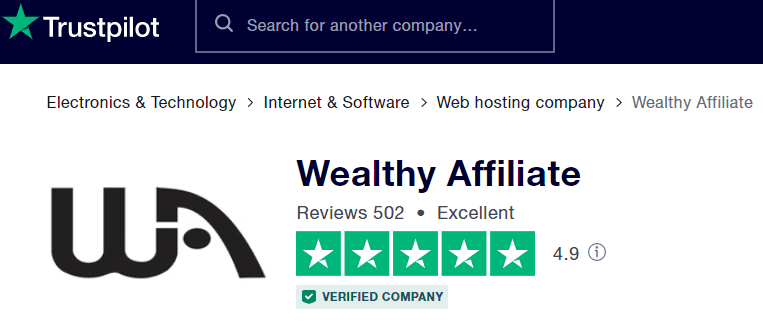 The training platform is a fully integrated one-stop-shop meaning that everything you need to succeed is in one place.
Education and training, Web development, Hosting your website, and a community that cares and is full of experience on many levels…

FBA Masterclass – FAQs
Here are a few questions we found people asking in the search engines, hope they help.
How Much Do I Need To Get Started?
Obviously, this will all be down to the budget you have but we would recommend that you have between 5 and 10 thousand dollars.
There are always going to be contingencies to take into consideration.
How Long Does It Take To Start Making Money?
Every student will be different and it all depends on how much time you put into this business.
Yes, some students start making money within the first month but those are exceptional circumstances.
A guideline would be within 90 days of starting the business.
Are Results Guaranteed?
The problem that most people have is that they expect far too much too quickly and with this course, there is a lot of training material.
People get frustrated because they want to earn money straight away which is unlikely going to happen.
Some will do nothing whilst others will have faith knowing that what they are getting into will work.
Are There Any Payment Options Available?
This will all be revealed when you schedule a telephone call with one of the sales representatives as no person will have the same circumstances.
How Long Will It Take To Complete The Course?
Once you have joined FBA Masterclass it will be for life so there are no set timescales and you can work at your own pace.
But if you are serious about this then you will want to get everything up and running in double quick time.
What If I Am Unhappy With The Training?
Once you are on your telephone call the team will know whether this is the right type of business for you or not based on the questions asked.
There are thousands of os students happy with the FBA Masterclass training with only a handful who are not satisfied.
Isn't It Just Possible To Learn All This From YouTube?
The million dollar question because you hear this time and time again mentioned in forums like Reddit and Quora.
You will pick up bits here and bits there with really no clear plan of what to do next and that's why it is best to find someone who you can trust.
Feedback, Comments And Subscribe
Hope you enjoyed this Tom Wang's FBA Masterclass review.
Please tell me what you thought in the comments below.
Thank you!
Take care!
Stay safe!