Hey guys and welcome to the AMZ Champions Review
An Amazon FBA course that will teach you everything you need to know about fulfilment by Amazon.
But is Amazon FBA really the right e-commerce business for you today, especially as there are so many things that can go wrong?
That is why you are here and what we are about to address so stay with us till the end and see if the AMZ Champions is the course for you or not.
But before we do get into this review a bit about myself, after all, who am I and why should you even listen to me in the first place?
My name is Mick and it is my goal to help as many people as I can to find legit ways to make money online.
We have reviewed well over 400 courses, systems and opportunities with some good, some ok but many just out-and-out scams.
So where do AMZ Champions fit into this scenario?
In the next few minutes, you will know whether AMZ Champions is a scam or a legit course so without further ado let's get started.
---
[Affiliate Disclosure: This review has been thoroughly researched from information and testimonials that are in the public domain. This post may contain affiliate links which means we may earn a small commission, however, this won't affect what you pay!]
---
AMZ Champions – Summary
Product: AMZ Champions
Founder: Trevin Peterson
Website: www.amzchampions.com
Product Description: Amazon FBA Course
Cost to join: $697 or $997
Recommended: Maybe
Summary: People ask me all the time which is the best business model to learn and go with and I always recommend affiliate marketing.
Don't get me wrong, e-commerce and dropshipping come a very close second while Amazon FBA takes more of a back seat.
The reason why is because of the costs involved with starting an Amazon FBA business and the number of things that can go wrong.
Finding the right product and supplier is key with Amazon FBA and to keep ensuring that stocks are always available.
Many go down the road of using AliExpress which if you didn't know are all products that come from China.
With lead times of sometimes weeks and months with poor quality products and often those products aren't even the products that the customer orders.
So, where many mentors say that a course like AMZ Champions is for beginners we think this is a little too much of a learning curve.
So, let's continue with this AMZ Champions review and see where it takes us!
AMZ Champions – TOC
What is AMZ Champions About?

AMZ Champions is just one of the many courses out there teaching you everything you'd need to know about setting up an Amazon FBA business.
The course came onto the market in 2019 and helped thousands of students to start their first online business with Amazon.
The course was developed by Trevin Peterson who since 2017 has managed to build successful 6 and 7-figure businesses.
The AMZ Champions course will teach you everything about Amazon FBA and how to start from scratch.
It comes with over 12 hours of content and over 100 in-depth tutorials and even comes with a one-on-one coaching call.
But before we go any further in this AMZ Champions review we need to take a look at who Trevin Peterson really is.
Related: Sell The Trend 
Who is Trevin Peterson?
Trevin Peterson is the person behind AMZ Champions and like so many marketers things didn't get off to a good start.
After dropping out of college in 2016 realized that he was destined for something better than the normal 9-5 working week.
But he had to find a job to help pay the bills and that happened to be in construction.
Whilst he was holding down a full-time job his first attempt in e-commerce and dropshipping was a disaster.
He even tried an MLM and whilst he managed to build a decent-sized team this all ended when the MLM closed down.
It wasn't until the back end of 2017 that he came across the Amazon FBA business model and after a few failures eventually found his way.
To date, he has helped over 2,000 students start Amazon FBA businesses.
To get a better feel of who he is we'd suggest checking out his YouTube channel with over 52l subscribers and 373+ videos.
He also has over 300k followers on TikTok too.
Related: AMZ Together
Is Amazon FBA Profitable in 2023?
Many people say that Amazon FBA has hit a saturated point and whilst that may seem like the case to some, the real reason is competition.
Therefore the only way to compete at a competitive level is to find out what is working now and the reason why finding the right course is essential.
If you look at the revenue stats for Amazon in 2021 it was up from $386 billion in 2020 to $468 billion, a whopping $83 billion.
Nearly 22% of that figure was generated through 3rd party sellers with 89% that were using FBA (Fulfilment by Amazon).
So looking at those figures and you have to accept that FBA is still profitable for 2023.
Check out what JungleScout has to say.
What's Inside The AMZ Champions
Inside the AMZ Champions training course, you get 13 modules that will take you from the grassroots.
Here we lay out the modules and a brief description of what you can find inside them.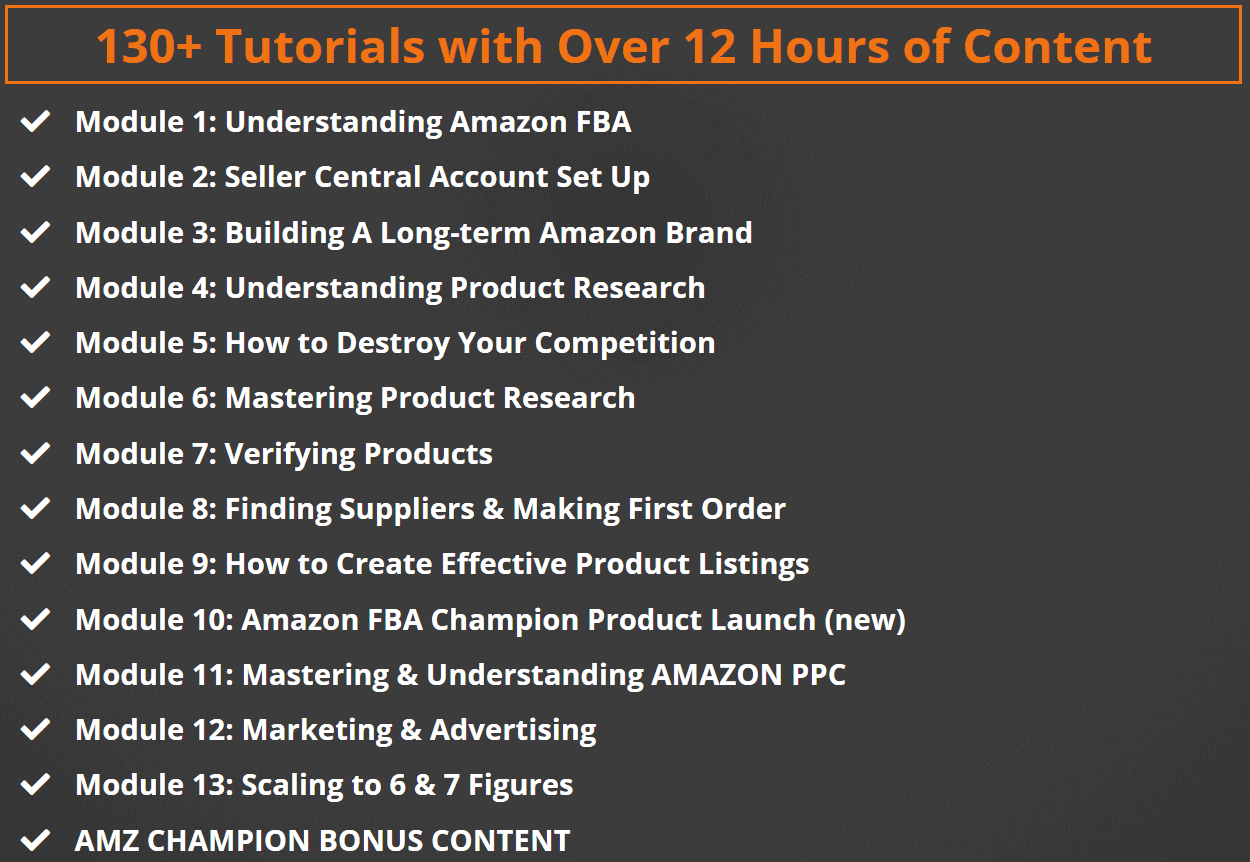 Module #1 – Understanding Amazon FBA
In this module, there are 25 minutes of video lessons that will give you an overview of just what fulfilment by Amazon is all about.
Peterson goes into what you need to know first before you consider starting an Amazon FBA business.
This includes the type of fees that you need to know about such as FBA fees, storage and shipping fees and percentage per item sold.
Module #2 – Seller Central Account Set Up
In this module, Trevin takes you through the process of possibly setting up a limited company.
Understanding the various taxes that you need to know about.
Learn how to create a seller account and how to navigate seller central and what you need to know about selling internationally.
Module #3 – Building Your Brand
Building your own brand is very important and makes you stand out amongst your competitors.
Everything you need to know about branding is in this module such as creating a logo, business packaging and choosing a brand name
Module #4 – Understanding Product Research
The most important aspect of running an Amazon FBA business is being able to choose the right products, and get them wrong and it can cost you dearly.
Learn which products to avoid such as Hazmat products which go without saying.
Ideally what you are looking for are trending products which only have a short period just like seasonal products.
Module #5 – How To Destroy Your Competition
There are around 50 minutes of video content in this module showing you how to increase profit margins, knowing that every little helps.
Knowing what your customers want is very important and Trevin also shows you how to create a better product using card inserts etc.
He even goes into how to expose what your competitors are doing and do it better.
Module #6 – Mastering Product Research
In this module, it is all about the various techniques and tools that Trevin uses to find the best products to promote.
Learn about Helium 10 which is a tool specifically developed for Amazon sellers which comes at a price.
But as you will see a very important tool that you would need to purchase if you want to be on par with your competitors.
Module #7 – Verifying Products
In this module, Peterson explains the process he uses to ensure the products are the right products to promote.
He takes you through his evaluation process which includes keyword research.
Understanding seasonal and trending products and how to capitalise by adding additional products to sell.
Module #8 – Finding Suppliers And Making First Order
​Finding the right suppliers are key and in this section, you will be looking at Alibaba if you didn't know is a Chinese company.
So many Amazon FBA sellers are moving away from China for their product suppliers for reasons we have already mentioned.
However, AMZ Champions uses Alibaba and until you are more experienced then this is the route you will be taking.
Product margins can be very tight and it's all about reducing your costs so a look at the various shipping methods like sea and air.
Having product samples is important as well as knowing just how many products to order.
How to get the best deals on Alibaba, learn how to create a shipping plan and the best ways to pay for the products.
Module #9 – How To Create Effective Product Listings
Creating an effective product listing is what's discussed by Peterson in this module.
Learn how to create product descriptions, which images to use, optimise for mobiles, and more…
Module #10 – Product Launch
There is nearly 3 hours of content in this module that covers everything you need to know about the product launch.
Learn how customer reviews play a major role in how Amazon looks at you as a seller.
Setting up listings for conversions, coupon codes, how to create PPC campaigns, a launch alternative and a special guest.
Module #11 – Mastering And Understanding PPC
In this module of the AMZ Champions review, learn everything about PPC paid-per-click marketing.
Since paid advertising will be playing an important role in finding your target audience you'd better listen carefully to what Trevin tells you.
This is where your spending can get out of control, so listen to someone who knows what he is talking about.
Module #12 – Marketing And Advertising
This module covers using other traffic methods other than PPC by using other authoritative bloggers and discount codes in social media.
Module #13 – Scaling To 6 & 7 Figures
Once you have everything in place and is working accordingly you will need to scale your operation.
Learn how Trevin mastered this art by scaling what he calls the proper way, running lightning deals and using special events.
AMZ Champions Bonuses
​TikTok
New tools to get more reviews
How to delete negative reviews
Biggest Amazon seller's mistakes
Product reviews
Legally opening a second seller account
Removing and avoiding hijackers
How to make your product look on sale
Build a second stream of income
Related: Savage University
Who is AMZ Champions For?
AMZ Champions would be best for entrepreneurs who have some knowledge of making money online.
However, Peterson does say this course is for complete beginners and whilst he might be a good mentor this might be a step too far.
If you need some confirmation of his mentoring skills we'd suggest heading over to his YouTube channel where you can find all sorts of cool free stuff.
Related: Drop Ship Lifestyle
Is AMZ Champions Worth It?
There are two questions here!
It's not just if AMZ Champions is worth it but is Amazon FBA really the best business model for you to start?
The course is very comprehensive and Trevin Peterson is an accomplished Amazon FBA entrepreneur even though he only started in 2017.
However, to take on something like Amazon FBA is not easy and requires a large investment with no guarantee that you will make anything.
You have to find the right product, not just any product but one that is trending and what people want.
You have to find the right supplier or manufacturer and agree on a margin that is going to be beneficial for your business.
Ensure that you stock the products in bulk at the Amazon warehouse and ensure stocking levels are maintained so that you can fulfil customer orders.
Then there's Amazon which takes between 25 and 35 per cent, not to mention that you will have to pay for traffic as well.
So, you are looking at between $5,000 and $10,000 just to get started.
Related: Ecom Success Academy
Can You Make Money With AMZ Champions?
Of course, you can make money with the AMZ Champions course.
The course covers everything that you would need to know in order to succeed as an Amazon FBA entrepreneur
You just need to have the right mindset, determination, a decent budget, be able to take instructions and above all have patience.
Related: Wealthy Affiliate, The Home Of Affiliate Marketing
AMZ Champions Costs And Refund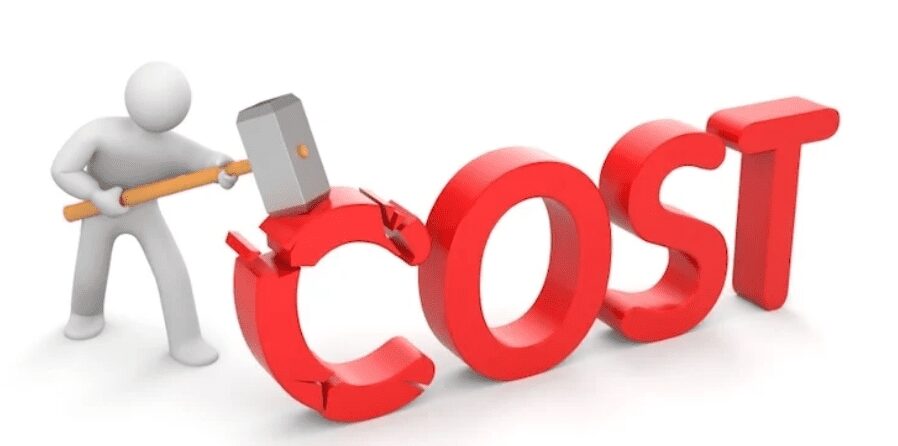 It's unclear just what the cost of AMZ Champions currently is with the price we see advertised below.
There are two payment options available to you and they are both one-off payments.
The first is the $697 which gives you access to the entire course or you can get a one-on-one call with Trevin Peterson which will cost you $997.
But we see $1,497 advertised on the website www.courseranks.com
Are There Any Upsells With AMZ Champions?
There are no upsells with the AMZ Champions course, what you see is what you pay.
Are There Any Additional Costs We Should Factor Into AMZ Champions?
When you apply to the course administration they will only accept people who have over $2,000 to spend on their business.
We would suggest that an investment in FBA would be between $5k and $10k but more towards the upper limit.
Is There a Trial Period Offer With AMZ Champions?
There is no trial period with this course.
Are There Any Discounts That Come With AMZ Champions?
As of this review, there are no discounts with the AMZ Champions course, you are required to pay the full amount upfront.
Does AMZ Champions Come With A Refund?
There is a refund policy but that comes with conditions.
You can apply for a full refund within 14 days of your purchase and provided you have not used Trevin for any mentoring.
Another condition is that you haven't completed more than 25% of the course content.
Related: Advanced Dropshipping Academy
Is AMZ Champion a Scam?

AMZ Champions is not a scam but a well-thought-out step-by-step training course teaching anybody how to become an Amazon FBA seller.
This is not a business that you can go into halfheartedly, you have to make a conscious decision and stick with it.
After all, you are going to need a minimum of $5,000 to get started with your own Amazon FBA business.
There are a lot of things that go wrong but get the product and supplier right and learn how to find your target audience and anything is possible.
Remember this, if Amazon sees that you aren't making sales or that you are struggling badly they can and have closed down accounts.
Also, products that come from China have a tendency to be of poor quality and in some cases, not even the products that were ordered.
It is all about treating the customer well and hopefully giving you a glowing review which will go a long way toward promoting your brand.
However, the course is good and Trevin comes across as a good mentor and therefore puts into practice what you are been taught and who knows.

AMZ Champions Student Reviews 
Unfortunately, we couldn't find any third-party reviews other than a few we found on a website which incidentally belongs to Trevin.
As none of these reviews could be verified it is only wise to not read too much into any of them.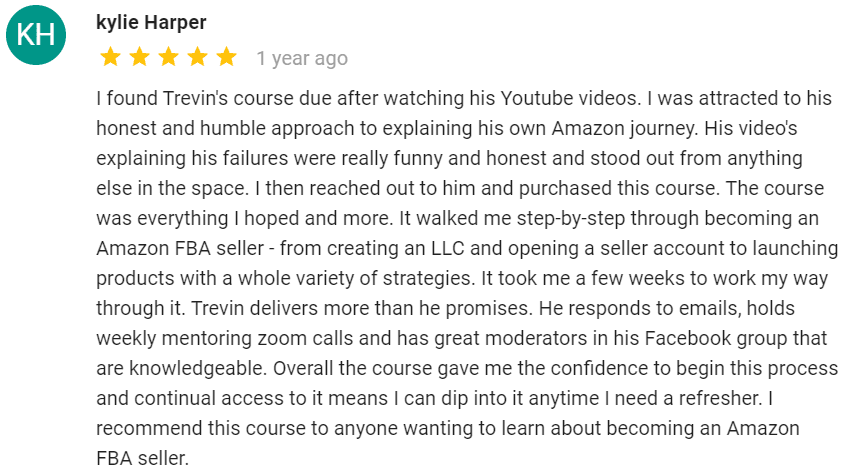 Related: Ecom Warrior Academy
AMZ Champions Review – PROs
A thorough and comprehensive course
Trevin Peterson is legit and knows his stuff
The course is updated frequently
AMZ Champions Review – CONs
Too expensive to get started for most people
The refund policy comes with conditions
AMZ Champions – Final Thoughts!

Hope this AMZ Champions review provided you with all the answers to your questions.
Amazon FBA can be a very lucrative business for some but the risks are far too great especially if you are a complete beginner.
Overall the course we thought was pretty good and it covered all the main points, especially product research.
Even though Peterson has only been in this game since 2017 he has achieved so much in that short space of time.
But, creating an Amazon FBA business is a little too pricey for our liking.
Alternative Solution to Amazon FBA
It's called affiliate marketing which is very similar to dropping shipping except you don't have to worry about using a digital store.
The principle is the same in that you are the middle person and direct the customer to the merchant except you get paid a commission on a sale.
It also means that you are not restricted and are much more flexible.
Is one of the best ways to create multiple income streams.
I have personally been a member of Wealthy Affiliate since 2017 and the main reason why I was able to kiss goodbye to my 9-5 job.
Just check out the reviews on Trustpilot.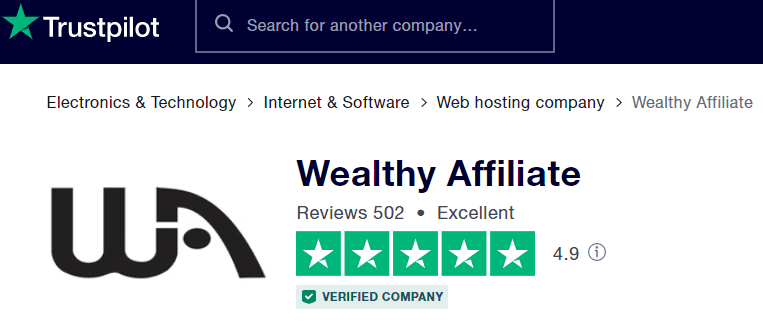 The training platform is a fully integrated one-stop-shop meaning that everything you need to succeed is in one place.
Education and training, Web development, Hosting your website, and a community that cares and is full of experience on many levels…

AMZ Champions – FAQs
Here are a few questions we found people asking online in the search engines which might help you out.
What Is The Difference Between Amazon And Amazon FBA?
FBA means that all your inventory is taken care of by Amazon, all you have to do is ensure that the Amazon warehouse has stocks.
Where it is stored until your customer orders come through and then the entire order management process is taken care of for you.
Can You Start Amazon FBA With No Money?
Obviously, you will need money to pay for the stock or maybe you can come to some agreement with your supplier.
However, to start on Amazon FBA can almost be free but three are some costs which change from time to time.
But for new sellers, certain fees only kick in when you sell over a specific quantity.
Is It Hard To Start A Amazon FBA Business?
Products are key and you don't want to be competing with a major brand that's why product research is so important.
Competition is good to a certain degree but too much can kill your operation.
How Much Do Beginners Make On Amazon FBA?
Most Amazon sellers are earning at least $1,000 a month in sales but remember that is not profit.
Here are a few stats that you might be interested in which are based on monthly sales…
Under $500 – 22%
$501 – $1,000 – 13%
$1,001 – $5,000 – 27%
$5,001 – $10,000 – 13%
$10,001 – $25,000 – 10%
$25,001 – $50,000 – 8%
$50,001 – $100,000 – 4%
$100,001 – $250,000 – 1%
What Percent Does Amazon Take?
The fees with Amazon range from 6 to 45 per cent based on each product's selling price with account fees up to $39.99 a month.
The average seller is paying something like 15% and fulfilment costs can vary widely too.
Feedback, Comments And Subscribe
Hope you guys got a lot out of this AMZ Champions review and that we managed to answer most of your questions.
If you have anything to add then please feel free to add anything in the sections below and don't forget to share this with your family and friends.
Thank you for listening!
Take care!
Stay safe!