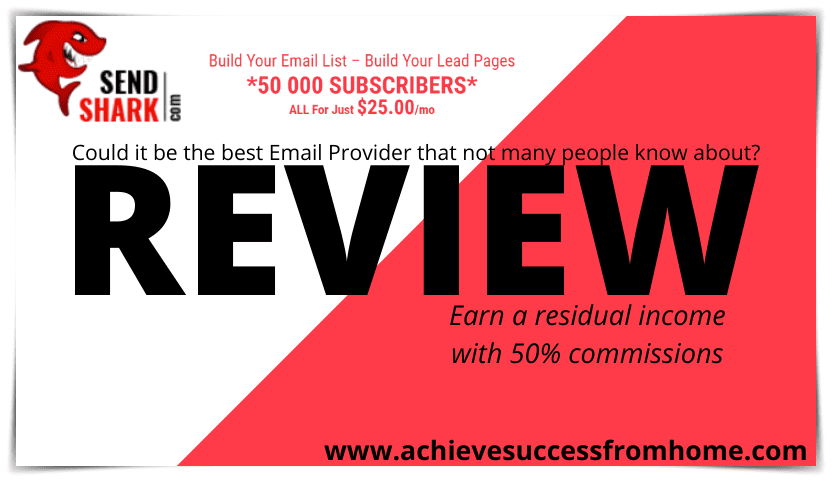 Welcome to this
SendShark Review
If you are in business then you will know that your email list is a very important asset and needs an autoresponder that allows you to communicate with your subscribers.
Just starting out in business and looking for an autoresponder or maybe looking to replace your existing setup?
Maybe the costs are getting out of control because your email list is growing exponentially or you are just looking for a change?
Send Shark could be just what you have been looking for although not as popular as its competitors like Aweber, GetResponse or even ActiveCampaign, but possibly a very cost-effective solution to your needs.
To be on a par with the more popular email providers they have to be bringing a product that is comparable, so let's dive in and see what they have to offer.
---
[Affiliate Disclosure: This post may contain affiliate links which means I may earn a small commission if you purchase anything through one of the links. However, this will not affect what you pay!]
---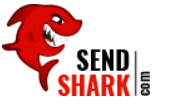 Product: SendShark
Founder: Joel Therien
Product Description: Autoresponder with built-in Landing-page creator
Price of product: $25.00 / month or $197.00 / year
Best For: For anyone really, especially for a business owner with a large email list.
Recommended: Yes
Summary: An autoresponder that many won't have heard of before and probably only through word of mouth.
Looking at the claims, then this could be a good alternative, although there is not a great deal to go on with regards to reviews.
Saying that though, I am mostly seeing positive signs.
What is clear to note, is that SendShark was developed for the MLM, Now Lifestyle and therefore once signed up you will receive some marketing literature from this company.
There is also remnants of this company inside the platform, training videos etc but you are under no obligation to join.
They just made the platform available to the public obviously with a view to trying to get people to join Now Lifestyle.

---
If you are sick and tired of SCAMS, Pyramid schemes, MLMs, recruiting, having to purchase stocks, haggling family, friends and customers. Looking for a proven method of making money online, then check out my #1 recommendation. 
---
SendShark Review – Table of Contents
---
What is SendShark about and who is the Founder?

SendShark is an email provider or autoresponder which controls how you communicate with your customers or subscribers.
A way to bridge that gap between the business owner and the subscriber and to build a relationship of trust which in time will allow you to send offers and promotions and in return hopefully make sales.
What makes SendShark stand out amongst its competitors is the fact that there is only one monthly cost compared to multiple costs with Aweber and GetResponse.
SendShark also has a landing page builder like most of the top email providers do nowadays but the big difference that really makes it stand out more is the number of subscribers that you are allowed for that same monthly price.
What might concern you is that SendShark doesn't appear in the Google search results when you search for autoresponders or best autoresponders and therefore might be a little off-putting.
Who is Joel Therien, the founder?
Joel Therion is an online entrepreneur who started life as a successful personal trainer earning a decent salary at the time but realised, like most people that wasn't enough.
At the age of 27, he became ill and went from a 250lb bodybuilder down to a mere 165 lbs, not only this but was wrongly diagnosed with either Lou Gehrig's disease, brain cancer, or multiple sclerosis.
He eventually found out that an artificial sweetener which was found in all diet soft drinks named "ASPARTAME" was poisoning his system.
Anyway on the long road to recovery and back to this present day.
Joel has become the founder of several multi-level-marketing businesses selling products to the business owner, making him a multi-millionaire.
Products like GVO (Global Virtual Opportunities), NowLifeStyle, Pure Leverage, and now SendShark.
SendShark has also teamed up with Matthew Neer to become part of List Leverage.
Check out this SendShark presentation
---
Who is SendShark For?
SendShark is an autoresponder and therefore anybody who is involved with email marketing, not just internet marketers but your normal high-street business that should be exploiting this avenue.
As you can see, primarily for businesses with large email lists, but as costs can spiral out of control pretty quickly with other email providers, then I would say for everyone.
Designed for bulk email distribution.
Building an email list is pretty straightforward but can be complex in nature because within that one list you will probably have a mix of subscribers.
Some are ready to buy, and others interested in other things that you might be offering.
It is in your interest to split the initial email list so that subscribers weren't receiving something that they weren't interested in.
Autoresponders like SendShark allow you to do this so that you can send out the right emails to the right subscribers.
At the end of the day, we are hoping to sell a service or product to that subscriber.
---
How does SendShark Work?
Pretty much like any other autoresponder but with a few differences.
You would create your marketing campaigns through the Lead Capture Page Builder and send them out to the prospective customers with an offer of something, maybe a free pdf, in the hopes that they subscribe to your list.

Those subscribers sit in the autoresponders database where you would set up emails to build relationships with a view to sending out promotional offers and making sales at a later date.
Email marketing is just one of many ways to create passive income and anybody who starts a business from the very first day should implement this strategy, in several years time that list could be into the thousands.
If you treat your subscribers in the right manner this could be a very lucrative business.
What you see with many of the internet gurus is, they build their lists over the years and may have 100s of thousands of subscribers, then they venture into product creation.
Just think, a product that you create and sell for $10 could turn you into a very wealthy person.
---
SendShark Pricing and Features 
What is unique with SendShark is that there is only one fee which is $25 a month.
That fee is for 50,000+ subscribers and if you look at the other autoresponders that are out there could save you a fortune in fees.
If you look at the saving against, let's say GetResponse.
GetResponse yearly costs you $4,440.00
as opposed to…
SendShark which will cost you $300.00. That's a saving of $4,140.00
Over 10 years that is a saving of over $40,000.
But, my Email List is no way near 50,000 subscribers?
If you are just starting out then maybe the best solution would be to find an email provider that offered a free option up to a number of subscribers.
Something like Mailerlite or MailChimp but it also depends on what you are going to promote because some don't allow affiliate marketing.
That's why we choose Aweber because it has a free membership option as well.
Over time, when your subscriber list reaches a monthly fee of beyond $25.00 then you could switch to something like SendShark.
That really isn't a problem!
If you look at Aweber in the below image, the monthly fee when you reach 2,500 subscribers goes up to $26.15 / month and it's at this point that you should be thinking about changing to SendShark?
Residual Income
SendShark has an affiliate program that you can join which allows you to make a residual income by getting others to join and purchase the product.
That's currently at 50%.
So if you got let's say 10 people to join SendShark that's $1,500 a year in commissions.
Not bad for doing nothing right?
Features

---
SendShark: Red Flags to Watch Out For!
For such a great looking product and offer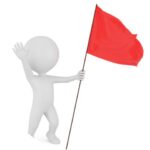 that could save you literally thousands in yearly fees, I find it a little strange that SendShark isn't all over the internet.
Maybe it sounds just too good to be true but I can't see this because you are not committed to any contract and therefore you could get out at any time.
Maybe the product has just not had enough exposure, but seriously a product to research further at the very least.
---
Is SendShark a SCAM or LEGIT?
SendShark is not a scam but a very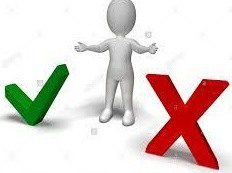 legitimate autoresponder that you could benefit from considerably.
Everyone who is serious about building a business whether this is online or traditional should be building an email list.
Bill Gate once said "If your business is not online it won't be in business very long"
Email marketing when done correctly can be a very lucrative business.
However, SendShark is still a multi-level marketing business that requires extremely good recruitment skills.

---
What I like about SendShark
There are many things I like about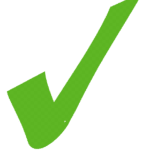 SendShark but I have to take into question why this email provider isn't more popular.
Not committed to a contract:
There is only one monthly fee that covers everything:
A great affiliate program where you could earn a nice residual income without doing anything:
50,000 subscribers for $25.00 a month and it doesn't stop there because the number of subscribers is too infinity:
Massive savings:
As you can see with other autoresponders that you could be saving $2,700 with Aweber and $4,140.00 with GetResponse
Send out unlimited emails:
Normally you would find restrictions in the number of emails that you could send out, with SendShark there aren't any.
---
What I don't like about SendShark
I couldn't really find any negativity regarding
this product but as it stands there won't be many users as the product isn't really well known enough.
$25.00 a month might be a little too pricey for some:
When you are starting an online business we are always trying to save a little here and there.
There are other autoresponders out there that offer good deals for people just starting out.
Besides, it is going to take a while to get your subscriber list but once your monthly fees reach $25.00/month then by all means jump ship.
Sendshark is still a multi-level marketing business:
This is what most people are going to be interested in especially with commissions as high as 50%.
But recruitment isn't for everyone.
---
SendShark Review: Final Thoughts!
Based on my research I find SendShark as an autoresponder to be up there with the best and whilst it isn't that popular does that really matter.
Just think about it, if SendShark was as popular as Aweber or GetResponse I can assure you the price it is currently at now would be a lot more.
It comes with some great features and a Landing Page creator which up to not too long ago was exempt from Aweber.
Email marketing is just another way of generating a passive income stream and if it interests you then I can highly recommend a training platform where you can learn all this but much much more.
If that would interest you then we'd love to show you a training platform that we recommend 100% in the next section.
---
An Alternative to Recruitment
SendShark offer a great commission rate however at the end of the day they are an MLM business and recruiting is key to any success you may have.
Cold-calling is not for everyone but more importantly, can you take rejection.
Which is something that you will have to learn to accept.
After a few years of trying MLM's we eventually decided that affiliate marketing was a better business model.
Extremely cost-effective and NO RECRUITING.
Check it out and see what you think, it's not going to cost you a dime.

---
Feedback, Comments and Subscribe
Hope you enjoyed this SendShark review and if you did why not spread the word amongst your friends on social media.
If I missed out on anything or you would like to ask a question whether related to this review or something in general please put it down in the comments section.
Until next time, stay safe.