Welcome to my Funnel Scripts Review
Today we are going to be taking an in-depth look at a program created by Russell Brunson and Jim Edwards.
If you are a person who spends hour upon hour writing content for your business then this could be the tool that you have been looking for.
In this review, we will be going deep and finding out what it is that puts this product up there as one of the best.
If you have been on the internet for any length of time then you are sure to have heard of Russell Brunson who has teamed up with Tony Robins in the past.
You are sure to have seen the marketing ads that are dotted around social media, in particular Youtube and Facebook.
But before we get started with the Funnel Scripts review we'd just like to mention that we are not associated with this product in any way.
This basically means that what we are going to deliver in this review will be honest and unbiased.
Hopefully, this review will give you a clear understanding of the workings, the pricing structure and whether it is worth investing in.
So let's begin.
---
Affiliate Disclosure: This Funnel Scripts Review has been thoroughly researched from information and testimonials that are in the public domain. This post may contain affiliate links which means we may earn a small commission, however, this won't affect what you pay!]
---
Funnel Scripts Review – Summary
Product: Funnel Scripts
Founder: Russel Brunson, Jim Edwards
Website: www.funnelscripts.com
Product Description: Content and sales funnel creation tool
Cost to join: $797
Recommended: Maybe
Summary: If you are starting or running an online business then you will know that copywriting is key for any success you may have.
Being a good copywriter gives you that edge but it is a skill that isn't easy to learn, that is where tools like Funnel Scripts come in.
Creating scripts like webinar slides, emails, sales letters and ads can be completed in just a few minutes.
But, to get the most out of it you have to be using it on a regular basis.
Alternative: If you are new to the online world and making money online then there are many more friendly options out there for you.
One we have been a member of since 2017 and helped thousands of beginners create their first online business since 2005 and extremely cost-effective.
So much so that you can join for FREE and check it out for yourself first before making a commitment and not many platforms allow this.
Why not check it out, see what you think and get back to me with any questions?
Funnel Scripts – Table Of Contents
What is Funnel Scripts?
Funnel Scripts is a software application that generates content for your business automatically which was created by Jim Edwards and Russell Brunson.
Who both bring to the table over 50 years of experience across many aspects of the business such as sales, copywriting and marketing.
The software is designed to save time and money by helping business owners create webpages, sale letters, emails, webinars and more…
For anybody who needs further confirmation of whether this application is right for you, there is a free webinar which explains things in more detail.
Who is Behind The Funnel Scripts?
This accolade belongs to Jim Edwards and Russell Brunson who are both marketing experts and top in their fields.
If you didn't know, Russell Brunson is the founder of Click Funnels, a software program that creates sales funnels and webpages for businesses.
Brunson is also the author of many books in particular Experts Secrets and Dotcom Secrets.
He also has a thriving following in the Two Comma Club Coaching program which helps budding entrepreneurs to advance in their online businesses.
As well is thought of amongst his peers and regarded as a person who delivers on his promises.
Edwards on the other hand is behind the Jim Edwards Method, which is a site dedicated to tools, and training with a whole lot of resources dedicated to copywriting.
How Does Funnel Scripts Work?
Funnel Scripts claims to replace most of your copywriting tasks such as emails, sales letters, webinars, scripts and ads written.
If you are new to building an online business then you will know that writing content takes most of your time.
But in the beginning, you are going to want to get involved with all aspects of the business as that is the only way that you can learn.
Funnel Scripts may be something that you check out at a later date when you have a better understanding of the business and the tasks involved.
But there will be a point in the development of your business when you will be looking for additional resources for help.
Whether this is to outsource those tasks to actual people through 3rd party sites like Fiver or to use a software tool like Funnel Scripts.
Check out what Jim Edwards (co-creator) has to say about this product.
What Comes With Funnel Scripts?
In this section, we take a look at the features that come with Funnel Scripts.
Variety Of Scripts: Emails, Sales, Opt-in-scripts, Ad Campaign scripts and more…
Scripting Apps: Here there is a whole bunch of apps for surveys, sales letters, webinars, video sales etc
Forms: All the scripts come with samples.
Videos: Short training videos
Training Calls: Monthly calls to answer any of your questions and to add any new training.
Live Training: Every month there is a live training session by either one of the founders or the team.
Funnel Scripts allows you to create a vast number of different copies, such as…
Sales letters, Product descriptions, Capture pages, Opt-in-forms, Sales copies, Add copies, Email scripts and more…
What You Actual Get With Funnel Scripts 
When you access the dashboard, straight away you get the feeling that this is no scammy piece of software and that a lot of thought has gone into it.
For many new to building an online business, this may seem a little overwhelming.
To ensure you don't get bogged down with the complexities there are a host of training videos to show you around and make it a lot easier.
Downloadable Wizards: Easy survey, masterclass, perfect webinar, podcast and Facebook, Story solution, VSL
Blogging Platform
Funnel Scripts Training
Full support
Advertising Scripts
Bullet Scripts
Case Studies And Testimonials
Content Creation Scripts
DotCom Secrets Scripts
Email Scripts
Expert Secrets Scripts
Funnel Builder Scripts
Mastermind/Masterclass Scripts
One Funnel Away Scripts
Sales Copy And Video Scripts
Sales Letter Scripts
Titles, Headlines, Subject Line Scripts
Funnel Scripts Live Application
Suggest A Script
Bonuses That Come with Funnel Scripts:
There are 5 fast shared funnels
Copywriting secrets masterclass training
Funnels blueprints
Inception secrets
Funnel Scripts Pricing And Refund Info
There's a one-time fee of $797 for lifetime use of Funnel Scripts which is a great price when you look at it based on several years down the road.
This is still expensive for many who are just starting out and who are trying to keep the costs down.
Can You Pay For Funnel Scripts With  Instalments?
No, the full amount has to be paid upfront.
Are There Any Upsells?
No, there aren't however there are a few other products that they may try and sell you.
Is There A Free Trial?
There is a free membership which you could take advantage of in order to check out the system.
That's a good thing because it isn't something that you see too often and will give you confidence with the owners.
Does Funnel Scripts Come With A Refund?
The guys at Funnel Scripts are so confident that this tool will help you that they guarantee the scripts created to drive traffic to your site.
If this doesn't happen or you are not happy with the results, they will refund your money with no questions asked.
Is Funnel Scripts a Scam?
In our opinion, we don't think Funnel Scripts is a scam however the cost of such a program may seem a little too expensive for most people.
Whilst Funnel Scripts will help in your business development you have to know that it also has limitations.
For sure it is going to save you time and money especially if you are outsourcing most of your content to 3rd parties.
But you may find that you will still have to modify the scripts to tailor your requirement which is understandable.

Funnel Scripts Customer Reviews 
Unfortunately, we couldn't find any 3rd party reviews from satisfied or dissatisfied customers.
However, if you need some recognition that Russell Brunson is the genuine article, then you can find thousands of positive reviews for his ClickFunnels application on Trustpilot.
What we Liked About Funnel Scripts
The Application Produces Decent Copies:
Funnel Scripts is great for producing quick copies and can save you time but as things are constantly changing are they going to be enough?
No, probably not, but you should already know that you are going to have to modify them to your specifications.
Trusty ways of doing things are always changing!
Jim And Russell Are Experienced And Trustworthy Marketers:
If you have been online for any length of time then you are sure to have come across these two.
Especially Russell with his high-flying Clickfunnels application that many who have promoted it ended up becoming millionaires.
The Software Is Comprehensive:
There is a lot that comes with the application and most of it you might never use.
The wizards that come with Funnel Scripts certainly are handy
What we Don't Like About Funnel Scripts
 Possibly The Costs And Don't Be Misled:
It all depends on how you approach your business because in the early days, you probably won't have the funds to splash out and therefore will be doing the tasks yourself.
However, when the business starts moving in the right direction you will be looking to outsource much of the work to free up your load.
Funnel Scripts would probably be the cheaper option rather than hiring a professional copywriter.
But a professional copywriter will move with the times whilst Funnel Scripts won't, not unless there are constant updates to the software.
One thing to watch out for is that Funnel Scripts has a monetary value attached, worth over $100k but still only $797 for lifetime use.
Lack Of Any Positive Feedback:
There are a lot of claims and promises that come with Funnel Clicks however there is very little in the way of evidence from past and current users.
Conclusion:  What we Think About Funnel Scripts!
At the end of the day, you are getting a software system that can produce many scripts and save you time but these will all be in a fixed format.
What we mean by this is that you will still need to get in there and modify them to your own specifications.
Both Jim and Russell are experienced internet marketers with a wealth of knowledge that compliments each other.
One thing is certain and that is Funnels Scripts is a handy software application that will save you money in the long run.
After all, do you have any idea what it might cost you to hire the services of someone to do this task? Let's just say it will cost a lot more than Funnel Scripts.
What we do For a Living
It's called affiliate marketing which is very similar to dropping shipping except you don't have to worry about using a digital store.
The principle is the same in that you are the middle person and direct the customer to the merchant except you get paid a commission on a sale.
It also means that you are not restricted and are much more flexible.
Is one of if not the best ways to create multiple income streams.
I have personally been a member of Wealthy Affiliate since 2017 and the main reason why I was able to kiss goodbye to my 9-5 job.
Just check out the reviews on Trustpilot.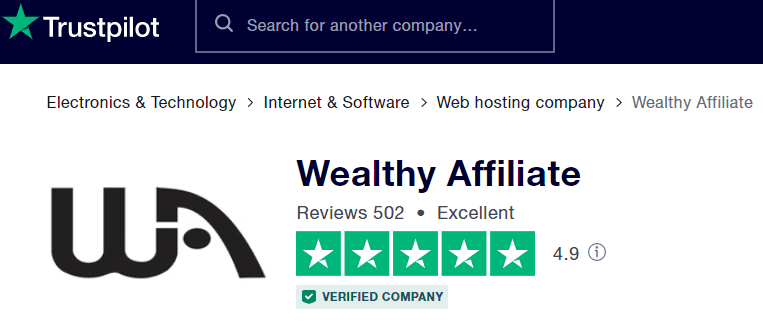 The training platform is a fully integrated one-stop-shop meaning that everything you need to succeed is in one place.
Education and training, Web development, Hosting your website, and a community that cares and is full of experience on many levels…

Funnel Scripts Reviews – FAQs
We have compiled a few questions that we find people asking in the search engines and thought that they might help.
What Exactly Does A Copywriter Do?
A copywriter is someone who compiles a number of tasks to help attract traffic to their brand in the hopes of current and future business.
In the real world, they work alongside web developers and graphic designers to get the word out.
However, affiliate marketers and the like who usually work on their own can be seen taking on all the tasks that you can find in a large business environment.
Do Copywriters Make Good Money?
There are many people making six-plus figures a year and you can find many examples out there.
So, yes you can as a copywriter make some really good money but it's all down to each individual and how much you want it.
What Qualifications Do I Need To Be A Copywriter?
If you are going for a permanent role out there in the big bad world then prospective employers are going to be asking for a number of qualifications.
Such as English, creative writing, journalism, etc
But, we are talking about working on your own and therefore there is no requirement for such qualifications.
You sort of learn it on the job.
How Do I Become A Copywriter With No Experience?
In my case, I found a training platform which taught me everything about copywriting and all the methods to progress as a business owner.
This was and still is Wealthy Affiliate.
Does Funnel Scripts Come With A Refund?
The co-founders are so confident that Funnels Scripts will work for you but if you aren't happy with the results then they will refund your money with no questions asked.
Feedback, Comments And Subscribe
Ok, guys, we are just about to wrap up this Funnel Scripts review and we hope you liked it,
But, if you have any questions please don't hesitate to ask and you can do that by dropping us a line in the section below.
Thank you for your time!
Take care!
Stay safe!