Welcome to the Affiliate Triad Review
All singing and dancing, done-for-you automated affiliate marketing system or so it is perceived.
If you are new to looking for ways to make money online then let me be frank with you.
You are going to come across a lot of these done-for-you systems and everyone that we have reviewed up to now has not worked.
However, we are not saying that Affiliate Triad won't work because of Jason Fladien the product creator.
Who has some impressive credentials but more on that a little later?
In this review, we are going to be covering all the things that you would need to know before buying.
Things like is Affiliate Triad is a scam, what it is and what it can do for you, the costs, pros and cons and an alternative solution.
If you have been researching this product long enough you are sure to have come across plenty of Affiliate Triad reviews.
The problem here is that many of those reviews will be biassed and hoping that you purchase from them for a commission.
There is none of that here, as we are not associated with Jason Fladien or his product in any way.
What that means is that we aren't getting paid for this review and therefore we can assure you of an honest and unbiased account.
This way, you will have enough confidence to decide whether this product is for you or not.
With that said, are we ready to begin?
---
[Affiliate Disclosure: The Affiliate Triad Review has been thoroughly researched from information and testimonials that are in the public domain. This post may contain affiliate links which means we may earn a small commission, however, this won't affect what you pay!]
---
Product: Affiliate Triad (Rapid Crush Inc)
Founder: Jason Fladlien and Wilson Mattos
Website: https://affiliatetriad.com/join
Product Description: Done for you affiliate marketing system
Cost to join: $399/month
Recommended: Maybe
Summary: First and foremost we are not a fan of these done for you systems because there is so much that can go wrong.
Coming from many years as a software developer I know only too well what goes into a software system and even the best systems come with their issues.
The premise of having everything done for you seems great, but what happens if the product owner takes the software down?
Like they do all the time, that leaves you without a pot to…
But can you and will you make some money with the Affiliate Triad?
Well that's the million-dollar question and yes you probably will but it is going to cost you some serious coin to find out.
So, if your interest in the affiliate triad is primarily on the push button, done-for-you system.
Where all you have to do is wait and the money comes in bucket loads then we'd like you to think again because that ain't going to happen.
Wouldn't it be wise to learn everything about affiliate marketing and build your own online business?
It isn't that difficult, but granted it takes time but is very rewarding and the best thing about it is nobody can take that business from you.
Best Alternative Solution:
This is one of the top affiliate marketing training platforms that you can find online which doesn't cost a fraction of what Affiliate Triad costs.
Just one look at the training platform will convince you that you have just stepped onto something really big and it won't cost you a dime.
The Affiliate Triad Review – TOC
What is The Affiliate Triad About?
As we have already mentioned, Affiliate Triad is a software system that provides an automated approach.
It allows you to build your own affiliate marketing business which came onto the scene in March 2020 by Jason Fladlien.
So if you are hoping that this system will teach you the ins and outs of affiliate marketing then you are going to be disappointed.
Here's a link that will give you an understanding of the affiliate marketing business model.
Just to reiterate that Affiliate Triad is a done-for-system where it's a point-and-click system and will help drive traffic to your offers.
One thing we noticed with this system is that the doors are only open for short periods which means you will more than likely be on a waiting list.
That might be looked at as a good thing because they are only taking a limited number.
Here's a webinar which is quite long so you will have to fast forward a little to get to where they discuss Affiliate Triad…
Who is Jason Fladlien And Wilson Mattos?
Jason is the mastermind behind the Affiliate Triad system and also the co-founder of Rapid Crush along with his business partner Wilson Mattos.
They specialize in webinars and business marketing services where he commands fees of as much as $3,000/hour for consulting.
Jason is regarded as one of the top people to go to when it comes to business marketing.
With influential people like Russell Brunson, Bob Proctor, and Joe Polish that use him…Just to name but a few.
He has his own YouTube Channel where he provides a lot of interesting stuff that you can benefit from.
If you want the lowdown on everything about him then head over to his personal website here.
So if you had questions about his integrity as a person or businessman then rest assured he is the real deal.
What do They Teach at The Affiliate Triad?
Despite the fact that Affiliate Triad is marketed as a training course then don't be disappointed to find that the system is somewhat lacking in education.
It is as we have already mentioned a system that is almost fully automated where you basically point and click, it's that easy.
Therefore if you are a complete beginner, then this is probably not for you.
We believe you really need an understanding of how affiliate marketing works
That's why we would suggest finding a course to get a better understanding first, somewhere like Udemy is a good start and it's not costly either.
Or maybe look at Wealthy Affiliate, they can provide you with everything that you need and are probably one of the best training platforms there is.
What do You Get With The Affiliate Triad System?
The Affiliate Triad system is a done-for-you, almost fully automated system that provides you with all the tools…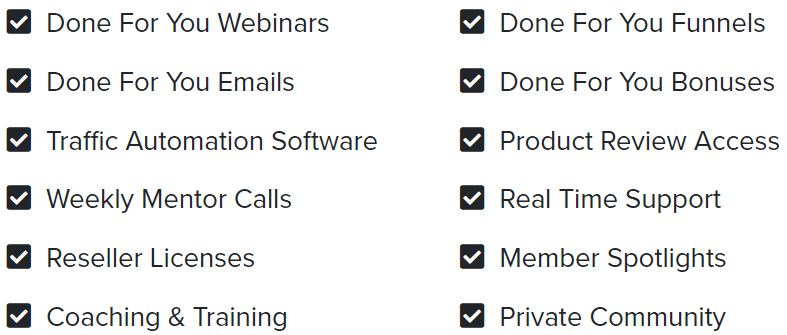 On the surface, it looks like you are getting value for your money.
As well as what you get in the above image, you will also get…
Done-For-You-Promotions 
Throughout the year the affiliate Triad team tap into the hottest products and opportunities and create full-on promotions for the products.
This includes all the material and bonuses that you can use for your own campaigns and you get to keep all the profit.
These promotions include bonus packages, funnels, webinars and emails all backed by Rapid Crush Inc.
Product Review Access
One thing that you aren't aware of before joining is the products that are available to promote and remember everybody will be promoting the same products.
They claim that some of the products have a value of over $2.5k where the funnels are all done for you.
You'll get access to review these products well in advance.
Private Slack Community
Slack is a messaging platform not too unlike Facebook but specifically designed for the business environment.
It is free and easy to use with the purpose of interacting, helping, training and sharing information.
Here you can find the co-founder of Rapid Crush, Wilson Mattos consistently within this workspace responding to questions.
This is a place where you can get real-time help and support however how good it is.
Will depend on the number of support staff to accommodate the number of members who are active at any one time.
Free Traffic Coaching
Here you can get unlimited access to free traffic methods.
Where you can find training courses that describe how to leverage social media platforms like TikTok, Facebook, Youtube…
You will also find here training that current Traffic Triad members will create which will be vetted for accuracy before members are allowed to use.
Product Reseller Licences
You can find some of the products that have been created over the years available for you as an Affiliate Triad member to sell.
Through the done-for-you sales funnels that are available.
These products could be a tidy earner to help with paying your membership fees amongst other things.
Some of the products are worth using yourself as you can benefit from the training material that comes with them.
Weekly Mentor Calls
Each week you have access to some of the most successful Affiliate Triad members to answer any questions and queries.
All the sessions are recorded so that Affiliate Triad members can get access to them at any time.
Member Spotlights
Here you have access to members who have had success with Affiliate Triad where they talk you through the process they went through.
Each week they will showcase at least four of the most successful members who will guide you through your business and teach you how to run the Affiliate Triad in the most effective way.
Full Marketing Software Suite
You will be using the same marketing platform the founders use to run their businesses.
This software can do most things, such as take payments, build web pages, send emails and much more.
If you stay active as a member then you qualify for a rebate on the cost of this software to the tune of $1,164 for the year.
Resources, Coaching and Training
Jason Fladlien is regarded as one of the top marketing persons to go to where he commands several thousand for his services on an hourly basis.
Here he shares his coaching and training resources which would otherwise cost you thousands.
Plus so much more…
Full email marketing campaigns
Free lead generation templates
Plenty of traffic coaching and support
Plus other additions that they add to the system from time to time
Who is The Affiliate Triad For?
You are going to need deep pockets if you want to become a member of the Affiliate Triad.
At a cost of $399 a month, this is not for complete beginners who are starting from scratch.
To get the most out of the system it would be best if you already have an audience.
That way you might be able to market the products to them, but if you don't then you will need to pay for traffic.
Part of the system provides free traffic coaching but to what level it goes we aren't sure.
It mentions using Facebook and TikTok but these methods take time and you aren't going to get quick enough results.
The products that you will be promoting are going to be high-ticket items and you have to find people with money or you won't get sales.
If you are looking for a training platform that is a one-stop-shop and covers affiliate marketing in its entirety then you might like to check out Wealthy Affiliate.
How Much Does it Cost to Join The Affiliate Triad?
As of this review, the cost to join Affiliate Trida is a hefty $399 a month or $4,788 for the full year.
It is however a membership site that you can cancel at any time and there is no refund so make sure that you are serious about this.
We see it all the time where people join with the right intentions but they don't hang around very long because of the costs.
For that amount, you get quite a bit but you would be very disappointed if that wasn't the case, right?
There are some additional costs that you need to take into consideration that you will have to pay for.
Kartra which is a fully integrated business marketing solution that is fully loaded with all the tools that you would require.
However, this doesn't come cheap.
The memberships start at $99 all the way up to Platinum for $499 and this is per month.
Obviously, as time goes on your subscriber list will increase in size and once it gets beyond 2,500 then the membership goes to $199/month.
Then there is traffic that you will need to pay for because without traffic you don't have a business.
You can use an email list if you have one or you will need to pay for traffic so that your ad campaigns can be seen.
A budget for paid traffic can cost, well how long is a piece of string.
So as you can see all this is going to cost you an arm and a leg with no guarantees that you will make any money.
Here are a few similar courses that you might like to check out but do not discard Udemy…
Taking Action Online (Recommended)
Is The Affiliate Triad a Scam?
The Affiliate Triad is far from being a scam although you are going to find people saying otherwise.
It is certainly not for beginners and the membership fee is a bit of a giveaway.
At $399 a month, you are going to want to see results fast to recoup the costs especially as it is going to end up costing you $4,778 for the year.
Don't forget membership of Kartra which will cost between $948 – $4548 for the year.
That alone will cost you between $5,726 and $9,326.
Then you have a keyword research tool to pay for and of course, paid traffic.
We can't really see experienced affiliate marketers going for this so I'm perplexed as to who might pay for this.
The course is legit and Jason and his business partner Wilson are legit with Jason offering business solutions while Wilson is a techie person.
As far as done for you systems go it was one of the best we have seen but where are the student reviews.
When you become a member of Affiliate Triad you are signing into a partnership.
Where anything you sell you will get 50%, so if you sold $5,000 of goods your take would be $2,500.
So the founders are making money off of you in many ways but it is a business and you are entering into this agreement and are fully aware.

What Others Say About The Affiliate Triad
We were a little surprised to not find a whole bunch of reviews from past and current students.
We did however find a few comments on Quora but they were hardly worth highlighting here.
I am sure the costs are what are putting off people, but we don't see the membership fees dropping.
Maybe they should consider this and make it available to a wider audience.
What we Like About Affiliate Triad
Jason Fladlien And Wilson Mattos Are Legit:
Jason seems to be the go-to person in the world of business when it comes to internet marketing.
This is noticeable by the type of business professionals who use and recommend his services.
When professionals like this are prepared to hire him for $3k+ an hour then he must know his stuff.
His business partner Wilson Matto also carries some weight with his background not just in business but in technology as well.
Is It The Best DFY System That We Have Reviewed:
We have reviewed many DFY systems and to be honest, they have all fallen short of the mark but Affiliate Triad is somewhat different.
The costs are certainly going to put off most people but maybe the price is to only find people who are serious about this business.
We don't know which products are available to promote but you can bet they are quality products and at a high-ticket level.
Affiliate Marketing Is A Trusted Method Of Making Money:
This is an affiliate marketing system that has been well thought out and besides affiliate marketing is one of the best business models.
What we Don't Like About Affiliate Triad
Not Knowing What Products You Will Be Promoting:
Your life is in the hands of the Affiliate Triad when it comes to knowing just what products you will be promoting.
But more than that, you have no choice but to promote the products that they provide which is a bit of a closed shop.
$399 a month was the last price when the doors were open and we know that price is probably going to change.
At the current monthly fee, it will cost you $4,778 for the year.
There is Kartra to pay for which you have no choice about which is another $1000 – $4,548 a year.
Then of course you have traffic to pay for which could be another $100 – $200 a month.
That's $1,200 to $2,400 for the year and that's a conservative figure.
Then of course you have a keyword research tool to pay for which is going to cost between $35 and $75 a month.
That's another $420 and $900 for the year.
In total for the year, we are talking about between $2,620 and $7,848
Plus the membership fee that's between $7,398 and $12,626
Any products that you promote and make a sale on will mean that Affiliate Triad will make 50% in commission.
Self-Promoting Software System:
You are forced to promote the products that Affiliate Triad suggest plus any other products that they provide.
Any other products like Kartra you have to pay for and they make commissions on you and sizeable ones too.
Affiliate Triad – Final Thoughts!
As far as done-for-you systems go, this is one of the better ones that we have had the pleasure to review.
Having said that it doesn't give you much room to do anything and relies heavily on the system working correctly.
I don't know about you but I like to be in control of my business and besides it's so much more fun knowing how everything works.
On principle, the idea of a system where you do very little might appeal to some but you are going to have to be serious about this.
Because of the costs, you are going to feel under the Kosh to recoup those fees and expect results quickly.
But let me tell you, no matter what anybody tells you about making money quickly in affiliate marketing, it just ain't going to happen!
A full commitment is required here, where hard work, consistency, persistence and above all patience are what you need to succeed.
Overall, we thought that Affiliate Triad had potential and at the end of the day the choice is yours.
Through our past experiences we know to look at months rather than weeks to see any success and by that time you will be into thousands of dollars.
If you are looking for an alternative solution which costs a fraction of what Affiliate Triad costs then check out the next section.
How we Make Passive Income Online?
Everybody wants to own a business that generates multiple passive income streams and affiliate marketing is without doubt probably the best.
You know, where the business runs 24/7 with very little intervention.
Wealthy Affiliate provides the answers and has been training complete beginners since 2005.
Just check out what TrustPilot has to say?
The training platform is a one-stop-shop meaning that everything you need to succeed is there.
Education and training, Web development, Hosting your website, and a community that cares…

Affiliate Triad Reviews – FAQs
How Are Products Selected?
Products are selected based on several criteria but first, the Affiliate Triad team have to be certain the products offer plenty of value.
When the time comes you will be informed and can view the offers for yourself.
If you have an idea of an offer that you want to share and be considered then you can be writing to support@rapidcrush.com.
When Is The Next Product Promotion?
Product promotions are pretty frequently but there are no specific times because they can happen at any time.
Once new product promotions come to light then you will be informed through the Slack workspace.
Can I Know All The Product Offers For The Coming Months?
No, because promotional dates can change at any time due to unforeseen circumstances such as quality and potential in the marketplace.
As these products are mainly high-ticket then they have to be quality that people are going to want to buy.
Is Kartra Required And Why Do I Need It?
Kartra is required and for the first 12 months, they will reimburse you but more on that below.
The reason for Kartra is that they have decided that they needed a common platform that everybody can relate to.
This is a standalone system that is provided by a third-party company which they have been using for some time.
The infrastructure is there and can provide you with all the tools for setting up the promotions.
Besides the team at Affiliate Triad has created some add-ons that they can plug straight into the Kartra software.
How Does The Kartra Reimbursement Program Work?
To qualify for this program you must first sign up to Kartra using the Rapid Crush Affiliate link.
Remain a paid-up member and regardless of any plan, the amount you can reimburse is limited to $99 per month per member.
Starter – $79/month
Silver – $149/month
Gold – $229/month
Platinum – $379/month
You would need to check admin because there are set times when you are allowed to apply.
How Will Slack Be Used?
Slack is similar to Skype but more advanced and a more productive tool.
Slack is used by everyone, especially the Rapid Crush team and the best point of contact.
Feedback, Comments and Subscribe
Anyway, guys, thank you for your patience and for taking the time to read this Affiliate Triad review.
We hope you found the answers to your questions and that the review helped you to make the right decision.
If you have anything to add please drop us a line below.
Take care!
Stay safe!