Hey Guys, welcome to the 30 Day SMMA Review
A course by two young guys teaching you how to create your own social media marketing agency business.
You might have seen their marketing campaigns on social media in particular Facebook and YouTube.
Or maybe you just came across this course by chance and thought you'd check it out and see what all the fuss was about.
Whatever the reason, you are definitely in the right place because in the next few minutes, you will know all there is to know about this course.
First off, we must praise you for doing your own research before buying blind into a product or service.
That is the only way to ensure that you avoid scams and find legit make-money opportunities.
Before we get started we'd like to mention that we aren't associated with the 30-Day SMMA in any way.
So, you can be certain that we won't be pitching or selling you anything.
But we are going to reveal everything about this SMMA course and why we think it's a decent course and maybe something to consider.
So, let's get started.
---
[Affiliate Disclosure: This 30 Day SMMA Review has been thoroughly researched from information and testimonials that are in the public domain. This post may contain affiliate links which means we may earn a small commission, however, this won't affect what you pay!]
---
30-Day SMMA Review – Summary
Product: 30 Day SMMA
Founder: Quenten Chad and Jovan Stojanovic
Website: www.choosepristine.com or www.get30day.com
Product Description: This course teaches you how to create an SMMA business.
Cost to join: $497 or $947 depending on which site you are on
Recommended: Yes
Summary: The 30-Day SMMA is a comprehensive training course that teaches you how to start, run and grow a social media marketing business.
You can find many similar courses online so there is a demand for this type of business.
It's a legit way to make money online and a very popular business model that many people are learning to create better lives for themselves.
If it's a Cost-Effective Business Opportunity that you are looking for:
You might like to take a look at the link below.
You won't have to pay your dues to find out as it is 100% free to join and you won't be handing out your credit card details either.

---
30 Day SMMA Review – TOC
What is a Social Media Marketing Agency?
This is a business model that works best for small to mid-sized companies that are struggling with finding clients online.
It's most likely a company that has very little knowledge of how to find its target audience through social media like Facebook, Instagram, and LinkedIn…
Therefore if you started an SMMA then you would start by selecting a niche and one that isn't too competitive.
Then you would create a website around your niche and start creating content and targeting the right target audience.
You would also use paid advertising which speeds up the process.
Once you start getting subscribers/leads to your website then it is time to start looking for a client who needs your help.
Obviously, that is the short version but it does take a lot of work to get the business up and running.
What is 30 Day SMMA About?
The 30-Day SMMA is a course teaching you how to start, build and grow a social media marketing agency.
A business model that really became popular around 2015 but with thousands of new businesses starting every day.
Still as popular and something you should consider as it's one of the most cost-effective ways to make money online today.
Created by Jovan Stojanovic and Quenten Chad 2 lads who are barely old enough to have their own bank accounts.
Check out a Youtube video about the 2 here.
Who Are The Founders of 30 Day SMMA?
The co-founders of 30 Day SMMA are Jovan Stojanovic and Quenten Chad who are relatively new to this game.
Jovan dropped out of university to start internet marketing in around 2016 when he helped to promote his mother's business through Facebook Ads.
Shortly after, he then got involved in dropshipping and moved to Thailand but that was a brief stay that didn't seem to work.
So he ended up coming back to the USA and starting an SMMA business.
Quenten Chad didn't believe in the education system and thought he was wasting his time so he looked for alternative education.
This he decided was the internet where everything is at hand and you don't have to leave the comfort of your home.
At some point, he teamed up with Jovan Stojanovic and created the 30 Day SMMA training course.
According to them both when they started their own SMMA business, within 30 Days they had clinched around $30k in clients.
We know this could be possible because it wouldn't take many clients.
What do they teach at 30 Day SMMA?
SMMA or social media marketing agency is a very lucrative business model that started to become popular around 2015.
This course teaches you how to start and grow a social media marketing agency and as the title says the goal is to achieve this within 30 days.
So what is a social media marketing agency?
If you look at it this way, there are thousands of businesses that are struggling with sales.
Most of them are on the high street hoping and wishing for customers to come in and purchase their products.
The problem here is unless your business is on the internet then you won't be in business very long. A quote from Bill Gates!
In other words, every business should have its own website to showcase its products and services.
What many people think is if I have a website on the internet then people are going to find us and come.
But if they can't find your website then how can they?
That's where you come in as an SMMA consultant because it is you that is going to find those customers.
By marketing the client's businesses to the millions of people who are constantly on social media.
For doing this and increasing sales revenue, businesses are prepared to pay you handsomely.
The 30 Day SMMA teaches you everything that you'd need to know in order to carry this function out.
But, the main focus has to be on getting your first client because without one you don't have a business.
What do you get when you join 30 Day SMMA?
The course has 7 modules with around 10 hours of 1-on-1 teaching with the coach and also comes with a lifetime membership.
We have listed the modules below with a brief description of what you can expect to learn.
Module #1 – Preliminary Work
14 videos with just over 80 minutes that cover all the basics that you would need to know.
Things like creating your domain, how to create your website, and setting up your Facebook manager.
Building case studies, tax issues, and how to create a business plan.
There are pdfs covering contract templates and checklists for handling your clients plus so much more.
Module #2 – Ultimate Outreach
In this module, there are 23 videos with over 3 hours of video teaching you how to reach out to prospective clients.
How to handle cold-calling and using social media like Facebook, Instagram and Linkedin to name just a few.
Module #3 – Sales Mastery and Close Footage 
In this module, they teach you all about sales and how to close techniques.
With 35 videos and over 7 hours of teaching, this is probably the most important of the 7 modules.
Getting clients on board is not going to be easy especially as most of the contacts will be through cold calls.
Unless you come from a sales background then this will be alien to you which is why we believe this to be an important module.
Module #4 – Facebook Ads and Delivering Results
This module covers what you'll need to know about Facebook ads and local lead generation.
Module #5 – Scaling, Team Building and Outsourcing
Once your business is starting to bring in the revenue you are going to want to scale the business.
By outsourcing some of the work and building a team.
Module #6 – Bonus Module
In this module, learn what it takes to get involved with SMMA partnerships.
Mastering your chosen niche.
Some additional methods in reaching out to clients.
Module #7 – Unstoppable Scripts, Secure Contracts and More 
Here you can find a load of resources like scripts, checklists and contract templates to make life so much easier in closing deals.
How Much Does it Cost to Join 30 Day SMMA?
Now, there seems to be some confusion as to the correct price of the 30 Day SMMA course, which all depends on which site you visit.
Both sites appear to belong to the guys.
The www.get30day.com site offers the course at a one-off fee of $997.
Whilst the website www.choosepristine.com offers the course at $497 or 2 equal payments of $297 totalling $594.
Now unless you know which site to approach then you could be paying almost double the price.
We also came across some sites that were offering the same course for less than $100, so do your research thoroughly.
Is 30 Day SMMA a Scam?
No, the 30 Day SMMA is not a scam but a legitimate training course that teaches anybody no matter what level of experience you have.
To become self-sufficient business owners.
If you are looking for a make-money opportunity then creating an SMMA business could be a very rewarding one to get into.
The course is comprehensive however we have seen other courses that we think are much better.
Like, SMMA Blueprint and Affluent Academy which are certainly worth a look at if this is the type of business you are looking to get into.
You could also head over to Udemy, which had a number of similar courses at a fraction of the cost.
However, starting and running an SMMA business for some might be a little involved and if you are looking for something else then click the link below.

30 Day SMMA – PROs
It's A Comprehensive Course:
We have reviewed several of these SMMA courses recently and the 30 Day SMMA course does appear to cover them.
Everything you would need to know to become a success in this business model.
Having said that, what might go against this course is the fact that the 2 owners don't come with much experience which many might be put off by.
The Course We Believe Is Worth The Money:
Just make sure that you do your research first to find the best price otherwise there's a possibility that you might get scammed.
30 Day SMMA – CONs
There Might Be Issues With Getting A Refund:
We have heard that some people have been having problems with getting a full refund.
This is obviously down to the course stipulations, where you have to of completed a certain percentage of the course first.
The Course Isn't Unique And Has Plenty Of Competition:
When doing your research for an SMMA course you will find many similar courses at various prices.
You can also find many on Udemy, so we'd suggest you take your time and find the right one that suits you.
There Are Other Sites Where You Can Find This Course: 
Just be careful when you are looking otherwise you might get scammed.
Their Promotional Websites Leave A Lot To Be Desired:
To us, it looks like they were in a bit of a rush to get this 30 Day SMMA course out to market with very little real information.
The 30 Day SMMA Review – Final Thoughts!
We thought the course was pretty good and went into a lot of detail about this popular business model.
However, we have seen many courses doing the same thing which is much better.
Here are 2 that you can check out. One is called SMMA Blueprint and the other is Affluent Academy.
If for any reason these courses don't appeal and you are in the first stages of your research and looking for a make-money opportunity.
You might like to take a look at the next section which is a training platform that we would recommend 100% to anyone.
Alternative Solution to SMMA
It doesn't matter which business model you choose there is always going to be a lot of work involved.
This is why we believe affiliate marketing is a better way to make money online and you can start on a very low budget.
It is also one of the best ways to create multiple passive income streams.
Wealthy Affiliate is a training platform that teaches you everything about affiliate marketing and has been operating since 2005.
They have seen over 2 million people and the reason why I was eventually able to finish my full-time job.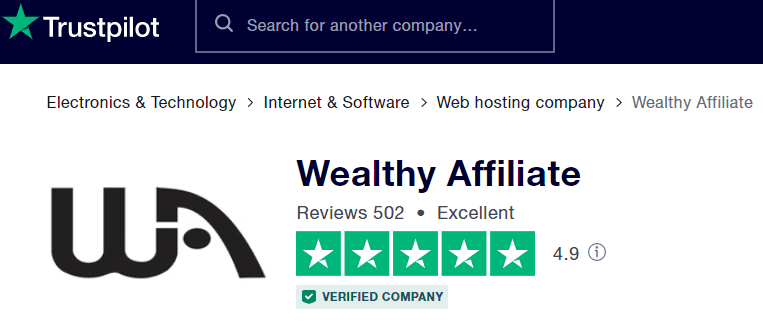 Why not check it out, you are under no obligation and it won't cost you a dime.

30 Day SMMA Review FAQs
Is 30 Day SMMA Worth The $997 or $497?
As we have already mentioned there are 2 prices depending on which site you head over to.
The course we believe is worth both prices but even better if you can get it at $497.
Can The Course Be Paid In Instalments?
If you head over to www.choosepristine.com then you can get the course for 2 equal payments of $297 which will bring the total to $594
Does 30 Day SMMA Come With A Full Refund Policy?
There is a full refund but you have to show the course administrators that you have taken the full course and that you can't close your first client.
Can Jovan and Quentin Be Trusted?
Well, we have no reason to suggest otherwise as we couldn't find any negative feedback.
However they are young and don't appear to have a wealth of experience, so I think we'd leave that for you to decide.
Is There A Better Alternative That You Could Suggest?
You could take a look at SMMA Blueprint or Affluent Academy which are both good SMMA courses.
Or you could check out a great course that we would recommend 100% which teaches you everything about affiliate marketing.
Feedback, Comments and Subscribe
Hope you enjoyed this 30 Day SMMA review and that you learned more about what a social media marketing agency is all about.
Any questions you may have just put them down in the section below and we will get back to you.
Once again thank you!
Take care!
Stay safe!