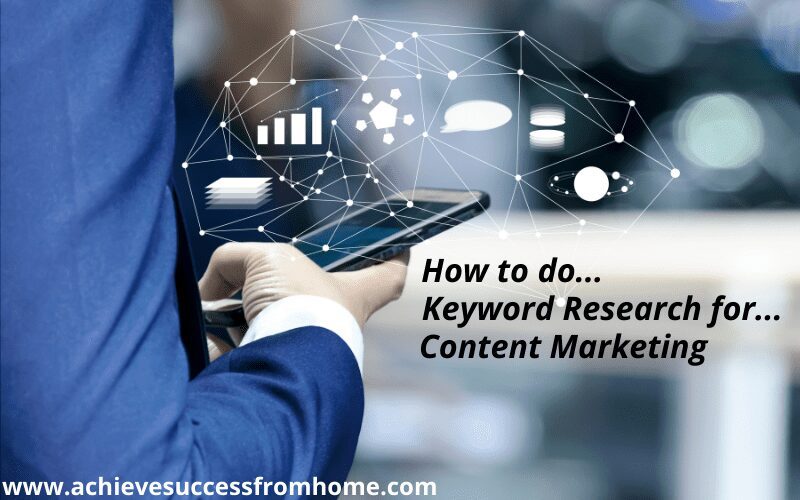 Welcome to this How to do keyword research for content marketing guide.
Keyword research is such an important part of any marketing and especially content marketing, there's a fine line and if done correctly can make all the difference between success and failure.
Keyword research is important because it shows you what topics your prospective customers are searching for and how to cover those topics extensively which will enable you to write content that your audience is going to hopefully love.
This guide will show you that keyword research is key to your content marketing strategy and how to do it effectively, to give you more content ideas and to optimize your content for better rankings in the search engines.
---
[Affiliate Disclosure: This post may contain affiliate links which means I may earn a small commission if you purchase anything through one of the links. However, this will not affect what you pay!]
---
Internal Summary and Navigation
---
SEO and Keywords
SEO or search engine optimization is a process

undertaken by the marketer to help a website or webpage find free quality website traffic, which takes time but when executed correctly can turn a mediocre business into a high paying online passive income.
In search engine optimization, keywords are what people type into the search engines to describe the information that they are looking for.
The keyword can be one word or a serious of words.
Marketing
How to do Keyword research for content marketing
When people are searching in Google, they are trying to satisfy one of four categories, such as…
Learn something
Go somewhere
Do something
Buy something
---
What is Keyword Research?
Keyword research is the method of constantly discovering what keywords individuals type into search engines.
Keyword research allows you to determine what people's end goal is by the questions they are asking in the search engines that relate to what you are offering, whether this is a product, service or the information that you are providing.
You can then use the keywords as well as your research to write content that will rank high in the search engines and provide the answers that people are searching for.
Keyword research shows us…
What people are really looking for
What people are actually keying into the search engines
How popular the keyword that the people are keying in is
How difficult or easy it is to rank for that keyword
Additional keyword ideas
Therefore keyword research should be the start for our content creation.
Whilst you might think it's a good idea to start writing your content first before committing to any keyword research, you will often find that this way can have an adverse effect on your marketing strategy.
That's why I suggest you always start with keyword research first and work forward from there.
Remember, that doing keyword research first will often produce many keywords that relate to the subject at hand which you can put on the back burner for future projects.
---
Why Keywords are so Important 
Keywords are extremely important in any type of marketing but more so with content marketing.
Keywords are what connect your content to the person who is keying that keyword into the search engine and hopefully what makes that person come back again and again.
Using the right keywords hopefully ensures that your content comes up in the SERP, which ultimately the first page of Google which is what you are aiming for.
So using the correct keyword means the difference between people who are seeking out information that you are providing and seeing your website or not.
---
What is Content Marketing?
Useful content should be a key part of your marketing strategy as traditional marketing methods are becoming less effective.
As a marketer, it is your job to keep abreast and find alternative marketing strategies that are current and this is where content marketing comes in.
It is no longer good enough to pitch products and services but more important to provide content that the prospective customer is going to find useful and which will better help to solve their issues.
It is the content that provides the website with more meaning and will help in finding the right customers and tells a story about a specific need that is going to go further.
Let's see what Neil Patel has to say about content marketing and where it is heading.
Great content is key to all forms of marketing
Whatever marketing strategy you use, content marketing should be a part of it and not separate from it.
---
Why Keyword Research is so Important for Content Marketing
Keyword research is important for many reasons…
It tells you what your audience is trying to achieve by their line of questioning, and therefore you know in advance how to respond by focusing on keywords that are better served and that will rank well.
Google loves great meaningful content that is going to help and will be rewarded with better rankings.
It tells you what questions your prospective customers are asking. If someone is looking for the best drones with cameras, and your business provides this information, then finding out what keywords they are using and targeting those keywords with great content is a way to seeking out new leads and hopefully more sales.
It can give you new ideas for additional content to create. You can't get away from the fact that sometimes creating content is difficult to come up with fresh ideas. Having a bunch of keywords just sitting there is sometimes all that is required to trigger new content.
It shows you what people are really looking for. You can be the best author in the world but if the content that you are writing about isn't what people are searching for, it is not going to do you any good to optimize your content for any search query.
Keyword research highlights what people are really asking and gives you a whole bunch of information to tell you whether it's worth your time to optimize your content or not.
Ultimately, it will tell you precisely what you need to include in your content. Keyword research is the starting point for developing a marketing strategy that ensures that you write detailed content that addresses all the audiences needs to know and what they desire.
Ultimately, the aims of keyword research are…
To identify issues that your audience cares about so that you can write great content that addresses their questions.
To ensure that a subject that you are considering writing about is one that people regularly think about and look for.
---
How to do Keyword Research
As a content marketer, you are either considering new ideas for content that you are about to write or that an idea is already there, but you are looking for keyword ideas for that great piece of content that you are about to write.
I usually always have a list of related keywords that I have generated from previous keyword research which are usually OK for ranking, however, it depends on how old the list is.
Constantly reading articles that relate to your business is always going to give you fresh ideas, so make a note of them for later.
There are many keyword research tools out there but the one I use for all my research is a tool called Jaaxy.
It is a very simple and cost-effective tool that is very easy to master, very powerful, extremely quick and returns only the important information that you would need.
It is very important to ensure that you aren't using a keyword that is too competitive, which will make it too difficult to rank in the Google search engine.
For example, if your business is related to "Drones" then what you will notice is that this keyword is far too broad.
The term broad in keyword research would mean a keyword that is heavily used.

You might think by looking at the results in the above image that the keyword is a good one to use, looking at…
Avg = average number of keyword searches in a month, 45123
Traffic =   a  number of people who could click on your website if you managed to get your content on the first page of Google, 7671
What you need to be looking at is the QSR number of 238 which is a number that tells you how many websites are competing for the keyword "Drones".
This would be far too competitive.
What you should be looking for is that number below 50 if you can, but with a steady flow of people keying that term into the search engines represented by "Avg".
What you should be looking for is a far less competitive keyword that relates to your business, something like…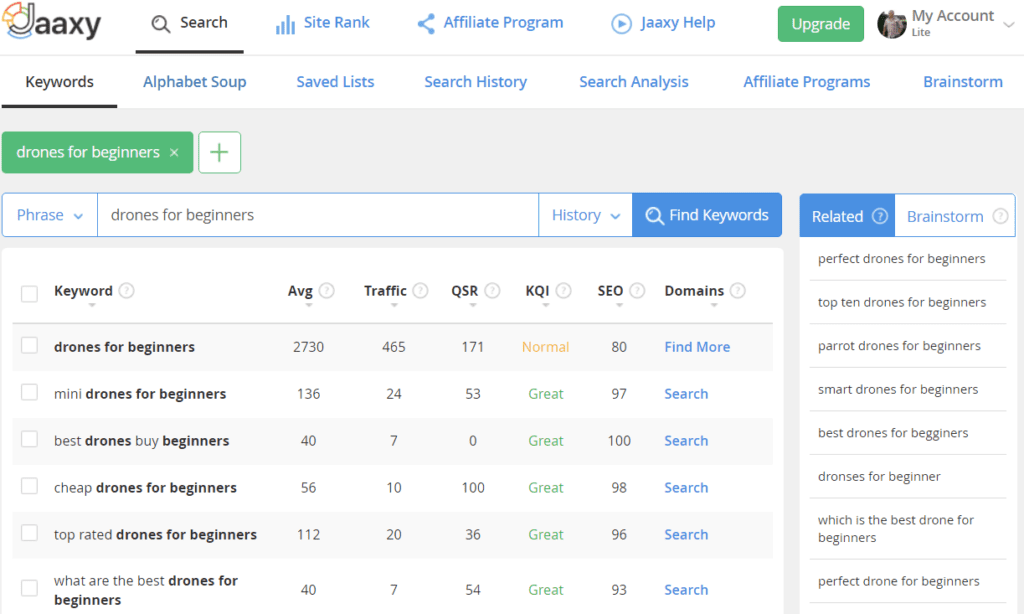 Looking at the list above under the KQI column where it states "Great" these keywords would be the ones to use.
That way you stand a better chance of your content been seen on Google.
---
Want to know where you can learn all this?
Keyword research and content marketing are probably the two most important aspects of any marketing strategy.
There are many ways that you can learn about keyword research and content marketing.
You could continue reading content like here on this website or you could use YouTube videos like I have done in the past and there is nothing wrong with that.
But, I found this route a somewhat hit and miss, with the amount of decent information that I found was lacking so I decided to seek out some training and glad I did.
One you can trust and one I do recommend is Wealthy Affiliate, which has been around since 2005 and seen many people become successful.
They have a community that are prepared to share what works for them and it's free to join.

---
Feedback, Follow and Subscribe
Hope you found this guide helpful and if you did why not show a little love by sharing it on social media.
If you have any questions at all please put them in the comment section below.
Until next time and stay safe!