Hey Guys, welcome to What is Topcoder
A company specifically for both the customer looking for development staff and a place where you can improve those software skills.
At Topcoder there is an open community of development professionals with all levels of skills and from all walks of life.
Here you can find developers, designers, data scientists, web developers and even competitive programmers.
Competing for projects from fortune 500 and 1000 companies.
So if you are a project manager looking for a specific skill for a project however big it may be.
Or a professional looking to improve those skills?
Then Topcoder could be the place for you.
So let's get right into this Topcoder review.
---
[Affiliate Disclosure: The Topcoder Review has been thoroughly researched from information and testimonials that are in the public domain. This post may contain affiliate links which means we may earn a small commission, however, this won't affect what you pay!
---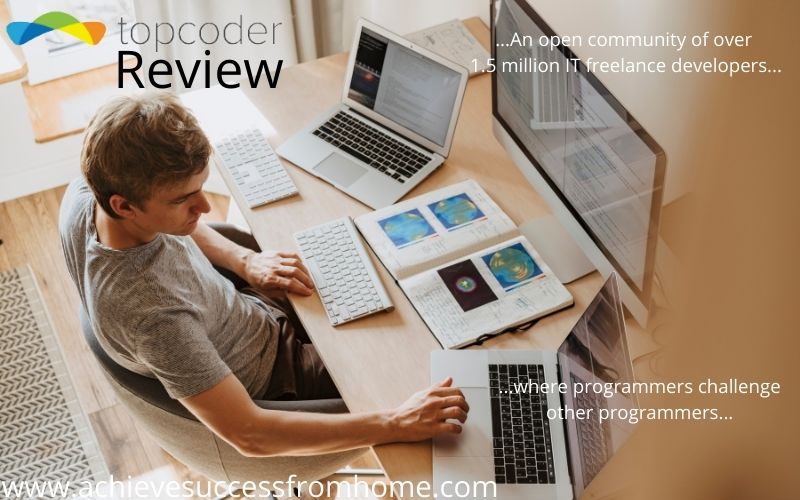 Product: Topcoder
Founder: Jack Hughes
Website: www.topcoder.com
Product Description: IT staffing and outsourcing company
Cost to join: Free as a developer
Recommended: Maybe
Summary: At Topcoder there is an open community of software developers that exceeds 1.5 million.
If as a programmer you like challenging yourself against other like-minded professionals then this could be the place for you.
Topcoder Review – Table of Contents
What is Topcoder?
Topcoder is a thriving crowdsourcing company as of today but didn't start life that way.
It was founded in 2001 by Jack Hughes who is also the founder and CEO of the company Tallan.
Topcoder was acquired by Appirio in 2013 with around 500k developers and in 2016 both were bought by Wipro in a $500 million deal.
The company was originally started to showcase programming professionals by taking part in coding competitions.
Who at the time was mainly from schools and universities that competed for prize money of between $5,000 and $10,000.
The money was secured from corporate sponsorships and it was a great way to find top-class talent.
Over the years the talent has grown to such an extent.
That they decided to offer development services to third-party businesses taking on all kinds of projects both large and small.
As of this review, there are somewhere in the region of 1.5 million members of the Topcoder community.
Even today they still have a number of coding competitions which is great for companies looking for new talent.
Also great for the coders who can only improve their skills by competing in these challenges as well as a tidy amount of money that can be won.
Just a few of the known high-profile companies who have employed the services of Topcoder are IBM, NASA, Harvard Medical and Business School…
How Does Topcoder Work?
Topcoder is able to take on clients' projects and break them down into manageable, smaller projects.
That can be given to over 1.5 million open community members in the form of tasks and challenges.
This allows many levels of expertise to work on the same project and come up with various solutions to help provide the best end result.
The results are then consolidated which is then turned into a final deliverable.
This process has helped to manage many projects with NASA, IBM, Harvard…
The same process they have been using for over two decades.
There are several ways to get Topcoder freelance staff on your team.
Launch a Competition
At Topcoder they often create competitions based on the requirements of third-party businesses where they have to solve a software problem quickly.
What better way than to combine a group of Topcoder programmers with a similar skill set and work on a client's project at the same time.
Have a problem and Topcoder will create a competition to solve it.
The client will benefit and this method is a tested one that they have been using for over two decades at Topcoder.
Hire Freelancers
With the extensive database of software developers, it is very easy for the client to search and find the exact skillset that they are looking for.
At Topcoder you can find a professional with pretty much any skill that you are looking for.
Such as Web-developers, Data Scientists, Data Analysts, Data Engineers, Designers.
Get Your Project Completed
Any project no matter how small or big can be undertaken, just get in touch with Topcoder with your business plan.
Then leave the rest up to the project managers at Topcoder to ensure that the project is completed on time and with the desired results.
There are other ways but those will be tailored to the business requirements and for further details, this can be discussed with a Topcoder staff member.
Topcoder developers are listed from every country across the planet which means that any company can match up with developers from their own country.
Who is Topcoder For?
Topcoder is open to anybody with a certain level of experience in software development.
You have to have that competitive edge otherwise you are unlikely to make much money.
What you are going to find here are university graduates and post-graduates who thrive as computer programmers.
Some say that this platform is ideal for beginners but we would suggest not and more geared towards intermediate and advanced freelancers.
You will be graded at Topcoder and which is good for clients when they are looking for a certain type of skill.
What Are The Fees at Topcoder?
There is no fee as such to join Topcoder as a freelance developer but to enter the competitions there are fees that work out at 20% of the actual competition payout.
Clients' fees are individually priced based depending on what the requirement is.
There are 3 levels of service that they provide to the client at Topcoder.
Talent as a service or TAAS
Clients can directly source and manage their own freelancers.
Pricing is determined by the type of experience required, full or part-time and geographical location.
Projects
Are either part-time or full project lifecycle.
Pricing is based on the overall length and complexity of the project and whether you require additional expertise to support the projects.
Enterprise programs
This package is tailored by the Topcoder professionals
Is Topcoder a Scam?
Topcoder is definitely not a scam but a legit IT freelance platform that has been going for over two decades.
It is free to join and you are sure to find many extremely competent developers there and a place that can only better your skills.
They have over 1.5 million IT professionals registered and a place where universities and postgraduates can go to try and make some extra money.
You might like to check out these other sites…
Topcoder PROS and CONS
PROS
Has A Long-Standing Reputation With Major Companies:
Topcoder is a reputable training ground with many highly talented professionals and companies who know this.
That's why you can see companies like Google, Microsoft, Yahoo, Nvidia plus many more top-performing companies.
Who is always looking for top-class talent?
Great Place To Improve Your Talents:
Whilst it may be a great place to improve your talents as a developer simply because there are going to be many with more experience than you.
For The Client It's A Place To Find The Right Skills:
With knocking on for nearly 2 million members with every talent you could possibly think of, it's certainly a place where clients can benefit from.
Whilst there is always going to be a cost for finding such talent one thing the client will not have to do is pay for advertising.
CONS
Might Find It Too Competitive For Some:
You are going to find some highly talented professionals who breathe and sleep programming and who are very competitive.
This might become an issue if you aren't at that level.
Topcoder Review – Final Thoughts!
It's the ideal place for the client looking for professionals who are top of their game and a place that they could recruit from.
They are pretty much like all IT recruitment agencies that you can see dotted around but with a bit of a twist.
They can provide top-class professionals for hire both on a contract and full-time basis.
Or they can provide teams to take on clients' projects.
That is where the similarities end with regards to a recruitment agency.
At Topcoder, they can provide a way for professionals to improve their skills through challenges where the winners can make some money.
How we Make Passive Income Online?
I did have a great time as a freelance software developer but there comes a time when travelling and staying away from home isn't so great.
However, what I do now is certainly up there as enjoyable but the money is much better and besides I can work anywhere I want.
Affiliate marketing is what I do now and the training platform I am part of belongs to Wealthy Affiliate.
They have been going since 2005 and are responsible for thousands of success stories. Just take a look here.
See what you think and if it's not for you then just call it a day but you won't know until you take a look.

Topcoder FAQs
Is Topcoder A Good Place For Beginners?
You will see it mentioned on the internet that Topcoder is a great place for beginners but we disagree.
There is a lot of competition there which isn't a bad thing because you can only get better over time.
That's why you really do need to be at a certain level of expertise.
What's The Difference Between Topcoder And Its Competitors?
At Topcoder there are 2 ways that make them stand out.
Freelance on demand, where the client has a specific requirement for let's say Python developers for the next 3 months.
Enterprise crowdsourcing, where a client requires a wide range of skills for small or large projects then the crowdsourcing model would work.
On both points, because there are around 2 million registered developers then a client is definitely going to find the right kind of skill.
Why Are You Not Guaranteed To Get Paid?
First and foremost Topcoder was originally for talented programmers who loved competing and had the opportunity to win some good money.
Over the years, they have evolved where many developers join just to improve their skills.
With the opportunity of finding work either directly employed by clients or working in teams provided by Topcoder.
What Type Of Clients Use Topcoder?
Over the last two decades, Topcoder has extended its client base and a place that is used consistently to find the best developers.
You can find big clients like Microsoft, IBM, Yahoo, Google, Major banks, NASA, Harvard and many other major clients.
Feedback, Comments and Subscribe
Hope you guys benefitted from this Topcoder review and if you have anything to add just drop us a line below and we will get back to you.
Once again thank you and stay safe.