Welcome to The Data Incubator Review
Another training platform that teaches IT-related subjects in data science?
So if you are looking for a new career or are already involved in the IT industry and want to advance your career.
Then Data Incubator might be worth researching further.
The one thing that might put people off is the fact that the training is very expensive.
Therefore you need to be 100% certain that this is what you really want to do.
Coming from an IT background myself I know just how expensive these courses can be.
But the courses online are certainly a lot less than paying for a course at university.
With that said, let's see what The Data Incubator has to offer and whether it is right for you or not.
---
[Affiliate Disclosure: The Data Incubator Review has been thoroughly researched from information and testimonials that are in the public domain. This post may contain affiliate links which means we may earn a small commission, however, this won't affect what you pay!]
---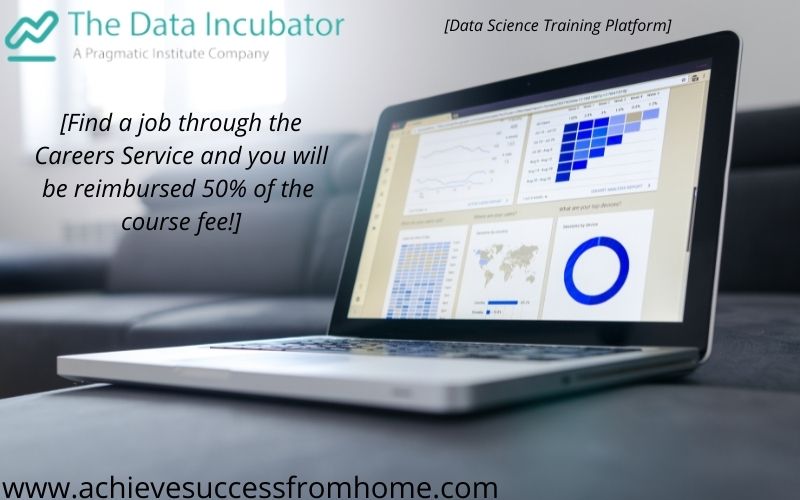 Product: The Data Incubator
Founder: Michael Li
Website: www.thedataincubator.com
Product Description: Data science training and resource platform
Cost to join: $10,000
Recommended: Maybe
Summary: The IT industry is always going to be the one if not the top industry to work in which will continue to grow.
After all, it's the technology that allows us to thrive as a race and without it, we would be still in the dark ages.
It doesn't seem too long ago that you needed to go to university to get that all-important degree in order to find that ideal job.
Nowadays with the internet and the enormous number of training platforms, this is no longer an issue.
The Data Incubator Review – TOC
What is The Data Incubator About?
The Data Incubator or TDI for short is an IT training platform providing courses in data science.
Which was founded in 2014 by Tianhui Michael Li, a self-trained data scientist.
In 2003 he came second in a competition at NASA for building a desktop nuclear fusion reactor and won himself $75k.
Which received press coverage in the New York Times.
He studied at Cambridge University as well as taking his PhD at Princeton.
They have offices in New York, San Francisco, Washington DC and California.
The programs up until recently were remote only but recently they have accepted on-site classes at their California office.
Best known for their 8-week intensive fellowship courses for postgraduates with STEM degrees.
Whilst Data Incubator can provide you with the knowledge to find that all-important role.
It is also a place where companies come to find the ideal candidates.
What do They Teach at The Data Incubator?
There are currently 3 courses that Data Incubator specialise in which are mentioned below.
All three courses have limited places and to get accepted you will have to go through a stringent application and interview process.
This is to ensure that you have all the credentials and besides the programs are expensive but a lot cheaper than a degree.
All 3 programs can be taken on-site and remotely.
Data Science Fellowship Program
A data science boot camp for postgraduates with STEM degrees can be taken either as an intensive 8-week program or as a 20-week part-time program.
This is broken down into 8 modules…
Retrieve and manipulate data using Python
Master the basics of machine learning
Access databases using SQL
How to present data to both technical and non-technical audiences
Advanced machine learning concepts
Understand how data science interacts with business
Use PySpark to distribute computations across multiple platforms
Build neural networks using TensorFlow
For further details, we suggest heading over to the website here.
Data Science And Engineering Fellowship Program
For those with computer science or a software engineering background, this might be the ideal solution for you.
Data is evolving so much that it is hard just to keep up.
Some of the things that you will learn from this program are…
How to use DBMS and manipulate the data using SQL
Data warehouse solutions
ETL tools and how to use them
Machine learning
Data APIs and how to use them
Understanding distributed systems
Knowledge of algorithms and data structures
For more information head over to the Data Incubator website here.
Data Science Essentials
This is an 8-week remote class that is designed to help strengthen your data skills before applying for one of the two programs above.
Unless you already come from a data science background it could be wise to take this course first.
The tuition for this course is $2895 you can get heavily discounted by $1400 if you apply before the early deadline.
Some of what this course covers are…
File and data formats
Object-oriented programming
NumPy
Introduction to Pandas
Data transformation with Panda
Time series with Pandas
Data visualization
Text and regular expressions
Introduction to machine learning
Scikit-learn API
Regression
Bias, variance and overfitting
Introduction to classification
Predicting customer churn
Dimensionality reduction
Clustering
SciKit-learn workflow
For a full description check the website here.
Who is The Data Incubator For?
The Data Incubator is for anyone who comes from an IT background and has a degree or PhD.
Those are the 2 main pre-requisites but you are also required to have programming skills as well.
This is not for beginners and the application process is long and difficult with around 2 to 3 per cent that actually get accepted.
That should tell you that unless you are exceptional in every aspect that is required of you then it is likely you will not get accepted.
How Much Does it Cost to Join The Data Incubator?
As we have already mentioned there are 3 main programs which will cost you $10,000.
Mind you if you manage to secure a job through The Data Incubator careers service then as of this review you are reimbursed 50% of the tuition fee.
The Application Process
There are three stages that you have to go through before getting accepted into one of the programs at the Data Incubator.
Which we have found to be around 3% of the number of applications from people who applied.
So for every 1,000 people who applied only 30 actually got accepted.
What is required before you even consider applying…

There is a 72-hour programming challenge that you have to undertake.
Followed by the actual interview.

If you eventually do get accepted then there are various ways to get funding, such as scholarships but these can be difficult to get.
If you are considering this training platform then it might be worth looking into their assisting payment method.
You might like to check out this document here.
Is The Data Incubator Worth It?
At the end of the day, you have to decide that a big investment in yourself is going to pay off.
Coming from many years as a freelance software developer I know only too well that technology moves on rapidly.
This means you have to continually keep getting trained and retrained if you want to stay where the high-earning roles are.
You have to also ask the question, are these courses currently kept up to date with the technologies.
Which is sometimes hard to know if you aren't already working within a particular area.
Check out some resources below which should give you a better idea of how good the programs are…
The Data Incubator PROS and CONS
PROS
Data Science Experience Is Highly In Demand:
Data science covers many areas relating to data and is always in demand.
A few years ago data science was covered by the role of an analyst/programmer and I guess still does as the latter is an American term.
With the enormous amounts of data that is stored everywhere doing nothing businesses can use this to improve their business.
When fully qualified as a Data Scientist you can command high rates as a permanent role but even more, if you go freelance.
On a permanent basis, there are nearly 200 jobs from $45k – $150k with many above $150k.
Expect rates to be in the region of $250k to $300k for freelance.
CONS
Interest Is Dwindling Somewhat:
The image below shows the interest from people who are searching in Google and as you can see in recent times not that great.
This of course could be down to several things, like bad reviews which we don't see but more likely because there are so many training platforms.
The Data Incubator Review – Final Thoughts!
The Data Incubator is a demanding training platform where the likelihood of being accepted is only slight.
There are many other data science programs out there with just a few listed below…
The demand for skills within the IT Industry is enormous and that can be seen by the number of online courses that are out there.
Just take a look at how many roles are out there for data science skills in the US alone. Yes, you read that right nearly 100,000 in the last 7 days.
I enjoyed my time as a freelance software developer working in various countries and adapting to their cultures.
However, working from home and staying in hotels does become a bit taxing over time and the novelty wears off.
That's why I decided to get out of freelance and work from home still in development although somewhat different.
I very rarely use my software skills and if you want to know more please continue to read as we would love to share with you what we do now.
How we Make Passive Income Online?
Passive income is the dream for many, where the business can generate multiple income streams and runs 24/7 without very little intervention.
We found the affiliate marketing business model to be the best method for achieving this.
The best training platform for learning this skill is Wealthy Affiliate which has been active since 2005 with over 2 million members since that time.
If you want to know more then please click on the link below.
Don't worry we are not about to ask for any money as it is free to check out and evaluate the training platform.
Nearly forgot, you won't even be asked for your credit card details either.
What do you have to lose, but you won't know unless you take a look, right?

The Data Incubator FAQs
Are There Any Stipulations That I Need To Know About Before Applying?
Most online training platforms are pretty straightforward when applying for the courses but there are pre-requisites at Data Incubator.
Having these obviously is going to ensure that you aren't going into the courses blind and they are intensive courses.
A completed master's degree or PhD or a PhD will be completed within three months of completing the course.
Prior programming experience and foundation knowledge of statistics and of course proficiency in English
To apply to the Data Science or the Data Engineering programs, you'll need to possess these requirements:
How Much Are The Programs?
A few years ago you would have expected to pay $16,000 for any of the programs but things have changed somewhat in recent times.
Nowadays the tuition fee is $10,000 for any of the programs which are still very expensive but a lot less than a university equivalent.
There is a $2,000 discount for students who apply during the early admissions time frame.
Then a $1,000 discount for those that apply during the regular admissions timeframe.
If after the course you are placed through the hiring partners then you will receive 50% of the tuition that you paid.
Do I Need To Be Able To Program Before Applying?
The Data Engineering and Data Science program application will require you to take a programming challenge before you get accepted into the program.
The programs do emphasize the use of the Python programming language but many students do possess varying degrees of programming skills.
Do You Offer Scholarships?
There are a small number of scholarships that are handed out which are for the full-time programs only.
Where all applicants are considered and the final decision will be based on who is the most qualified.
Can You Guarantee A Job On Completion Of The Program?
There is no way of guaranteeing you a job on completion of the course but there is help through the careers service.
According to what we could find out, more than 80% of students are employed within six months of the completion of the program.
Feedback, Comments and Subscribe
If you are here then I guess you enjoyed or hope you enjoyed this Data Incubator review.
Any questions or you want to add anything just drop us a line below and we will get back to you.
Once again, thank you and stay safe.