Welcome to my Elite Dropship Academy Review
You are here to find out whether Elite Dropship Academy is legit or a scam that you should avoid at all costs.
After all, there are hundreds of courses just like this one and we know just how difficult it can be to find just the right one.
In this review, we will be looking at the owner and whether he can be trusted, the costs and whether they can be justified plus a lot more.
As a disclaimer, we are not associated with the owner or Elite Drop Ship Academy in any way shape or form.
So rest assured that what you will get from us is an honest no holds barred account with all the facts.
So that you can make the decision whether to pursue this course further or not.
So let's begin.
---
Affiliate Disclosure: The Elite Dropship Academy Review has been thoroughly researched from information and testimonials that are in the public domain. This post may contain affiliate links which means we may earn a small commission, however, this won't affect what you pay!]
---
Product: Elite Dropship Academy
Founder: AJ Jomah
Website: www.elitedropshipacademy.com
Product Description: E-commerce high ticket dropshipping course
Cost to join: $997
Recommended: No
Summary: If you are interested in dropshipping I can recommend a training platform that has everything and is certainly worth looking at.
It's called Sell The Trend, which is an all-in-one dropshipping training platform.
Elite Dropship Academy is a course that teaches you how to accomplish high ticket sales.
If you think trying to sell low-cost items is difficult then just think how difficult it will be to sell a $1,000 product to someone you don't know.
We think the course is well overpriced and there are much better solutions out there.
It certainly isn't a course that complete beginners should invest in!
Elite Dropship Academy Review – TOC
What is The Elite Dropship Academy?
Elite Dropship Academy is a course that teaches you how to sell high-ticket items through dropshipping.
This is just one of a number of courses that have been brought to the marketplace by AJ Jomah.
However, most of them have failed and are no longer around and maybe by the time you read this review this will be the case for Elite Dropship Academy.
What you need to be aware of is that people nowadays are more careful with their money and what they spend it on.
Besides people are more likely to purchase a trending item that costs $20 or $30 than something that costs several hundred dollars.
You have also got to take into consideration that high-ticket items that are large are going to be a nightmare with returns.
Another Very Popular Ecommerce Method: Affiliate Marketing
Who's The Owner of The Elite Dropship Academy?
AJ Jomah is the owner of the Elite Dropship Academy as well as other courses like High Ticket Dropshipping and 7 Figure Skills.
He's a guy who has tried many business ventures which have been unsuccessful and even tried running a pizza franchise.
According to what he say's, turning to dropshipping has helped to turn his life around.
Unfortunately, we couldn't find any real positive things said about him and all that we could find were negative.
Related: Drop Ship Formula
What Do You Get With The Elite Dropship Academy?
The course is split into three sections.
For the money that you are paying you can find all this information on Youtube for free.
One Sale A Day Dropshipping Course
Introduction to dropshipping and high ticket sales: 
There is nothing that you won't already know here if you have been researching the dropshipping business model.
Here you will learn about dropshipping and what's involved when we are talking about using high-ticket items.
Selecting the right niche:
We know you don't have to select a specific niche for your business as some use their store for a mix of items.
But what is generally realized is that your business should be a specific niche which tells people that you are an authority in that area.
Market research:
This is where you test the niche that you selected and to ensure that it is going to be a profitable one.
Setting up your online store:
Shopify tends to be the online store company that these courses instruct you to use and therefore this section shows you how to do it.
However, because Shopify seems to be the default store then there will be nothing new in this section.
We have mixed feelings about Shopify and realize that just because of popularity doesn't mean it's the best option.
We mentioned earlier that Sell The Trend is a competitor of Shopify and certainly worth looking at as an alternative.
Selecting the right products and finding the right suppliers:
Finding the right suppliers that offer high-ticket items is going to be the make-or-break for you.
Finding the right supplier that you can trust and who is reliable is going to take time.
This section shows you how to get them onboard
Store Optimization:
This section will show you how to professionally set up your store for better sales and conversions.
Google Ads Training Course
Google ads wouldn't be our first choice due to the high costs and the long learning curve that would be required.
It is also a traffic method that most courses tend not to include in their courses.
In this section expect to learn the basics, setting up your account, how to launch a campaign and the different types of ads available.
Facebook Ads Training
If you have researched courses in the past then you will know that the most popular traffic course is Facebook.
Facebook is obviously the cheapest and most reliable of all the traffic sources however it will still take a lot of time to learn
This section covers things like…
How to create a Facebook page
Facebook pixels
The different types of ads
Facebook engagement
Facebook insights and optimization
Facebook manager
Scaling
Related: Drop Ship Unlocked by Lewis Smith
Elite Dropship Academy Costs And Refunds
The course as of this review is $997.
Can You Pay For The Elite Dropship Academy In Instalments?
Yes, you can pay for the course in instalments if you want to spread the costs.
This can be accomplished through 4 equal payments of $397 which takes the course total to $1,588.
Are There Any Upsells With The Elite Dropship Academy?
No, what you see is what you pay for.
Is There A Free Trial With Elite Dropship Academy?
There is no free trial with Elite Dropship Academy.
Are There Any Additional Costs We Should Factor Into The Elite Dropship Academy Course?
There are always additional costs when starting a new business venture with apps and tools that are required to make your life easier.
We see the biggest costs are going to be paying for traffic for your marketing campaigns.
We suggest this can be somewhere in the region of $150 to $300 a month, more if you can afford it.
Does Elite Dropship Academy Come With A Refund?
There is currently no refund with this course which is a little disappointing, to say the least.
Related: Drop Shipping Blueprint
Is Elite Dropship Academy a Scam?
It is so easy to declare a product, system or service as a scam but most just don't fall into that category.
Having said that we can see that there are a lot of people who do consider Aj Jomah to be a scam artist.
We wouldn't go that far, all the same, we wouldn't recommend this course to anyone.
The course is far too expensive and lacks somewhat educational information.
If you are interested in dropshipping we would suggest checking out Udemy where you can find some good courses for less than $50.
At least by doing that you will know if dropshipping is the right business model for you or not.

Elite Dropship Academy Student Reviews 
Unfortunately, we could find any third-party reviews by students on sites like Trustpilot.
We couldn't even access any review from the Elite Dropship Academy website either.
Related: Advanced Dropshipping Academy
What we Like About Elite Dropship Academy
There is nothing we liked about AJ Jomah or his Elite Dropship Academy course.
What we Don't Like About Elite Dropship Academy
The entire course was lacking in any real substance and we see this so often with courses in e-commerce and dropshipping.
One of the biggest problems with any business is finding your target audience and there wasn't enough training in this area.
The great thing about the internet is that there is an abundance of courses at various prices and there is no need to pay this type of money.
AJ Jomah Is A Serial Course Creator:
There isn't a lot about AJ Jomah online but what we do know is that he is a trier and tends to bring out courses on a regular basis.
Product owners like this are after a quick buck and never get many sales and it doesn't take long before people get wind of what is going on.
High Ticket Selling Is Difficult:
I would much prefer to sell small items that don't cost the earth rather than expensive items that can create big issues on shipping and returns.
The Final Verdict Of Elite Dropship Academy!
The Elite Dropship Academy as far as we are concerned does not cover the business model in any great depth.
The course might be suited to complete beginners.
But all you are going to learn are the basics and we have seen many courses like this for far less money.
High-ticket dropshipping is more of a specialized business model and would require plenty of patience and comes with more risks
The results are not going to be as good as a low ticket but the rewards can be greater if you select the right product.
Because the number of sales that you are going to make is going to be on the low side you have to consider what happens on returns.
People are not going to be impulsive with high-ticket items, not like they will be with a low ticket.
We wouldn't recommend this course not just because of the actual costs but because the course is very basic and you can do better elsewhere.
As we understand one of AJ Jomah's courses, 7 Figure Skills has fallen by the wayside so does that mean this course will be going the same way?
There seems to be a trend with this guy and we don't want you to be spending your hard-earned cash.
Only one day to not be able to sign into the course website.
There are much better alternatives out there and if you are interested in what we do for a living then please continue to read.
Alternative Solution to Dropshipping
It's called affiliate marketing which is very similar to dropping shipping except you don't have to worry about using a digital store.
The principle is the same in that you are the middle person and direct the customer to the merchant except you get paid a commission on a sale.
It also means that you are not restricted and are much more flexible.
Is one of if not the best ways to create multiple income streams.
I have personally been a member of Wealthy Affiliate since 2017 and the main reason why I was able to kiss goodbye to my 9-5 job.
Just check out the reviews on Trustpilot.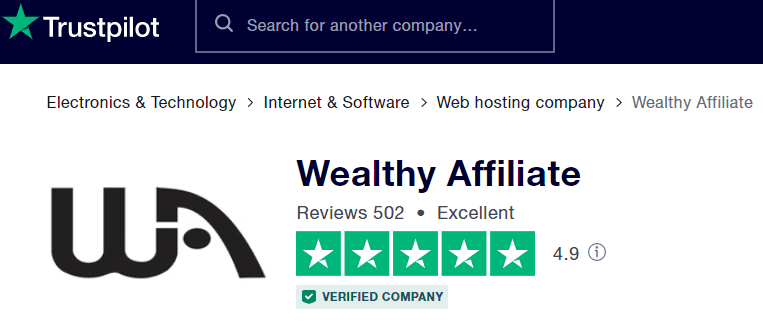 The training platform is a fully integrated one-stop-shop meaning that everything you need to succeed is in one place.
Education and training, Web development, Hosting your website, and a community that cares and is full of experience on many levels…

Elite Dropship Academy Review – FAQs
We found a few questions that interested parties are asking in the search engines and thought they might help in your decision-making.
What Is High Ticket Dropshipping?
Basically high ticket dropshipping refers to the expensive items that you will be promoting through your online store.
The number of sales obviously is not going to be as many as they would be for small ticket items and will also be harder.
Is High Ticket Dropshipping Profitable?
If you can find the right product to sell then it can be very profitable especially as profit margins are somewhere between 25% and 35%.
That means if you can sell a product at $500 you stand to make between $125 and $175 which is not bad.
What Are Examples Of High Ticket Items?
High ticket items could be jewellery, bikes, cars, boats, and tents, and often we see coaching training and services among those.
What Is Considered High Ticket Price?
High ticket prices vary from niche to niche but it is considered that anything that costs $500 and above.
the higher the cost the more difficult it will be to find the right target audience.
Who Is Classed As The King Of High Ticket Sales?
Dan Lok is one of the highest-paid marketers who is in big demand and also the author of 12 best-selling books
Feedback, Comments And Subscribe
Thank you for reading this Elite Dropship Academy review and hope we answered most of your questions.
If you have anything to add please don't hesitate to ask!
Thank you for listening!
Take care!
Stay safe!