Welcome to the Advanced Dropshipping Academy Review
If you are looking for a full lowdown and honest unbiased review of Advanced Dropshipping Academy then

you have come to the right place.
Since 2015 dropshipping has become one of the most popular business models to get involved in and we can see why too.
After all, you don't require a boatload of money to get started and you don't have to own, stock or handle the products yourself, not even the customer orders.
But you do need to know what you are doing and the quickest way is to pay someone (a mentor) to find out.
So if you are looking for the right training that is affordable then we can help you here.
Before we get started, who am I and why should you listen to me?
My name is Mick and I have reviewed over 400 products online, my goal is to help people like you find your way.
In what can be a complicated and confusing process.
With so many products, systems, and courses that just don't stack up is Advanced Dropshipping Academy one of them?
Well, the first impressions do look good but you will have a better idea after you have read this review, so without further ado.
---
[Affiliate Disclosure: The Advanced Dropshipping Academy Review has been thoroughly researched from information and testimonials that are in the public domain. This post may contain affiliate links which means we may earn a small commission, however, this won't affect what you pay!]
---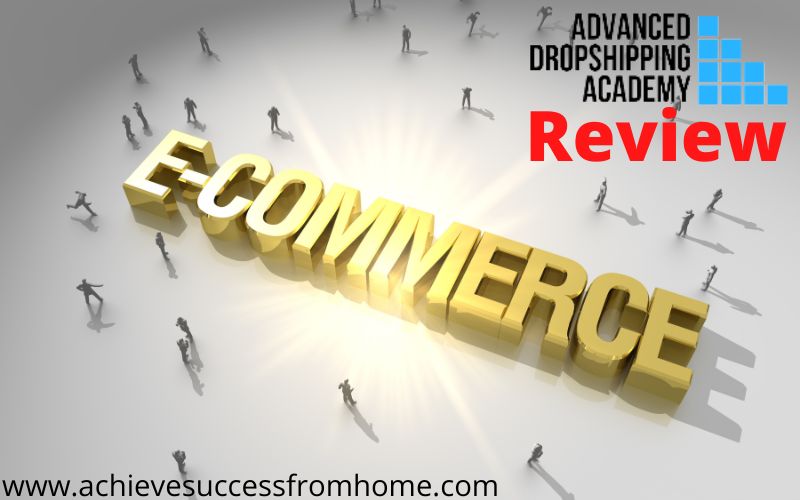 Product: Advanced Dropshipping Academy
Founder: Chris Wane
Website: www.advanceddropshipping.com
Product Description: Dropshipping course
Cost to join: $497
Recommended: Maybe
Summary: Is Advanced Dropshipping Academy legit and what is this Chris Wane scam that we are seeing people talk about?
Well, the course is very legit and offers so much value and at a very reasonable price that is affordable to people.
But, you know what, people, in general, are not prepared for the amount of work that is required to get a dropshipping business off the ground.
So you could say that most of these dropshipping courses are legit, it just requires a certain determination or mindset.
If this is your first look at dropshipping then will love this all-in-one dropshipping solution that is really hitting the headlines.
Continue to read my Advanced Dropshipping Academy to learn more!
Advanced Dropshipping Academy Review – Table Of Contents
What is Advanced Dropshipping Academy About?

Advanced Dropshipping Academy is a training course developed by Chris Wane.
The course will teach anybody regardless of whether you have any experience or not in dropshipping or making money online.
The course offers value and is very reasonably priced whereas many courses in this category can run into the thousands.
With drop shipping becoming one of the top businesses to get involved in, it opens the flood doors to all sorts of unscrupulous behaviour.
As we have already mentioned, many of these dropshipping courses are legit.
But most are lacking in terms of advancement with technology and what technology can do for you if used in the right manner.
Take, for instance, Sell the Trend, which we have only just reviewed, this is an all-in-one dropshipping platform with which we aren't affiliated to.
Means we don't make any money at all if you went down that route but this is a great example of what technology can do for you.
However, you are here wanting to know more, so let's continue with this Chris Wane dropshipping course review.
Complimentary Review: Sell The Trend – All in One Dropshipping Solution 
For Those Who Don't Know What Dropshiping is and is it Right For You?
Dropshipping in principle is a very straightforward business model that anybody can do and with the potential to have a lot of success.
Just type the term "dropshipping" in Google Trends and you will see just how popular this type of business is.
So what is dropshipping?
It's a way of promoting other merchants' products through a store that you own on let's say Shopify or Sell The Trend.
Imagine you are a miniature Amazon store!
But the trick is finding products that people are looking for from a reputable supplier and at a good price.
Products that are currently trending or are about to!
Now all you have to do is find the right audience by promoting ad campaigns using someone like Facebook.
Once a prospective customer finds your ad and clicks on it they are redirected to your digital store.
Now in that store, you may have many products besides the one you have just been promoting and there's a very good chance they will buy.
Once they do then they are redirected to the merchant who manages the customer order, picks and delivers it and you are paid.
That's the simple explanation, now listen to a Shopify representative explain it in more detail.
Complimentary Review: Drop Ship Lifestyle by Anton Kraly
Who is Chris Wane?
Chris Wane is the mastermind behind Advanced Dropshipping Academy who not too long ago was a struggling drop shipper trying to find his way.
There isn't a great deal of information out there about him which is understandable.
What we know about him is that he's a British guy who promotes his own YouTube channel which currently has over 19k subscribers.
So we can see that his popularity has increased by about 15k in just a few months.
Where you can find all sorts of valuable information all about dropshipping which we would suggest you took a look at before making a commitment.
Chris claims that he started his business with only $300 and today he's generated over $1 million and helped over 2,500 in over 138 countries.
He does have a private Facebook group which is called ADA Private Group where you can find over 1.3k students with approx 3 posts a day.
What's Inside The Advanced Dropshipping Academy?
The Advanced Dropshipping Academy course is very comprehensive and includes over 60 videos with over 10 hours of overall content.
We have also noticed that Chris has scaled down this course from I think 13 modules to where we are.
The course is split over 8 modules which we have listed below with a brief explanation of what you can find…
Module #1 – Foundation of Success – Introduction
The first module is basically an introduction to the Advanced Dropshipping Academy course.
Where he also talks about the dropshipping model so that you have a better understanding and of course having the right mindset.
This is very important and the reason why so many people fail before they even get started.
There is a lot of trying to keep your attention by showing you what his students have been accomplishing.
Even though those claims we have no reason to doubt, what is important are the figures that he is showing you.
Those are gross sales and not profit so any figure you can see depending on which country you are operating in you can deduct 20, 30 40 per cent off.
I'm from the UK so that would equate to around 40%, which is nothing to be sneezed at when you are producing figures like you are seeing.
Try not to get all wrapped up in the sales figures and take it all like a pinch of salt!
Module #2 – Data Driven Product Research
Choosing the right niche and in particular, the right product is key here!
Because you don't want to be promoting a product that has reached the end of its marketing potential or back end of the trend.
Inspiration can come from anywhere and Chris takes you through the process he uses or has used in the past.
Whilst Chris might have had success in this way, his method is manual and slow which will hold you back in your advancement.
Having said that this is his course and his methods and is proving successful for his students.
Module #3 – Strategic Branding – Building Your Store
In this module, Chris talks about branding and how important it is when building your business going forward.
After all, a catchy domain name or website can go a long way to improving your sales volume.
He also discusses and shows you what is involved with starting off with that brand such as domain name and the type of website you will be creating.
He's a big advocate of using Shopify and why not as it is one of the first digital e-commerce platforms that came onto the market.
Besides everything, you would need is within the Shopify platform, with great themes and features that make you stand out.
Of course, having the best-looking website is nothing without the right products to promote which is what module 2 is all about.
Chris mentions using the theme Debutify supposedly because of its unique converting factors but this is an additional monthly cost to take into consideration.
Then he goes on to talk about, order fulfilment, customer service setup, tracking orders and dealing with refunds and returns.
Module #4 – Tactical Marketing – Paid Marketing
The Advanced Dropshipping Academy uses Facebook and paid advertising.
Without traffic, you will not get any sales, its' as simple as that!
Facebook advertising is a big learning curve so you'd better pay particular attention to this module.
If you hadn't thought about paid marketing then this is where it can get a little on the expensive side.
Chris does mention that he has spent a considerable amount of money on Facebook ads.
Especially as you need to do a lot of testing just to get the campaigns right.
This particular module we thought was lacking in details and for a complete beginner.
You might find it a little basic and probably require a more advanced course that specializes in Facebook ads.
Module #5 – Scaling to Six-Figures
In this module, Chris talks about scaling and the various strategies you can use.
Such as…
What he calls a data-driven scaling strategy, creating and scaling lookalike campaigns and troubleshooting.
He goes on to talk about testing new creatives and new audiences that are in untapped markets.
Module #6 – Empire Building – Outsourcing And Scaling
The whole point in running a business like dropshipping is to ease back and spend more time with family and friends.
After all, isn't that why you decided to leave the 9-5 working week?
To do that you will need to outsource and become the project manager as opposed to the actual worker.
This is an important module, although there isn't much depth and could do with identifying other important areas.
Finding someone who you can trust can be a bit daunting, get it wrong and it can end up creating a lot of hassle.
But outsourcing is important for business growth and it allows you to do other important things like starting new businesses and expansions.
Module #7 – Conclusion
In this concluding module, Chris just rounds off what you have learned in the Advanced Dropshipping Academy.
He also puts it across whether you would like to work with him and get paid by Chris Wane Dropshipping Academy.
Module #8 – Bonuses
This module provides you with some useful tools and documents like operational policies and custom templates.
There is also a $100,000 product case study for your own personal use.
Complimentary Review: Drop Ship Unlocked by Lewis Smith
Who is Advanced Dropshipping Academy For?
This is a course for anybody who is serious about building a dropshipping business and kissing goodbye to the 9-5 weekly grind.
I mean, come on who really wants to be working for someone else when you can build your own business and work whenever you want?
That is the dream and dropshipping could be the answer!
Whilst the dropshipping business model is fairly straightforward and easy to understand it will take a lot of hard work and dedication.
If you are not prepared for hard work then this or any other business for that matter is not for you.
Is Advanced Dropshipping Academy Worth It?
There are plenty of dropshipping courses around at various prices from courses that are around $30 that you can find on Udemy.
To courses that run into the tens of thousands that we have reviewed.
Chris Wane does a good job with his Advanced Dropshipping Academy course and students appear to be having all levels of success.
We found that the course covers all the important points however we found that for an advanced course it was lacking in certain areas.
Having said that for a lifetime a one-off fee of $497 we thought was well worth it.
But you will only get out of the course what you are prepared to put into it.
Advanced Dropshipping Academy Costs And Refund
There are three pricing options that are available with the ADA training course.
You can pay the full amount upfront which as of this review will cost you $497.
Or spread the payment over 3 equal payments of $197 which will end up costing you $591 which is the best option.
Furthermore, you could spread the cost of the course over 7 months, each costing you $97 which takes the outstanding balance to $679.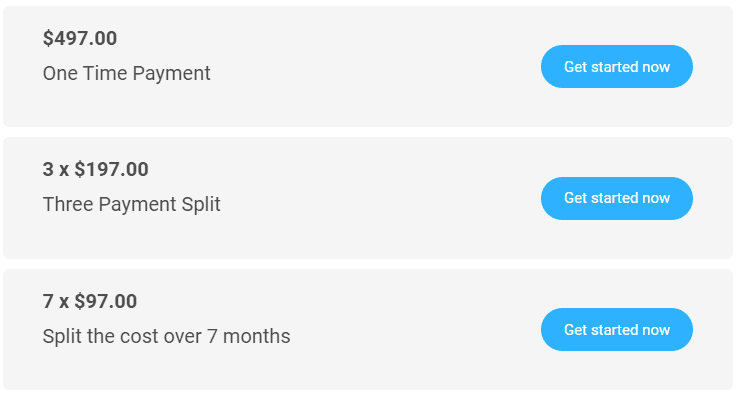 Are There Any Upsells With Advanced Dropshipping Academy?
No, there aren't any upsells with the Advanced Dropshipping Academy, what you see is what you pay for.
Does The Course Come With A Discount?
The best and only way to get a discount with ADA is to pay the full amount up front.
Are There Any Additional Costs We Should Factor Into The Advanced Dropshipping Academy?
With any new business venture, there are always additional costs to find and Advanced Dropshipping Academy is no different.
The bulk of costs is going to be with using Facebook marketing and how much depends on each individual.
But you should have available funds not just for marketing but to take you through the months when you are making any money.
Is There a Trial Period Offer With TheAdvanced Dropshipping Academy?
Unfortunately no there isn't with this particular training course.
Does Advanced Dropshipping Academy Come With A Refund Policy?
There are some limited-time promotional offers which you can find from time to time and if you do find one there is a 32-day money-back guarantee.
This, however, comes with conditions which you can read about on the terms page here.
Is Advanced Dropshipping Academy a Scam?
So, what do you think?
Is the Chris Wane Advanced Dropshipping Academy a scam? Absolutely not!
We believe it is a very legit comprehensive dropshipping course and with so many of these courses about, for the money, this is a decent course.
It is lacking in a few areas but isn't most of these courses?
What this course is lacking for us is that we couldn't find any third-party testimonials or reviews.
Except for what you can find on the Advanced Dropshipping Academy website.
These can not be verified and we have no reason to believe these student testimonials are fake, all the same, you have to ask the question, right?
Let me remind you though, that if you are considering starting an online business in dropshipping.
That you set aside plenty of capital for contingencies because you don't want to be starting this business and you run out of money.
At the end of the day, the Advanced Dropshipping Academy is a good course and you have no worries about it being a scam.
Let me just complete this section by saying, dropshipping is a very good business to get involved with.
But if the budget is tight, then you might like to look at what we do for a living below.
Advanced Dropshipping Academy Student Reviews 
Unfortunately, we couldn't find any testimonials or reviews other than what we found on the Advanced Dropshipping Academy website.
Here are a few testimonials from students.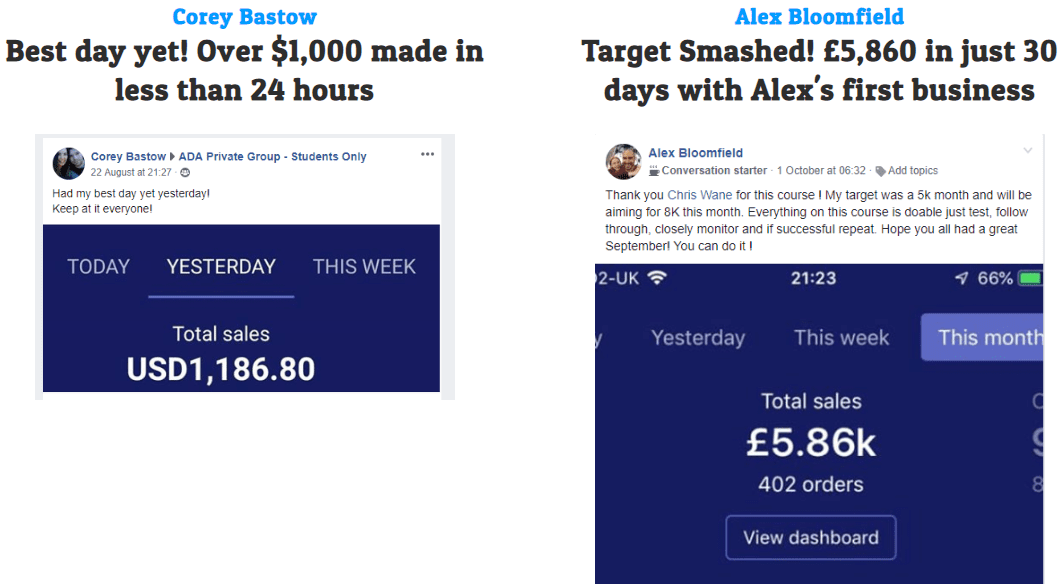 If you want to check out more testimonials, you can by heading over to Chris Wane's website here.
What we Like About Advanced Dropshipping Academy
Chris Wane is a Legit Drop Shipper: Chris has spent 2 years and over $300k of Facebook ads developing his skills and shares everything in this course.
If you checked out his Youtube channel you can get a feel for who he is and whether he is believable or not.
The Course Is Comprehensive: The Advanced Dropshipping course has been through a few changes since it first came onto the scene.
We are not sure whether it is better than it was when it first came to market but it certainly has been shrunk-wrapped.
More condensed and that's probably why we believe it is lacking in certain areas.
Dropshipping Is Certainly Popular: Since 2016 the dropshipping industry seems to have gone from strength to strength.
As you can see by the 2 different search terms.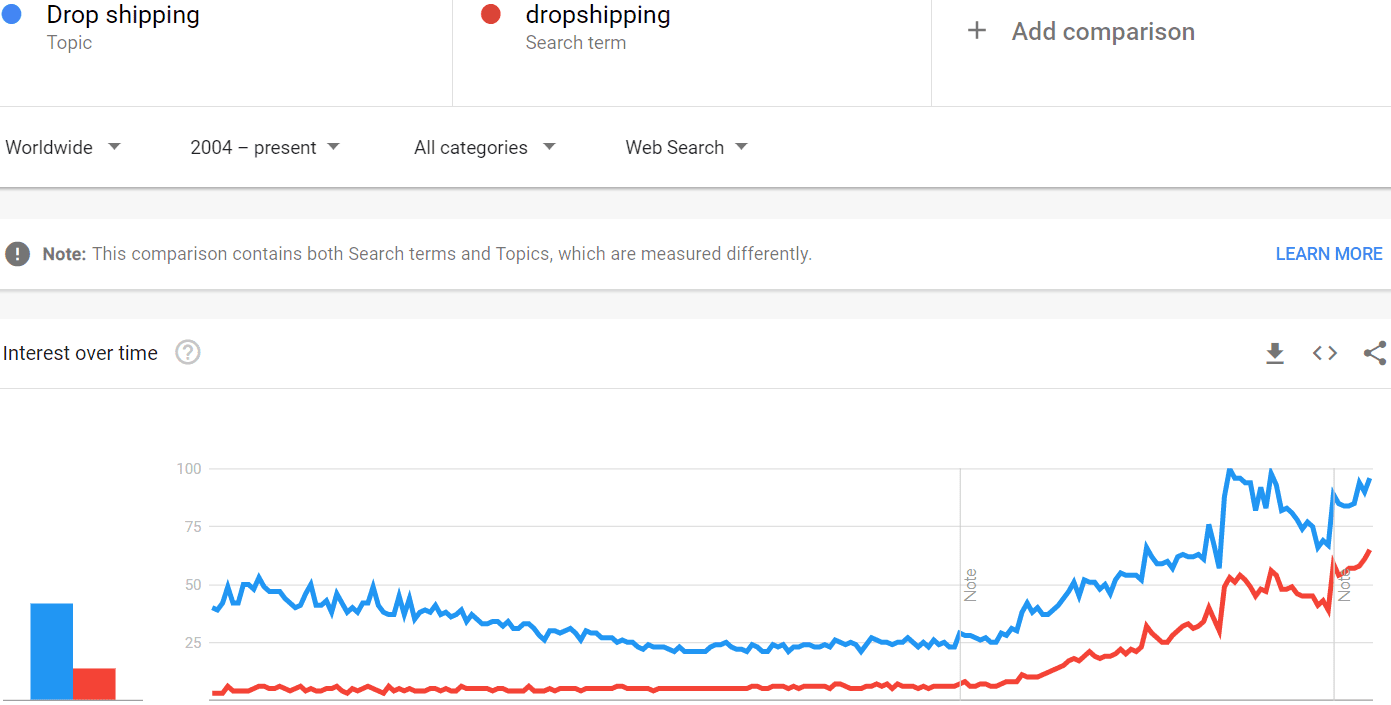 What we Don't Like About Advanced Dropshipping Academy
Dropshipping Is Not As Straightforward As You May Seem: If you are considering building a dropshipping business.
Then remember to ensure you have several thousand dollars in reserve for marketing costs as well as the up and coming months.
Emphasis Is On Using Facebook Ads: Facebook ads are where your expense is going to come from.
It will take a lot of trial and error just to get those campaigns performing as you would like and a lot of the time they won't work.
Another important factor with using Facebook ads is that the rules are always changing and they keep moving the goal posts.
If you don't comply they will ban you without any warning where do you go from there since the course is focused solely on Facebook?
Advanced Dropshipping Academy Review  – Final Verdict!
When we first started with this review we had reservations about whether Chris Wane's course would deliver or not.
In all honesty, we thought the course covered pretty much everything except.
It could have gone into more details about marketing methods other than Facebook ads and maybe touched base on SEO.
Facebook can be tedious, upset them once and you are a marked person and considering this course is based around Facebook.
Then where do you go if you get banned?
Chris talks about making money within 30 days and you might be able to but it will not be of a substantial nature.
Building a dropshipping is going to take months rather than weeks and you will need money to carry you through that period.
If you are considering this type of business then do not go into this venture halfheartedly, make a conscious decision to go all it.
But if the budget is a concern then why not check out what we do for a living which you can find below?
Dropshipping – Alternative Solution
It's called affiliate marketing which is very similar to dropping shipping except you don't have to worry about using a digital store.
The principle is the same in that you are the middle person and direct the customer to the merchant except you get paid a commission on a sale.
It also means that you are not restricted and are much more flexible.
Is a great and one of the best ways to create multiple income streams.
I have personally been a member of Wealthy Affiliate since 2017 and the main reason why I was able to kiss goodbye to my 9-5 job.
Just check out the reviews on Trustpilot.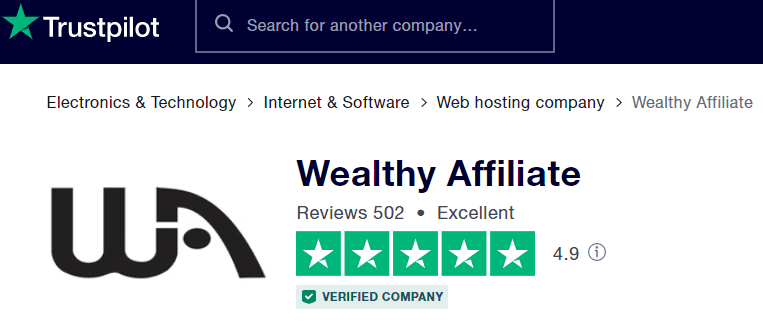 The training platform is a fully integrated one-stop-shop meaning that everything you need to succeed is in one place.
Education and training, Web development, Hosting your website, and a community that cares and is full of experience on many levels…

Advanced Dropshipping Academy – FAQs
We thought these questions that people are asking in the search engines might help in your decision-making.
How Much Does Advanced Dropshipping Academy Cost?
There is a section that explains this in a little more detail.
There are 3 payment options…
Option 1 – A onetime payment – $497
Option 2 – 3 * $197 = $591
Option 3 – 7 * $97  = $679
How Profitable Is Dropshipping?
It depends on how much you make as a drop shipper that determines what the profit margins will be.
If you earn $100k for the year then expect to be paying around 35 and 40% so based on that figure your profit will be around $40k.
Which would be around $3k to $5k a month.
Is It Worth It To Do Drop Shipping?
Dropshipping is very popular, low risk and a great business model to get started in.
All you are doing really is bridging the gap between the merchant and customer and your job is done.
Is There A Better Alternative?
If it's dropshipping that you are really considering then you need to check out Sell The Trend, an all-in-one dropshipping solution.
They provide the tools to find trending products from Amazon, AliExpress and Shopify at the click of a button.
Provide tools to spy on your competition and see what is working for them and even check out their Facebook campaigns so you could better them.
 Is Dropshipping Good For Beginners?
Dropshipping is a great business for complete beginners, it's a low-cost and low-risk solution.
As we have already mentioned Facebook Ads will take a while to master but once you do then the skies are the limit.
How Many Hours Do Dropshippers Work?
In the beginning, you will probably be putting in as many hours as you can to get the business up and running and in profit.
Then you should be considering outsourcing which won't be easy because you need to find the right people who you can trust.
Eventually, you should be looking to work around 10-15 hours a week.
Why Do Most Dropshippers Fail?
Why do most people fail in anything?
Don't have the right mindset, too impatient and expecting things to happen overnight, wrong products, bad campaigns, not enough money.
These are just a few of the main reasons but what you do need is a determination to succeed no matter what.
Feedback, Comments And Subscribe
Ok, guys thank you for being patient and reading to the end.
We hope that we covered most of the questions that you were asking yourself and if you have anything to add then drop us a line.
Thank you for listening!
Take care!
Stay safe!