Welcome to the eCom Warrior Academy Review
The e-commerce industry is, without a doubt, one of the most popular business opportunities out there.
There are literally hundreds of training
courses making claims that they have the right solution for you.
There are some courses that are ok, some that are good and some that are very good.
So how does eCom Warrior Academy by Matthew Lepre fit into this equation?
In this review, we will be addressing all the questions that you are probably asking yourself.
Like is eCom Warrior Academy a scam? Who is Mathew Lepre and can he be trusted? Is eCom Warrior worth it or should I stay well away?
Rest assured we have you covered and will only provide you with factual information.
That will hopefully make your decision as to whether to move forward with this course or not a lot easier.
Or to seek out a much more affordable solution!
With that said, let's begin.
---
[Affiliate Disclosure: The eCom Warrior Academy Review has been thoroughly researched from information and testimonials that are in the public domain. This post may contain affiliate links which means we may earn a small commission, however, this won't affect what you pay!]
---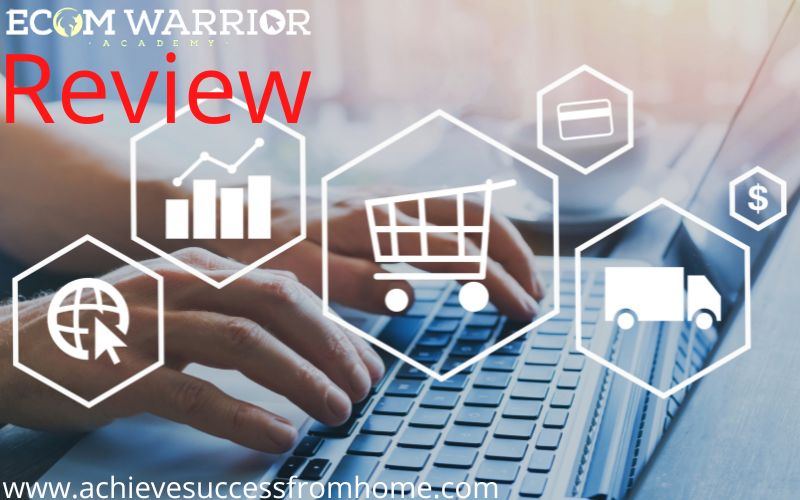 Product: eCom Warrior Academy
Founder: Matthew Lepre
Website: www.ecomwarrioracademy.com
Product Description: Dropshipping course
Cost to join: $4000+
Recommended: Maybe
Summary: Matthew Lepre makes some claims that he can get you from knowing absolutely nothing to being a 6-figure income earner.
These are some very big claims but with the right mentorship then anything is possible, right?
What we do not agree with, is the price for this training which you are only going to be made aware of once you have applied for a sales callback.
This is a tactic we see sometimes where you will receive a phone call, not from Matthew but from a high-pressure salesperson.
They will know at this point how much you are prepared to invest in yourself and that's when you are hit with the cost of the course.
This doesn't sit right with us because everything as far as we are concerned should be upfront but you don't get that here.
Another thing that we found is that the training material is of a limited nature too but we will get to that a little later on.
eCom Warrior Academy Review – TOC
What is eCom Warrior Academy About?
The eCom Warrior Academy is a training course that came onto the scene in October 2017 that teaches complete beginners all about dropshipping.
The course was developed by Matthew Lepre which is all based on his experience and successes.
According to Matthew, he can get you into profit within 30 days and according to his student testimonials that might be the case.
He gives you a taster by providing you with a free course that you can find here.
That short course will give you a better understanding of what dropshipping is and whether this is something that you would like to do.
But remember that this free course will only give you an insight and to find out the real course and everything that is involved.
Will require that you schedule a phone call with a sales representative from the eCom Warrior Academy team and you must know that this call will be from a high-pressure sales rep.
So before you take this call ensure you have all the questions that you want to ask written down and take what they say with a pinch of salt.
To find out more about Matthew Lepre's eCom Warrior Academy just continue to read.
Complimentary Review: Sell The Trend – Dropship Solution
For Those Who Don't Know What Dropshipping is
Dropshipping is a way of promoting and selling other merchants' products without you having to purchase or stock any inventory.
By using a digital store, something like Shopify you would showcase all the products that you are promoting on that store.
The trick now is to get other people to be able to see what it is that you are promoting in this case through paid marketing such as Facebook ads.
Once a prospective customer sees your ad campaigns then you hope they will go to your Shopify store.
Once in your store they may or may not choose to purchase a product and once they do you would re-direct them to the merchant's website.
From here the merchant handles the entire order process and you make a sale.
The hardest thing that you are going to overcome is finding products that are trending or just about to and this is where Sell The Trend can help you.
That's the simple explanation, now listen to a Shopify representative explain it in more detail.
Complimentary Review: Drop Ship Lifestyle by Anton Kraly
Who is Matthew Lepre?
Matthew Lepre is the entrepreneur behind the eCom Warrior Academy who works and lives in Australia.

He started his e-commerce business when he was around 20 years of age.
After dropping out of university he came across the book by Tim Ferris, "4 Hour Week".
Which is how he got involved with e-commerce by selling e-books.
After making a few hundred dollars here and there he signed up for a coaching program to learn how to grow his business.
To date, he makes around $60k a month just by selling e-books.
He claims to be running 2 multiple 6 figure businesses from his home which was all achieved through dropshipping.
Matthew seems to have built his businesses in only a few years which is commendable but how did he manage to do this?
When he says that he had no money to start with, yet he manages to spend hundreds of thousands on ad spends for testing his campaigns.
He is very active on social media like Facebook, YouTube and Instagram but most of the videos are self-promoting.
Where he is showing you his lifestyles, such as travelling, fast cars and fancy homes.
This is not something I like to see and only creates a false impression that everybody can get to that position.
But, as you probably already know, just a few people manage to succeed at that level and the ones who do are the ones who are more determined.
Complimentary Review: Drop Ship Formula
What Will You Learn With eCom Warrior Academy
This eCom Warrior Academy course is for complete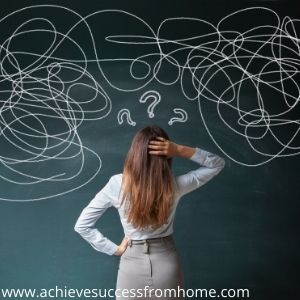 beginners who want to learn and grow a successful e-commerce business through dropshipping.
What you will not find is people who have a certain amount of experience within the e-commerce industry join eCom Warrior Academy.
The course is a good step in the right direction for beginners and you will learn how to set up your Shopify store, find products and drive traffic.
Finding the right type of product and the right audience is very important and the product has to be a trending product.
The course if you decide to go ahead is a lifetime membership that comes with regular updates.
What's Inside The eCom Warrior Academy?
Just what you get when you join eCom Warrior Academy is a bit of a closed shop when you are wanting to know what the course entails.
As far as we are concerned eCom Warrior Academy should be upfront about the costs and the actual course, that is something that doesn't happen here.
You don't get to know this until you have filled in the necessary form with a figure of how much you are prepared to invest in yourself.
So if you give a figure of let's say $500 then you probably won't qualify.
But you get a glimpse of what the course entails if you go through the mini course.
The course is made up of over 60 video training content..
Introduction
This is just your normal introduction to the course and your mentors will be Matthew Lepre and his business partner Stallon Zayya.
Product And Supplier Research 
Finding the right product is key to whether you have a little success or move into the big league.
Ideally what you are looking for is something that will WOW you, something that is trending or about to trend.
Something that solves a problem and a product that you can't find easily in stores.
You then have to pair this product with a good supplier so a little research by looking at various metrics would be the order of the day.
Obviously, you are looking for reliability, a good purchase price to allow you to create a bigger margin, quick delivery, inventory accountability…
Build Your Store – One Product Store
In this course, Matthew insists that you create a store based on just one product, this way it is easier to focus on just one product.
Building your Shopify store is the next step in the process which should not take you too long even if you are not tech-savvy.
Optimize Your Store
Optimizing your store is basically just getting ready for the launch date.
It's all about creating the image of excellence so that when your customer comes to your store it will wow them.
Use the correct images, and text, create product videos as well as create your checkout area and the type of payments that you are going to allow.
One thing Matthew mentions is that product videos are key and his team will create yours so that you will have an idea of what to do the next time.
Facebook Ads Blueprint
In order to get what it is that you are offering out there, you have to find your target audience and you do that through paid advertising.
Facebook is the best for identifying that audience as well as using Instagram which is part of the Facebook conglomerate.
But, there is a constant learning curve here because you are constantly testing and re-jigging your campaigns to get the most out of them.
This obviously costs money and will eat into your ad budget so you will require additional funds for this.
Outsource And Store Automation
The whole point of creating an online business is to free up your time so that you can spend it more with your loved ones.
Well, the way to do this is through outsourcing and automation of certain elements of the business.
This can be a long process because you are looking for the right person or persons to handle your business so that you can take a back seat so to speak.
Where you become more of a product manager as opposed to the grafter!
Case Study $500k in 50 Days
There is a case study which I believe is based on his business partner's business where he managed to get $500k of sales within 50 days.
We are not sure whether you get to know what product he used but if you do then you can be sure it is no longer a trending product.
Daily Group Calls
There are daily group calls from Matthew and his business partner however we are not sure whether Matthew will be available due to his travelling.
This is where you can discuss things with existing students and get answers to questions.
Keeping The Customer Happy
Ensuring that your customers are happy is very important because negative feedback will do your business an injustice.
So finding the right supplier who you can rely on is imperative for any success you have.
You don't want the supplier's inventory count to have a false reading, saying there are 5,000 in stock when in fact there are only 5 or 10.
Products that come from China can have lead times of weeks as opposed to days which is not good for customer satisfaction.
Branding 
We have left branding to the end as this is something to look at for the longer term, that if the product is popular and doesn't go through trends.
Meaning that it is like an evergreen product where trends don't apply but still the product is very popular.
As you will be using products that come from AliExpress as you may know they don't come branded.
So really when the customer receives their product all they will get is a package with the product in a clear plastic bag.
We know, it doesn't look good because people like to see a brand but products coming from China don't.
Maybe at some point further down the road, you might like to look at putting your own brand on the product and it will enable you to price it higher.
if that product is a great seller then you might like to look at moving stock nearer to cut delivery times down will increase revenue output.
Complimentary Review: Drop Ship Unlocked by Lewis Smith
Who is eCom Warrior Academy For?
According to Matthew Lepre, the eCom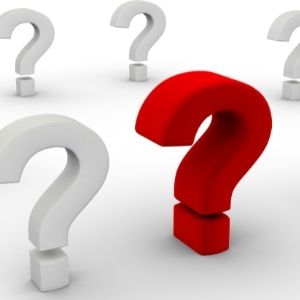 Warrior Academy is for complete beginners who want to carve out a career in e-commerce and dropshipping.
You will have to be 100% certain that this course is for you because once you have paid your membership fee it's very unlikely you will get a refund.
This course is based on a sales call that we are not happy about but this is the only time when you get to know what is actually on offer.
Is this a course or is it a mentorship or is it both?
So really based on how you fill in the subscription form will determine whether you are accepted or not.
Is eCom Warrior Academy Worth It?
There are a few third-party reviews out there that say that eCom Warrior Academy is not worth it but is a scam.
Unfortunately, this goes with the territory because most people join courses like this on a whim and do not research the course thorough enough.
Once they join, they realize very quickly that this is not for them and try and get a refund without reading the terms and conditions.
If they did prior to joining then they would know that they have to make a 90-day total commitment to qualify for the refund policy.
Another important question you should be asking yourself is whether it is even a course or a mentorship because you don't really know.
Not until you have filled in the form below…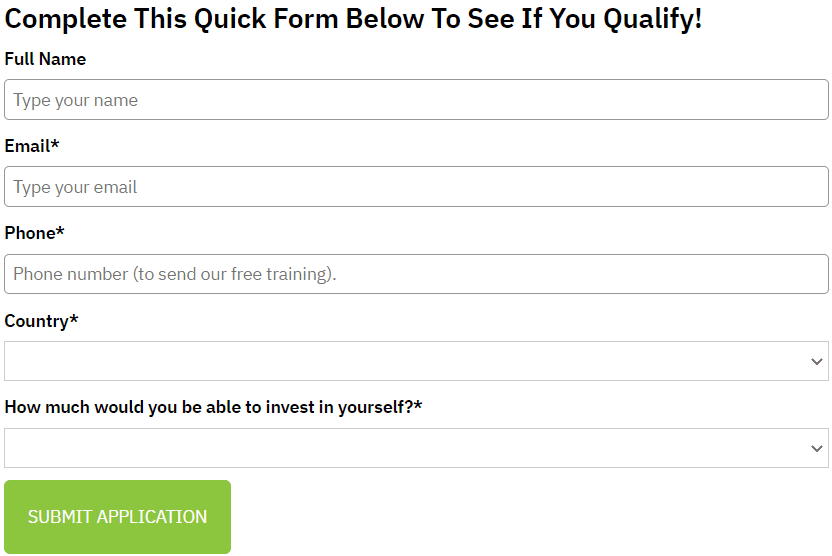 Once they know how much money you are prepared to invest in yourself then that's when you will know exactly what you will be paying for.
I have seen and reviewed many similar courses that don't cost anywhere near as much as what it will cost you to join eCom Academy.
Looking at the entire package and I would say the course is far from worth it.
Can You Make Money With eCom Warrior Academy?
Yes. you can make money with eCom Warrior Academy but it won't be easy even though Matthew claims he can get you making money within 30 days.
I am not saying it will be impossible but any business no matter what it is takes time and making claims like he does is just setting you up for failure.
It's a big commitment for a beginner, I mean who has $4,000 spare to invest in something that may not work for them?
There is a lot of additional money to find for marketing ads and take it from me that is not going to be cheap.
eCom Warrior Academy Costs And Refund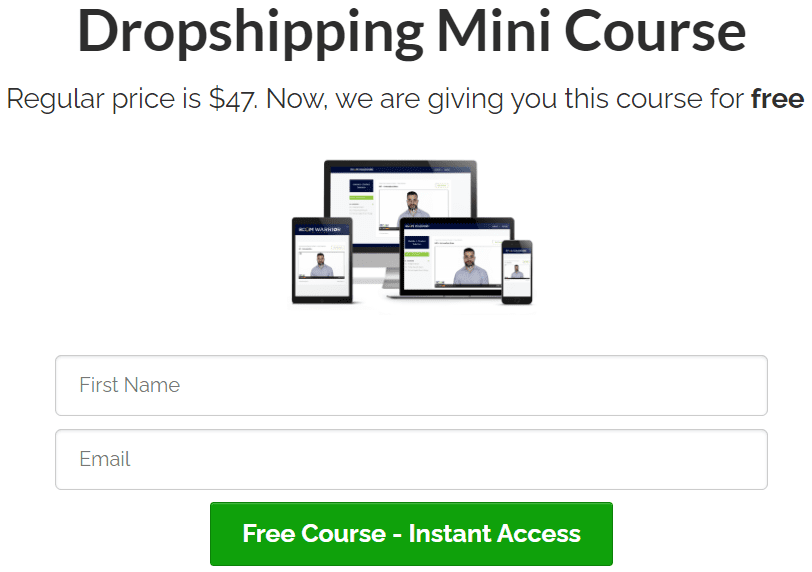 There is no mention of costs on the eCom Warrior Academy website and the only time you get wind of costs is when you are on the scheduled telephone call.
The figure we have heard bouncing around is $4,000 which you will have to pay upfront as there are no payment options that we can see.
We have even heard a mention of $5,000 but that will be down to what you say that you are prepared to invest in yourself.
Sometimes what happens with this type of vetting is they base the course costs on your particular circumstances.
Are There Any Upsells With eCom Warrior Academy?
There are no upsells that come with eCom Warrior Academy other than an additional cost if you are looking for one-on-one mentorship.
Are There Any Additional Costs We Should Factor Into eCom Warrior Academy?
As well as the $4k that you will have to find for the course you have to find people who are interested in what you are promoting.
To do this you have to create marketing campaigns which you have to pay for and you can never get the campaign right without testing.
All this costs you money and with no guarantees that the products you are promoting are going to even attract the right customer.
Remember, if it's a trending product that there will be a limited product lifespan.
Is There a Trial Period Offer With eCom Warrior Academy?
Unfortunately, there is no trial period with this course.
This is something that we don't see too many courses offering which makes us think why not?
If the course was so good then why not offer a 7-day trial period with a get-out clause, something like what Wealthy Affiliate offers except their trial period is open-ended?
Does eCom Warrior Academy Come With A Refund Policy?
eCom Warrior Academy does come with a refund policy but this is where it gets a little complicated.
The cover is for 90 days but as you can see comes with conditions.
You have to spend between $200 and $300 on marketing ads for 4 products without earning anything.
That's between $800 and $1,200 before you will even be considered.

It's as if they are forcing you to make at least one sale which would deem you exempt from a refund.
Complimentary Review: eCom Success Academy
Is eCom Warrior Academy a Scam?
A scam is when you pay your money and get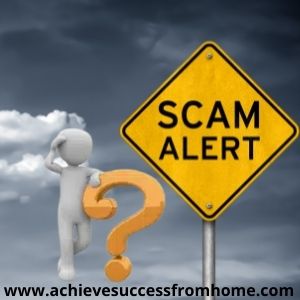 nothing in return which isn't what eCom Warrior Academy is so no this is not a scam.
However just because it isn't doesn't mean that we would recommend it to anyone and here are the reasons why.
The course is primarily for beginners which implies that the knowledge that you will gain will be only basic.
The course is far too expensive and with no guarantee that you would ever make any money.
Even with mentorship which is a step in the right direction but are you going to get that personal touch from Matthew I guess not.
Dropshipping is not a passive business despite what some people say and requires a lot of hard work to find the right products and suppliers.
The refund policy might as well not be a refund policy because they want you to jump through hoops.
Make at least one sale so they don't have to honour the refund.
If dropshipping is what you really want to do then you need to be looking at an all-in-one dropshipping solution like Sell The Trend.
eCom Warrior Academy Student Reviews 
One thing you should always do when researching courses like eCom Warrior Academy is check out third-party reviews.
This is often difficult because normally the testimonials and reviews are usually confined to the actual website
Whilst there are a number of testimonials on the eCom Warrior Academy website these can not be verified.
So I would make your own judgement call, like the image below, $140k in sales in less than 4 months.



If you check out Trustpilot you can see a few negative reviews which you are always going to get so don't let that put you off.
All the same, you should still look at them!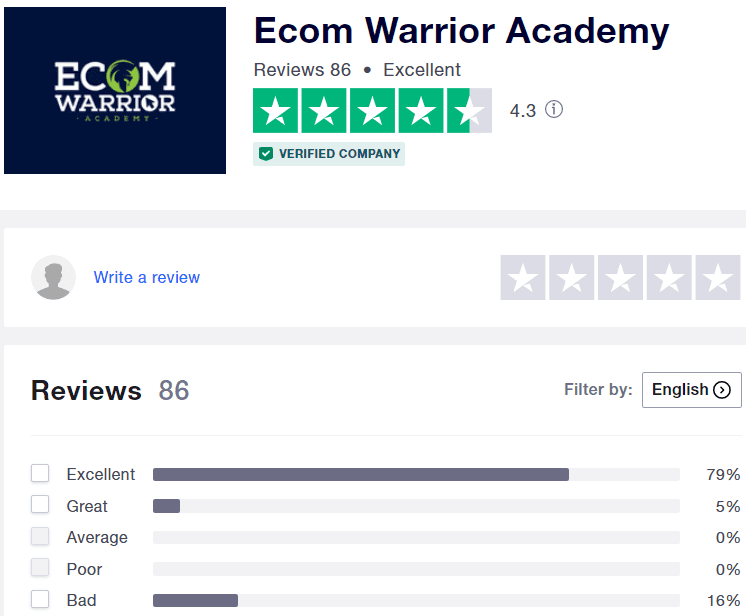 Complimentary Review: Advanced Dropshipping Academy
What we Like About eCom Warrior Academy
To be honest there wasn't a lot that we like about the eCom Warrior Academy and was lacking in many areas which we have covered with this review.
Matthew Lepre Is Legit:
He dropped out of university to start an online business which he did the right way by finding a mentor.
He has been mentioned in various magazines like Forbes and tv channels telling his story and he does come across as likeable and trustworthy.
Dropshipping Is Certainly Popular:
A great business model that more and more people are trying their hand at but like all businesses they take time.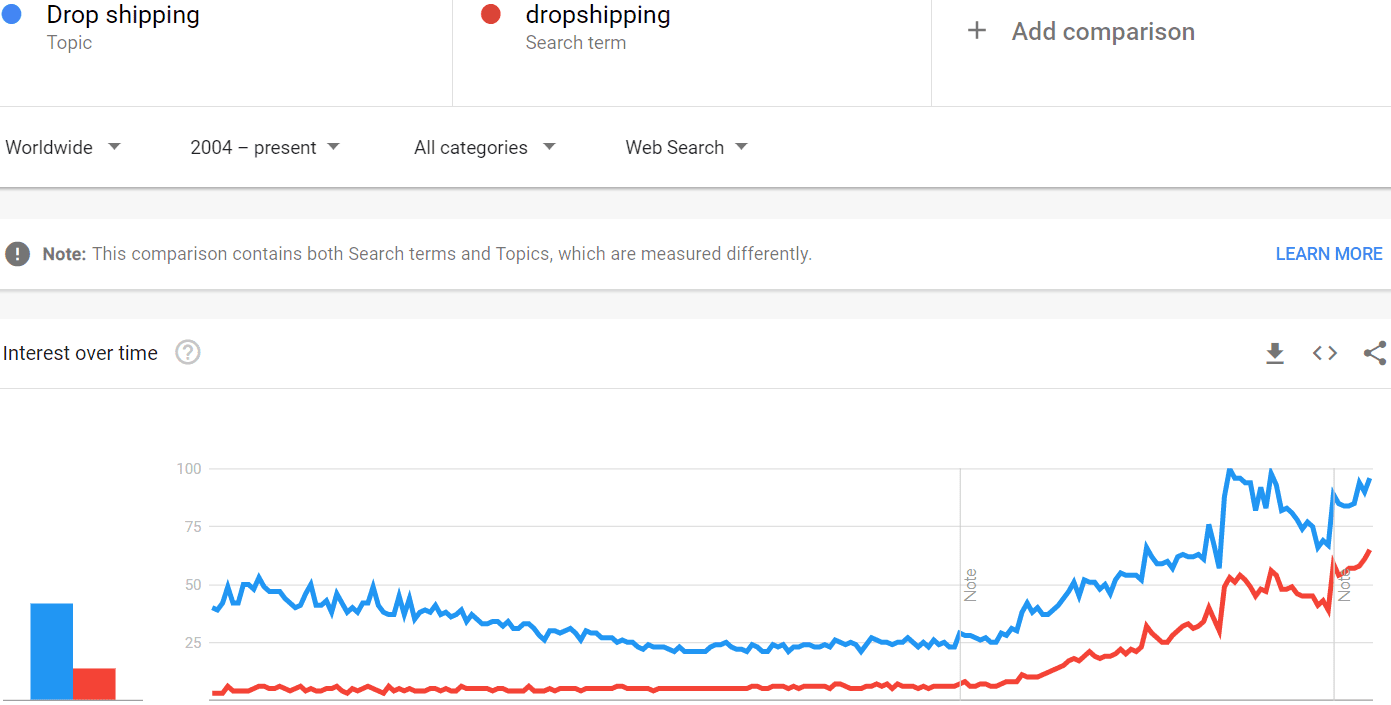 What we Don't Like About eCom Warrior Academy
Lack Of Information Regarding The Course:
Why would anybody pay $4k for a course where the only time you get to know what is on the course?
Is when you have made that all-important phone call that you have to put up with high-pressure sales tactics.
Dropshipping Is Not As Straightforward As It May Seem: 
Dropshipping is a great business model with many people making a ton of money but they are in the minority.
People fail in every business and that is mainly because of the wrong mindset, not having patience and giving up too soon.
Finding The Right Products And Suppliers:
The biggest hurdle you are going to meet is finding the right products along with the right suppliers to promote.
A little like a needle in the haystack, not only have you to find trending products you have to match them with the right audience.
The Majority Of Products Come From China:
Most products nowadays come from China and most of those products are of low quality but more than that are lead times.
You can be waiting weeks rather than days and the product that comes most of the time is not what was advertised and in many cases not even the same product.
What happens when the customer is waiting 2-3 weeks for a product that they didn't even order arrives?
They will be asking for a refund and you will be getting a bad review and negative feedback will work against you.
Paid Advertising Can Be Expensive:
Paid advertising is a massive learning curve as you have to constantly test and tweak your marketing campaigns to get the most out of them which costs money.
It's not just about creating a campaign and sending it into the abyss, this is not going to work. This is an art form and will take some time to figure out.
Don't Be Fooled By The Sales Figures That Are Thrown About?
They always talk about sales figures like this is what you will be making after deductions.
With between 20 and 30 per cent that a drop shipper makes this is a considerable difference when talking about product sales of $5k.
That's between $1,000 and $1,500 which is a big difference, right?
eCom Warrior Academy Review  – Final Verdict!
The eCom Warrior Academy was a bit of an eye-opener for us and whilst we thought it provided a course for beginners to get started with.
There was nothing in the course that made it stand out and say, yes the course was worth it.
There were far too many things that we didn't like about the eCom Warrior Academy which we have already mentioned.
There are far better courses out there providing more advanced methods and for much less money.
Matthew is obviously an experienced drop shipper but is he making his money selling his services or through dropshipping?
There should be more than enough factual information in this eCom Warrior Academy review for you to make a judgement call.
Whether to move forward with eCom Academy or to search out other courses that offer so much more.
If it's a budget that concerns you then maybe you would like to know what we do for a living in the section below.
Dropshipping – Alternative Solution
It's called affiliate marketing which is very similar to dropping shipping except you don't have to worry about using a digital store.
The principle is the same in that you are the middle person and direct the customer to the merchant except you get paid a commission on a sale.
It also means that you are not restricted and are much more flexible.
Is a great and one of the best ways to create multiple income streams.
I have personally been a member of Wealthy Affiliate since 2017 and the main reason why I was able to kiss goodbye to my 9-5 job.
Just check out the reviews on Trustpilot.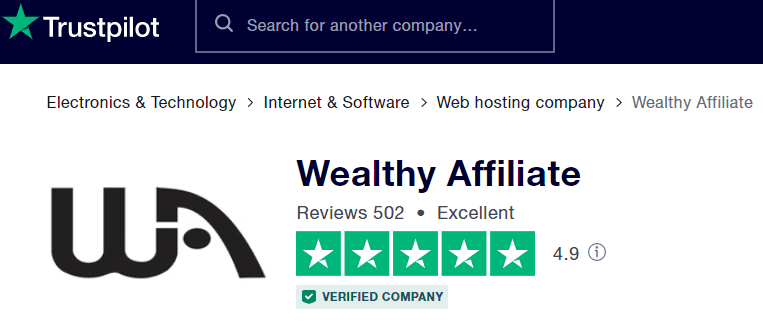 The training platform is a fully integrated one-stop-shop meaning that everything you need to succeed is in one place.
Education and training, Web development, Hosting your website, and a community that cares and is full of experience on many levels…

eCom Warrior Academy – FAQs
These are questions that people are asking in the search engines which we thought might help you in deciding whether this course is for you or not.
Who Is Matthew Lepre?
Mathew is the founder of eCom Warrior Academy which he founded in 2017 and he focuses on empowering people to rid of the 9-5 mentality through e-commerce and dropshipping.
Where Does Mathew Lepre Come From?
He comes from Australia and started in e-commerce at the age of around 20 when he dropped out of university.
How Did Matthew Make His Money?
Apparently after reading the book "4 Hour Week" he had a moment and decided to begin selling e-books which allowed him to travel the world.
He started with only $200 but six months later enrolled in a coaching program and found a mentor.
This enabled him to build an e-book online business where it still makes around $70k/month today.
How Much Is Ecom Warrior Academy?
You will find out the exact cost of the course after you have applied for membership and received the scheduled phone call.
But we have seen $4,000 mentioned a lot and even $5,000.
Does Ecom Warrior Academy Work?
You might have heard the saying systems don't fail but people do and that's the same with any course and business.
You have to be fully committed and not with that halfhearted mentality where I think I'll give it a go for a few months.
You are definitely setting yourself up for failure.
Feedback, Comments And Subscribe
Anyway, hope you guys enjoyed this eCom Warrior Academy review and that we helped in your decision-making.
Maybe you have already been a member of Matthew Lepre's training course and would like to share with us your experience.
Thank you for listening!
Take care!
Stay safe!