Welcome to the Rank Daddy review.
A digital marketing course brought to you by

Brandon Olson.
If you are looking for a make-money-online opportunity that is extremely cost-effective then this just might be for you.
We review so many products and services that you can find online and really we find that most are just not worth bothering with, they really aren't.
However, every now and then we come across a product that stands out above the rest and delivers on its promises.
Before we get started we'd just like to tell you that we are not affiliated with Rank Daddy or Brandon Olson in any way.
That means we will not be pitching or trying to sell you anything.
What you will get is an honest account of what Rank Daddy is, with all the facts both positive and negative.
That way you can decide whether this business model is for you or not.
In this review, we will be breaking down the course, looking at who the creator is and his background, all the pros and cons plus a lot more.
That way you will know whether Rank Daddy is a legitimate make-money-online opportunity
So without further ado, let's see what Rank Daddy has to offer.
---
[Affiliate Disclosure: This Rank Daddy Review has been thoroughly researched from information and testimonials that are in the public domain. This post may contain affiliate links which means we may earn a small commission, however, this won't affect what you pay!] 
---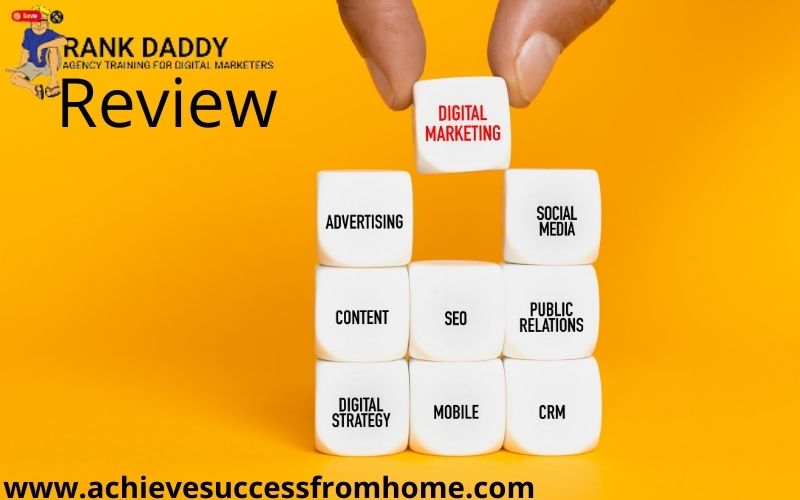 Product:
Rank Daddy Elite
Founder: Brandon Olson
Website: www.rankdaddy.com
Product Description: Lead generation training course
Cost to join: $1,947
Recommended: Yes
Summary: Rank Daddy teaches you how to start, run and grow a digital marketing business.
Without any previous experience and means that you could be up and running in a very short time with your first client.
Many are doing this now and there is no reason why you couldn't either.
Rank Daddy Review – Table of Contents
What is Rank Daddy About?
The Rank Daddy website has been around since 2010 and in that time has brought to market several products.
These were Rank Daddy Pro, Rank Daddy Lite, and Rank Daddy Academy, all of which have now been superseded.
The current product, Rank Daddy Elite; is now the flagship product that came onto the market in 2020.
The course teaches you how to find clients who are struggling with sales who will gladly pay you between $500 and $1,500 a month.
To take their website and turn it into a money-making machine by using up-to-date search engine optimisation techniques.
This business model is one of the easiest, quickest and most cost-effective ways to make money online today.
We are seeing many people landing their first clients within a month of starting this course.
Here you can take a look at Brandon Olson explaining just what Rank Daddy Elite is all about.
Who is Brandon Olson?
Brandon Olson is the mastermind behind Rank Daddy Elite and has been involved with internet marketing since around 2003.
However just what happened to his previous attempts with Rank Daddy Pro, Rank Daddy Lite, and Rank Daddy Academy we don't know.
But products come and go all the time, especially in the internet world where technology is always moving forward.
Rather than revamp an existing product or course it is sometimes quicker to start again from scratch.
Brandon has a Youtube channel which he is still adding to, with around 2,500 subscribers and over 150 videos full of free valuable information.
What we suggest you do is head over to Brandon's Youtube channel to get a better feel for who he is before purchasing Rank Daddy Elite.
He can also be found on Udemy giving away a free SEO course with a rating of 4.2/5 based on over 5,300 students.
Like many marketers, Brandon struggled with how to make money online and through trial and error eventually succeeded.
He realised that many online businesses were struggling with sales simply because people out there looking were not seeing their websites.
By taking on this type of client and helping to promote the client's website so that people could see what they had to offer.
This increased interest and subsequently sales started to flourish.
This proved such a success that he packaged this knowledge and is now sharing it with anybody who wants to start their own business as a digital marketer.
Nowadays a business has to have a website and has to be online, but the biggest hurdle for any business is finding traffic.
[A business that is not online will not be a business for very long] A quote from Bill Gates!
Let's take a look and see how this all works…
What do They Teach at Rank Daddy Elite?
The Rank Daddy Elite course teaches you everything that you need to know about what it takes to start, build and grow a digital marketing SEO agency.
So what is a digital marketing SEO agency?
Basically, you are setting yourself up as an authority in search engine optimization.
This means that once you have completed the course you should have enough knowledge to get out into the big wide world and find clients.
Who is struggling with their businesses online, and help them to get more sales through the techniques that you will learn on Rank Daddy Elite?
You will learn everything about websites and what is required to get the client's websites to page one of Google where you really need to be.
You will be taught how to find and approach prospective clients and how to close deals with them.
The Rank Daddy Elite course also pays particular attention to outsourcing which is important to allow your business to grow.
Whilst SEO is a free marketing method that takes time to be recognized by Google.
The Rank Daddy Elite course does cover paid advertising which will help you get quicker results but this is where it can become costly.
However, when you are negotiating the contract with the client this is something that you should factor into the price.
The Rank Daddy Elite course is a step by step over the should training that anybody can learn.
From experienced business owners who are struggling through to complete beginners with no knowledge of marketing at all.
Once you find your first client the course will have almost paid for itself and remember this business can be done anywhere.
The earning potential is limited by your imagination and work ethic.
We have seen many students find clients within just a couple of weeks by becoming efficient in SEO.
Will take time and we believe 2-3 months down the road would be more realistic.
What you don't want to be doing is jumping in headfirst and then screwing up because you didn't have the knowledge required.
Start off slow and work your way up, that way you will get more confident and your business will grow and flourish.
This is a great skill to have and think of helping local businesses, do it in the right way and word will get out.
Get it wrong and the opposite could happen.
What You Get When You Join Rank Daddy Elite?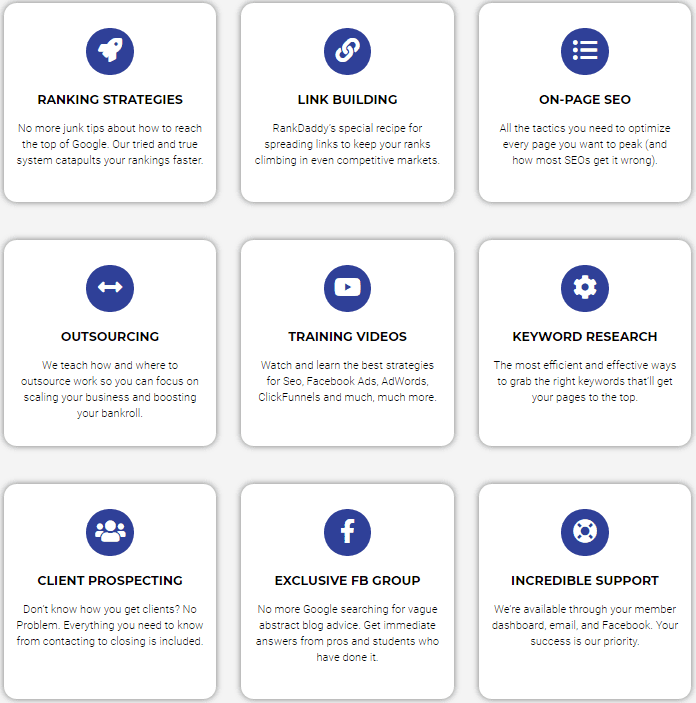 Ranking Strategies
When we talk about ranking strategies, we are talking about what we need to do to get our website ranked on the first page of Google.
In other words to get noticed by the crowds of people looking for what the client's business has to offer.
What we have found with Google is that you are restricted to what you can really do in terms of strategies.
The reason is that Google is always updating their algorithm on a weekly basis so what might have worked last week may not work this week.
However, Brandon claims to have some tricks up his sleeve.
Link Building
Building links is still a key method in digital marketing, however, this takes time to do and all goes towards giving a website authority.
In Rank Daddy Elite they have techniques to help in link building which will go towards helping you rank well in Google.
On-Page-SEO
This is probably one of the first things you should learn when creating a website and it isn't difficult to do either.
Having said that many so-called SEO experts do tend to fall short with this technique.
It's all about setting each webpage up correctly for the search engines.
Rank Daddy Elite show you what is required and how it is done.
Outsourcing
At Rank Daddy Elite, they will teach you how and where to outsource so that you can continue with more important tasks such as scaling.
Training Videos
Rank Daddy Elite will teach you through videos the best marketing strategies for SEO.
By, using Google Adwords, Bing Ads, Facebook Ads, ClickFunnels and more
Keyword Research
Keyword research is the most important method for finding the right leads.
Finding the right keywords that people are keying into the search engines is key to your success and at Rank Daddy Elite they show you what is required.
This all helps to get your webpage seen on page one of Google.
Client Prospecting
You can be the best digital marketing expert but without any clients, you don't have a business.
This is all about putting yourself out and finding clients which will probably come from cold-calling.
Rank Daddy Elite teach you how to find those clients, how to approach them with what to say and how to close the deal.
Exclusive Facebook Group
Looking for answers to questions or just wanting to know what others are doing, then you have a community of like-minded people.
Who you can approach and find out from people who are having success what they are doing so that you can copy.
There's no point in reinventing the wheel, right?
Support
Without support, there isn't a business and that's one thing we look for when researching a product or service.
There is nothing worse than getting stuck and with no help.
At Rank Daddy Elite there are 3 ways to get support.
Either through your member's dashboard, through email or on Facebook.
If you have any questions at all no matter how small you think they are, reach out to the Rank Daddy Elite team.
How Much Does Rank Daddy Elite Cost?
There's a one-time fee of $1,947 which will give you a lifetime membership, but this could change at any time.
It does come with a 30-day full money-back guarantee if at any point in that time you decide this business is not for you.
However, there is currently a free month (well $1) trial for anybody who wants to see what the course is all about.
Who wouldn't go for this?
After all, we are seeing some of the students getting clients within the first month. All that training for $1, sounds like a great deal, right?
Mind you, after that period expires, you would be billed for $199 a month thereafter.
But, before anybody can join there is a webinar that you would have to watch first.
If you watch the sales video, Brandon does mention that he doesn't want you to pay him if you can't find a client.
This means at any time if you can't find your first client he will give you a full refund, which can't be bad.
Is Rank Daddy Elite a Scam?
Rank Daddy Elite is definitely not a scam
but a legit digital marketing course.
I know some might say that the costs are on the pricey side but what is it that people are looking for.
You can't start an online business for free and if someone tells you that then they are lying.
Of course, you could find a similar course much cheaper but does that mean the course is going to be any good?
To get a feel of who Brandon is and his teaching methods then you could always head over to Udemy and take his free SEO Academy course.
It doesn't matter how good a course or product may be, there is always someone going to take a swing and call it a scam.
Anyway, the decision is up to you, so what did you think?
You could however check the link below which teaches everything that Rank Daddy Elites teaches you and for a fraction of the cost.

Rank Daddy Review – The PROS
We thought the Rank Daddy Elite course

was a pretty good course which you can see by the important things that we liked highlighted below.
The Business model is legit, proven and tested:
Whilst there are many businesses closing down there are also thousands that are starting up on a day-to-day basis.
Many of these won't have a clue about SEO or marketing and are just waiting and willing for someone to help them for which they are prepared to pay $500 – $1500 a month.
So very important and without it you will struggle but that doesn't appear to be the case here at Rank Daddy Elite.
There are 3 ways to get help and support, either through your member sign-on, email or through the Facebook Group.
I have recently joined the Facebook Group and found members to be very helpful.
Whilst there is a 30-day money-back guarantee, Brandon has also mentioned that if you can't get your first client then he is prepared to refund your investment.
You can join for the first month for $1 which instils confidence.
This is a bonus but we don't know just how long this offer will be available.
However, the 2nd month will be $199 thereafter.
No matter how good a product or service

is there are always going to be a few issues which we have highlighted below.
The course is a little on the expensive side but costs are always an issue when it comes to making money online.
You see most people jump onto the internet thinking that they will be able to make a ton of money without it costing them a dime.
Unfortunately, this is never going to happen but if you don't have the required funds then that is going to be a problem.
You have to be prepared to invest in yourself.
This is not going to take years to learn:
This is a quote in the Rank Daddy Elite FAQs
That may be the case and they do say that you can get through the course in 4 hours but that doesn't mean that you'll have the knowledge to go out and find and help clients.
We think that you are setting yourself up for failure by jumping the gun which we are seeing with a number of students.
Take your time and expand the business the right way.
I'm sure you want the business to be around in years to come?
The Rank Daddy Review – Final Thoughts!
I don't know about you guys, but the Rank Daddy Elite SEO course has a lot to offer.
Providing you go into something like this with the right intention and not to think that it's some sort of push-button system that is already done for you.
Because it isn't; it's a legit business opportunity that you could do very well with as there is always going to be a demand for SEO expertise.
Work hard, be consistent and above all you need patience and who knows, in 3-6 months' time could have a great business.
We think Brandon comes across as a very creditable person and it shows by offering free courses on Udemy and his sister site www.rankdaddy.net.
Ok, these courses are to promote his Rank Daddy Elite course but hey if you learn something then who cares.
At least you will have a better idea of who Brandon is and whether this business model is for you or not.
How we Make a Living Online
The best course of action when trying to find a make-money-online opportunity is to not try to work it all out yourself.
Yes, we know there is plenty of FREE stuff on Youtube and places like that but there is also a lot of misinformation as well.
Proper research is paramount and I wish I had listened to my own advice a few years back.
Hindsight is a wonderful thing, right.
After trying a few ways to make money online, all of which failed we focused our attention on affiliate marketing.
It seemed like a great way to make money because the costs were minimal but this time we decided to find someone who knew better.
That's when we came across Wealthy Affiliate, which teaches everything you would want to know about affiliate marketing.
You could take a look at what wealthy Affiliate offers without making a commitment, that way you get a better feel for the platform…
Brief Summary of Who Wealthy Affiliate is
Education at Wealthy Affiliate
The Community and Support at Wealthy Affiliate
Or you could head straight over to the training platform and see for yourself without it costing you a dime.

Rank Daddy Elite FAQs
Is The Rank Daddy Elite Course Worth The $1947?
Many will say that the course is a little on the expensive side and these are probably people looking for something for free.
All it takes is for you to find your first client and the course will have paid for itself.
Can The Course Be Paid In Instalments?
No, it can't but if you can't afford the one-time payment of $1947 which incidentally is for life.
Then you could take advantage of the $1 membership for the first month.
Does Rank Daddy Elite Come With A Refund Policy?
You have a 30-day cooling-off period where you can get a full refund if you decide that this business is not for you.
However, Brandon does mention in his video that if you can't get your first client then he's prepared to refund your investment.
Can We Trust Brandon Olson?
There is no reason to believe that Brandon can't be trusted.
He does come across as a person who can be trusted but all you have to do is head over to his Youtube channel to get a better feeling.
You can find him on Udemy offering a free course for which he's had over 5,000 students.
Realistically What Is This Going To Cost To Get Started?
The course fee is for one, but this course teaches SEO techniques which is a free marketing method.
They do also cover paid marketing methods and if you decided to go down this route then that could turn out expensive.
Paid marketing is quicker but has a long learning curve that you could take on when you become established.
You could however factor paid marketing into the client's initial bill.
There are other things to pay for at a later date, such as Email Responders, keyword research tools, and possibly tracking software…
Can I Do This Even If I Am Still A Beginner?
The training is designed with the complete beginner in mind, and because it is don't think that you will be earning overnight.
All businesses take hard work and patience but there is no reason why you can't be earning in 2 to 3 months.
Is There An Alternative That You Could Suggest?
There are several similar courses we have recently reviewed about training to become a social media marketing agency.
That is similar to this Rank Daddy Elite course, except this course uses a free marketing method whilst they promote paid marketing.
All the same why not take a look and see what you think…
Feedback, Comments and Subscribe
Ok, Guys, we hope that you enjoyed the Rank Daddy review and if you did then feel free to share.
If you have any questions for us to put them down in the section below and we will get back to you.
Maybe you have already taken the Rank Daddy course and would like to share your experience with our readers.
Thank you for your time and stay safe!