Welcome to Is Merit America legit?
Today we are looking at a non-profit organisation funded by Google, that provides IT training courses where you
do not require a degree.
That's why you are here and in the next few minutes you will know all there is to know about this unique training company.
But before we get started, we'd like to mention that we are not associated with Merit America in any way shape or form.
That means we aren't getting paid for this review so rest assured, of what we are going to provide.
Is an honest unbiased review with all the facts.
With that said, let's begin.
---
[Affiliate Disclosure: This Merit America Review has been thoroughly researched from information and testimonials that are in the public domain. This post may contain affiliate links which means we may earn a small commission, however, this won't affect what you pay!]
---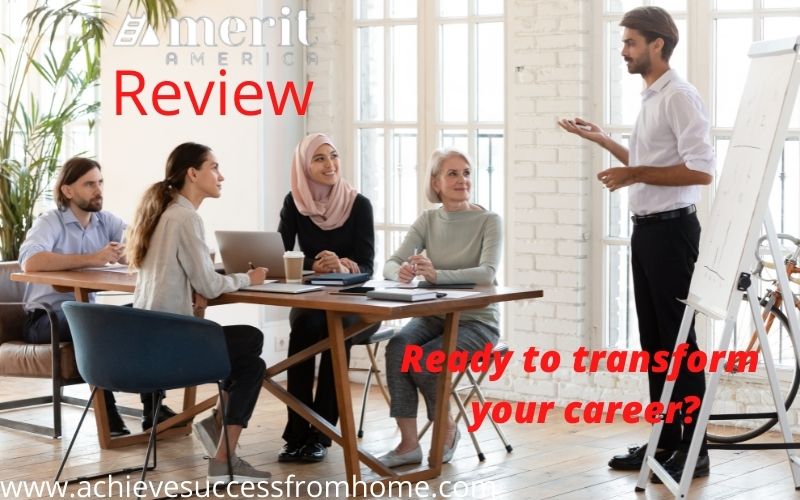 Product: Merit America
Founder: Rebecca Taber and Connor Diemand-Yauman
Website: www.meritamerica.com
Product Description: IT training platform
Cost to join: Free
Recommended: Yes
Summary: There has always been a problem where unless you mastered a degree then the chances of finding a good career were very slim.
For many, the reason for not going to university was the actual cost of the degree with it most likely running into tens of thousands.
Merit America offer a means to overcome this stumbling block and the best thing about this training.
Is that you do not need to pay for the course upfront?
This is to be paid only if/when you manage to find a job where the annual salary is over $40,000.
So I can hear you saying, "well what's the catch?".
Well, there isn't one really.
Merit America Review – TOC
What is Merit America?
Merit America is an IT training platform specifically created for helping young adults find better-paying jobs.
Founded in 2017 by Rebecca Taber and Connor Diemand-Yauman who share the CEO positions.
They currently provide 3 courses which are at varying levels, from IT support through to Java development.
What makes Merit America unique and different from other companies offering similar courses?
Is that you do not require a degree and you don't have to pay for the course upfront?
This is all backed by Google and their "Grow with Google" which has invested $100 million.
Into three companies with Merit American being one of the three.
Students who complete the course only have to pay the course fee after they have secured a job with a minimum $40k annual salary.
The course fees are paid over 2 and 5 years and they are interest-free.
So if you can't find a job with a minimum salary of $40k then you don't have to pay anything back.
Here's a short video that might be of interest…
What do They Teach at Merit America?
As of this review, there are only three courses available with varying levels within IT.
IT Support
The IT support role is basically for anyone who enjoys helping people, likes technology and is interested in how things work.
It could also be that you want to test the water before taking a more advanced course.
The course is based over 14 weeks with a total of 250 hours.
With between 15 and 20 hours a week of study and the course is remote as well.
The course was developed with Google employees with many years of experience.
Which covers areas in…
Technical support
Troubleshooting
Computer networking
Operating systems
Systems administration
Office 365 administration
This comes with a recognized Google IT Support certificate which is unusual as course certificates tend to be not recognized.
Data Analytics
This training course is best for people who are interested in data, have a certain level of experience using spreadsheets and are interested in computer programming.
The course is based over 16 weeks, with between 20 and 25 hours a week of study.
This course covers…
Data types and structures
 Data visualization
R programming
Problem-solving with data
Data analysis
Data capstone project
In this Data Analytics course, you can expect to learn how to analyze and process data using spreadsheets with programming languages SQL and R.
Once completed you will receive the Google Data Analytics Certificate.
Java Development
This skill is highly in demand for people who have tried computer programming, enjoy building things and like to be challenged.
As there is more involved then this course is the longest which will take 30 weeks to complete averaging 30 hours a week.
Expect to learn…
The Java programming language
HTML
CSS
JavaScript
Data structures
Agile development methodologies
SQL
AWS/cloud deployment
You are eligible to apply for these courses providing you…
Don't have a bachelor's degree
Fluent in English, reading and writing
Authorized to work in the US
Access to a device such as a PC or a Laptop
If you do have a bachelor's degree then you are eligible if…
You graduated more than 5 years ago and your income in the last 12 months was less than $35k.
Who is Merit America For?
These courses are for young adults who are in low-paying jobs and are looking to learn a worthy IT skill that can lead to a higher-paid job.
Merit America provide an opportunity for everyone who is looking for a career in the IT industry.
This means that there is no requirement for a university degree although having one doesn't stop you from taking a program.
It just means there are a few stipulations to which you will have to adhere to, which we have just mentioned.
How Much Does it Cost to Join Merit America?
All three courses are FREE to take part in and you are only required to pay for the courses.
After you have secured a role with a minimum salary of $40k.
Both the IT support and Data Analytics roles are to be paid over a period of 60 months or 5 years which will cost you $5700.
That works out at $95 a month.
The Java development course minimum salary extends to $50k which is to be paid back over 24 months at $350 a month with a balance of $8400.
All 3 courses are interest-free loans.
The Merit America Application Process
You will need to fill in an application form which should take you about 5 minutes to complete.
Then you need to submit a video interview.
Followed by a short pre-work course.
What they are looking for are candidates who are extremely motivated and willing to work hard.
So if that's you then you stand a good chance of being accepted.
Remember the programs fill up quickly and have minimum places.
Is Merit America a Scam?
Merit America is definitely not a scam.
They are a legit training platform with the backing of Google so let's face it this is not some tin-pot outfit.
The three courses that are on offer cover three important levels and will appeal to many.
To give you some sort of idea of the roles on offer through Jobserve…
IT support professionals there are over 200k roles starting at $20k and going up to over $150k and these are based on the last 7 days.
The data analytics roles for the last 7 days are over 100k vacant positions with some commanding $100/hour for freelance roles.
There are around 15k permanent roles for Java developers with some freelance roles in the region of $150 – $250 an hour.
Check out what they have to say in the Course Report
Merit America PROS and CONS
PROS
Has The Backing Of Google:
Google is investing a lot of money in adult training which is running at $100 million and we can only see this increasing.
Great Opportunities For Adults:
Adults have a tendency to be left by the wayside and ignored especially when coming from low-paying jobs.
Degrees are so important nowadays and unless you have one then it's hard to progress especially in the US.
At Merit America, you do not have to worry about whether you have a degree or not.
Any skillset in IT can be high paying, it's all down to what you want out of life.
You can use these courses as stepping stones to bigger things especially if you decide to move into the freelance world.
The three courses come with recognized certificates with the backing of Google which will help you enormously when approaching prospective employers.
Interest Is Starting To Peak:
The image below is an indication of people's interest by searching on Google.
The large number of training platforms that we see nowadays can have an effect on popularity.
But as you can see nowadays, people are certainly showing interest and I guess this is probably down to the support of Google.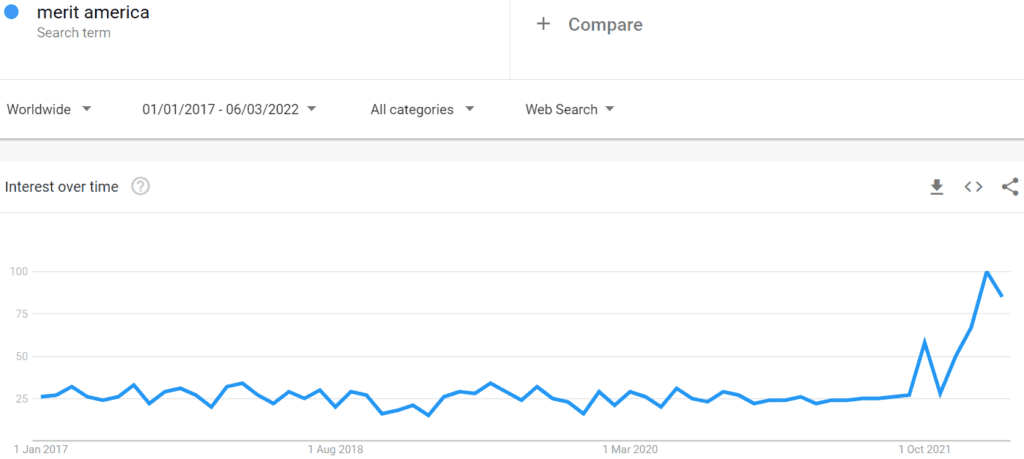 CONS
We Would Like To See More Of A Choice:
As you can see Merit America currently only has 3 courses and don't get me wrong are great career options.
But, we'd like to see more of a selection and maybe that will change since they now have the backing of many companies, especially Google.
Merit America Review – Final Thoughts!
There is a lot we like about Merit America especially not having to pay for the course upfront and only paying when you find a job.
This is something you don't come across too often and the company is still relatively new and with the backing of Google can only get better.
IT can be very rewarding both on a permanent and freelance basis but the latter is more for the younger ones.
You might like to check out these other training platforms…
I spent six years in permanent employment but decided to try freelance and to be honest thought it would be a difficult transition.
How wrong could I have been, I expected a lot of pressure but found it was quite the opposite.
Working in other countries and adapting to their cultures was ideal for me but there comes a time when enough is enough.
For me, I was spending too much time away from my family and decided it was time for a change.
I knew I wanted to stay in development and so I chose to look at affiliate marketing which was the best decision I made.
If you want to know more then we'd love to share with you what we do in the next section.
How we Make Passive Income Online?
I decided to take back as much independence as I could by going freelance, but at the end of the day, you are still working for someone.
It took a while to decide on what I wanted to do and turning to the internet like most people do end up being a little harder than I'd expected.
I found that affiliate marketing was going to be the right business model as you are in complete control and can be done anywhere.
All you need is an internet connection.
Passive income is the dream, where the business operates 24/7 with very little intervention and can generate many income streams.
Finding the right mentor was our next big hurdle and we found that Wealthy Affiliate provided us with everything we needed.
They have been active since 2005 with over 2 million members and helped thousands of people to become 4 and 5-figure monthly earners.
No commitment is required here as it is free to look and if you don't like it then just call it a day, but you won't know unless you try.

Merit America Review FAQs
Where Does The Training Take Place?
Merit America provides a learning experience where students participate in live virtual meetings.
They use digital software platforms which include Slack, Zoom and Google Suite.
They also have their own customized learning portal too.
Is Merit America An Accredited Business?
Just like most eLearning companies, they aren't a recognized college and therefore don't offer accredited certificates.
They do however partner with Google and the course itinerary coming from Google is industry-recognized content who are focused on finding you a job.
How Do I know That Merit America Actually Works?
More than 80% of graduates that go through the training do secure jobs within 3 months with an average salary gain of around $26k.
Can Merit America Guarantee You A Job?
Merit America can't guarantee you a job but they will give you full support in finding a job and the reason for most finding jobs within 3 months.
What they will guarantee you is that you won't have to pay for the training until you actually find a job.
This is through the success sharing agreement which you can read about here.
How long Is The Merit America Program?
The course length is between 13 to 30 weeks depending on whether you go full-time or part-time.
Feedback, Comments and Subscribe
If you are here then we can probably assume that you enjoyed this review but more importantly we hope you got some benefit from it.
Maybe you have already had experience with Merit America and would like to share this with our readers.
Or if you want to ask me any questions about Merit America or maybe you'd like to know more about my career in it and freelance.
Then please drop us a line below and I will get back to you.
Once again, thank you and stay safe.