Hey guys and welcome to my Anton Drop Ship Lifestyle Review
If you are like me and always on the internet doing research, then you are sure to have come across Anton Kraly and his Drop Ship Lifestyle program.
After all, seeing all those re-targeting ad campaigns is sure to have sparked an interest, if you are considering a new career working from home.
This is a training program that seems to have been around for years and becoming more and more popular as a way to make money online.
So here you are wondering whether this Anton Kraly is legit, but more importantly, is Dropship Lifestyle a scam and is dropshipping a good business model?
In this review, we are going to address those questions and so much more but before we do we'd just like to mention.
That we are not associated with Anton Kraly or his drop Ship Lifestyle course in any way shape or form.
But what we can and will provide is a full account of everything Anton and his course can provide and whether Drop Ship Lifestyle is legit or not.
That way you can decide for yourself to take the right course of action.
---
[Affiliate Disclosure: The Drop Ship Lifestyle Review has been thoroughly researched from information and testimonials that are in the public domain. This post may contain affiliate links which means we may earn a small commission, however, this won't affect what you pay!]
---
Dropship Lifestyle – Summary
Product: Drop Ship Lifestyle
Founder: Anton Kraly
Website: www.dropshiplifestyle.com
Product Description: Dropshipping course
Cost to join: From $3,497 but as much as $25,000
Recommended: Maybe
Summary: Drop shipping over the last few years has become a very popular business model but that doesn't mean it's the right business for you.
The Drop Ship Lifestyle by Anton Kraly has become one of the top courses teaching this method.
More so that in 2017 Anton and his course were voted by Shopify as the best dropshipping e-commerce training course.
That said, you have to ask the question of why Anton's course seems to have dropped off the Shopify radar.
But, as we can see, is still regarded as one of the best courses today teaching dropshipping.
What will put the majority of people off is the price tag that Anton Kraly commands since most people are working to a budget.
So what is the Drop Ship Lifestyle by Anton Kraly all about, then let's see shall we?
Alternative Solution: If the budget is an issue then you might like to check out this affiliate marketing training platform.
It is more than a course and one that I would recommend to anyone, which is responsible for me leaving my full-time job.
The Drop Ship Lifestyle Review – TOC
What is Drop Ship Lifestyle About?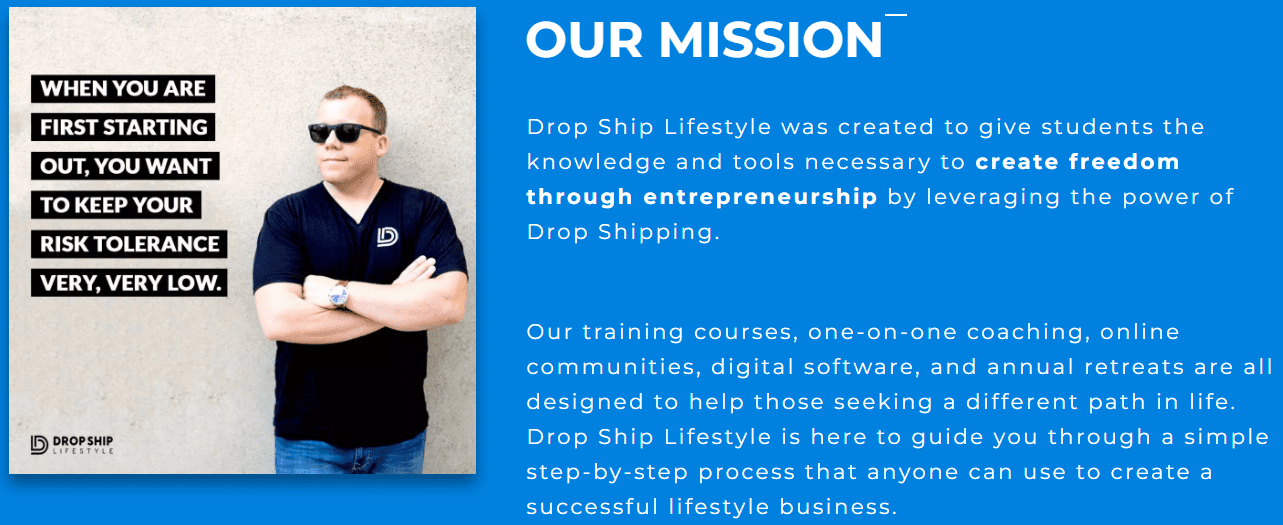 The Drop Ship Lifestyle course will teach you all you need to know to start and run a successful dropshipping e-commerce business.
The course was developed by Anton Kraly and came onto the scene way back in 2013, over the years has become the go-to place for learning the drop shipping business model.
In fact, he is all over social media, especially Youtube.
What we like about this particular method is that you don't need to own or stock any products yourself as this is taken care of for you.
The course is very thorough and will show you which niches work in 2023, which products work, web design and finding the right suppliers to use and more…
A point to notice is that Anton strongly suggests not using China as a supplier but as we all know most products are made there anyway.
So what's his alternative when products nearer to home are going to be more expensive?
But the problem I think he was getting at was the distance and language barrier that can become an issue or maybe was it the quality which is somewhat questionable nowadays.
After all, you have to select a reputable supplier who is going to meet customer demand.
If you don't know what dropshipping is all about then the next section will give you more insight.
What is Drop Shipping And How Does it Work?
Drop shipping in theory is a simple process like so many other business methods but to get it just right takes a lot of hard work.
There are so many parameters to consider but at the end of the day, you are trying to widen the profit margin gap of the products which can be difficult.
Since many drop shippers out there may well be promoting similar or even the same products.
So what is dropshipping?
It is an order fulfilment method by which you promote products that people are looking to buy.
These products can be a multitude of things but we see many drop shippers having massive success with using only one product.
You don't hold any stocks as these come straight from a third-party supplier or manufacturer, so really you are the middle person.
[This is a great method and far excels (we think) the Amazon FBA where you do have to stock products, ensure those stocks are replenished etc.]
Here's someone from Shopify explaining drop shipping in more detail…
Who is Anton Kraly?
Anton Kraly is the brainchild and is responsible for the Drop Ship Lifestyle program.
In his own words, "I never thought I would make money online!"
How many times have we heard that statement but he did know that one day he would own his own business?
Nowadays with the internet, this opens up a whole new ballgame for people looking for a way out of the 9-5 regime.
Always dreamed that there was something out there that would make him rich but just what, was beyond him.
That was until he came across a book that introduced him to the e-commerce business model which he revelled in.
He started his first e-commerce business store in 2007 with an investment of $29 and it did over $680k in its first year.
Now if those figures are true then that is remarkable.
Anton claims that in three years that store made over $3.6 million which he was able to accomplish through monetizing and automation.
Nowadays, you can find Anton on a beach somewhere reaping the benefits of his success which is now through his course Drop Ship Lifestyle course.
Anton has a YouTube channel which currently has over 104k subscribers with over 570 videos full of dropshipping information.
That's a great place to start if you are looking for confirmation whether Anton knows his stuff or not.
How Does Drop Ship Lifestyle Work?
There are 3 different types of membership and this is where having a healthy budget would work to your advantage.
Nonetheless, if you wanted to learn the whole process from start to finish then the premium would suffice.
Bearing in mind you get limited help with just the Drop Ship Lifestyle blueprint.
You don't get any personal mentoring or help with setting up your web store.
All the same, the actual training would be the same…
With 7 main steps to the actual course…
Niche Selection
Market Research
Web Design
Get Suppliers
Optimize For Conversions
Get Traffic
Outsource and Automate
Niche selection is very important and finding just the right one where there is some competition but not too much, that is profitable can be a difficult process to go through.
Here Anton goes through what he claims to be the top niches for 2023.
What's Inside The Drop Ship Lifestyle Course?
The Drop Ship Lifestyle training course is broken down into 8 modules which are detailed in a way to make your journey easier.
Don't get me wrong, whilst Anton may come across in a way that makes drop shipping look easy.
Meanwhile, it is not and requires a lot of dedication and hard work!
Here's a brief look at the modules and what each one entails…
Module #1 – Overview
Anton takes you through an introduction to Drop Ship Lifestyle and what you can get out of the course.
In this module, he discusses this method of dropshipping and the e-commerce platform on Shopify.
He also touches base on the fundamentals of dropshipping and how it works and how Drop Ship Lifestyle can work for you.
What you will notice very quickly is how good Anton is with his teaching method and makes the only process friendly.
Module #2 – Niche Selection 
Selecting the right profitable niche is so important and with thousands of different niches to choose from you would think this would be an easy task.
In this module of the Dropship Lifestyle course, you will learn the entire process involved, by researching the competition, level of revenue and target audience.
Covering things like product size, and weight that could eat into your profit margins with shipping costs.
Kraly does a great job of showing you examples of good and bad niches which may not be apparent when you first look.
Module #3 – Market Research
Learn how to keep track of current and future competitors by creating a master list.
Know just how much competition is too much.
Also, learn how to research target markets and what your competitors are doing to keep abreast of the business.
Good research is key, which is neglected by many and Kraly does a good job of explaining this in detail.
Module #4 – The Design And Creation of Your Website
Once you have chosen your niche and confirmed that the niche will be profitable then you need to think about your website.
This module covers how to create your website along with what's involved in setting up your Shopify store.
The design aspect plays a big role in this module and can lead to more sales and revenue.
Remember, depending on which payment option you use can mean that you get help setting up your store.
Module #5 – Finding Dropshippers
Finding the right suppliers is an art form and in this module, Kraly takes you through the key steps with scripts teaching you what to say and do.
Having a close relationship with the supplier will ensure the business moves along hopefully without a glitch.
Ideally, what you are looking for are drop shippers who are local because this business is all about margins.
This is probably why Anton tells you not to use drop shippers coming from China.
Module #6 – Optimization
Optimization is a key component of drop shipping and Anton covers this subject very well.
You are always trying to better response times from customers and improve the customer experience to help improve conversions.
In this Drop Ship Lifestyle module, Kraly shows you what is involved through his own experience the right way.
However, we think this module is lacking in detail and could do with more advanced strategies.
Module #7 – Automation And Outsourcing
At the end of the day, you got into this business to hopefully free up time with the family.
In this module learn how to automate most of the processes like…
Abandoned cart, Google sheets, Order tracking, Customer orders and Content distribution plus more…
Additionally, you will need to outsource most of the work too which is another process that Anton covers pretty well.
The course is in-depth and Kraly does a good job but it is lacking in some areas then again so are most training courses.
Dropship Lifestyle Does Have an Affiliate Program 
With the backing of Anton Kraly, you can make some extra money by promoting Dropship Lifestyle yourself.
For every person who you introduce and who becomes a paying member, you can earn $250 but this can be as much as $3000.
But to take advantage of the affiliate program you have to apply and you aren't guaranteed acceptance.
Who is Drop Ship Lifestyle For?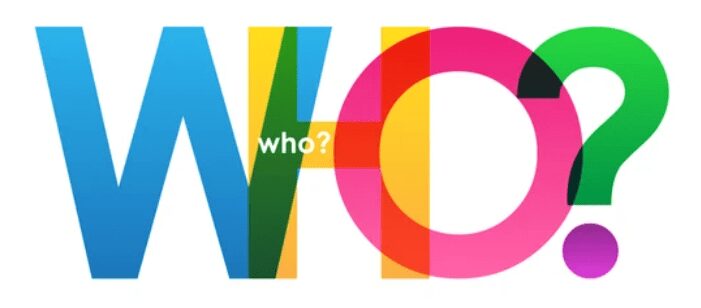 The Drop Ship Lifestyle by Anton Kraly is for anyone who is serious about making a massive lifestyle change through dropshipping.
If you caught it earlier where Anton started his first e-commerce store with just $29.
But at the time there was very little help and certainly no courses like this around.
In this day and age to get above the rest, you really do need mentoring and Anton provides this but at a cost.
So, we expect Drop Ship Lifestyle to be only for people who are serious about making a big impact in their lives.
We recently did a review of Lewis Smith who is a British guy who started his career taking Anton's dropshipping course.
We wouldn't suggest complete beginners for this course but if you have the money and are not afraid to lose it, then by all means give it a try.
Can You Make A Living With Drop Ship Lifestyle
If you ask anybody this question about any business venture then the answer is going to be yes and no.
Like all business models, especially dropshipping they get popular and nowadays there is a lot of competition.
In the early 2000s, there were very few people doing dropshipping and Shopify didn't come onto the scene until 2006.
Products were scarce then but nowadays you can purchase the same product everywhere and at various prices.
The problem you will find with any course like Drop Ship Lifestyle.
That people tend to choose the same niche, the same suppliers and invariably the same product with the same price.
So the way around this is to do plenty of research, be different and find products that other people aren't using.
That is why a course like Drop Ship Lifestyle will give you an edge but to get the type of mentoring is going to cost upwards of $9k.
Of course, you can make money with this course but is going to take a lot of hard work and dedication on your part.
Drop Ship Lifestyle Cost And Refund
The Drop Ship Lifestyle course doesn't come cheap especially when Anton talks about starting his first e-commerce business for just $29.
Nonetheless, he has mastered his craft and put it in a course so that you don't have to reinvent the wheel.
Having said that this is not a course that you can say, "I'll give it a go for a few weeks"…You have to make a big commitment!
The course is forever changing so you really need to research this course thoroughly.
Drop Ship Lifestyle comes by way of three memberships with the premium being the basic option at $3,497 and all you get here is the Drop Ship Lifestyle blueprint.
You have to move up to ultimate membership which will cost you $9,997 to have your store created, which also comes with 6 months of private mentoring and content marketing.
For the ones who really have an unlimited budget it is going to cost you $25,000 and for this, you get lifetime mentoring plus 12 months of content created.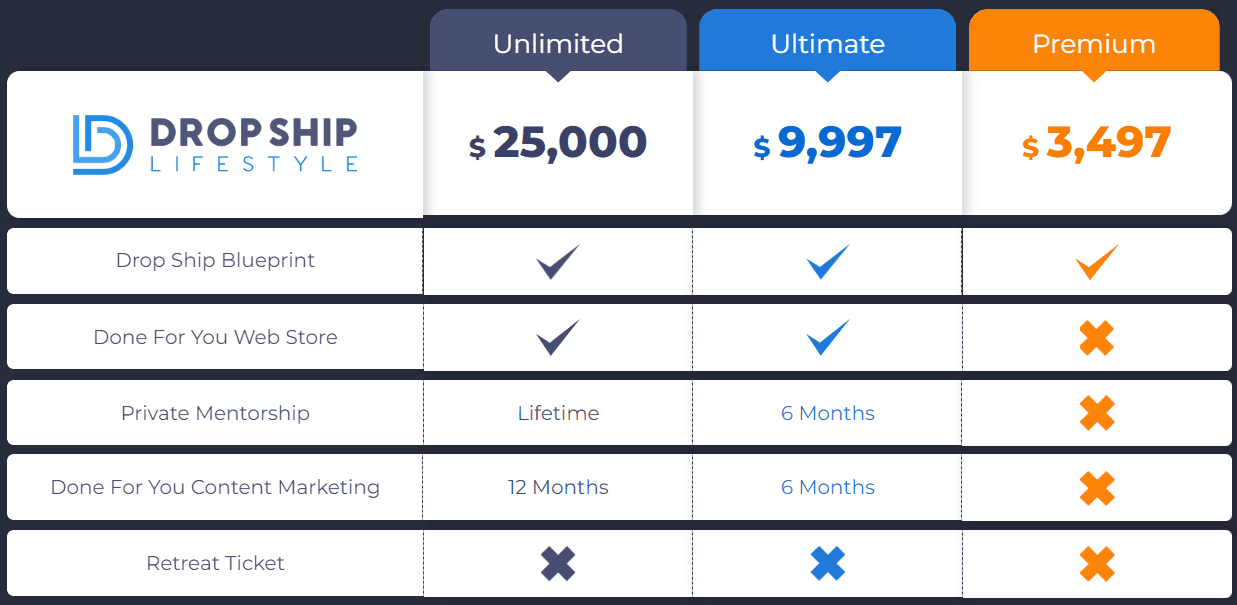 At the end of the day, find the right niche and product and it wouldn't take you very long to recoup those costs.
Are There Any Upsells With Drop Ship Lifestyle?
No, there are no upsells with Drop Ship Lifestyle, what you see is what you get.
Are There Any Payment Options With Drop Ship Lifestyle?
Unfortunately, as of this review, there are no payment instalments but there might be another option.
PayPal is offering what they call PayPal credit and it might be a way to fund this DSL course.
However, you will need to have a good credit rating so you would need to check one of the credit agencies first.
Are There Any Hidden Costs With Drop Ship Lifestyle?
As well as the membership fee with joining Drop Ship Lifestyle there are other costs involved but if you can afford the course.
Then these additional costs may not be an issue.
Shopify – $29/month
Traffic – $50 – $150 a month
Domain – $10 – $15 a year
Autoresponder – $30 a month Aweber is free for the first 500 subscribers
Is There A Refund Policy With Drop Ship Lifestyle?
There is a 30-day refund policy but that comes with stipulations.
Such as you have to complete the tasks below…
Select a niche
Find at least 20 suppliers
Build your website
Under no circumstances will a refund be given if you are outside the 30 days.
Here are a few similar courses that you might like to check out but do not discard Udemy…
Udemy – How I Created A 7-Figure Dropshipping Business
What is The Drop Ship Lifestyle Scam?
Drop Shipping Lifestyle is definitely not a scam but a legit comprehensive course that can teach anybody from scratch how to do dropshipping.
Back in 2017, the course was favourable with Shopify but nowadays doesn't appear to get a mention.
But that may be down to the number of drop shipping courses that you can find all over the internet.
It is clear that Drop Ship Lifestyle is a very popular training course which can be seen by the number of positive reviews we could find.
Anton does a good job of laying out everything you would need to know although there were a few things that were left out of the course.
Such as SEO and keyword research which is a very important key part of the business.
The one thing that really puts us off the Drop Ship Lifestyle course is how expensive it is just to get started.
Not to mention all the additional costs that you would need for the business to succeed.
We see this as only accessible to people who can afford to risk losing their investment as there are no guarantees in life that this would ever work.
If you are new to making money online then you will need a mentor and as you can see this is going to cost $10k+ and not for the fainthearted.
But the course is very legit and has helped many succeed in what is a competitive industry.

Drop Ship Lifestyle Online Reviews 
Here are a few Drop Ship Lifestyle success stories that we came across on third-party review sites.
Despite this, you have to be careful when you are looking at any feedback, not just Drop Ship Lifestyle reviews because there are a lot of fake ones.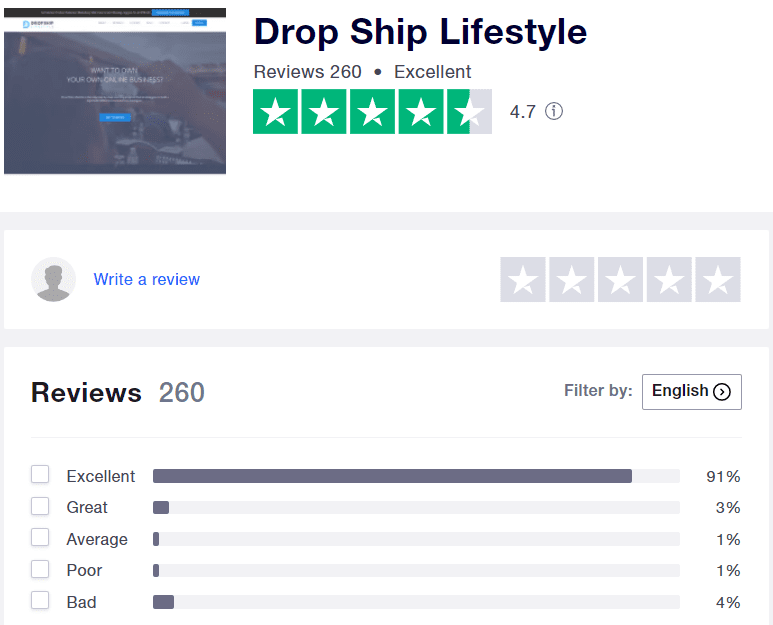 Here are a few reviews that we dug out from Trustpilot that might be of interest.
The point to note here with the mention of negative reviews is that these are all from people who registered for the free training.
But we're waiting for a free handout at the end of the DSL webinar.
They also moaned about the fact that the webinar wasn't live but surely you would know that in the first place, right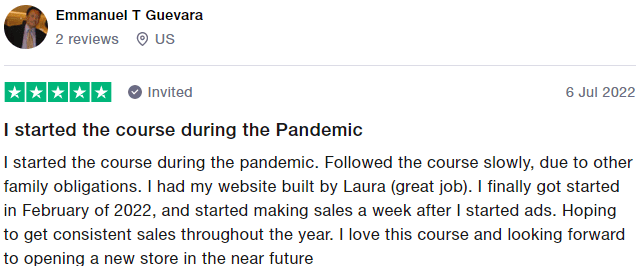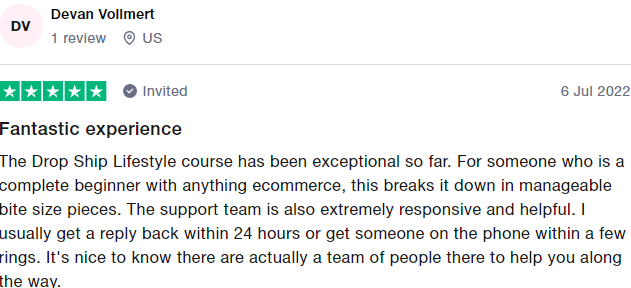 What we Like About Drop Ship Lifestyle
The training course is very comprehensive and laid out in a concise way that is straightforward and easy to follow.
Anton Kraly is a successful entrepreneur who knows his stuff and his teaching method is easy to follow.
He is very popular on social media and you will come across his marketing campaigns all the time.
What we Don't Like About Drop Ship Lifestyle
The course is expensive and will be out of most people's budget especially as there are no guarantees that this will ever work.
Drop shipping whilst a lucrative business to get involved in is not easy and requires a lot of hard work.
There are no payment options, which means you have to pay the full amount upfront.
There is a money-back guarantee but this comes with stipulations and it only lasts for the first 30 days.
It was one of the top courses online at one point and praised by Shopify but that was a few years ago now and probably because there are hundreds of similar courses out there which are much cheaper.
Verdict – What do we Think About Drop Ship Lifestyle?
Overall we thought the Drop Ship Lifestyle course by Anton Kraly was a great insight into what it takes to build a dropshipping business.
The course is all based on Anton's experience and he has a pretty good teaching method that people will like.
The course, however, is very expensive especially as there is no real guarantee that you would ever get your money back.
Either with the business model or the refund policy that is currently in place.
The only reason why I can not recommend this DSL course is due to the cost that is involved.
We can't see this ever-changing as we have noticed several price increases over the years.
Obviously, when Drop Ship Lifestyle first came onto the scene there weren't that many dropshipping courses around.
But now you have a choice and there are some very good courses out there teaching the same principles but for a lot less money.
If the costs are an issue and we believe they will be for many then we do have a solution which you can read about below.
Drop Ship Lifestyle Alternative Solution
After careful consideration, we decided that affiliate marketing was the best way for us to build an online business.
Not too unlike drop shipping really where you are the middle person but get paid for commissions and there are no overheads to take into consideration.
It's one of the best ways to create multiple passive income streams.
I have personally been a member of Wealthy Affiliate since 2017 and the main reason why I was able to kiss goodbye to my 9-5 job.
Just check out the reviews on Trustpilot.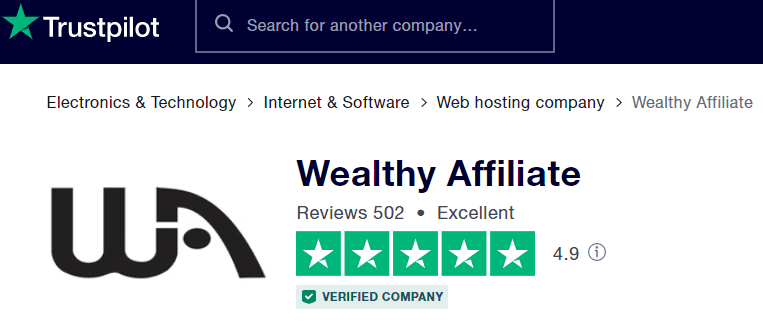 The training platform is a fully integrated one-stop-shop meaning that everything you need to succeed is in one place.
Education and training, Web development, Hosting your website, and a community that cares and is full of experience on many levels…

The Drop Ship Lifestyle Review – FAQs
Here are a few questions that we found people asking within the search engine that might help you to decide whether DSL is for you or not.
How Much Is The Drop Ship Lifestyle Course?
The course comes at 3 levels and if it's the mentoring that you are looking for then that comes in options 2 and 3.
Premium – $3,497 and comes with the Drop Ship Blueprint only
Ultimate – $9,997,  Done 4 u web store, Mentor & content for 6 months
Unlimited – $25,000 Lifetime mentoring, 12-month content marketing
Is Anton Kraly Real?
Anton Kraly has a proven track record and has been mentoring people in dropshipping for a number of years now.
The entire course is based on his experiences over the years which means any issues he encountered you will not have to worry about any.
Is Drop Ship Lifestyle Worth The Money?
Getting started with the bare minimum is going to cost you near to $4k and that doesn't come with help in building your store or mentoring.
We think the course price is overly inflated and there are many alternative dropshipping courses available at a fraction of the cost.
Who Is Anton Kraly And Is He A Trust-Worthy Person?
Anton Kraly is the brainchild behind the Drop Ship Lifestyle course who started dropshipping in 2007 with just $29.
Anton comes across as a trustworthy person and is very well regarded as the go-to person for dropshipping.
Is Dropshipping Worth It?
Dropshipping today is still a good business to get into if you have a low budget, however, that is if you are going to do it all on your own.
If you check Google trends you can see that it is still a search term that more and more people are using.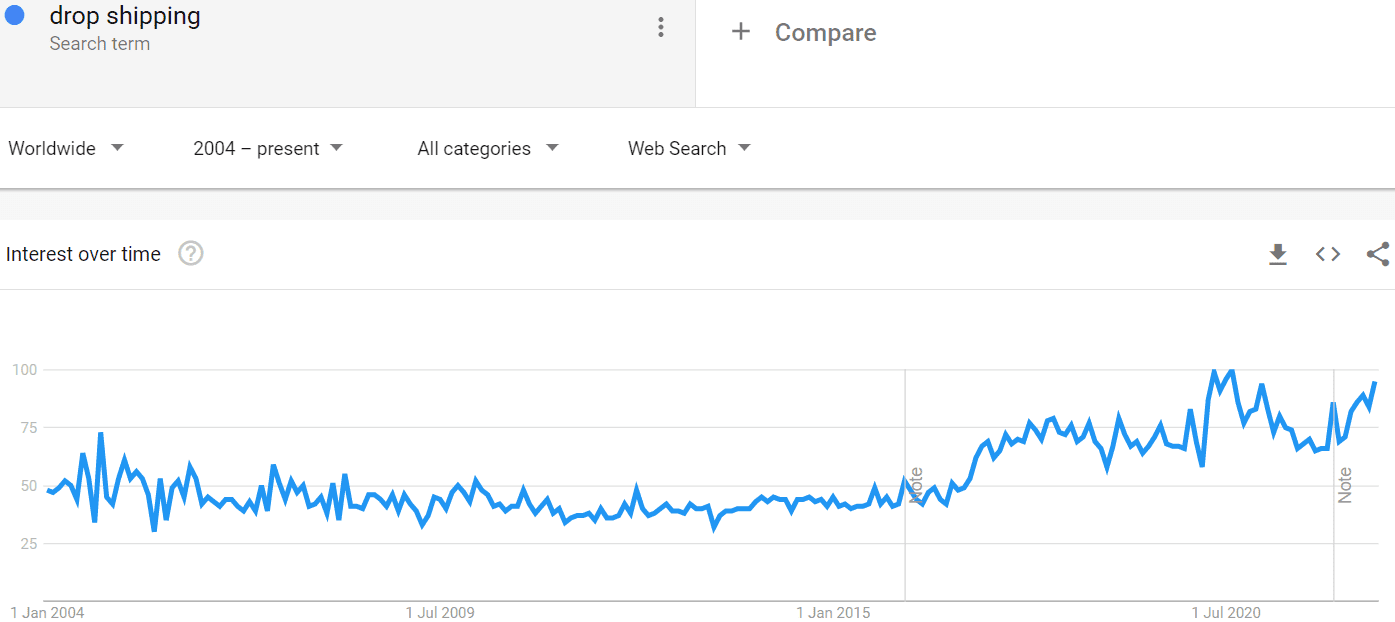 How Much Do Drop Shippers Make A Month?
This all depends on how much time and effort you are going to put into this business.
It's safe to say that some drop shippers are earning in excess of $100k a month and this isn't uncommon.
But expecting to achieve that type of revenue is a recipe for disaster and a reasonable amount would be in the region of $5k to $10k a month.
Mind you when you hear people talk about earning $100K a month this is turnover and once you have fees and taxes deducted you'll be looking at around $30K-$40K.
 Who Is The Most Successful Dropshipper?
The best dropshipping suppliers are Ali Express, Spocket, SaleHoo, Wholesale2B, and Worldwide Brands just to name but a few.
Why Do Most Dropshippers Fail?
The 5 key reasons why people fail with dropshipping is a lack of persistence or patience where most people expect things to happen far too quickly.
Choosing the wrong niche, bad supplier, low conversion rates, insufficient customer service.
How Much Do You Need To Start A Dropshipping Business?
We have heard many different amounts here from $100 to $5000 but we consider a ballpark figure to get started to be around $1,000.
Feedback, Comments And Subscribe
Hope you guys liked this Anton Drop Ship Lifestyle review and that we managed to address most of your questions.
If you are or have been a member and would like to share your experience then we'd love to hear about it.
Thank you for listening!
Take care!
Stay safe!