Welcome to the Six Figure Mentors Review
Which is an affiliate marketing training platform, so if you are looking for the full lowdown on Six Figure Mentors then you are definitely in the right place.
This is a program that has been on a list of things to do and through popular demand, decided it was about time to find out what all the fuss was about.
Before we get started we'd just like to mention that we are not affiliated with Six Figure Mentors.
That means you will receive an unbiased honest review of all the facts so that you can decide for yourself whether to pursue this further or not.
We have followed both Jason Kubassek and Stuart Ross in the past and weren't overly impressed so will Six Figure Mentors be any different?
So let's get started.
---
[Affiliate Disclosure: The review has been thoroughly researched from information and testimonials that are in the public domain. This post may contain affiliate links which means we may earn a small commission, however, this won't affect what you pay!]
---
Six Figure Mentors – Summary
Product: Six Figure Mentors
Founder: Stuart Ross and Jason Kubassek
Website: www.thesixfigurementors.com
Product Description: Affiliate marketing
Cost to join: $99 enrollment fee
Recommended: Maybe
Summary: Affiliate marketing is without a doubt one of the best ways to make money online and the easiest to get started with.
However, the Six-Figure Mentors does come with a hefty price tag.
Once more, if you take on board what the mentors tell you then you could easily be paying thousands for this training.
We know there is no need to pay exuberant fees to learn affiliate marketing as you can see by the link below.
Six Figure Mentors – Table Of Contents
What is The Six Figure Mentors About?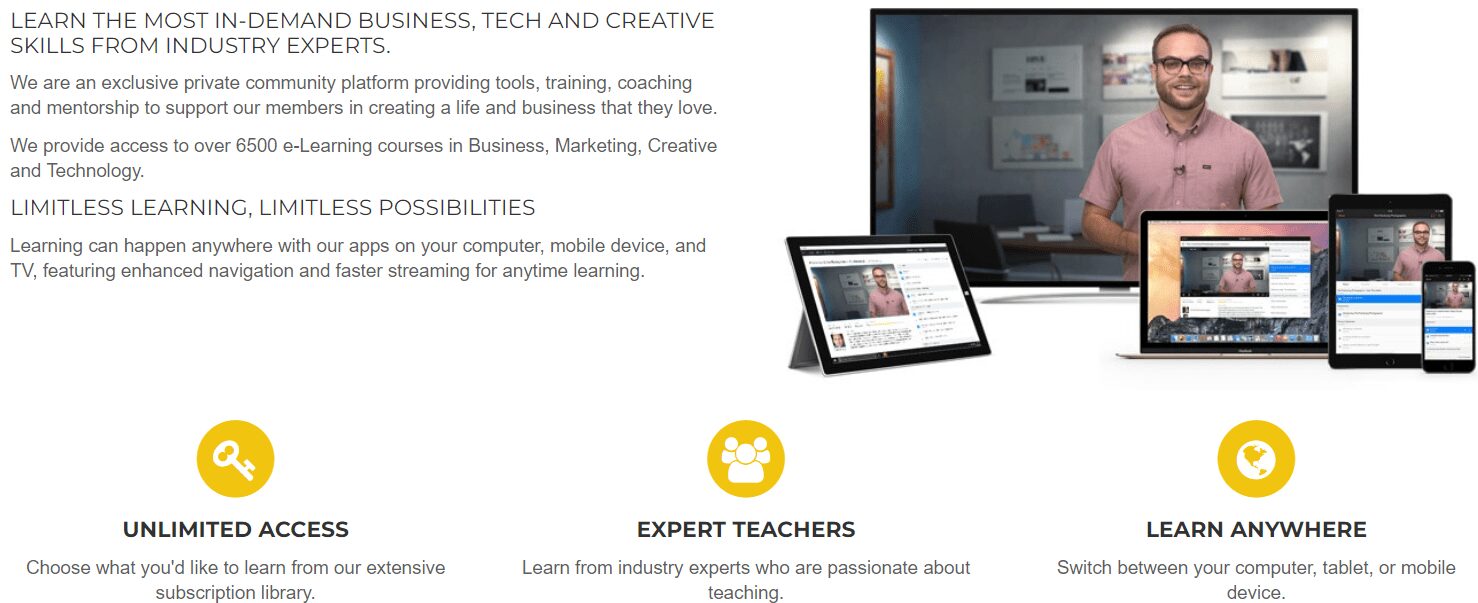 The Six Figure mentors is an affiliate marketing training platform that provides a number of programs.
For complete beginners as well as more advanced training for more experienced marketers.
The training platform was created by Jason Kubassek and Stuart Ross and teaches affiliate marketing.
This is one of the best ways to make money online and the best way to create multiple passive income streams.
It's a way of promoting other merchants' products and once a sale has been made you make a commission.
The training comes by way of several memberships which leads up to high-ticket training programs through Digital Experts Academy.
These can cost as much as $20,000 and as far as we are concerned paying out this type of money is ludicrous.
There are much better solutions like Wealthy Affiliate which is much better training and for a fraction of what it would cost at Six Figure Mentors.
For a training platform that has a number of reviews and testimonials on the SFM website.
We find it very strange that we can't find any third-party reviews as in Trustpilot.
Another Very Popular E-commerce Method: Affiliate Marketing
Who's The Owner of Six Figure Mentors

Stuart Ross and Jason Kubassek are the two masterminds behind the Six Figure Mentors and Digital Experts Academy.
They are well-known in the online marketing industry and they bring many years of experience to the table.
They both went through struggles but eventually found their calling and decided to help others which is where they are now.
Jay or Jason worked as a lorry driver and in a tyre shop and film producer until he became a millionaire in 2007.
Stuart used to be an estate agent until he found that he could make a lot more money through his laptop and authority marketing
Related Business Opportunity: Drop Ship Formula
How The SFM Program Works
The Six Figure Mentor program is an education system that will teach you all you need to know about marketing.
They provide cutting-edge tools and support which we understand is pretty good according to some of the reviews we have read.
SFM is a membership site and all the training is based on videos which are short so that you can absorb what you are been taught.
There is a friendly six figure mentors community who are all prepared to help in any way they can and a place to discuss any queries you have.
The training is structured to make it easier for you to progress however you will have to follow them in sequence.
Which as we understand has held many people back who have made the decision to leave.
Now, we know that one thing you need is plenty of patience which most people do not have and in SFM's case.
We can understand this because you'll be wanting to recoup the costs as quickly as possible.
What Do You Get With Six Figure Mentors?

In the Six Figure Mentors program, there are three memberships which we have laid out below.
But these are leading to their other more advanced high-ticket training which is part of their Digital Experts Academy.
Student Membership
With this membership, there isn't a whole lot of training other than a bunch of PDFs that give you an introduction to marketing.
This is only a tempter about Six Figure Mentors and what it can provide for you.
There is also what they call a one-to-one consultation.
All this is for is to try and sell you their other more expensive products so that they can get you on the program.
Essential Membership
This is the membership that you need to purchase if you are serious about building an online presence and where you need to start.
You get access to all the training, tools, private Facebook group, live webinars and live events throughout the USA and the UK.
This is a membership site and therefore to continue as a member you will have to ensure to keep up with the membership fee.
Elite Membership
This is their top-level training however before you can become a member of Elite you will have had to go through the previous membership.
All that you will have in addition to everything you get through the Essential membership is webinars from exclusive leaders and experts sharing their knowledge.
For anybody who does take out the Elite membership, you must know that the mentors at SFM will try and sell you Digital Experts Academy.
This is the next step in the training which can end up costing you several times what you would be paying for the Elite Membership.
Related Business Opportunity: Drop Ship Unlocked by Lewis Smith
What About The Six Figure Mentors Affiliate Program?
For anybody who wants there is an affiliate program that you can join and make commissions from.
Through promoting not only Six Figure Mentors products but additional products also through their Digital Experts Academy.
Which is their high-ticket membership program.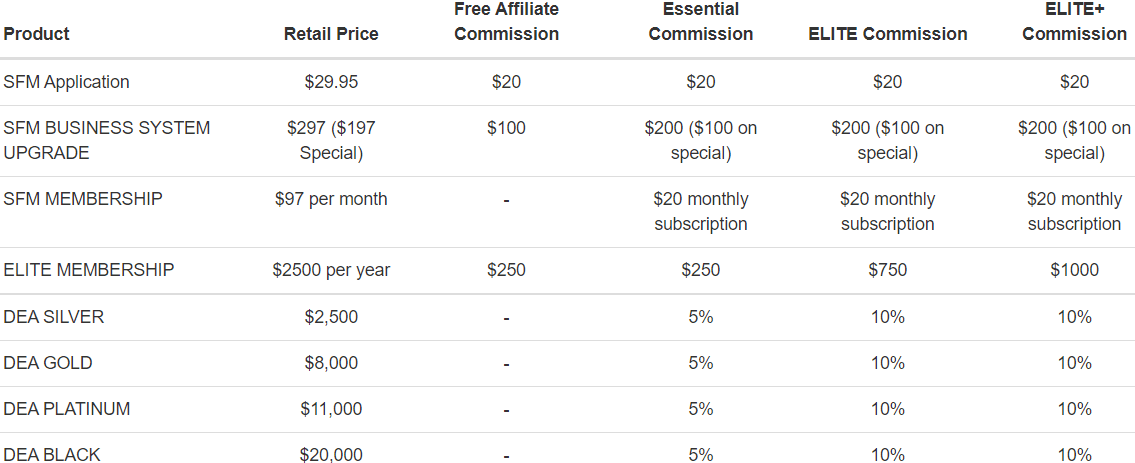 If this is of interest then you can check out the Six Figure Mentors affiliate program here.
Is Six Figure Mentors a Pyramid Scheme?
If you have read the many Six Figure Mentor Reviews that you can find online then you will see that many of them have indicated that this could be a pyramid scheme.
Even some feedback from students of SFM even indicates that it is nothing more than an MLM.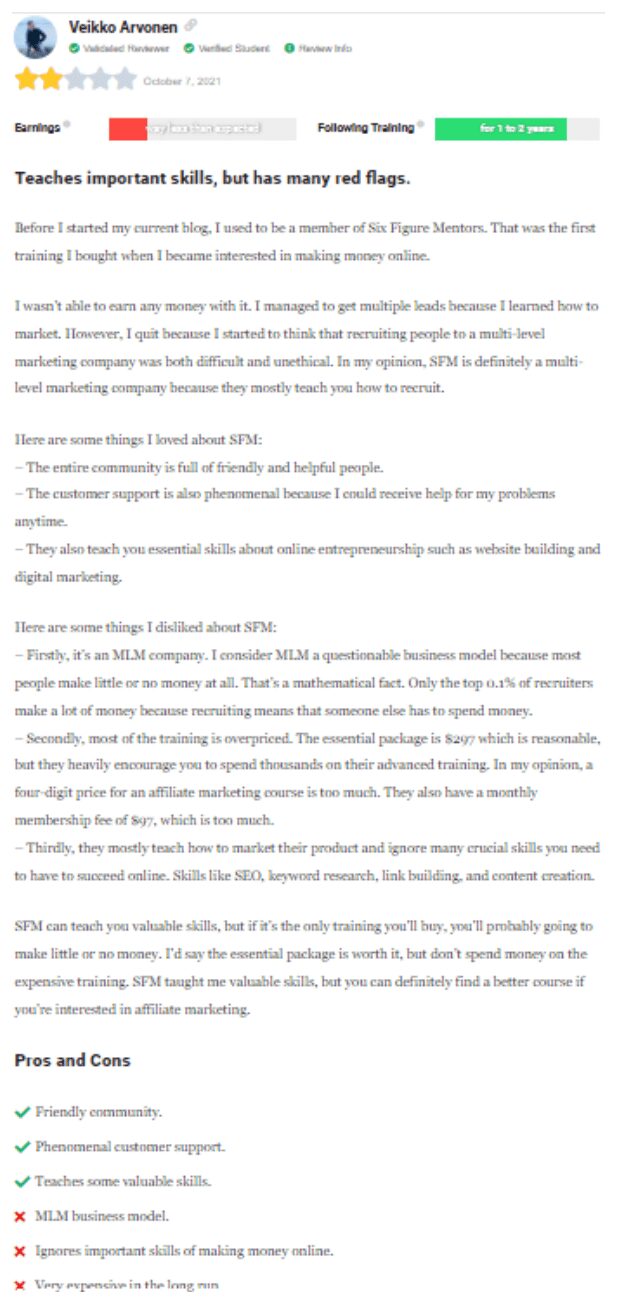 Well, an MLM or multi-level marketing business model requires that you recruit others and build a large team.
Six Figure Mentors isn't an MLM because you don't have to build a team and it certainly isn't a pyramid scheme either.
It teaches you how to promote Six Figure Mentors but gives very little guidance on how to do this successfully.
Six Figure Mentors Costs And Refunds
There are 3 subscription fees starting as a student, which is currently priced at $99.
This membership will get you access to the education part of the system but nothing else.
There are 2 additional memberships which are the "Essential" and the "Elite" but to purchase "Elite" you have to buy "Essential" first.
Essential – $99 (enrollment fee) plus $97/month
Elite – $2,500 plus $97/month
Can You Pay For Six Figure Mentors In Instalments?
As of this review, there are no payment options available so the payment you see you have to pay in full.
Are There Any Upsells With Six Figure Mentors?
The SFM program is structured where you have to purchase the memberships in sequence if you want to become an Elite member.
That means for the first year Elite is going to cost you $3,763.
The more you go into the program you will notice that SFM is aimed at trying to get you to purchase the Digital Experts Academy.
This is where you can learn more advanced methods.
Which can end up costing as much as $20,000 and yes you did read that right.
Is There A Free Trial With Six Figure Mentors?
There is no free trial with Six Figure Mentors, not like you get with Wealthy Affiliate.
Which is probably the best affiliate marketing training platform currently out there today and without the price tag you find here with SFM.
Does Six Figure Mentors Come With A Refund?
Six Figure Mentors does come with a sort of money-back guarantee but you will be well advised to read the refund policy before purchasing.
This is for the first 30 days but with conditions that more than likely do not make you eligible for the refund.
Related Business Opportunity: Drop Shipping Blueprint
Is Six Figure Mentors a Scam?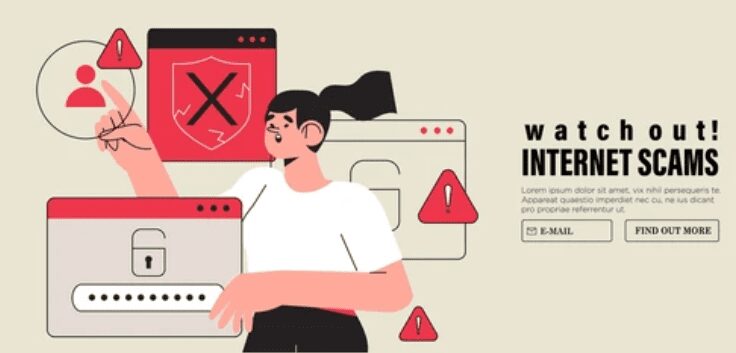 We have come across a few external reviews indicating that SFM is a scam but these are from people who didn't have any success with the program.
These are probably from people who didn't have the right mindset and didn't follow the training as indicated.
As we mentioned earlier we are disappointed that we couldn't find any third-party reviews.
If you decided to go with the Student membership then you should know that you will receive a call where they use some underhanded sales tactics.
These are used to get you on board and hopefully keep you there.
They also hope that once you are on board you will promote Six Figure Mentors for them.
Both Stuart and Jason are legitimate marketers who have a lot of experience and Six Figure Mentors is definitely not a scam.
However, the costs that you will incur are ridiculous and not required at all.

Six Figure Mentors Student Reviews And Testimonials
Finding reviews and testimonials that can be verified can often be difficult and this can be down to a few things.
The main reasons being that the course isn't that popular or has only just come on to the market.
Neither one of the above applies to the Six Figure Mentors, however, thousands of people are supposed to have paid for the privilege.
So where are all the reviews other than what you can see on the Six Figure Mentors website?
Related Business Opportunity: Advanced Dropshipping Academy
What we Like About Six Figure Mentors
There wasn't a lot that we liked about Six Figure Mentors and thought the training was all geared towards marketing Six Figure Mentors.
Meaning that the owners were hoping that you would help to fill their pockets with even more money.
Affiliate marketing is a legit way to make money we would recommend 100%
What we Don't Like About Six Figure Mentors
The refund policy comes with conditions and is very sketchy
The cost of the program can get out of control
Pressure to join their affiliate program and promote SFM
Lack of third-party reviews
The Final Verdict Of Six Figure Mentors!

Overall, we weren't too impressed with the Six Figure Mentors training platform.
The training programs were not explained which meant you didn't know what the course entailed until you became a member.
There's an emphasis on getting you to help promote the program and whilst it might be an ok way to make some commissions in the process.
All that is going to happen here is that you will be giving Six Figure Mentors more exposure, helping to get the word out there.
Quite frankly you'll be extremely lucky if you get a sale.
I mean why would anybody pay for a course that costs thousands from someone they didn't know?
Do you see where I am coming from?
Learning affiliate marketing does not have to cost thousands and we can show you what we mean by continuing to read until the end.
Here's a Much Better Way to Learn Affiliate Marketing!
Affiliate marketing is without a doubt probably one of the best ways to make money online.
It is also one of the most cost-effective ways but not with Six Figure Mentors.
I have personally been a member of Wealthy Affiliate since 2017 and the main reason why I was able to kiss goodbye to my 9-5 job.
Just check out the reviews on Trustpilot.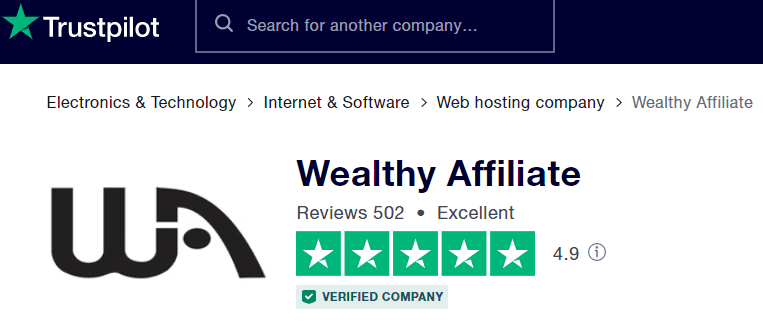 The training platform is a fully integrated one-stop-shop meaning that everything you need to succeed is in one place.
Education and training, Web development, Hosting your website, and a community that cares and is full of experience on many levels…

Feedback, Comments And Subscribe
If you have anything to add please don't hesitate to ask!
Thank you for listening!
Take care!
Stay safe!