Is Pinecone Research a scam? 
Looking for an online survey site with a little exclusivity, then you are in the right place, and in this Pinecone Research review, I go into great detail, and cover all the positive and negative aspects that you need to know before you decide to get on board.
Pinecone Research is now been around a while and belongs to one of the biggest names in the market research industry, which has been operating in that niche since 1923 and is closely hitting the century mark.
Is probably one of the most exclusive sites there is when it comes to online survey sites and is extremely hard to join, so what does that tell us?
Well, maybe they just want to keep a tight reign on things or maybe they are hiding the fact that there really aren't that many surveys to go around?
All the same when something becomes "exclusive" it only adds more fuel to the fire because this makes people extremely curious and want to know more.
With so many different survey sites available it's really so difficult to determine which ones are legit and which ones aren't.
What you see is what you get here at Pinecone Research so without further ado, let's get right into the review.
---
[Affiliate Disclosure: The Pinecone Research review has been thoroughly researched from information and testimonials that are in the public domain. This post may contain affiliate links which means we may earn a small commission, however, this won't affect what you pay!]
---

Owners: Nielsen Holdings or The Nielsen Company
Product: Pinecone Research
Website: www.pineconeresearch.com
Price: 100% Free
Based in: US, Canada and the UK
Founded: 1998
Managed by: William Miller
Summary: You get paid either in cash or vouchers for taking part in surveys.
Recommended: Yes
Reasoning: Although I'm not a fan of survey sites due to the amount of time it takes to generate some cash, here you have to be selected to become a Panellist, which gives them a little street cred and member reviews are more on the positive side.
Pinecone Research Review – TOC

What is Pinecone Research About?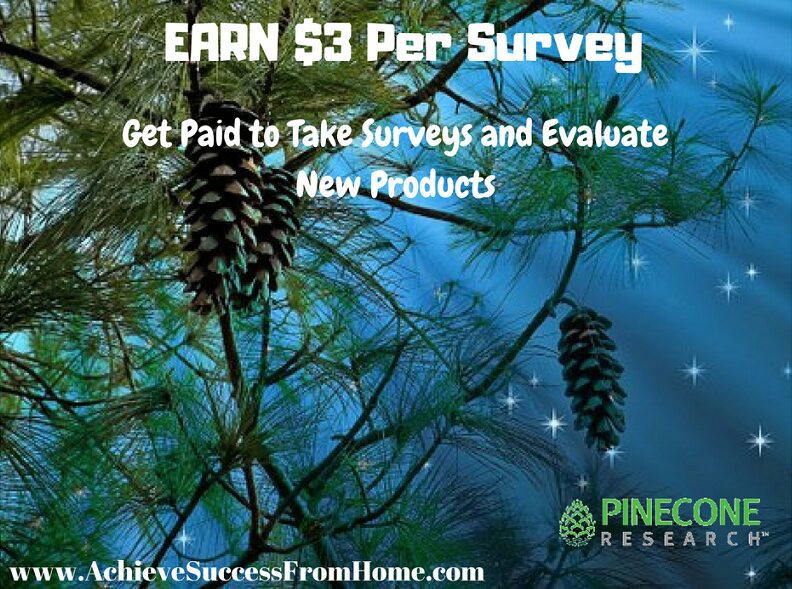 Pinecone Research is an exclusive online survey website that's been around since 1999 and is based in the US but is also available in Canada, UK and Germany.
Been around for 2 decades and therefore must be doing something right, especially as they check you out first before you are allowed to become a member. A little on that later!
They belong to one of the largest and most successful market research companies out there, Nielsen Holdings, which has been around since 1923 and employ over 40,000 across 100 countries worldwide.
How Does Pinecone Research Work?
Pinecone Research works within the confines of affiliate marketing, where clients or advertisers would employ the likes of Pinecone Research to handle their market research regarding their products and/or services.
This all helps the client to better improve their current products and services which are passed onto the consumer at a later date so that we can all benefit.
Here at Pinecone Research, they do things a little differently when it comes to becoming a member, and it's not quite as simple and straightforward as many of the other survey sites that you can find online.
There's an air of exclusivity about Pinecone Research in that to become a member, firstly you have to be invited either by an existing member or through one of the links or banners that you can find on various websites
and then
you have to fill in a series of questions regarding your demographics before you are accepted.
If you are lucky enough to be accepted into this exclusive club, then a member becomes what they call a "survey panellist"
Be aware of fraudulent scams!
In the past, Pinecone Research has been victim to some unscrupulous dealings where others have been using the names and logos to try and get people to join and in many cases, this was successfully carried off.
This at the time was known as "The Mystery Shopping Scam" and you can read more about it on their website here.
How Much Can I Make with Pinecone Research?
Obviously, the more time that you
put into these opportunities then the more you will earn, but there is a catch here.
Sitting at your laptop or PC all day long taking a survey after survey will not cut it, because most of the time you will be left staring into an empty space.
The number of surveys available to you will be minimal, so what I would suggest if taking surveys is what you like doing, is to join a couple more survey sites to fill in the time when you aren't receiving surveys from Pinecone Research.
Such as SwagBucks, Mysurvey or Survey Junkie to hopefully speed up the make money process.
The pay structure is pretty straightforward.
They will pay you $3 for every survey that you complete which can be anywhere from 5 right up to 30 minutes.
There is the chance that you may be sent a survey where they pay you $5 but these are rare, but all the same anywhere from $3 – $5 is possible.
Trying to give you an hourly rate would be impossible as this is all down to how many surveys you have access to.
In order to get anywhere near the average hourly rate of $10, you would need to be taking at least 3 surveys an hour, and that would be 3 every hour which means 1 every 20 minutes with a total of 24 in any one 8 hours working day. If in fact, you are looking to replace that current job of yours!
3 surveys = 900 points = $9.00 an hour
900 points * 8 (# hours in a working day) = 7200 points = $72.00 a day
7200 points * 5 (# of working days) = 36,000 points =  $360.00
That's 120 surveys that you are hoping for, with an emphasis on "hope"!
I don't want to put a blocker on things but there is no way that you will receive 24 surveys in a day. You'll be lucky if you manage 6 at the very most in a week.
The payment structure is based on a points system, where 100 points are equivalent to $1 so as you can see every survey would pay a minimum of 300 points.
Not great in the grand scheme of things but compared to many other survey sites which pay a lot less this is a good rate.
How to Get Started with Pinecone Research
The norm would be to tell you that it is 100% Free to join and that it is a simple straightforward process!
100% Free it is, but simple and straightforward it isn't!
Off the bat when you arrive at the Pinecone Research website you will see that there isn't an immediate joining form.
I had to do a thorough search and eventually found a contact form at the bottom of the website.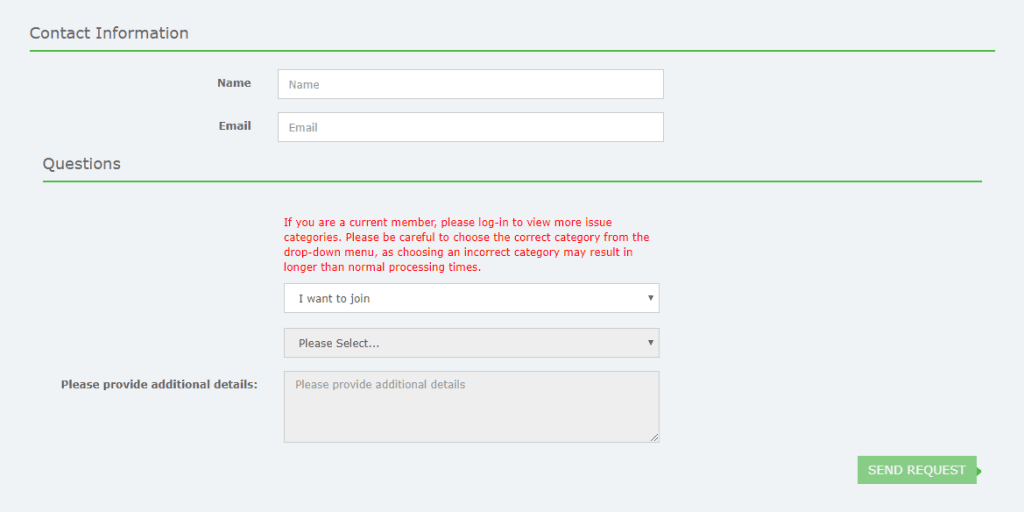 Once I had filled in the form and included the "I want to join" I was immediately shown the below message.

The reason for this is that Pinecone Research only opens its doors to new members on a not too regular basis.
Ideally, asking a friend who is already a member would be the way to go, although another way would be to search in Google and find the various Pinecone Research banners and sign up links, using a search term and changing the date period for the most current. Something like…
Even finding the right links and entering your details may not be enough!

Perseverance is the key here!
Other ways to Maximize Points with Pinecone Research
Surveys have been the main source of income, there are many other sites too.
Every now and then Pinecone Research may send out products to their "survey panellists" with instructions on how to test them and in some cases new products that haven't even been released to the consumer market, so here you can have your say in a new product before it hits the market. Cool eh?
Unfortunately, this is not something you can volunteer for and if it happens then it happens, but I wouldn't sit around waiting.
You will probably have to fill in some form of "post-test" survey for which you will earn $6 and a further $3 for answering questions regarding the product.
The great thing about this is that you most probably will be able to keep the product after testing.
Pinecone Research has regular bi-weekly and quarterly sweepstakes that you are entered into. No purchase or payment is required!
The weekly draw is $500
The quarterly draw is $4,500
How Does Pinecone Research Pay You?
There is no minimum payment threshold to meet and therefore as soon as you have completed a survey you can redeem those points.
There are 3 ways that Pinecone Research will pay you.
Getting paid by  PayPal is the norm and the most trusted way online and one we are familiar with.
Allow 4-5 business working days for the amount to be transferred.
Checks might be your preference but remember they take time and besides there is always a chance that they may get lost in transit.
Don't forget that it also takes approximately 5 business working days for checks to clear at your bank too.
Another popular way of exchanging points is through gift cards from Amazon, Walmart etc.
You could also purchase the various products that are available on the website, enter into one of the prize draws/competitions, or if you are feeling generous then why not donate to a worthy cause.
Pinecone Research Pros and Cons
As always no matter how good a product or service is there will always be some who are not happy, so here we are grouping all what we think are the most important points for and against, for you to decide to join one way or the other.
Pros
Always a plus is when something is for free and here at Pinecone Research joining is 100% Free, but this type of opportunity should always be free and if you see that it isn't, then stay well away.
In the past Pinecone Research has had its issues with others cloning the site and trying to benefit, so be careful.
Pre-qualified for surveys
Pinecone Research only sends out surveys that match your demographics and therefore you will not have to endure the pre-qualification questions that you have on many other survey sites.
Nothing worse than spending 10-15 minutes on a survey only to be told that, you didn't qualify. A sure way to drive you mad and force you to cancel your membership!
Yes, it is true that the number of surveys you receive will not be many but the ones you are sent will be viable.
BBB (Better Business Bureau) rating
If you are like me and always check out whether a business opportunity is legit or not, a member of BBB is usually a good sign and that they are on the right track.
Their owners Nielsen have an A+ rating so all good there.
You could be selected for product testing which is great, I mean how cool would it be to have a product that has not even reached the consumer market, run a few tests, get paid for doing so and be able to keep the product?
In comparison with other online survey sites, the pay is good and they don't try to hide things. When they say $3 – $5 a survey then that's exactly what you get, and not a few cents here and a few cents there like most other online survey websites.
Yes, you heard me, as soon as you have completed a survey, Pinecone Research will pay you, and that means not having to wait days or weeks to climb to that minimum threshold before you can cash.
Cons
This is something that might not go down well with some because this is normally a great way for many to earn a decent amount of money, but as this is an exclusive site and they want to control who they invite as "Survey Panellists" then I can see why.
At the moment Pinecone Research doesn't have a mobile app so that means sitting at the desktop or laptop while taking surveys, which is not great for many of us who want to be out and about.
Some may like the fact that they belong to a select crowd, and that is OK but trying to join can be difficult as doors only open when they want some additional help.
They post banner ads from time to time on various websites but you have to be quick, or you could get a friend to invite you.
Alternatively, you could do a quick "Google search" but look for the most recent links.
You can find a number of complaints amongst the pinecone research reviews that you can find dotted around in places like Trustpilot, SurveyPolice etc.
Where members are sitting around waiting for surveys and it's quite normal to only be given 2-5 each week and even that figure you will find on the high side.
It has been known to receive only 2 surveys in any given month!
Pinecone Research Review  – Final Thoughts!
We have come to the point where you have to decide one way or the other whether this survey site is really for you.
As with all online survey sites you are not going to break the bank and therefore I wouldn't give up your full-time job just yet!
Is Pinecone Research legit, and I have to say Yes, absolutely, as long as you are aware that you can only earn a few dollars here and there, and don't even think about earning several hundred dollars a month because that's not going to happen. I would like to say otherwise, but I have tried!
But why not think long term and focus that precious time in a more constructive way, and hey who knows, in 1-2 years' time we could be sitting down together discussing why we hadn't done it much sooner.
If you have a little spare time, check out this review and see what you think, and just in case you think I may be trying to con you, this is 100% free, with no upsells and no credit card asked for. Can't be fairer than that and besides this might be right up your street!

Comments
If you have arrived here then I guess I haven't bored the pants off you so congrats on that!
What do you think of Pinecone Research as an exclusive site? Are you a member?
What did you think about the review and did it hit all the points, and if you found it helpful then why not share it amongst your family and friends.
Don't be shy, leave a comment and ask me anything you like. I reply to all my readers.
Once again thanks and stay safe