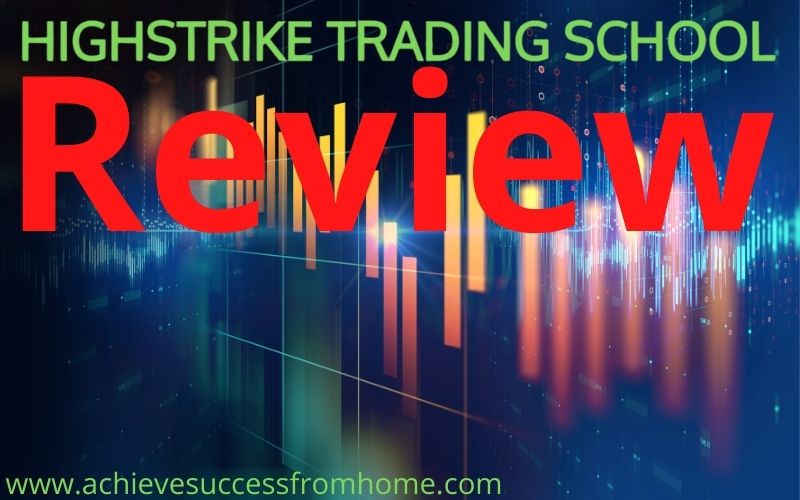 Hey Guys, welcome to the
HighStrike Trading School Review
An education platform that claims to be the #1 trading platform online for traders or people who want to learn how to trade.
That's a big claim when there are so many of these trading platforms around and this is why you are here.
To find out if this training platform can hold up to its claim or whether you should look elsewhere.
One thing we do like is that their primary aim is to teach and not trade so if you are willing to learn then this training might be for you.
Before we get started though we'd just like to mention that we are not associated with HighStrike Trading School in any way.
What that means is that we won't be pitching or trying to sell you anything except an honest unbiased account so that you can make the call.
Whether trading is what you genuinely want to do and whether you should pursue this opportunity further or not.
That said, then let's begin.
---
[Affiliate Disclosure: This HighStrike Trading Review has been thoroughly researched from information and testimonials that are in the public domain. This post may contain affiliate links which means we may earn a small commission, however, this won't affect what you pay!]
---
Product: HighStrike Trading School
Founder: Ben Zogby
Website: www.highstriketrading.com
Product Description: Trading education platform
Cost to join: $397
Recommended: Maybe
Summary: In recent times trading stocks and cryptocurrencies has become very popular amongst people looking for a lifestyle change.
Unfortunately not many succeed because it is not as easy as most people think.
I read somewhere it can take between 6 and 12 months to become competent as a trader and that may be the case for some.
But it is all about finding the right mentor and there lies the problem because everybody thinks they know the best.
HighStrike Trading School offers education at a reasonable price but they recommend day trading which can be very risky.
If you want to eliminate all the risks then check out the link below.

HighStrike Trading School – TOC
What is the HighStrike Trading School?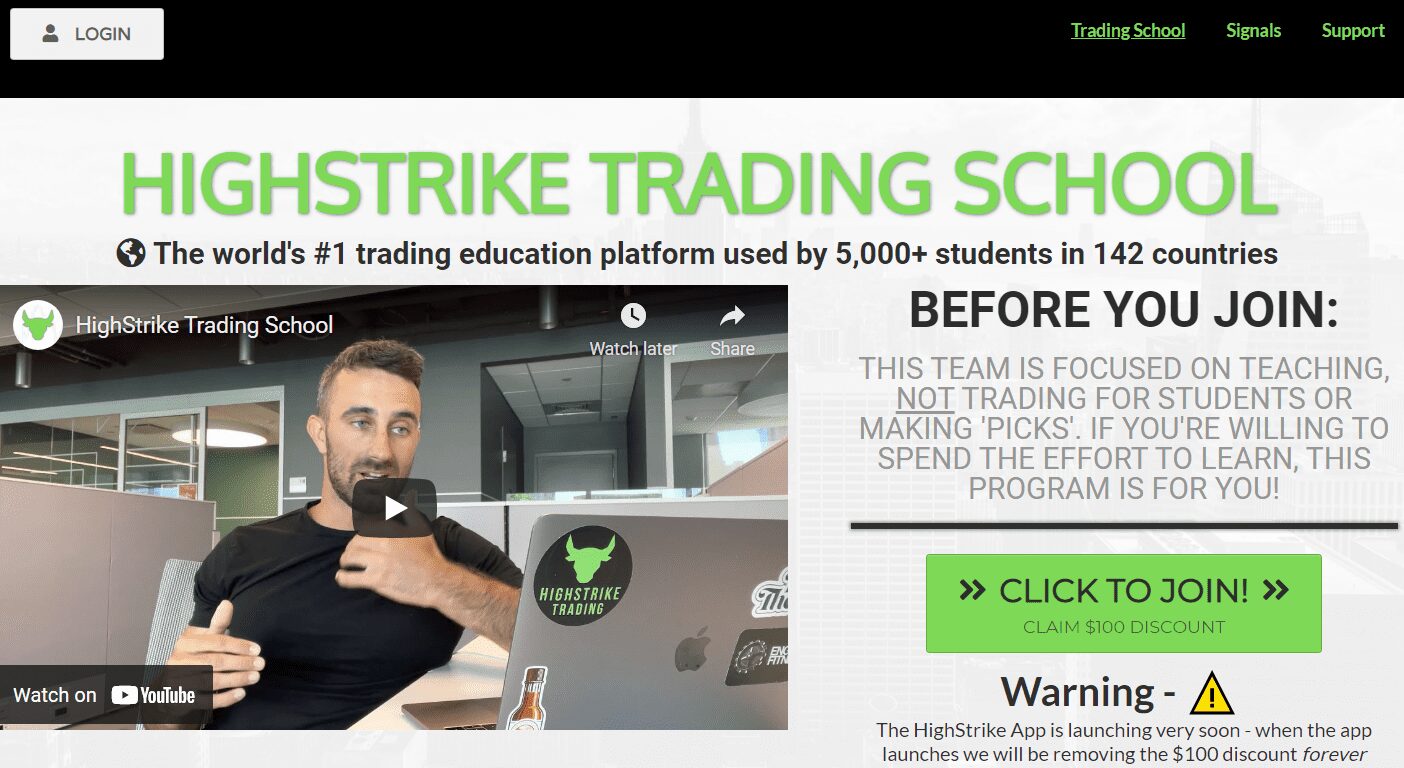 HighStrike Trading School is an education platform for experienced and complete newcomers to trading.
It was founded in 2018 and in this short period of time been turned into a multi-million dollar business.
The initial thought for the training platform seems to stem back as far as 2008 when the initial website highstrike.com was registered.
One of the main differences with this trading platform is that it is only an education platform.
They have a YouTube channel with over 15k subscribers and a following of over 324 thousand on Instagram.
According to their website, they have educated over 6,400 students in over 142 countries.
Who is the Founder of HighStrike Trading School?
Ben Zogby is the founder of HighStrike Trading
School who started his passion for trading when he was in school.
He started trading with $100 which obviously wasn't going to make him a millionaire all the same you have to start somewhere.
Obviously, he has had success with trading otherwise he wouldn't have been able to leave his 9-5 job when he was 23 to focus on creating a course.
That course, HighStrike Trading along with the 7 Figure Blueprint which came just after HighStrike came to fruition.
This is a separate course teaching you how to create digital products in the niche of your choice and take it to 7 figures.
In just over 18 months HighStrike Trading School was valued at around $2.4 million which has made Ben a millionaire.
Now we are not sure whether it was trading that took him to millionaire status or becoming a product creator.
We are inclined to believe it was HighStrike Trading because we can't really find any indication that trading is where his success has come from.
Although we are pretty certain that he has a certain amount of success trading.
What you get with HighStrike Trading School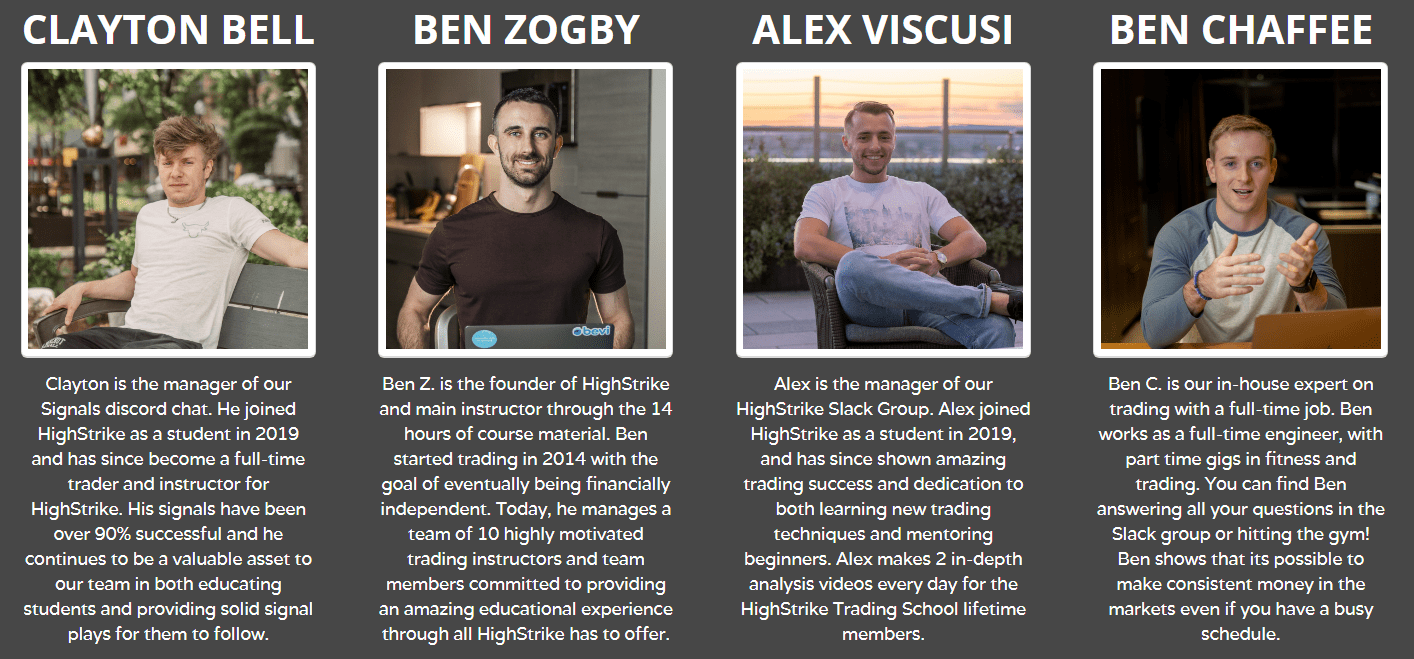 The above image is of the mentors whom you'll be getting your expert advice from.
There are 2 memberships, HighStrike Trading School and HighStrike Signals which are for more experienced people.
With the HighStrike Trading School, it is broken down into a 3 part system
STEP #1 – Official HTS course
STEP #2 – HST accelerator group
STEP #3 – Daily briefings
STEP #1 – Official HTS training course
Here you'll get over 100 video lessons, lifetime access, working with mentors, daily briefings, live Q&A…
Module #1 – Setting up for trading success:
In this module learn how to create an account for trading stocks.
It must be noted that this module is based on using TD Ameritrade as your broker and TradingView which is a social network for traders with various tools for analysis.
It might be wise to go along with what they propose especially if you are new to all this.
Obviously, there will be a cost factor to take into consideration.
Here you'll get training…
Setting up your broker and platform
Trading station and how to set it up
Your first trades and how to fund them
How to use the broker TD Ameritrade
A look at TradingView
Module #2 – Technical analysis blueprint:
Module two goes into detail about the technical jargon and how to read charts and trading patterns…
What comes in this module…
Trading stock charts and candles
At a glance at how to establish a stock value
Pattern day trading and what it entails
How to plan trades
A look at the various trading strategies available to you
Technical indicators and what they correspond to
How to work out what you'll invest
Module #3 – A-Z Options Roadmap:
Options trading sounds complicated, but in essence, it is a way of buying and selling specific security on a specific date and for a specific price.
This module teaches…
What options are
How to understand the buyers and sellers
Changes within options and what they mean
Understanding the variables that apply to options trading
Understanding what the best stock options are to use
Checklist
How to purchase options through TD Ameritrade
Module #4  – Advanced Strategies Toolkit:
This module covers more advanced strategies and concepts.
Here is what you will get…
Candles and how to determine what patterns are what
Media and how this can affect the markets
When is the best time to buy
Various trading concepts
Much more…
Module #5 – Case Studies:
This is a library where there are a number of case studies that are stored and allows you to be able to go through and check what others are doing.
Module #6 – Bonus Resources:
This module basically covers the bonuses that you'll be getting when you join.
Trade tracking worksheets
Proprietary options analysis interactive tool
Our top 72 stocks
Common patterns reference chart
STEP #2 – HST Accelerator Group
When you join, you'll be added to a group of over 5,000 members with all levels of experience where you can discuss anything you like.
Course discussion
Sharing trade ideas
Breaking down strategies
News discussion room
Reviewing losses and lessons learned
Sharing success stories and profits
STEP #3 – Daily Briefings
Here you'll get 2 videos a day from the HighStrike Trading team to express their views on what has been happening in the markets and to share some valuable information on certain stocks where there is value.
Morning briefing videos each morning
Market breakdown videos each evening
Watching for news catalysts
Reviewing option contracts
Creating a watchlist
Includes video request channel
How much does it cost to join HighStrike Trading School?
There are 2 membership options.
You could join the lifetime membership which is normally as of this review $497 but is currently discounted by $100 so you would be paying $397.
However, once the HighStrike Trading School App is brought to market this discount will no longer be available.
This membership is for anybody but especially for complete beginners to trading.
The other option is a monthly membership which currently costs $97 and this is for more experienced traders.
Is HighStrike Trading School a Scam?
Is HighSTrike Trading School a scam? Definitely not.
It is a legitimate education platform for anyone who is interested in trading whether you are experienced or a complete beginner.
The curriculum is in-depth and very comprehensive and well priced for the lifetime membership.
We have already mentioned that there is trading within the training platform and just a place to teach which we feel is a good thing.
All the emphasis will be on education and not trying to scam you somewhere down the line with trades.
We did find that they have a pretty good following on Instagram of 324k
But if you don't have the right budget and aren't prepared to take risks to the point that you might lose your entire investment.
Then check out the link below and see what you think.

---
What we like about HighStrike Trading School
The Course Very Comprehensive:
The cost of the cost is very reasonable and comprehensive and for anybody new to this then we think could be a good stepping stone.
Although we couldn't really find any evidence of whether Ben was a capable trader or not we could find any negative stuff said about him either.
What we don't like about HighStrike Trading School
We Found A Few Reviews On Trustpilot:
What we found was that there were only a dozen reviews and all for the same period which we thought was a little suspect.
Since HighStrike
It is never a good sign when we can't find any reviews and we looked extensively but to no avail.
Facebook Group Has No Activity:
Facebook group is somewhat lacking with only 147 members as of this review and to be honest was expecting a few hundred at the very least.
There Is No Money Back Guarantee:
Many are just not going to like but you are joining HighStrike to learn a new career which means making a full commitment.
HighStrike Trading School Review – Final Thoughts!
Trading has become very popular in recent times and I guess the pandemic has had something to do with it too.
It would appear everybody is looking for a quick way to make some money but more than often it's the quick way that results in you losing.
HighStrike Trading specifically looks at day trading which in our opinion is a much riskier trade because you need to be on the ball all the time.
Trading stocks for the long haul may not be what you are trying to achieve because the returns are going to be slow.
We all want to be rich quick but unfortunately, that is highly unlikely ever going to happen.
Trading, whether it's the stock market, forex or crypto is an extremely risky venture.
There are many more cost-effective solutions out there such as Digital Real Estate or affiliate marketing.
The main difference would be that you ain't going to lose your entire investment.
If you want to know more then you can by reading the next section.
An Alternative to Trading
It doesn't matter how good an online opportunity is, at the end of the day you have to put in a lot of hard work and dedication to make it work.
How about creating an online business about something that you are very passionate about?
Something that you would enjoy and get paid for doing.
If that's the type of business you are looking for then there is no better training platform online than Wealthy Affiliate.
I am still part of the training platform that has an amazing community and we have enclosed some resources for you to read.
If this is something that might interest you take a look and see what you think. Nothing ventured and all that stuff!

---
HighStrike Trading School FAQs
Is HighStrike Trading School Worth The Money?
We think a lifetime membership for $397 is really worth it for what you are getting.
Is There A Refund Policy?
Unfortunately, there is currently no refund policy in place.
What Makes Your Trading Platform Better Than Others?
The course is a little more than the traditional training where you watch a number of videos and that's it.
With the HighStrike Trading School, the training is more comprehensive and offers new content on a daily basis.
The help continues after you complete the course and there is a large community where you can exchange trades and ideas.
Is Ben Zogby Legit?
Ben does appear to know his stuff and is self-taught. He started his trading with $100 and left his full-time job by the time he was 23.
What Is The Likelihood That I Will Succeed?
There are no guarantees but if you stick to a trading plan and keep your emotions to one side then anything is possible.
How Much Should I Start Trading With?
This is a big question and if you are just starting out then we'd suggest starting with as little as $100.
It's all about learning the skills and applying those to the trades and getting confident in what you are doing.
Be prepared to lose your investment.
What Is The Best Advice For Someone Starting Out As A Trader?
It's all about keeping your emotions out of the equation and not holding onto trade and learning how to cut your losses.
Start off small and work your way up.
Is There A Better Alternative That You Could Suggest?
We have been down the trading route in the past but we had very little success and I guess what had a lot to do with that was emotions.
Nowadays, we make a living online through affiliate marketing.
Feedback, Comments and Subscribe
Well, Guys, we hope you enjoyed this HighStrike Trading Scholl and that we managed to answer a lot of your questions.
As before, if you have any questions or you'd like to add anything you can do so by commenting in the section below.
Thank you for reading and stay safe.