In this Digital Experts Academy Review, we are going to be taking a look at a training platform that was created by Jay Kubassek and Stuart Ross.
Two acclaimed marketers who do appear to have succeeded on many levels.
With approaching 5 billion people who have access to the internet it seems the obvious place to start an online business.
With so many business opportunities available it can get a little convoluted or misleading which creates information overload.
Can they help you to live the laptop lifestyle, but more importantly can you afford the membership fees?
We hope to cover all your concerns and set the record straight so stay with us until the end to find out.
---
Affiliate Disclosure: The Digital Experts Academy Review has been thoroughly researched from information and testimonials that are in the public domain. This post may contain affiliate links which means we may earn a small commission, however, this won't affect what you pay!]
---
Digital Experts Academy – Summary
Product: Digital Experts Academy
Founders: Stuart Ross, Jay Kubassek
Website: www.digitalexpertsacademy.com
Product Description: Affiliate marketing training platform
Cost to join: $99 + $97/month thereafter plus individual program fees
Recommended: Maybe
Warning Red Flags:
Summary: Both Stuart and Jay are familiar with online training courses as can be seen by Six Figure Mentors which we covered in 2022.
This was successful to a degree but you might be asking if that was the case then why didn't they devote their time and effort to expand it further?
Digital Experts Academy or DEA for short offer affiliate marketing training, mentorship and a community that is there to support each other.
It all starts with an interest or passion that we all have but you have to ensure there is enough income there otherwise it could be a big waste of time.
Digital Experts Academy – TOC
What is Digital Experts Academy About?

Digital Experts Academy came onto the scene in 2013 and covers affiliate marketing training which is probably one of the best ways to make money online.
They are based in Wilmington which is in Delaware which is in Philadelphia.
A step-by-step approach which gets you started with a passion or niche and then you build a website around that passion.
The training platform is a membership site which means you'll be paying a monthly fee to stay active.
There are many courses at your disposal covering all aspects of the business model and they have even teamed up with LinkedIn Learning.
This means that you have access to over 16,700 additional courses through the LinkedIn partnership.
So let's take a brief look at what you can expect with the DEA training platform.
Another Very Popular E-commerce Method: Affiliate Marketing
Who Are The Owners of Digital Experts Academy?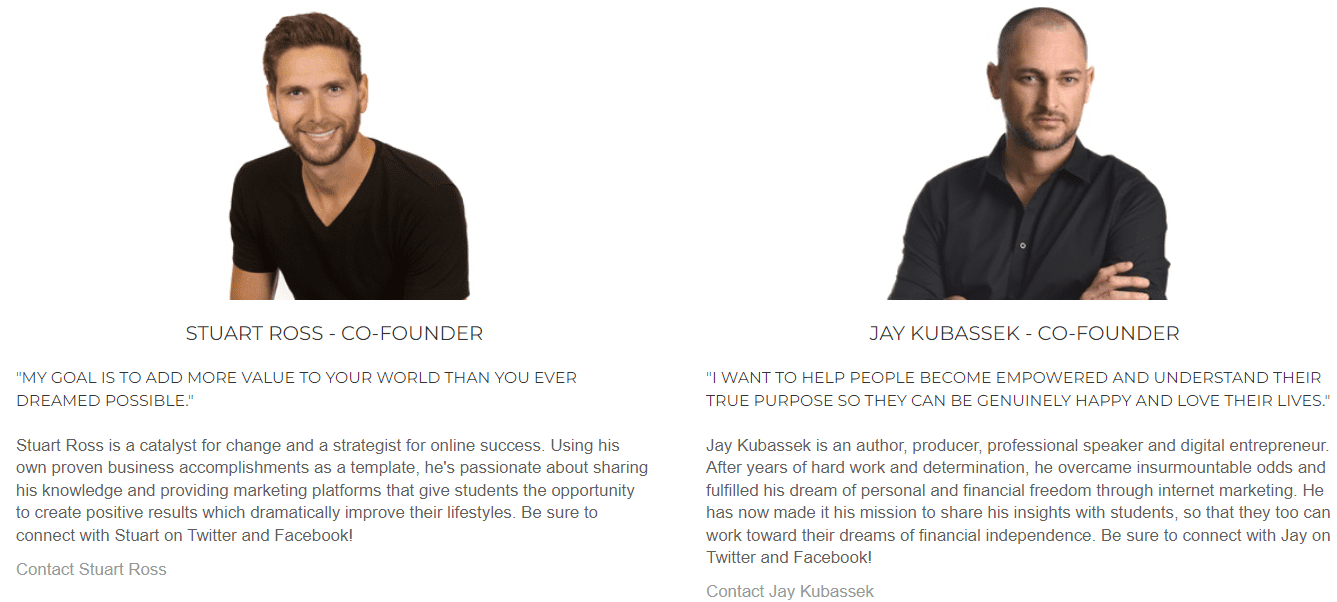 Stuart Ross and Jay Kubassek are marketers who have worked together for a number of years on several joint ventures.
Such as The Six Figure Mentors and their current DEA training platform.
They both have over 15 years of experience in the education sector passing on their knowledge to like-minded entrepreneurs.
Jay also has his own product Wakeup which can be found on his website here along with additional information about him.
For more information about Stuart, you can find it here.
The training that they provide is extensive and requires a team which is dedicated to keeping DEA on the right path.
Related: Drop Ship Formula
What Do You Get With The Elite Experts Academy?
At DEA there are a number of programs that you can choose from
Currently, DEA offers a couple of different learning programs to its students.
Depending on the learning system you'll choose, the teaching material will vary quite a bit.
To help you make a choice that will suit your business needs, I'll show you what to expect from each training program:
Elite Influence – Next-Level Mentorship
Mastermind with like-minded individuals who are on the same path as you but who are already having success and ready to pass on the knowledge.
Designed to help you grow your audience, whilst it is geared towards becoming an affiliate of Digital Experts Academy.
Although the methods taught can be applied to any product you wish to promote as an affiliate marketer.
The ELITE Influence 8-Part Series

The Mastermind Environment

Live ELITE Influence Masterminds

ELITE Influence Insight Workshops
For a full view of what this program entails head over to the website.
ImportXperts – Learn, Practice, Trade 
In this program, you will learn all there is to know about e-commerce and how to sell products that you are passionate about.
For a full description of what this program entails you can head over here.
Marketing Mastery
This is the ultimate training module for building a complete advertising and marketing business.
This is a 2-year course which can be completed sooner which is all dependant on your level of commitment.
Your mentors here are Greg and Fiona who joined DEA in 2010 and according to the website are founding members.
You can find the details here.
Brand Incubator
This program combines e-commerce and affiliate marketing students on a branding journey through one-to-one mentorship.
All about finding out who you are and the values you can provide to make contact with your audience.
For more information, you can check it out here.
Mastermind Experience – Connect, Converge, Create
Take your journey to the next level with one on one mentorship with weekly live webinars and access to the DEA-exclusive community platform.
This is a retreat in beautiful surroundings across the world where you shrug shoulders with the founders and the DEA team.
Whether your path is affiliate marketing or e-commerce this experience will help reinforce what it is that you are trying to achieve.
For more information.
All-In Package – An Entirely New Dimension
This program gives you absolutely everything that you would need to take you from zero knowledge to getting your business up and running.
With all the tools that you would ever need and access to the training and courses along with access to all the support, you would ever need.
Don't be misled here as this package doesn't mean that you have access to all the above but to find out more.
Related: Drop Ship Unlocked by Lewis Smith
How Does Digital Expert Academy Work?
DEA give you the tools and education to help you achieve your goals with your online business.
Starting with the foundation and what is required for your online marketing business and how digital businesses are growing at such a rapid rate.
Then they focus on what your interests are, your vision going forward and the way that you like to work.
Based on that feedback allows the DEA team to guide you down the right path that fits your goals.
The training platform is set out in such a way that you can start off little and work your way up.
Meaning that you don't have to part with thousands to get where you want to be.
Obviously, in the previous section, those programs will come with a price but they could be looked at once you have your business up and running and making money.
One thing that is not clear about the DEA training is the actual costs per individual program because they don't want to scare you away.
I know that in the past if you applied with the Direct Experts Academy it would mean going through their Six Figures Mentors training first.
Which would have cost as much as $2500 but that has changed now.
Having said that to become a member you will be asked to pay $97 a month which works out at
No matter what you choose, at the end of the day, it all depends on the amount of commitment you are prepared to give.
Costs And Refunds
In recent times Digital Experts Academy has had what seems a massive overhaul with the costs of the training.
There used to be membership levels which were named Silver, Gold, Platinum and Black where costs could skyrocket to as much as $20K.
Obviously, these ridiculous costs are just that ridiculous.
I mean who has the available funds to spend on courses that aren't vindicated except for what you see on their website?
Costs were hidden and they still look like they are especially when you look at the All-In Package which implies that this cost is for everything.
What is clear is that to join the All-In Package it will cost you an initial $100 followed by $97 a month.
Which comes to $1167 for the first year and $1067 and any subsequent year thereafter.
Can You Pay For The Elite Experts Academy In Instalments?
No, you can't as it's a monthly membership fee.
Are There Any Upsells With The Elite Experts Academy?
Well no there aren't except the prices for each program will vary but they aren't available through the website so expect a salesperson to hit you with those at some point.
Is There A Free Trial With Elite Experts Academy?
Unfortunately, there is no free trial which speaks volumes to us because if the training was so good then why not allow a free entry point?
Free does allow people to check it out first before making a big commitment because this will be a life-changing decision that you have to make.
Unfortunately, there aren't too many free memberships to systems that actually mean free, well not Wealthy Affiliate anyway.
They allow you to become a free member and stay as a free member allowing you to evaluate the system before making that commitment.
Does Elite Experts Academy Come With A Refund?
Apparently, after you have paid your initial fee of $100 if you decide that DEA is not for you then you are quite in your rights to get a full refund.
This currently is a 30-day full refund guarantee
Related: Drop Shipping Blueprint
Can You Make Money With DEA
There are many so-called money-making opportunities out there on the internet but most of them are designed to just empty your pockets.
Not very often do we come across ones which are at the very least worth researching further and DEA is one of them.
So can you make money with this training platform?
Well, yes you can but building a business takes a lot of time and often people do not dedicate enough time and that's the problem.
One thing that we have noticed that is there are no external student reviews except for what you can read on the DEA website.
A couple of years ago now training through either their sister company The Six Figure Mentors or Digital Experts Academy.
Might have cost you upwards of $20K which to be honest is absolutely ludicrous and the main reason why we don't find external reviews.
Simply because there weren't many who took out the training.
But nowadays the costs have dropped considerably and made it more affordable.
Another thing we don't like but they do anyway at DEA is they get you to promote DEA to other people just like yourself.
That means you have to include paid advertising as well as training which can really get out of hand.
You could be looking at thousands paid out of a yearly period and we don't think that is right.
After all, they (DEA) are asking you to promote their business and whilst they will pay you a commission it will only be small in comparison to what the founders will be making.
Is Digital Experts Academy a Scam?
Unfortunately, with the popularity of the internet comes a lot of unscrupulous people selling you the idea of the dream.
This never appears to unfold, which means most people are sceptical and if you aren't then you certainly need to be.
Otherwise, you could end up losing a lot of money.
With Digital Experts Academy, whilst many may think is expensive we do believe it offers a lot of value and in our eyes is not a scam.
Having said that though, people tend to jump on board see that nothing appears to be working in just a few weeks and end up leaving.
Take it from me you are not going to succeed in a few weeks, in fact not even a few months so you have to be looking at 12+ months and beyond.
That for many is where the buck stops because people are too impatient and want things to happen now as in yesterday.
The training covers everything that you would need to know in order to succeed online, all you have to do is apply what you are taught.
Just because someone fails with this training doesn't mean that DEA is a bad training course or a scam.
Far from it because around 97% of people who try to start any business fail.
It's all about having the right mindset and being willing to put in the time and hard work and to hit any failure head-on and brush to one side.

Digital Experts Academy Student  Reviews 
Unfortunately, we couldn't find any external reviews from students on 3rd party sites like Trustpilot.
There are however quite a few on the DEA website but unfortunately, none of those can be validated.
We believe DEA are missing a trick here because founders of systems like this often ask to not write a review external to the DEA website.
But, it doesn't matter how good or professional a website looks those reviews that you see on there could be anyone, right?
Related: Advanced Dropshipping Academy
Digital Experts Academy – PROs
There are a lot of good things going for DEA, however,

the number of members isn't great and that obviously will be down to costs.
The Founders Do Seem Genuine: We couldn't find any real dirt on the 2 founders which is a good sign and looking at their videos do seem that they know what they are doing.
Joined Forces With LinkedIn: By joining forces with Linkedin you have access to an additional 16k+ courses which sounds great and don't get me wrong is, but you will have your work cut out with the training through Direct Experts Academy.
Great Industry To Become Apart Of: Affiliate marketing and e-commerce are probably the 2 best marketing industries to get involved with.
We can attest to this through our experience as affiliate marketers
Digital Experts Academy – CONs
We found a few things that just didn't sit right with us as you can see below.

Lack Of External Reviews From Students: Unfortunate: Unfortunately there is nothing we can do about that so you have to take the reviews on the DEA website at face value.
We are not saying that the reviews are fake but there is no way to validate whether they are genuine or not.
Is This A Multi-Level Marketing Business: When you get into the system and training you will quickly learn that they want you to promote Direct Experts Academy to others which we are not happy about?
Actual Costs Are Hidden: The only costs we have access to are the monthly membership costs which are quite expensive anyway.
We know that in the past this could have cost you upwards of $20k which was under the old payment structure.
This has changed however the costs will not have and these will be apparent at some point in your journey and probably through a sales call.
What we Think About Digital Experts Academy!
When we see training platforms like DEA where they hide the costs that just doesn't sit well with us.
You just get the feeling that you are going to be approached by the sales team who will try and squeeze as much as they can from you.
Many will think that the All-In-Package means that, all-in-one.
This is very misleading because it doesn't mean that you will get access to everything, this is entry-level.
Yes, you will get the tools and training but what we normally find is that the level of training that you get will be limited.
There's a form that you will have to fill in prior to your joining which asks a few personal questions.
Such as what you currently do for a living, hours worked, monthly income, education etc…
This will determine which route the DEA team advise you to take so the higher the income and education the more money it may cost.
There is no need to pay thousands for training courses in affiliate marketing or e-commerce.
You will notice that I have recommended courses throughout this review that will cost you a fraction of the cost.
You can even check out what we do for a living by joining as a free member so that you can evaluate the system…How cool is that?
What we do For a Living
It's called affiliate marketing which is very similar to dropping shipping except you don't have to worry about using a digital store.
The principle is the same in that you are the middle person and direct the customer to the merchant except you get paid a commission on a sale.
It also means that you are not restricted and are much more flexible.
Is one of if not the best ways to create multiple income streams.
I have personally been a member of Wealthy Affiliate since 2017 and the main reason why I was able to kiss goodbye to my 9-5 job.
Just check out the reviews on Trustpilot.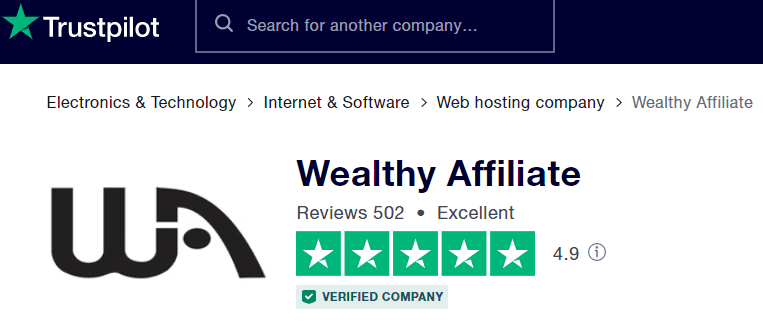 The training platform is a fully integrated one-stop-shop meaning that everything you need to succeed is in one place.
Education and training, Web development, Hosting your website, and a community that cares and is full of experience on many levels…

Digital Experts Academy – FAQs
For anybody considering DEA we found a few questions that people are asking that might be of interest.
What Do I Get In The All In One Package?
You get access to everything on the DEA training platform such as E-commerce 101 with over 10k available courses.
Plus live daily only events brought to you by Jay, Stuart and the team where you can ask whatever you want, plus so much more.
Are The Live Videos Available At Any Time?
Yes, they are, so if you are not able to attend the live feed then you can access them at your leisure any time you want as many times as you want.
I Have Seen Several Reviews of DEA Costing Thousands, Why Is This?
The courses were split and might have cost you anything up to $20k but we decided to make the courses available to everyone.
So we decided to charge a membership fee that was affordable to most people.
Can I Access The Training Anywhere Or Is It Restricted To Certain Countries?
Often you will find training courses exempt from certain countries but with Digital Experts Academy this is not the case.
As long as you can find an internet connection you have access to Digital Access Academy.
Feedback, Comments And Subscribe
OK, that about wraps things up for this Digital Experts Academy review.
Remember, courses do not have to be as expensive as DEA no matter how good they claim to be.
At the end of the day, the decision is yours but don't jump in feet first, do further research before making what will be a life-changing decision.
If you have any questions then please let me know in the
Thank you for your time!
Take care!
Stay safe!