Welcome to Adrian Morrison's eCom Success Academy Review
The e-commerce industry has become a very popular business model for people looking for a make-money opportunity.
It's a great industry to get involved with but the standard of training courses that are currently available is somewhat lacking.
Here we are today taking a look at Adrian Morrison's eCom Success Academy of which you obviously have some questions that need addressing.
Such as whether is Adrian Morrison trustworthy and whether eCom Success Academy is a scam or not!
How you came to learn about eCom Success Academy is not important, but what is important is that you chose to research the course first.
That is commendable and the only way to ensure that you find legit opportunities and avoid the many scams that are out there.
We have followed Adrian Morrison for some time now and therefore have a good grasp of who he is and his teaching methods.
But, just before we do get started we would just like to mention that we are not associated with Adrian or his course in any way.
So, what you aren't going to get from us, is a sales pitch, but you will get an honest account of what the course is and whether it is the right one for you.
---
[Affiliate Disclosure: The eCom Success Academy Review has been thoroughly researched from information and testimonials that are in the public domain. This post may contain affiliate links which means we may earn a small commission, however, this won't affect what you pay!]
---
Product: eCom Success Academy
Founder: Adrian Morrison
Website: https://esamastery.com/esa-vip-discount?
Product Description: e-commerce training course
Cost to join: £2495
Recommended: Maybe
Summary: The eCom Success Academy is a complete dropshipping course that we feel everyone can benefit from.
If you have concerns, then rest assured you are in the safe hands of one of the top experts in e-commerce, Shopify and Facebook marketing.
The course is expensive and doesn't come with a refund policy which we are sure will put most people off.
eCom Success Academy Review – TOC
What is eCom Success Academy About?
eCom Success Academy is an e-commerce course teaching drop shipping that was created by Adrian Morrison in 2015.
The purpose of the course is to teach you how to sell physical products that you don't own or stock by sending them from your online store to the merchant who dropships the products for you.
The course is recognized by Shopify as one of the best courses today that teaches dropshipping.
The course is a step-by-step approach that teaches you everything that you would need to know from one of the most successful drop shippers.
From choosing the right niche to creating your own digital store through to Facebook Ads, creating your website plus so much more.
The course is not cheap and therefore should only appeal to serious people who are looking to build an online business through dropshipping.
Dropshipping is a legit online business that anybody can learn and requires no previous experience at all.
So a complete newbie with zero knowledge in marketing can pick up the course and learn from scratch how to build a successful business.
However, this isn't a get-rich-quick scheme and would require a lot of hard work and dedication on your part.
For Those Who Don't Know What Dropshiping is And Is It Right For You?
Dropshipping is probably one of the easiest business models to learn and can be started on a relatively low budget.
In simplistic terms, you are the middle person who promotes products and services via a digital store like Shopify.
In order to do that you have to create marketing campaigns to find your audience which you direct to your online store.
Once a customer is on your digital store and decides to purchase whatever it is that you are promoting.
The order is created and sent to the merchant for delivery to the customer.
The main criteria here are to find a reputable supplier and the right products to promote.
Get that right and you could have a thriving business.
But don't worry because that is what the course will teach you and Adrian is one of the best.
Who is Adrian Morrison?
Adrian is the brainchild behind eCom Success Academy and has a brother who is equally successful online.
It all started for Adrian Morrison when he was studying to become a lawyer and failed the LSATS 3 times.
That was at a time his family lost their entire fortune in a stock market crash.
He and his brother Anthony who you may also have heard of left school and decided to pursue online marketing.
Adrian learned how to make a few bucks through Facebook marketing and decided to specialize in e-commerce and social media marketing.
But the real game changer for him was when he started promoting Netflix and making $20k – $30k a month just for introducing people to free trails.
He founded 3 companies to establish a foothold in the various business models that over the years he has got involved in.
Mpire Marketing, Mpire Labs and Launch Wise.
He is a public speaker and author of several books as well as the founder of eCom Success Academy and Morrison Coaching.
Here you can see the "Wolf of Wallstreet" interviewing him…
Complimentary Review: Drop Ship Lifestyle by Anton Kraly
What's Inside The eCom Success Academy Course?
The course is split across 8 modules which are packed with lessons and laid out in a format that is easy to understand and follow.
We have listed them below with a brief description of what's inside to give you a better understanding.
Module #1 – Shopify
In this first module, Adrian goes into what it takes to set up your Shopify digital store.
The various payment methods that are available, shipping policies, brand awareness, adding products, images, sales page etc.
Module #2 – Sourcing Products
In this module learn how to select profitable niches and which products to promote and which ones to stay away from.
Adrian covers some of the main suppliers that he has used over the years like Alibaba and AliExpress.
Margins play an important role when it comes to seeing success in dropshipping and negotiating the best product price is key here.
Module #3 – Facebook
Adrian is an expert when it comes to Facebook marketing and in this module, he covers all the key elements.
Traffic is key here and without it, you don't have customers and no customers mean no sales.
So this module is going to be one that you should pay particular attention to.
Module #4 – Email Marketing
Email marketing plays an important role in any business and it's a place where you keep all your customer contact details.
This is all taken care of through an autoresponder and the one Adrian suggests you use is MailChimp.
In this module, Adrian guides you through which is the best autoresponder for dropshipping because many have strict rules that you have to abide by.
You will realise that as time goes on that email list will grow exponentially and if treated with respect.
There is no reason why you couldn't use this email list as another passive income stream.
Module #5 – Building Your A-Team
The whole point of starting an online business like dropshipping is to offload most of the work when you start seeing success.
Doing this will free up time for you to pursue other business interests and also be able to spend more time with the family doing the things you want to do.
In this eCom Success Academy module, Adrian discusses the various ways you can do this which through sites like Fiverr, Upwork and Freelancer
This can be a long drawn-out process of finding just the right people.
Module #6 – Project Management
This module is all about how to manage the people that you have hired.
But hopefully, if you have listened to what Adrian told you in the previous module and found the right people then this task should not be too much of a burden.
Module #7 – Long Term Exit Plan
Once you have become familiar with the whole process of starting and running your own dropshipping business.
Eventually, you are going to start seeing success and at some point, you might look at selling the business.
In this module, Adrian talks about the benefits if/when you decide to sell the business.
However, this module doesn't really cover this in any great depth and looks like it was only partially completed.
Additional Bonuses that Come With The eCom Success Academy Course
Weekly Coaching
Live webinars cover all the topics associated with the course and running a dropshipping business.
With topics like Shopify Apps and settings, products and images, email marketing and Facebook marketing strategies to name but a few.
All the weekly webinars are recorded so that you can go back to any of them whenever you like.
Email Marketing With Anthony
Even Adrian's brother Anthony gets in on the act here and gives you his take on how to master email marketing for making more passive income.
He talks about product launches and solo ads in this section.
Outsource Mastery
This is supposed to add additional value to what Module 5 goes into but we found that not to be the case.
This would only apply when the business had taken off and the money started to roll in.
Case Studies
There is nothing better than going through a successful business process and breaking it down so that you can understand it more clearly.
Here Adrian goes through a number of case studies like Facebook Ad campaigns which are where he had a lot of success.
Sizzle Product Sniper Software
This software is a tool that finds current trending products that are about to go viral.
Adrian shows you the benefits of using such a tool and how it can give you the edge over your competition.
eCom Success Academy Support
Without good support, you do not have a product or system and this is an area that could maybe be extended more.
Emailing and Facebook groups are something we find don't work effectively due to bad response times.
Complimentary Review: Drop Ship Unlocked by Lewis Smith
Who is eCom Success Academy For?
Adrian claims that the eCom Success Academy is for everyone, even complete beginners who have no knowledge at all of making money online.
Obviously, only through my own experience, beginners might find this all a little bit too much for a first money-making venture.
Having said that, everybody is different and besides, it is one of the more popular business models that you could learn.
Furthermore, you are been taught by one of the most experienced in e-commerce.
Regardless of what level of experience you have, you should benefit from his teaching methods, especially with the more advanced topics.
Can You Make A Living From The eCom Success Academy?
Yes, absolutely you can if you follow everything that Adrian teaches you in his training course.
As there is no refund with the eCom Success Academy that means you have to be certain that dropshipping is for you.
There is no coming back once you make that decision to become part of the course.
If you apply what you are been taught then there is no reason why you couldn't make a success of eCom Success Academy.
But it won't be a walk in the park and will take a lot of hard work and plenty of patience which unfortunately most people do not have.
eCom Success Academy Cost And Refund
There are 2 payment options when you are considering joining eCom Success Academy.
The first option can be paid over three equal payments of $997 with a total of $2,991.
The second option is a one-off payment of $2,495.

Are There Any Upsells With eCom Success Academy?
There are no upsells with eCom Success Academy and what you see is what you get.
Are There Any Additional Costs We Should Factor Into The eCom Success Academy?
There are always going to be additional costs with any new business venture and eCom Success Academy is no different.
Things like…
Web hosting – $20/month = $240/year
Paid Ads – $100 – $300 a month = $1,200 – $3,600
Shopify – $29/month = $348
Total for the year – $1,788 – $4,188
If you consider joining Adrian's eCom Success Academy then you need to make sure that you have several thousand dollars in reserve!
Does eCom Success Academy Come With A Refund Policy?
Unfortunately, there are no refunds as of this review and we don't see that changing in the near future.
There are complaints about this very fact so you'd better be serious about starting a drop shipping business through ESA.
At least this way you should be certain that only people who are really ready and serious about this will join.
Is The eCom Success Academy a Scam?
eCom Success Academy is absolutely not a scam but a very legitimate course that can teach anybody from scratch how to build a successful online business by doing dropshipping.
Adrian Morrison is regarded as one of the top people when it comes to e-commerce and Facebook marketing.
Another thing to add is that Shopify hold Morrison in high regard and there is no way they would be getting involved with.
Someone who let's say wasn't a legitimate person, now would they?
There are plenty of courses online teaching various ways to do dropshipping and many of them fall short of the mark.
eCom Success Academy with Adrian is not one of those.
Adrian has plenty of experience working with Shopify and has built up a good relationship so rest assured this is where his experience lies.

eCom Success Academy Online Reviews 
Unfortunately for a training course that has a lot going for it and that comes from someone who knows his stuff.
We found it a little disappointing that we couldn't find any third-party reviews online.
eCom Success Academy Review – PROs
Adrian Morrison Is A Legit And Experienced Marketer:
Finding a mentor is key in any business venture and with so many out there that claim to be just that we find that isn't the case at all.
At least with Adrian, you are in safe hands and he will increase your chances of success.
Update Are Included In The Course Fee:
We can see that eCom Success Academy is updated on a regular basis which is a good thing to see because things change pretty quickly.
Your initial fee is for life and covers all updates and additions to the course.
eCom Success Academy Includes Several Bonuses: 

As well as a comprehensive training course Adrian adds some useful bonuses which will add more value.
The Course Is Very Comprehensive: 
There is a lot of detail that comes with eCom Success Academy which is all based on Adrian's past and future experiences.
We thought he did a very good job of expressing himself and his teaching methods are spot on.
eCom Address Academy Review – CONs
eCom Success Academy Is Expensive.
The course is very expensive and most people just don't have that kind of budget.
Especially as there are other contingencies to take into consideration.
If you want one on one coaching with Adrian that is going to cost you an additional boat load of money.
There Is No Refund Policy:
We would have thought that there would have been at least a 30-day money-back guarantee but alas there isn't.
This was a little disappointing but I guess that Adrian is only interested in people who are serious about starting a dropshipping business.
Additional Costs To Take Into Consideration:
Any business no matter what it is will cost you a lot more than you probably considered and this is where people get shot in the foot.
They just aren't aware of this, so pretty quickly whatever you pay for the course you can at least double that figure and more for the first year or until the business starts making money.
eCom Success Academy Only Covers Paid Traffic:
Dropshipping is all about turning things around quickly to put you in profit so paid traffic is the way forward however this can be expensive.
The course could have touched base on using SEO for free traffic as the long-term goal could save you a ton in marketing costs.
This Is Not A Get Rich Quick Scheme:
The get rich quick mentality hopefully should be left to one side seeing that there is no refund, but people are taken in by what others say.
Do not expect to be earning in the following weeks and should be looking at this business long term and ensuring that you follow everything to the tee.
eCom Address Academy  – Final Verdict!
Dropshipping is a great business to get involved with and is still one of the most popular business models today.
You will need to have a few thousand dollars in reserve to take you through the first several months as this is not going to happen overnight.
Even though the process may seem straightforward, it is but there are plenty of things that you need to put in place.
Finding the right supplier and products are key and remember cheap products are going to eat into your margins.
If you want a dropshipping model that looks at high-ticket products as opposed to low-ticket.
Then we would suggest checking out Dropship Formula by Simon Vernon.
This does cater for the UK market but there is no reason why you couldn't adapt this to other countries.
If it's a business opportunity that doesn't cost the earth to get started then please continue to read the next section.
eCom Success Academy – Alternative Solution
It's called affiliate marketing which is very similar to dropping shipping except you don't have to worry about using a digital store.
The principle is the same in that you are the middle person and direct the customer to the merchant except you get paid a commission on a sale.
It also means that you are not restricted and are much more flexible.
Is a great and one of the best ways to create multiple income streams.
I have personally been a member of Wealthy Affiliate since 2017 and the main reason why I was able to kiss goodbye to my 9-5 job.
Just check out the reviews on Trustpilot.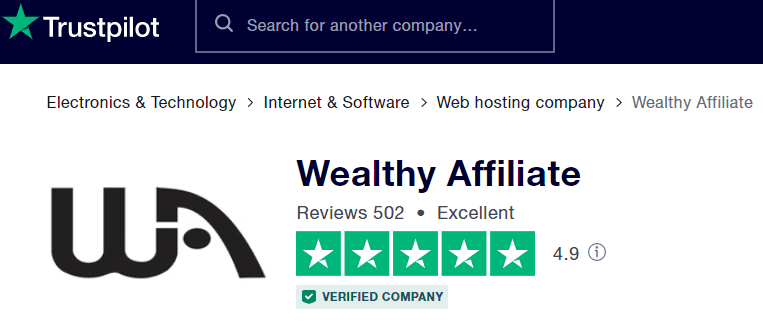 The training platform is a fully integrated one-stop-shop meaning that everything you need to succeed is in one place.
Education and training, Web development, Hosting your website, and a community that cares and is full of experience on many levels…

eCom Success Academy Reviews – FAQs
We have managed to dig out a few questions that people are asking about the ESA course as well as dropshipping in general in the search engines.
Hope this will help in your decision-making!
How Much Is eCom Success Academy?
You have 2 options, make a one-off payment of $2,495 or spread the costs over 3 equal payments, each $997 for a total of $2.991.
Is It Profitable To Dropship?
Yes, as you are not responsible for any products, manufacturing or shipping which shouldn't incur huge costs.
Likewise, providing you find the right supplier and negotiate a good price then you should be able to secure a good profit margin.
Best Dropshipping Suppliers?
In recent times there is a fair selection of companies that you could use.
AliExpress, SaleHOO, Oberlo, Worldwide Brands, Doba, Inventory Source, Printable Inc…
Is Dropshipping Good For Beginners?
Dropshipping is a great choice for complete beginners and we see many having a lot of success.
However, it is something that we wouldn't recommend as the first online business venture.
How Much Do Beginner Dropshipper Make?
This is all down to the individual and how much work you are prepared to put into this business.
As a whole we see many drop shippers making in the region of 20 to 30 per cent which isn't too uncommon.
 How Many Hours Do Dropshippers Work?
In the early stages, you will want to put in as many hours as possible to get the business into profit.
Moreover, once you have then you will want to start thinking about outsourcing to free up your time.
That's when your role becomes more of a project manager which could cut your hours a week down considerably. Maybe 1-2 hours a day!
How Quickly Can You Make Money Dropshipping?
You should be looking at running your dropshipping business full-time which doesn't mean 9-5.
Providing you have everything in place then expect to see results between 6-12.
What Are The Disadvantages Of Dropshipping?
There are disadvantages in most businesses, especially with dropshipping where you rely heavily on the supplier for meeting demand.
Late deliveries or bad products will do your business a disservice and will hurt future customer commitments.
Feedback, Comments And Subscribe
I hope you enjoyed this eCommerce Success Academy review and that we managed to address any questions you had.
Maybe you have been a member and would like to share with us your experience.
Thank you for listening!
Take care!
Stay safe!