Hey Guys, welcome to the Story Sales Machine review
If you have an online business or thinking of creating one then you should know that email marketing.
Plays an important role and is another passive income stream that you should be taking advantage of.
In order to keep your subscribers interested, you need to create things like newsletters and a series of emails.
This is where the Story Sales Machine comes in and could help you, but we have seen many of these products on the market in the past that didn't hold up to their claims.
Is the Story Sales Machine one of those products?
If you have an online business or thinking of starting one the Story Sales Machine could be a worthy product to have in your toolbox.
Before we get started we'd just like to mention that we are not associated with Bill Mueller or the Story Sales Machine in any way.
That means that what you'll get from us is an honest unbiased account with all the facts so that you can decide if this product is for you or not.
That said, let's begin.
---
[Affiliate Disclosure: The Story Sales Machine Review has been thoroughly researched from information and testimonials that are in the public domain. This post may contain affiliate links which means we may earn a small commission, however, this won't affect what you pay!]
---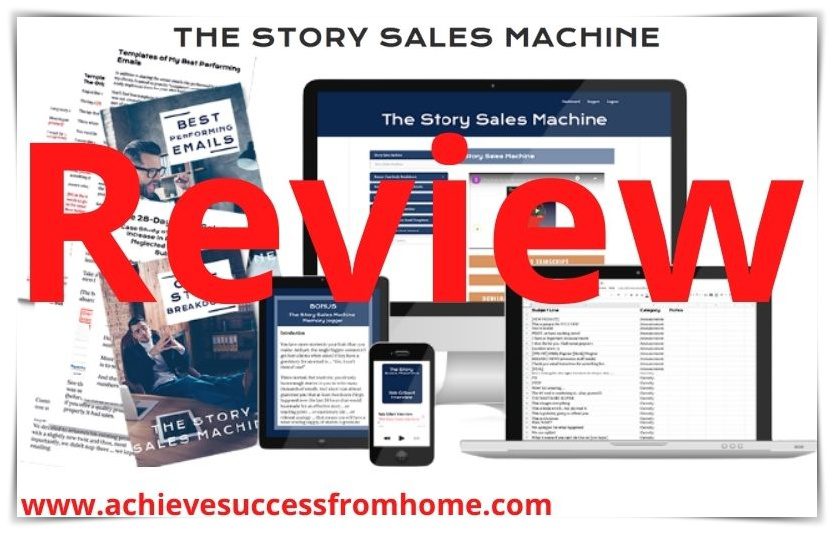 Product: Story Sales Machine
Founder: Bill Mueller
Website: www.storysalesmachine.com
Product Description: Email marketing course
Cost to join: $37
Recommended: Yes
Summary: Running an online business takes a lot of time and hard work because there is a lot involved.
Email marketing is sometimes neglected due to the lack of time and therefore creating email sequences and newsletters tend to be left to one side.
The Story Sales Machine is a decent course that teaches you all you would need to know about email marketing.
It might not be the best training but what do you expect for $37?
But, if you have an online business and email marketing isn't on your list of things to do we would seriously consider it.
Business Opportunity we think you will like:
If you are in the early stages of contemplating building an online business you might like to take a look at the link below.
Story Sales Machine Review – TOC
What is The Story Sales Machine About?
The Story Sales Machine is an online digital course that teaches you the art and importance of storytelling in email marketing.
Bill Mueller is the creator and owner of the Story Sales Machine and has made millions for his clients and is offering to share his secrets with you.
The course comes with many templates and breaks down the entire email creation process and will help you create story emails in a super quick time.
The course comes with a fill-in-the-blanks system that helps you create many story bases emails that work.
Just plug in your details, such as your audience, offer, plus more information and the system will generate your emails automatically.
There is an 8-step process to help generate your story ideas and turn them into emails that your audience will love.
I don't know about you but I get hundreds of emails and most of them I just delete so creating the right email sequence that is eye-catching has to help.
Bill Mueller is so confident that the Story Sales Machine is going to help anybody that he attaches a 365 full money-back guarantee.
There is even a 30-minute conference call with Bill himself to discuss strategies.
Seems like you are getting a lot for $37, right?
Who is Bill Mueller?
Bill has been helping clients since 2005 to increase business revenue through his unique approach to email marketing.
Emails that we receive daily are normally pretty boring and repetitive and most people delete them without a second thought.
According to Bill, he says that people are more inclined to respond to your marketing strategy through email stories.
According to one client Bill single-handedly increased annual revenue from $153k to $1MM with one email strategy over the course of  1 week.
Bill's reasoning behind The Story Sales Machine and why this approach is so successful is because people love storytelling.
He has obviously been involved in this type of marketing for a number of years and therefore should know his stuff.
Here's a YouTube video interview with Bill Mueller discussing storytelling.
What You Get With The Story Sales Machine
There is quite a lot of training that comes with the Story Sales Machine and hers is a breakdown of what you get…
Story Sales Machine Training
10-step email welcome sequence
212 subject lines, emails and much more
Which includes…
2+ hours of full instructions
8-step story sales machine
Examples that you can follow
A number of email templates
How to generate story ideas
Better "Big ideas" for offers
Answers to objections
Plus so much more
There is an additional 5 bonuses that come with this offer.
28-day email solution – 68-page case study breakdown book
Bill's best-performing emails
141  story starter pack ideas
Video training with Rob Gilbert about storytelling
30-minute strategy call with Bill Mueller
Who is The Story Sales Machine For?
There are many people and products that can benefit from story-based emails and here's a list that will benefit.
Digital Products
​Coaches & Consultants
​Experts
​Product Launches
​Affiliate Marketing
​Sales Funnels
​Welcome Sequences
​Copywriters
​Physical Products
​Influencers
​And Much More
Is The Story Sales Machine a SCAM?
The Story Sales Machine is not for everyone especially if you aren't going to adopt an email marketing strategy.
A scam is when you pay your money and you get nothing in return which is a far cry from what you get with this product.
Email marketing is just another aspect of running an online business and works best when you have a big enough following which takes time.
As you can see, you get a lot of value for the $37 that it will cost you and you are sure to get some benefits.
What We Like About The Story Sales Machine
We thought the Story Sales Machine was good value for your money
Good value for your money: There are many products on the market that offer similar training but cost a lot more than the $37 that you pay here.
Great refund policy: Something that we haven't seen before is a full 365-day full refund policy.
What that should tell you is the confidence Bill Mueller has with this course.
Good training: You get what you pay for and whilst it may not be the best email marketing course there is a lot of training that comes with it.
What We Don't Like About The Story Sales Machine
Not the best training course: What do you expect for $37 and you are going to need some further training.
The Story Sales Machine Review – Final Thoughts!
Don't expect too much with this course but for $37 the email templates alone are going to be worth it.
If you are new to email marketing then you are going to need some further training and there is plenty of good training to be found online.
Email marketing is just one of the many skills that you would need to learn which would give you another passive income stream.
However, if you are thinking of starting an online business then the Story Sales Machine is not going to be of any use to you in the early stages.
You would need to learn the fundamentals of online marketing first because email marketing comes a little later on.
If starting an online business is something that appeals to you then we would recommend a training platform.
That covers everything you'd need to know about creating a successful business online which includes email marketing.
The training platform is extensive and if you are interested then we'd love to share this with you in the next section.
Something That We Think Might Interest You
After a few years of trying various methods how to make money online, we found affiliate marketing to be the best and easiest business model.
Simply because you don't need much money to get started, in fact, take a look here and see what it costs me on a daily basis.
In our opinion, one of the best training platforms online is Wealthy Affiliate and nothing but positive things happen.
It doesn't cost anything to look and there are no credit card details required.
See for yourself, what have you got to lose?
If it's not for you then call it a day but you will never know until you have at least taken a look.

 Story Sales Machine FAQs
Is The Story Sales Machine Worth The Money?
There are a lot of similar courses out there on the marketplace that cost so much more and usually come with a number of upsells.
There are no upsells with the Story Sales Machine and what you see is what you get, for $37 and we feel you get more than enough for your money.
Is There A Refund Policy In Place?
There is a refund policy and this is a pretty good one, in fact, one that we haven't seen before.
Where you have a full year to decide whether the Story Sales Machine is right for you or not.
That's confidence enough to tell us that what you are getting is a worthwhile product.
Is Bill Mueller A Creditable Person?
There isn't a great deal about Bill either on a positive or negative level which is neither good nor bad.
We did find a YouTube channel but there weren't any videos and there is a Facebook page but no entries for over a year.
We did find a YouTube video where he discusses storytelling which we have added earlier within this review.
 Is There Any Additional Training Regarding Email Marketing?
Email marketing is a massive subject in its own right and is all about instilling confidence in your subscribers.
This can take time and more than often people will subscribe for all sorts of reasons but very quickly forget that they have.
That's why you have to stand out in the crowd.
Udemy has some very good courses that are very reasonably priced whilst Wealthy Affiliate is a great training platform that has everything.
Check it out and see what you think.
Feedback, Comments and Subscribe
Well, guys, we hope that you get some value out of this Story Sales Machine review and that we answered most if not all of your questions.
If there is anything you'd like to add or maybe you have already purchased this product then we'd love to hear about what you thought of it.
Until next time, stay safe