Welcome to How to start affiliate marketing today
In the last decade, since 2010, the affiliate marketing industry revenue has tripled in the US alone and still one of the most popular business strategies for driving sales and generating a passive income.
A multi-billion-dollar industry that just seems to go from strength to strength.
If you are looking for a way to tap into this industry then look no further because this guide can help and point you in the right direction.
---
[Affiliate Disclosure: This post may contain affiliate links which means I may earn a small commission if you purchase anything through one of the links. However, this will not affect what you pay!]
---
Internal Summary and Navigation
---
What is Affiliate Marketing 
Affiliate marketing is a process where you earn commissions on the sale of products or services that you promote for another company.
Find a product to promote and receive a profit for every sale of the product that you make.
In other words, help a company to sell their products and for that, you make a percentage of the profits.
The beauty of this business model is that you don't make the products yourself as this is already done for you.
You don't even have to purchase the products yourself and pass them onto the customer as everything is done for you, even returns.
You are just connecting the customer with the vendor or retailer and that's it.
All you need is a place to sell these products, you could use social media like Facebook, Youtube, Instagram or a Website which would be the most appropriate route.
Another example would be, that you are on this website reading through posts and reviews and within those posts are links to products and services.
If you clicked on one of those links and paid for the product or service then I would make a commission.
As you can see a simple business model that anybody can learn.
---
How Affiliate Marketing works
As I have already mentioned the affiliate marketing process is a straight forward strategy that only takes…
A  Niche – An interest or hobby and something that you have a passion for, which makes building your business enjoyable, that way it doesn't become so much of a chore.
Website – For longevity, a website would be required to promote your niche and before you say, "I wouldn't have a clue". I and many others I know we're in the same boat but take it from me creating a website nowadays is a breeze and so enjoyable.
Creating content – Not a writer? Neither am I but something that I actually enjoy doing now. Just like anything new, the more you do it the better you will get.
Join an affiliate program – An affiliate program is what you use to connect the customer to the product and retailer and how you would get paid.
I go into more detail in this guide I wrote recently "How Online Affiliate Marketing Works" and you can read about here.
---
Why Get Started Today?
The affiliate marketing industry in the US alone as tripled in revenue in the last 10 years since 2010 and predicted to keep on rising to over 8 billion by 2022.
This is only in the US; if you include the rest of the world we are talking about somewhere in the region of 15-20 billion dollars.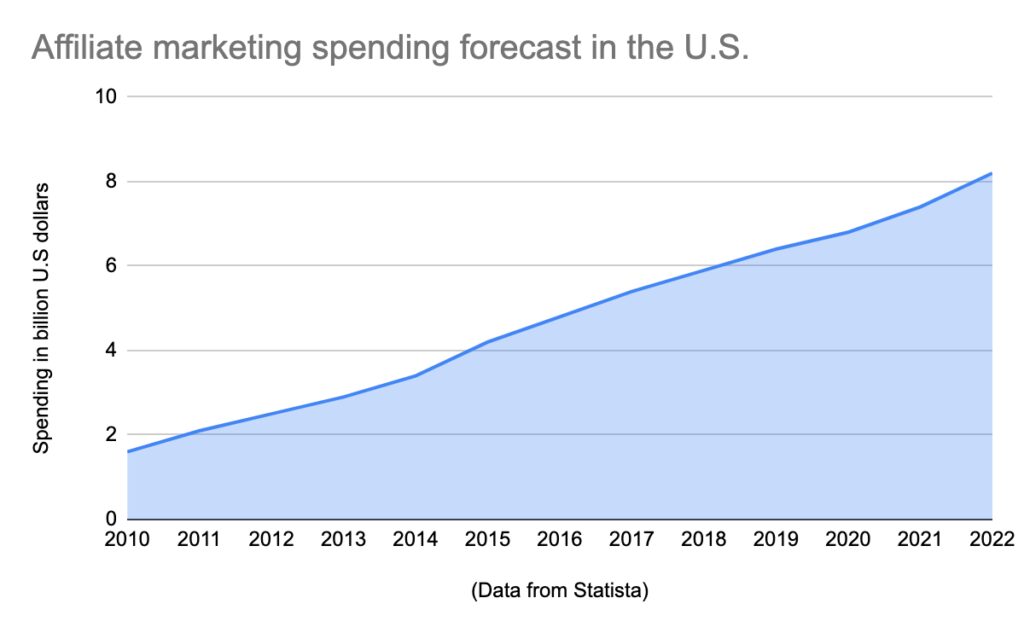 There are literally 100s of millions of products that you can promote and for every product that you might want to promote you are sure to find an affiliate program.
There is no better time than the present and has become a very popular route for many to create that passive income and be able to take control back with their lives.
---
Affiliate Marketing and How to Get Great Results
There are many ways to get the best out of your affiliate marketing business and just a few main considerations.
Concentrate on the one niche – You've heard the saying "Jack of all trades and master of none". That's why we choose the one niche and stick to it, that way we can become an authority.
Create good quality content – Having a great looking website is not going to cut it without great content that your readers are going to come back, time and time again for.
Always help and provide information. Do not sell! – A mistake that many affiliate marketers make and consider the money aspect, their number one goal. Helping should be your number one consideration, the money aspect will take care of its self.
Ensure you are promoting a great product – A great website and great content is nothing without a great product and make sure you believe in the product or service.
Get to know your product well – Get to know what the product is all about because your readers are going to want to ask questions, just make sure you have the right answers before replying.
Always engage with your readers and customers – Your readers will take their time before they get confident with you, so treat them with respect and remember it wouldn't take long for your subscribers to unsubscribe.
Keep an eye on what your competitors are doing – The only way you are going to get better at affiliate marketing is to see what your competitors are doing and better than you.
Keep test and improving – Never rest on your laurels and always try to do it better the next time.
Dedicate time to your goals – Don't put all your eggs in one basket and start by taking small steps. The more effort you put in the more rewards you will get back.
---
Who is Affiliate Marketing For?
Affiliate marketing is literally for anybody regardless of age and academic background.
There are no boundaries with becoming an affiliate marketer providing you are prepared to listen, learn and take action.
Affiliate marketing is not some get-rich-quick scheme and takes a lot of hard work and therefore not for everybody.
The reason why most start off with good intentions, but when they don't see results coming quick enough then they decide to call it a day and move onto the next thing.
I'm not going to BS you, because I did just that myself, although I didn't call it a day permanently, I did, however, have a break of around 16 months.
Having a good foundation is very important and trying to piece this all together yourself could work, but finding a training platform with successful entrepreneurs who are prepared to share what works for them is definitely what I recommend.
It worked for me and it could work for you.
---
How to Start Affiliate Marketing Today -Finding the Right Training Platform
If there was a post I wish I'd come across a few years back when I was trying to make money online that would have saved me a lot of time, then that would have been something like this one that you are reading now.
However, even with the most creditable information; like me, you are probably going to question everything.
However, that's a good thing, because you should be questioning everything, but there comes a point in your research when you are going to have to bite the bullet.
You can look at posts that show you earnings till you go blue in the face, but this is the 21st century and creating documents that try to convince you that what you are seeing is real, in many cases is BS.
That's not who I am and like to think that I am a genuine person who loves helping others.
So, my number one recommendation to you would be, Wealthy Affiliate, which has been around since 2005 and seen over 1.4 million members come and go.
Some with incredible successes and many who just didn't stay the course and for them, things didn't happen quick enough.
I can't stress enough, this isn't a get-rich-quick scheme but a legitimate business strategy that will take hard work to succeed in.
Why not take a look, it will cost you nothing and you won't be asked for your credit card details either.

---
Feedback, Follow and Subscribe
Hope you enjoyed this how to start affiliating marketing today guide.
If you did then why not share this amongst your friends and family on social media.
Any questions at all please put them in the comments section below.
Until next time, and stay safe!