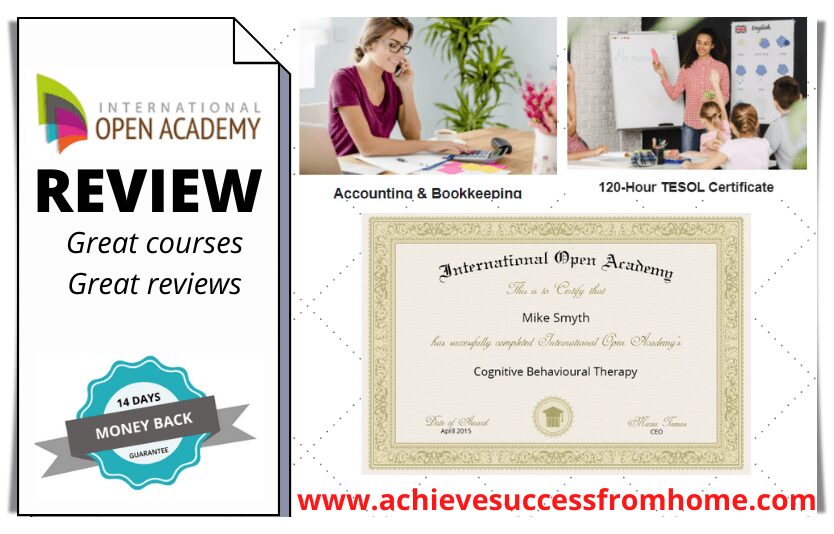 Welcome to the
International Open Academy Review
.
For many, going to college or university and studying for a degree just wasn't an option and for many reasons, but mainly down to costs.
Online learning platforms nowadays have become very popular and more so since this pandemic started.
There are more popular training platforms like Udemy that cover every conceivable subject you could possibly think of, to the more specialized training coming from Coursera and Edx.
International Open Academy may not be as popular as the ones above but they offer some interesting courses and are very well received by their past and current students as can be seen on Trustpilot.
So without further ado, let's dive in and see what they have to offer.
---

Product: International Open Academy
Founders: Unknown
Founded: 2015, Dublin
Website: www.Internationalopenacademy.com
Product description: Online education/training platform
Price: 10-day Free trial, $14.99/month, $129.00/year, $299.00/life
Recommended: Yes
Summary: IOA, whilst not an eLearning platform that could ever compete with the likes of Udemy or Coursera does have some exciting courses.
Here's another training platform that teaches affiliate marketing, which is a total career change where the potential outstrips any full-time job.

---
Internal Summary and Navigation
---
What is International Open Academy about?

International Open Academy is an online learning platform that was founded in Dublin in 2015.
As of this review, I couldn't find out who was responsible for starting the company.
Although the number of courses is limited to around 200 they do offer a fairly wide range of courses that should appeal to many.
They are recognized by the International Council for Online Education and approved by the Training Qualifications UK centre.
Here's a short promotional video.
---
Who is International Open Academy for?

There are a number of categories as can be seen from the image above, so IOA is pretty much for anybody.
There are some very interesting courses within the teaching category, especially the TEFL and TESOL courses.
120 hours TEFL certificate course
120 hours TESOL certificate course
American sign language
American sign language level 2
Autism awareness
Dyslexia awareness
Home science experiments for kids
Make money teaching English online
Special educational needs
I see many students taking courses in this category to help in their careers overseas especially in countries like China, India and Japan.
---
Let's take a look inside International Open Academy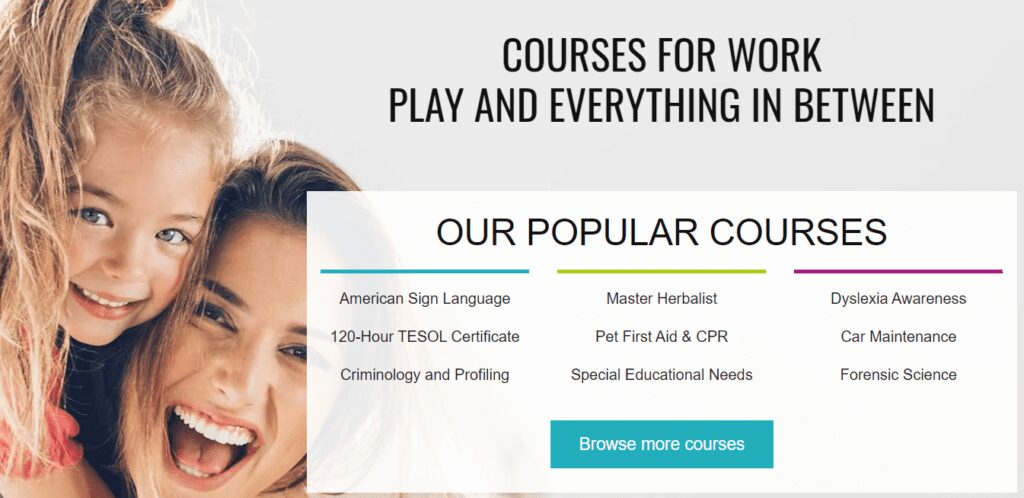 There are a number of courses in specialist subjects as can be seen in the above image.
American Sign Language or ASL Grammer for short, is a very popular course that comes with over 60 practical videos.
I'm sure you will be surprised to hear that ASL is the third most used language after English and Spanish in the US.
This is an accredited course and according to the World Health Organisation, there is around 5% of the world population with a hearing deficiency including around 11 million in the US alone.
Dyslexia is another very popular course with around 1 in 10 who have some form of Dyslexia. That's around 80 million worldwide with many more who are just not aware of it.
This course makes you aware of the condition and how you can help others, whether it is a child, family member or other.
It is courses like this and the wonders of the internet that allow you to study from home with no fear of criticism from others.
Special Educational Needs is another excellent course that comes highly recommended with over 21,000 who have already taken the course.
Gain the skills to teach Adults
and Children with a varying range of educational needs.
Schools are always on the lookout for individuals with specialized training in this area.
Working with students who have special needs is extremely rewarding.
This course is broken down into ten modules which makes what is a complex subject much easier to learn and understand.
Overview
Identification and Intervention
Language and Literacy
Early Childhood Special Educational Needs
Middle Child and Adolescence Special Educational Needs
Students with Mild and Moderate Disabilities
Students with Severe Disabilities
Family Involvement
Special Educational Needs and the Law
Case Studies
---
International Open Academy costs
There are 3 basic levels of membership
10-day free trial

Unlimited access to all courses
Access to all course material
Access to Q&A plus webinars
Monthly subscription – $14.99

Unlimited access to all courses
Access to all course material
Access to Q&A plus webinars
Exams
Letter of enrollment
Completed certificate
Option for an ICOES certificate
Suggested course feature
Cancel at anytime
Annual subscription – $129.00

Unlimited access to all courses
Access to all course material
Access to Q&A plus webinars
Exams
Letter of enrollment
Completed certificate
Option for an ICOES certificate
Suggested course feature
Cancel at anytime
2 free gift vouchers
The additional free study material
If you are really interested in the courses then maybe it would be a good idea to take advantage of the lifetime subscription for $299.00 which includes everything you see in the above yearly subscription.
---
What other's say about International Open Academy
With an overall rating of around 96% on Trustpilot that tells me that the International Open Academy is a popular choice for many and very well received.

It doesn't matter how good a business or product is you can't get it right all of the time and there will always be some teething issues.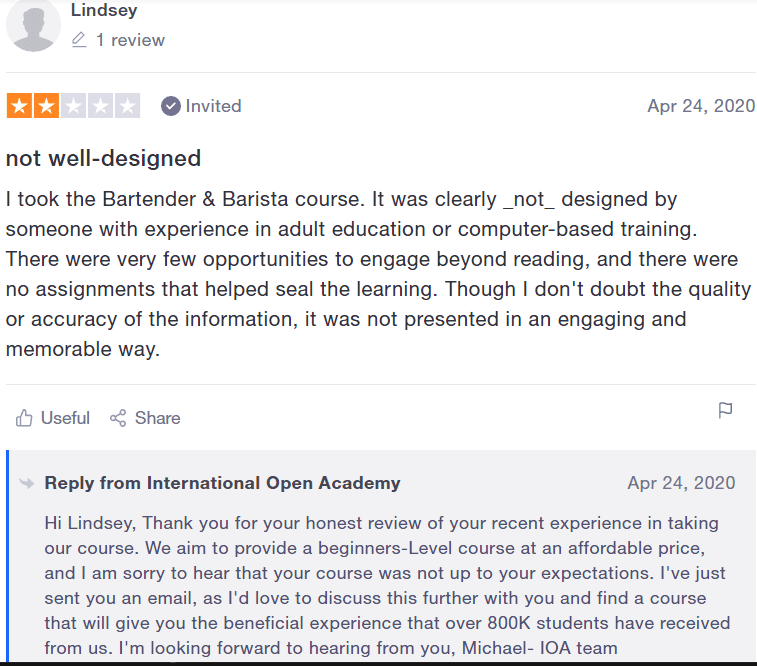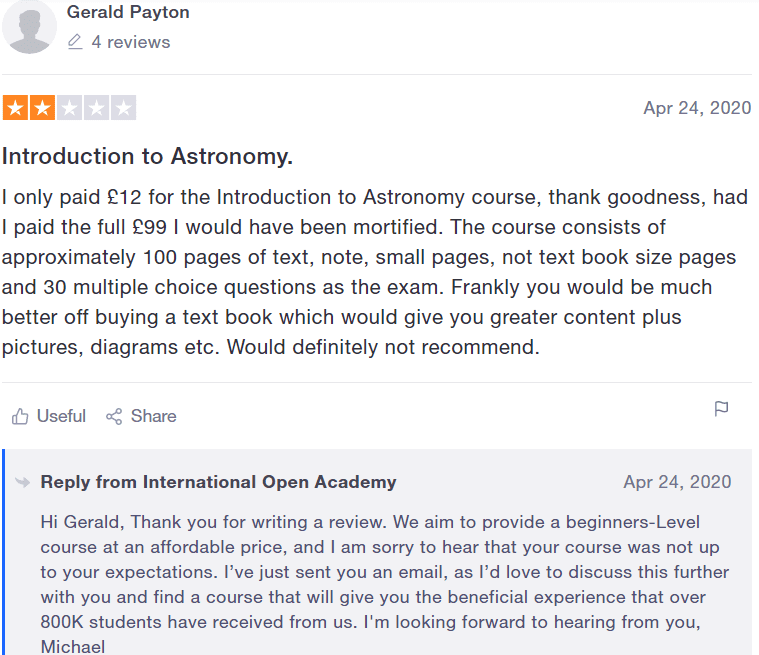 ---
What I like about International Open Academy
Even though they don't have a mass of courses

to choose from the ones that they do have cover a wide area.
10-day trial
For anybody who is not sure about the level of the courses then why not take advantage of the 10-day free trial which everybody automatically gets when they first join.
14-day money-back guarantee
Always a good thing to be able to fall back on is a money-back guarantee.
Trustpilot and great feedback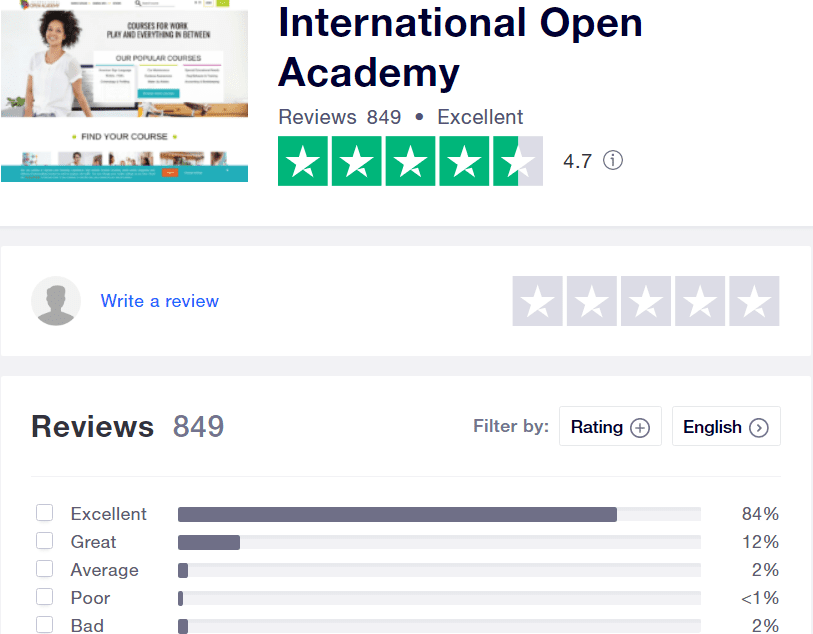 As you can see by the above image, they have a great following with a 96% positive overall rating.
---
What I don't like about International Open Academy
The amount of unsatisfied customers looking

at Trustpilot is down to around 3% and these remarks are hardly worth mentioning.
Limited on the number of courses available
For anyone who dives into the home study experience what you are looking for are courses that go up in levels so that you can improve on your knowledge over time.
International Open Academy is missing out in this area which means they are also missing out on continued membership.
---
How to Earn with the International Open Academy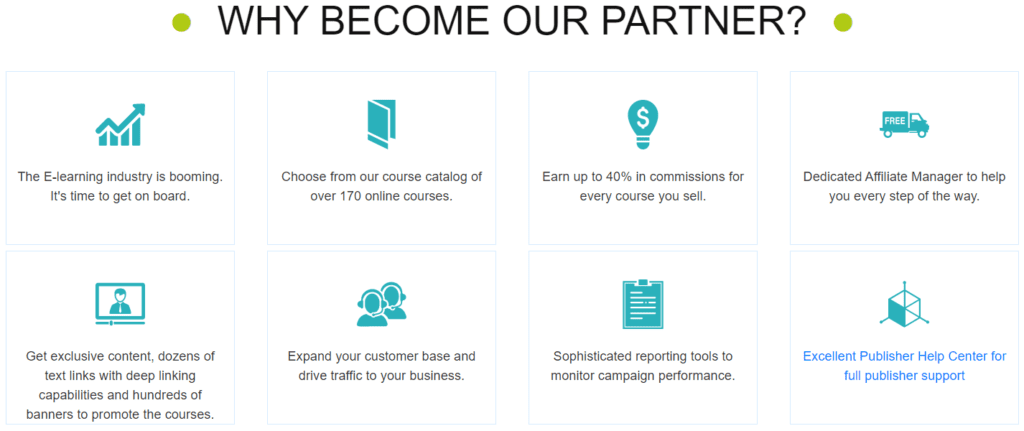 Knowledge is power and if e-learning is your thing as I know it is for some of my friends then why not use their affiliate program.
It is free to join and with up to 40% in commissions could be a nice little earner.
If you weren't aware of what affiliate marketing was then this website you are on here operates under that business model, just like International Open Academy does too.
I wrote a post about affiliate marketing that you can check out here.
---
Is International Open Academy a Scam
International Open Academy is definitely not a scam.
You can see that by the number of positive reviews they are getting from sites like TrustPilot.
The courses are reasonably priced if you take advantage of the discounts and if you are one who just likes to improve their knowledge across many areas.
Then a yearly membership is well worth taking out and will save you a lot of money in the long run.

---
International Open Academy – Final Analysis
Whilst the International Open Academy might not have a large database of courses to choose from, what they do have covers a wide spectrum with some specialist courses that you may not find elsewhere.
With an overall rating of 96% at Trustpilot should be more than enough an indication that the training platform is at least worth checking out.
Of course, you will find a huge number of courses to choose from at sites like Udemy, but what I have found there is that you have to be more selective and do a little research first.
With eLearning platforms in abundance nowadays especially with what is happening throughout the world, people are turning to them for ideas and career changes or just another outlet to subsidise their current jobs.
---
Training that really delivers
Something we all have in common is hobbies and interests.
Wouldn't it be great if you could make a living from something we have a love or passion for?
Something you won't find on the IOA training platform is a course in Affiliate Marketing.
An industry that is constantly expanding with predictions that by 2025 will be worth around $22 billion.
Well, there is a company that specialises in affiliate marketing and that is Wealthy Affiliate which you can read about here.
A business that has been around since 2005 and has seen well over 2 million members come and go.
Just a few success stories that I choose at random…

---
Feedback, Follow, Subscribe
Hope you enjoyed the review and that I managed to answer most of the questions you had?
If you did then why not show a bit of love by sharing amongst your friends on social media.
Any questions then please add them in the comments section below.
Until next time, stay safe.