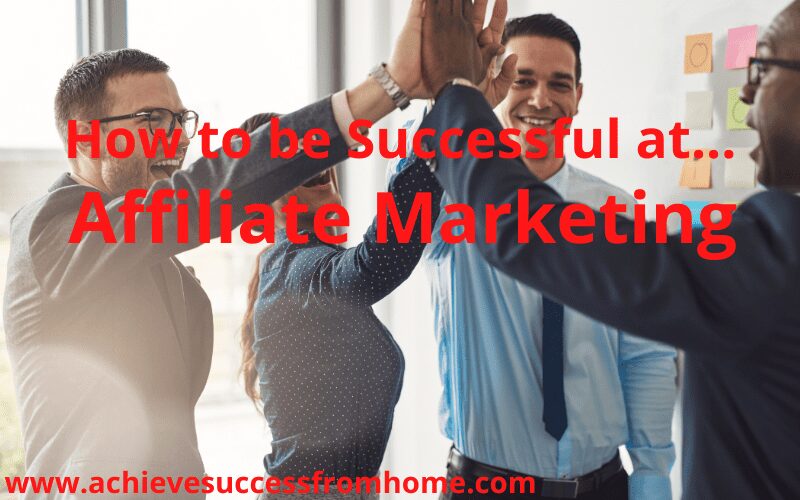 Welcome to How to Become Successful in Affiliate Marketing
Affiliate marketing is an easy way of earning a passive income and anybody can do it!
I'm sure you have come across those claims more often than you care to remember.
"Press a button, and just wait for the money to start rolling in"
That's the dream for everybody, but the reality of it all is that just isn't how affiliate marketing works.
Many people who venture into affiliate marketing do so with the thought of easy money.
Join an affiliate program, grab a few affiliate links and post everywhere hoping someone will click on the link and purchase a product or service that you are promoting.
You "might" pick up a sale or two if you are fortunate but "cold calling" didn't work then and it certainly doesn't work now.
All that will happen is that it is going to cost you a lot of money to pay for your marketing campaigns.
The truth of it is that affiliate marketing is not easy but take on board what it takes to fail and you might be onto something.
---
[Affiliate Disclosure: This post may contain affiliate links which means I may earn a small commission if you purchase anything through one of the links. However, this will not affect what you pay!]
---
Internal Summary and Navigation
---
What is Affiliate Marketing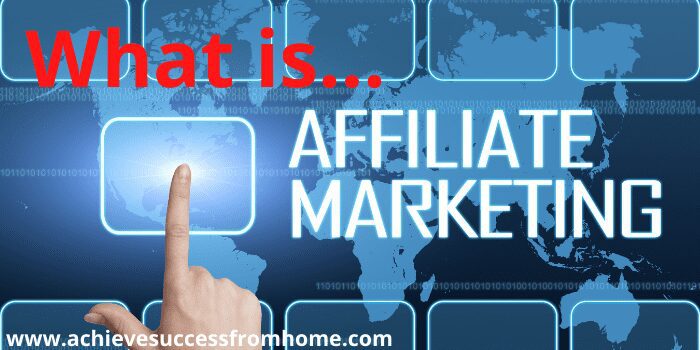 Affiliate marketing is a straight forward business strategy that is made up of 3 parts.
This is the person who is typing keywords into the search engines, looking for information to solve a particular situation, whether that is some advice or to purchase a product or service.
There are many ways to promote a product or service and there are some bad ways too which are going to be highlighted in this post.
The merchant can take on multiple forms…
Product creator
Seller
Brand
Most people would consider the merchant to be the company that manufactured the product.
For example, Sony, manufacture and sell all kinds of electronics products.
They also have other retail outlets that sell their products, such as Walmart and Amazon amongst many others.
Affiliate marketing is where the affiliate marketer finds a product they wish to promote that is going to help the customer, they then signup for an affiliate program that the seller provides which are normally free.
The affiliate takes the unique affiliate link that corresponds to the product, promotes this link and when a customer clicks on the link and purchases the product the affiliate is paid a commission.
Generally speaking, you could look at affiliate marketing where the merchant or seller hires a person to sell their products and in return receive a profit-share.
A win-win situation for both!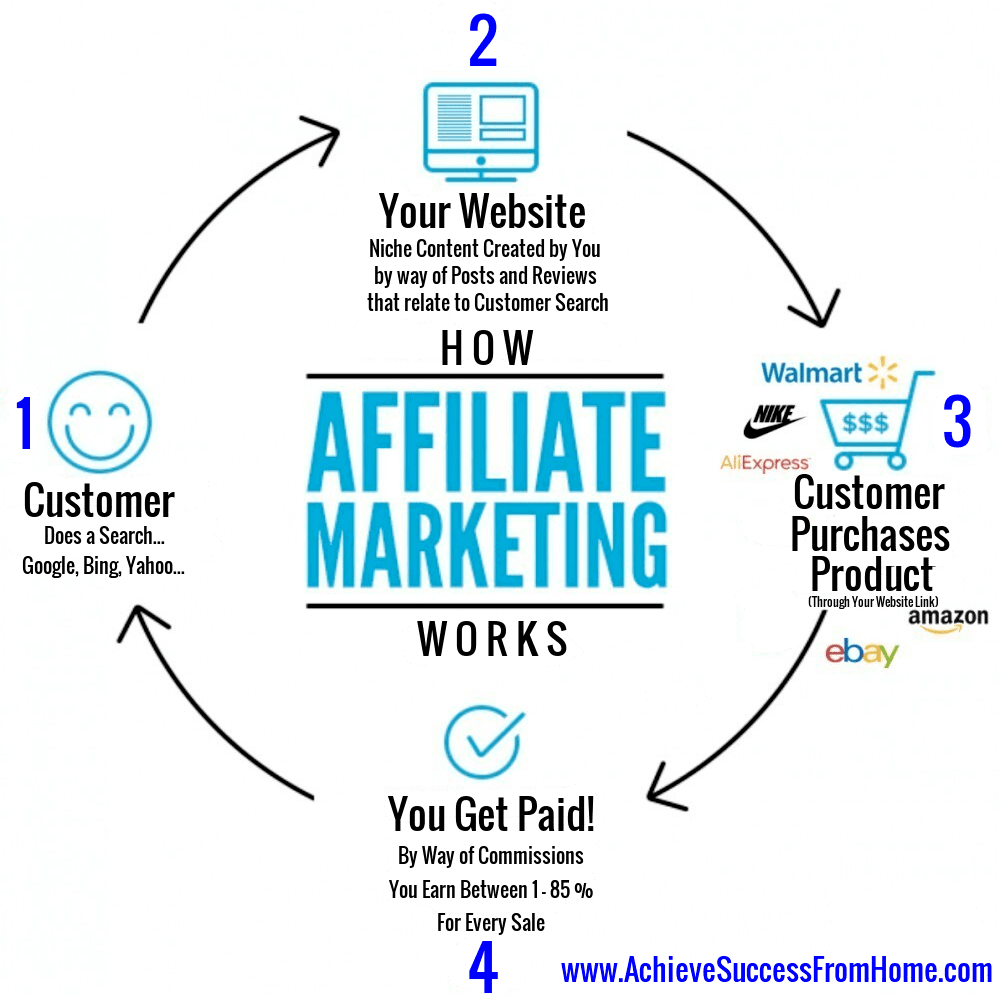 If you are looking for further clarification you can check out an article I wrote here.
---
How to Become Successful at Affiliate Marketing
Many people look at affiliate marketing as a quick solution to their financial problems and find out very quickly that the quick solution is not going to happen.
Many affiliate marketers look at it as a money pit and will sell anything they can get their hands on.
Money is what drives them and they don't really give a damn about serving the reader or prospective customer in the right manner.
Whilst money is great and that's why we get into affiliate marketing in the first place, it should not be your driving force.
What should be your driving force is helping others and providing information that is going to help solve their problems.
If you can help and recommend a product or service in the meantime and make a commission then that's great.
It should all be about helping others and if you do it right then the money side will take care of itself.
Just take a look at Pat Flynn and Neil Patel, 2 very popular affiliate marketers, you don't see them selling, what you do get from them is information to help people.
It is often difficult to come up with reasons why people fail at affiliate marketing because they are so many so we compiled a few downfalls that we think are the most important.
---
Love what you are doing by Deciding on the Right Niche
Your online business all starts with an Interest or Niche and creating a solid foundation is what will determine whether you will be a success or not.
So what is a niche?
A niche can literally be anything but should be something you are going to love working with otherwise interest may wear off pretty quickly.
An interest or hobby, something that isn't going to bore the pants off you.
Remember this, success will only come to people who love what they are doing.
If it's all about the money then how can you possibly help other people?
People might subscribe to your email list, but they ain't going to stick around long if all you do is spam them with offers.
So what we have here are affiliate marketers who love the money side but don't care about their audience and ones that don't focus entirely on the money and love helping.
If you are in it for the long haul, then focus on helping first.
Otherwise, new ideas for your marketing campaigns will not materialize.
---
Decide on a Domain
So, what is the domain?
Quite simply a domain is what identifies you on the internet and should include (if you can) the name of what your business is going to be about.
Like…www.achievesuccessfromhome.com…The website you are currently on. This is about how to make money online!
Be careful when deciding because this will be your brand and hopefully for a very long time too.
When I chose my domain it took a couple of days to decide because the ones I wanted were already been used.
---
Decide on who is going to Host Your Website
Nowadays you have plenty of companies to choose from when it comes to hosting your business.
Such as GoDaddy, BlueHost, Web.com, Wealthy Affiliate…
The security and safety of your website should be paramount.
They are all good but some are better than others so spend a little time researching which one is right for you or find someone who can put you on the right track.
---
Creating your Website
If you are serious about having
an online presence then having your own website is key to your business and your success.
The most widely used website or content management system that most people use is WordPress.
The advances in technology nowadays have moved on somewhat and shouldn't scare people away, but you know its easy for me to say but really there is nothing to worry about.
A few years back when I created my first website I remember just how difficult it was just to do a simple task, whereas now there are literally thousands of plugins to do those tasks.
A plugin is mainly free and there are 10s of thousands of them, which are only programs that were created to do a specific task.
Find your plugin, install and activate and that's it.
There are thousands of Free WordPress themes to choose from, which display how your website looks and performs.
---
Create Great Content to help your Audience
Why are we creating content?
Basically, the content that we create is to help our audience solve everyday issues.
Creating great content is what will make you stand out amongst the crowd.
You might not be a natural writer, pretty much like me when I first started and something I thought I would never take to.
Content ideas are everywhere so check out your competition and see how they are doing it and try and do it better.
Take a piece of work and put your twist on it.
---
It takes Small Steps to Succeed
Many people fail in affiliate
marketing due to their eagerness to get things done quickly, and because things don't move along quick enough they decide to call it a day.
I have seen many people fail after just a few months not knowing that success could just be around the corner.
The hardest thing for anybody starting an affiliate marketing business is earning their first $1.
I know it doesn't seem much but it is a start and gives you confidence that what you are doing is starting to pay off.
It is all about testing and trying things because affiliate marketing is not an exact science.
It takes time and a complete learning curve.
You need to understand your audience and their behaviours.
As for how long it could take to see any success, it is all down to the individual and how much time and effort they put in.
It could be 3 or 6 months but I'd like to give enough time and believe you should be looking at around 12+ months to start seeing any real success.
Just think how long it would take you to open a shop and start to make a profit not to mention all the stock you would have to purchase with absolutely no guarantees. 1,2,3 years?
---
Learn from other more Successful Marketers
This is a very important step.
To get better at something you learn from people who are already having success.
You know who your competition is, follow them, keep abreast of what is working and what isn't.
There is plenty of affiliate marketing training out there, but be careful who you listen to.
I tried the Youtube route thinking that I could save myself some money, but the problem I found was that everybody was an expert and trying to get you to hook up with them.
There are all levels of affiliate marketing training online, but stay away from those done for you systems that claim they have a secret method and all you have to do is press a few buttons and the money will come rolling in.
There are a lot of scams out there, just don't believe everything that is being said, in fact, don't believe anything, that way you won't be disappointed.
Finding the right training can be a costly exercise which is not what you are looking for because you don't know how long it is going to take if indeed it is ever going to work.
The best advice I can give anybody who is interested in starting an online business would be to find the right training platform, something like Wealthy Affiliate.
---
Become an Expert and Know Your Product
What I see often are affiliate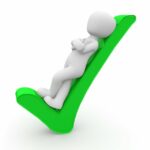 marketers promoting products and services that have no meaning.
Many affiliate marketers will just pick a product pay a bunch of money for the marketing campaign and hope for the best.
That usually means that the affiliate is focused more on the money aspect rather than serving its audience with information that they are looking for.
If you are going to promote a product or service make sure they are relevant to what your audience is trying to achieve and ensure that you know about it.
Only promote a product or service that you would buy yourself.
---
Become an Authority in Your Chosen Niche
Affiliate marketing is not like it was a few years back because nowadays everybody wants to get in on the act.
You only have to go back to 1989 when the internet started and now we have around 4.6 billion who as access, with around 4.2 billion who use the Google Search Engine.
A few years back affiliate marketers were using a one-page webpage or a landing page to promote a product or service.
Nowadays, you have to go with the times to get ahead of the rest and what might have worked then is more difficult now.
That's why choosing a niche that you love and becoming an authority in it is what works best.
---
Everybody Should Have a Plan
Affiliate marketing whilst a simple and straight forward strategy covers a very wide area which is why it is so important to have a plan of action.
There is so much to learn it makes more sense to write it all down.
---
Build a Team
As an affiliate marketer just starting out you'll be amazed at the amount of work that this entails.
In fact, it is this very thing why many fail at affiliate marketing because they get bogged down in the details.
In the early stages of this new chosen career of yours, employing people to take on some of the workload may not be in question at the time and all down to costs.
However, there will be a point that bringing people on board will be beneficial to the business even if it is only one person.
Writing content takes a lof time with all the research that is involved and besides newer and fresher ideas have to be a good thing, which means you have the time to learn new things.
Affiliate marketing can be a very lucrative business and getting bogged down with work is not going to allow you to enjoy life.
---
Always Stay Active
Having a work from home career, can be very challenging and for many reasons too.
It is so easy to get side-tracked working from home especially when you are working for yourself.
In the early days when you are developing your business, you will find there aren't enough hours in the day because the hours just fly by once you are getting into some research.
Try and treat this new business as you would a full-time job.
To become successful you have to be constantly active which means exercise and plenty of sleep.
Many believe marketers to be lazy with sitting around watching tv and I guess this stems from the "Laptop Lifestyle" that everybody talks about.
The one major thing that you will learn as an affiliate marketer is how to become creative and this is not going to happen if you are always feeling tired.
---
Be Consistent 
Don't dwell on things such as failures, work out what went wrong and how to solve it.
Learning from your mistakes not only make you a better person but a better business person.
Any business will have more than its fair share of failures but learn to push through them.
If you are following already successful people as you should be then it will make finding solutions to problems a lot easier.
Be consistent at what you do otherwise failure might be just around the corner.
Therefore loving what you do will help to ensure you come up with solutions.
---
Be Patience
Patience is extremely important especially in the beginning when nothing appears to be happening.
You have to remember, it takes time for your website to become established and known to the search engines.
The older your site becomes the more Google will see you as an authority site which is what you are trying to achieve.
Then you will see your content moving up in the page-rankings.
Be positive and don't have that mentality where you are constantly thinking when the money is going to start rolling in.
---
The Right Mindset
This is probably the most important thing to have.
Nobody likes failure but in order to learn and become better, we have to learn through our mistakes, just like life in general.
In the early days, there will be many times when you think about calling it a day.
I have struggled with this and with people telling me that I am wasting my time and to get the right job.
Fighting with the negative side of our brain can be a hard thing to overcome.
For me, meditation helps no end, try it and see for yourself.
---
Get Started with Affiliate Marketing Today -Finding the Right Training Platform
When I first started affiliate marketing, I did so trying to piece it all together myself and that was mainly to cut down on my outgoings. My costs!
Besides, I had no clue whether this would work for me or not so I went into it halfheartedly.
Nothing wrong with being cautious, right?
However, it didn't go to plan and found that I was picking up information that wasn't correct, so finding some training that I could trust became my goal.
It was all down to costs because there are some training platforms that charge you thousands and with very few good reviews.
However, and this was quite by chance that I stumbled across Wealthy Affiliate and because it didn't cost me a dime I thought I'd try and see what they offered.
Glad I did and if you are serious about creating an online passive income, then you will too.

---
Feedback, Follow and Subscribe
Hope you enjoyed this article and that you learned something from it.
Any questions at all please put them in the comments section below and I will get back to you at my earliest convenience.
Until next time, and stay safe!