Welcome, Is Deadbeat Super Affiliate a Scam?
Well, we don't think it is but this is why you are here and what we are going to discuss today.
I must admit it's certainly a title that grabs the attention of people but seriously would you like to be called a deadbeat?
Joking aside, you are obviously here looking for a way to make some money, I mean aren't we all but should you believe what Dan Brocks tells you?
I'm sure you have already come across many Deadbeat Super Affiliate Reviews throughout your research.
You should know that most of those are promoting Dan Brock's course and hoping for a commission which is biased and really not what you are looking for.
But before we get started we'd just like to hit on the fact that we are not connected with Dan Brock or any of his courses in any way.
So, rest assured that what you are going to get from me is an honest unbiased account of him and his course.
That way you will know whether it's worth spending your hard earned cash or not.
In the next few minutes you will know all there is to know about this course so let's begin.
---
[Affiliate Disclosure: The Deadbeat Super Affiliate Review has been thoroughly researched from information and testimonials that are in the public domain. This post may contain affiliate links which means we may earn a small commission, however, this won't affect what you pay!]
---
Product: Deadbeat Super Affiliate
Founder: Dan Brock
Product Description: Affiliate marketing training course
Cost to join: $1,499
Recommended: Maybe
Summary: The internet is just swamped with courses teaching affiliate marketing but most of them are just not worth your attention.
The Deadbeat Super Affiliate is a course focused on promoting products that you can find on ClickBank.
What is ClickBank you might be asking?
Simply put ClickBank is what you would call an affiliate network, like WarriorPlus and JvZoo…
Where you can join for free and promote products from the many different niches to which the products belong.
Like all these affiliate vendors, they make big claims like Dan Brock does by stating you will be earning within 30 days of starting the course.
Could that statement be true?
Well, let's say you marketed a product from ClickBank and made a commission of $5 in 30 days, well he wasn't lying, now was he?
The problem you have with ClickBank and many other affiliate networks is that you'll find a high percentage of very poor-quality products.
10 to 15 years ago when Clickbank was the only affiliate network and you could find an abundance of quality products.
Nowadays, not so and that goes for all the other affiliate networks too.
If you are not familiar with affiliate marketing then you might like to check out this post that explains it in depth.
In the link below is a complete all-in-one affiliate marketing training platform that has everything and it won't cost you a dime to check out.
The Deadbeat Super Affiliate Review – Table Of Contents
What is the Deadbeat Super Affiliate About?
The Deadbeat Super Affiliate is a 6-week affiliate marketing training course developed by Dan Brock.
A point to note is that this course has gone through a number of renditions since it first came onto the market in 2010.
The course is designed for the complete beginner and Brock hopes to teach you how to make money within 30 days using Clickbank.
Well, that's the gist of it anyway!
You could however use any other affiliate network so don't think you have to use only Clickbank for your products.
Brock uses Clickbank to show you how you can decide which are popular products to use and which aren't using "Gravity".
Please note that the products on Clickbank that he will be using to demonstrate the training may no longer be on Clickbank.
That's because products on Clickbank very quickly go out of popularity.
You might like to check out Brock showing you how it's done and maybe save yourself some money.
Who is Dan Brock?
There's no getting away from the fact that Dan Brock is a likeable chap and his videos at the very least are fun to watch.
A clever tactic to get you hooked into subscribing to his YouTube channel which at the last time I looked had 387 videos and 177k subscribers.
If you haven't already I would suggest heading over to his channel where you can find a load of useful information and you'll certainly get a laugh.
What do They Teach on The Deadbeat Super Affiliate Course?
Dan Brock teaches affiliate marketing and focuses on using products from Clickbank.
As we have already mentioned Clickbank nowadays is full of bad quality products, but for sure you will find some decent products to promote.
But you will have to do your research to ensure you select the right products.
Brock teaches you how to promote Clickbank products through paid marketing which is the quickest way to get results.
Noticed I said "Paid marketing", well this is another expense on top of the $1,000 that you will be paying for the course.
When promoting your campaigns they will only run for the duration of your ad budget and once that exceeds you have to add more money.
The course is split across 6 weeks and claims to have you earning within 30 days but just how much that is another thing.
What do You Get With The Deadbeat Super Affiliate Course?
The course is spread out among 6 modules that will take the same amount of weeks to complete.
If you have purchased or thinking of purchasing this course then you really need to shut off distractions and at least follow the course to the letter.
After all, it is costing you $1k, not to mention what it is going to cost for paid marketing.
Anyway, we have listed the modules below with a brief description of what each one entails.
Module #1 – Money Markets That Are Winners
The first week goes into details about which markets are best to get involved with and which are in big demand.
Here there's a "free reign" which is offered that is useless you can sell it or encourage others so that they can make money from it.
At this point you will be deciding on which niche to choose, bearing in mind that Clickbank only covers a select number of niches.
The Clickbank system also makes it easy to select the right products due to the stats that are attached to each product.
Module #2 – Knowing Which Keywords to Target
This second module introduces you to search engine optimization or SEO for short.
This is where it gets interesting because you will be targeting popular keywords that people are keying into the search engines.
This is how you find traffic that will be coming to your website.
In this module, there is an emphasis on selecting the right keywords that do not have too much competition.
This is important because we have to find a quick way to get your website on the first page of Google.
Module #3 – Building Affiliate Assets
In week 3 the course focuses on various ways to get traffic to your affiliate offers.
This module is all about coming up with ideas that will go viral and help turn short-term income into long-term earnings.
Trying to come up with something that will go viral may be a step too far for complete beginners as we aren't convinced the course goes into that much detail.
Module #4 – Building a Subscriber List
In this module learn what it entails to build an email list and how it can help to boost your income in the long term.
How to create an automated email series to keep your subscribers interested and eventually boost commissions.
An email list is something that takes time to build and there are ways of keeping your subscribers engaged which this module goes into.
Module #5 – Finding Customers
This module goes into detail about creating viral content that will help to drive traffic to your offers.
This also includes how to use other media that will increase your chances of reaching a wider audience by using graphics, videos etc…
Module #6 – Another You
In this module learn all about outsourcing and finding a virtual assistant to help with your everyday business tasks.
Learn how important it is to offload most of the work and make it automated as well as how to scale the business.
Who is The Deadbeat Super Affiliate Course For?
The Deadbeat Super Affiliate is for complete beginners who are looking for a way to make money online through affiliate marketing.
What you need to be careful about is falling for all the BS that comes with this type of offer.
It's not that we are telling you to stay away or anything like that, just be careful and do further research before taking the plunge.
Any newcomer will think this might be the answer they have been looking for but take it from me there are much better courses that do not cost as much.
How Much Does it Cost to Join The Deadbeat Super Affiliate?
The Deadbeat Super Affiliate is far from cheap and will be outside of most people's budgets.
But for those who have the money and want to give it a shot, as of this review, it is going to cost you $997.
The course fee can be split over 3 equal monthly payments each costing you $399 which equates to $1,197.
The course is mediocre and very similar to the many other courses that we have reviewed.
If I was to spend that type of money on a course then I would be looking at something like Wealthy Affiliate.
They provide everything…
The training and education
Websites and Hosting
With a community that cares with help and support that you won't find anywhere else online.
For $997 it will cost you for the Deadbeat Super Affiliate you can get a full membership for a 2-year period.
Here are a few similar courses that you might like to check out but do not discard Udemy…
Taking Action Online (Recommended)
Is The Deadbeat Super Affiliate a Scam?
No, Deadbeat Super Affiliate is far from being a scam!
The course will give you a grounding in affiliate marketing and therefore as a complete beginner you will learn something.
But are you going to be earning within 30 days?
Possibly, but don't expect to be earning thousands!
You have to understand that Dan has been doing this for years and mastered his craft and he has to make it sound easy.
Otherwise, nobody would entertain his training courses, right?
It's not the course we would recommend for many reasons which we have highlighted because there are so many better courses out there.
Granted there is a money-back guarantee but they very seldom work anyway.
Something I have never been able to understand and that's why these affiliate vendors don't let you look first before you buy.
This is something that you rarely see, in fact, I can't off the top of my head think of a company that does this except for Wealthy Affiliate.
Brock claims that his system is passive and that you will be earning within 30 days, but the only way that will work is through paid advertising.
Passive to me means that you don't have to do anything because you are using SEO and a website to pick up free traffic.
SEO takes time to work and often months rather than weeks for Google to even recognize your website.

What Others Say About The Deadbeat Super Affiliate
Unfortunately, we couldn't really find any third-party reviews or feedback about Dan Brock or his Deadbeat Super Affiliate course.
That's a good thing really however if the course was so good then wouldn't you expect to see plenty of feedback?
Especially as the initial Deadbeat Super Affiliate course that came out in 2010 sold around 10,000 copies.
The Deadbeat Super Affiliate – PROs
Dan Brock Is Legit And Likeable:
He is a popular guy who does appear to know his stuff but you have to realize just where he makes his money and that's from selling courses.
As well as a very popular Youtube channel which he gets hundreds of thousands of reviews from.
The Course Is Basic But Beginners Will Benefit:
The course is ok and a complete beginner may think that they have hit the jackpot but when you know nothing what else can you think?
You will get some benefits but the course needs to go into more depth we feel
Affiliate Marketing Is A Trusted Method Of Making Money:
It is no secret that affiliate marketing is one of the best ways to make money online, it's a shame that there are a lot of products and systems out there.
That let the side down and is the reason why so many people fail.
The Deadbeat Super Affiliate – CONs
Too Expensive:
The course is beyond most people's budgets, especially a complete beginner but I can understand how people get hooked.
After listening to a few of his YouTube videos lying about his house in his underpants not giving a flying…
Hidden Costs Which Is Always An Issue With These Courses:
As well you paying out nearly a thousand dollars you are going to have to find the money.
For an autoresponder, marketing, keyword research tool, and more…
Money Back Guarantee Is A Little Dubious:
These money-back guarantees are not worth the paper that they might be printed on.
There are so many reasons for not giving you your money back and this unfortunately is only found out when the time comes.
Deadbeat Super Affiliate – Final Thoughts!
First and foremost there is a hell of a lot of courses and systems out there that use Clickbank as the source for finding products.
Maybe a few years ago I would have agreed but there are so many different affiliate networks out there providing similar products.
The majority of those products are extremely poor.
Yes, you can make money with Clickbank products but you have to be very selective.
Finding the right product in the right niche is very important and we don't believe the course covers that area in enough detail.
As we have already mentioned Dan Brock knows his stuff but are you getting value for your thousand dollars we think not.
Anybody who is new to this type of business is not going to know whether they are purchasing a quality product or not and that's the problem here.
If affiliate marketing is a business that you want to learn then check out the section below.
How we Make Passive Income Online?
Everybody wants to own a business that generates multiple passive income streams and affiliate marketing is without doubt probably the best.
You know, where the business runs 24/7 with very little intervention.
Wealthy Affiliate provides the answers and has been training complete beginners since 2005.
Just check out what TrustPilot has to say.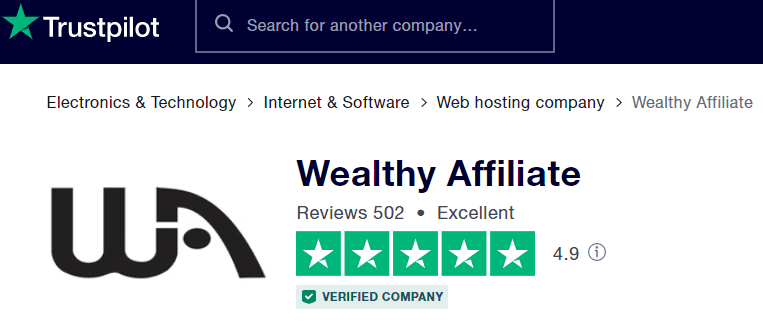 What better way than to create a business around something that you are passionate about?
The training platform is a one-stop-shop meaning that everything you need to succeed is there.
Education and training, Web development, Hosting your website, and a community that cares…

Deadbeat Super Affiliate – 7 Reasons Why we Think Deadbeat Super Affiliate is Not a Good Investment
The Course Is Far Too Expensive:
There are far more courses out there that provide a lot more training and education without having to pay so much money.
Lack Of Help In The Facebook Group:
Once you join you get access to their own private Facebook group and we know from past experience that people do not use them in the right manner.
If the course is aimed at complete beginners then what questions are they going to be able to ask and who is going to be there to answer?
You might find Dan Brock poking his head in now and again but that is very unlikely.
Help as far as I am concerned is up there as one of the most important things and without it, you don't have a system or course.
Lacking Of Technical Support?
Technical support you will find is only available to professionally run training platforms which the Deadbeat Super Affiliate isn't.
When you have an issue no matter what it is you need answers now, not in hours, and sometimes days.
People will leave in their droves.
There is nothing worse than getting stuck on something and not being able to advance.
The Course Only Touches Briefly On Methods?
The course is ok for complete beginners who don't know much and in many cases know nothing.
You will benefit to a certain degree but you are going to need more advanced training to follow in from the Deadbeat Super Affiliate.
Lack Of Reviews From Past And Present Students?
For a training course, that was very popular and sold 10,000 copies when its first rendition hit the market back in 2010.
We found it more than a little strange that we couldn't find any real feedback from past students who are raking it in.
No Free Trial?
If a product was so good then why don't product creators put their money where their mouths are?
Then why not let people have a taste of what they will be getting themselves into?
Refund Policy Cannot Be Trusted?
It comes with a sketchy money-back guarantee and the only way you are going to find out if it works is when you ask for your money back.
I have come across many products where people asked for a refund in plenty of time and were refused for all sorts of excuses.
Feedback, Comments and Subscribe
Anyway, thank you for taking the time out and reading the Deadbeat Super Affiliate review.
We hope it helped in your decision-making regarding whether to pursue this course or not.
Any questions, no matter what they are please feel free to comment in the section below.
Take care!
Stay safe!