Welcome to this "What is an MLM" post
So what is an MLM? Are you new to making money online and thinking of joining an MLM company? At least read this first before making a commitment!
Multi-level-marketing is a legitimate business strategy, although it can be controversial at times.
Not to be confused with a Pyramid Scheme (which we will cover later) although some MLM businesses do tend to operate in this manner by hiding behind products and services and by doing so, this gives the Network Marketing industry a bad name.
In simplistic terms, the basis of any MLM or Multi-Level-Marketing businesses is to sell products or services to the consumer and then recruit others to join and become part of your team.
The Multi-Level concept is designed just like a Pyramid which is where the confusion towards a Pyramid Scheme comes from, and you must understand that pretty much all businesses are structured in this way, the main difference being how MLM's operate and conduct business.
You make money by…
Purchasing products or services yourself.
Selling products to the consumer.
Recruiting others to join your team for which you will be paid commissions when your team sells any products.
Sometimes you may find that some MLM businesses offer bonus incentives for each recruit that you bring into the businesses. This does happen, but quite rare to find nowadays.
---
MLM Terminology you Need to Know
There are many different types of "Plans"
associated with an MLM but the main 3 that we associate with an MLM are…
Very popular amongst MLM plans.
Each member or associate is positioned within the binary tree structure and this is split into 2.
The left sub-tree and the right sub-tree concept of which link to the member downline relationship. Each member will have both trees.
This is a pyramid structure arranged into a fixed number of rows and columns, which is also known, either as a ladder plan or forced matrix plan.
This is defined as an unlimited width plan, meaning that everybody you sponsor or recruit is on what is called a frontline, which enables you to build a longer and stronger network down the line.
Normally you will find one of the above plans in force when you join an MLM business. What this does is describes the layout of the business marketing strategy and compensation or payment plans.
---
The Sponsor
The sponsor otherwise also known as the affiliate or associate is the person who recruits other people into the business, also known as a "Team Member" and it is the job of the sponsor to look out for the "Team Member" by way of guidance and training.
The Recruit
Or the "Team Member" is the person who is brought into the business as a new member.
Your Downline
These are the recruits that you bring into the business directly below you which is known as your downline. This can and normally does include the others that your recruits have brought into the business too.
Your Upline
Anybody who is in the next level above you, so if A recruited B, who recruited C who then recruited you. Your upline would be C, B, and A.
Compensation or Payment Plan
This plan lays out the ways that you (The Affiliate) will earn your money.
It is important that the focus is on the sales of products and services and not recruiting others into the business for this MLM business to operate in a legit way.
As well as any commissions on sales that you and your team or downline make, there are sometimes bonuses and other incentives based on the volume of sales. This will differ from company to company!
Network Marketing 
This is normally the term that an MLM or Multi-Level -Marketing business will refer to as being.
---
What is a Pyramid Scheme?
A pyramid scheme is where the MLM business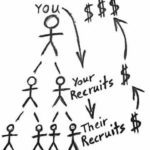 offer to pay its affiliates or associates commissions based on recruiting others to join.
What you might find is some sort of product or service which is of no good and very little value to anyone.
Something to hide behind, like a bunch of products you can buy off the shelf for very little cost.
They might package these products with an inflated price to let you believe that these products are worthy of owning. I know this because it happened to me!
If you would like to hear what the Federal Trade Commission or FTC as to say about pyramid schemes you can read all about it here.
---
Is an MLM legal?
A few things you need to know before you decide to join any MLM business…
Do they have a great product or service?
Remember; to try and sell a product or service, it has to be a great product, and what people are looking for, otherwise you don't have a business, and besides, others will need to see that the product is great otherwise they will not become members.
Any income can only be earned from the products or services that are provided.
The focus has to be on sales and not with recruiting others to join.
A Multi-level-marketing business with a bad quality product or service or none at all for that matter would be considered an illegal business venture and could be associated as some sort of Pyramid Scheme.
It is a known fact that the FTC or Federal Trade Commission for several decades have been investigating multi-level-marketing businesses and the way they operate is often difficult to establish as legitimate.
---
Who is an MLM Business for?
Really, the people who benefit most are marketers who are experienced in this type of business and know just how to market to their target audience.
Marketers who know how to successfully use PPC (Pay Per Click) strategies which can be costly if you don't know what you are doing yourself.
You will find people with all levels of experience joining this type of business, especially newcomers who are looking for a quick way to earn a load of money. Take it from me, that will never happen!
---
Can you make good money joining an MLM Business?
Some people can and do make a ton of money but what you typically find is the top 1-2 per-cent (and that's a conservative estimate) who are the main earners.
These are the ones where you'll see their marketing campaigns all over the place, especially on social media.
---
Take the claimed earnings with a pinch of salt and don't be sucked in by such claims.
It is a known fact that income claims are falsified and that is clearly evident when there is a total lack of income disclosures and the ones that are available for all to see never paint a nice picture.
These false claims are used to trick you into becoming a member.
In my experience with reviewing MLMs as well as being involved in the past with some tells me that maybe as many as 98% you should stay away from.
Let's see what a Federal Trade Commission as to say at a Direct Selling Association's conference in Washington DC.
---
Are MLM Businesses Successful? You decide!
Some have been around for quite a number of years, so could that be deemed as been successful?
Depends on what you mean by successful?
If you take the owners and the people near the top of the tree or pyramid as a way of determining success, then for sure as this is where all the money tends to go.
However, what you find with many MLM's is their ability to not disclose income payments. That should raise a red flag or 2 if you are looking to venture down this road.
On the other hand, few MLM's do disclose income statistics and in almost all cases, the reading is not good.
Take these statements from a popular MLM business I completed a review on recently.
[The average annual income for all affiliates in the reporting period of 1st May 2018 – 1st May 2019 was $1094.45, and 65% of all affiliates do not continue after their first year.
Out of 96,494 affiliates who joined in that period, approximately 48,208 were still active, and during that period 58,563 of all affiliates received no income at all.]
I'm not going to say those figures are typical but this type of reading for me is disturbing. You have to give credit to the company for being honest though!
Out of those nearly 60K members, I would like to hazard a guess that most were newcomers coming into the "Make Money Online" niche hoping for a quick buck. Still looking for the shiny object and still looking for the push button system!
At the end of the day, you have to take responsibility and never rely on others to make you a success. It's not going to happen!
It is only going to take consistent hard work to succeed no matter what business you undertake.
---
How to Become Successful in an MLM and the Pitfalls
To be a success in any MLM requires many things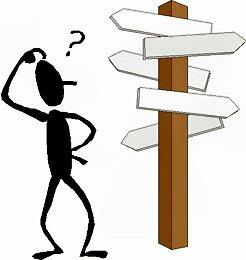 that you need to take into consideration.
Find a company that you can trust who operates its business in an ethical way. A good place would be to check them out at DSA or Direct Selling Association.                                                                                                Members here operate and uphold a code of ethics. Mind you, what you will probably find is that the company you are looking for isn't a member.
If that's the case then you have to make a judgement call yourself.
Check out the product or services thoroughly and don't just rely on what somebody else tells you. Remember, these are sales representatives so they will be promising you all sorts of niceties.
Make sure that the product or service is one that you can relate to and maybe become enthusiastic about. A consumable product will probably be best as you may get repeat business.
Ensure that you research the company thoroughly along with the owners because there is often some baggage that is carried along the way.
Understand the compensation or payment plan as sometimes these are complex and for obvious reasons too.
Choosing the right sponsor is extremely important.
This is often difficult to do unless you know the person.
A good sponsor should be experienced in this type of business and prepared to guide and train you as it is in their interest to keep you in his or her team.
This very often doesn't happen due to many reasons, such as lack of experience, only focused on recruiting and making their team bigger, and trying to retain a certain level within the business, amongst other things.
If you have chosen badly then you may find that you are left on your own not knowing just what to do and extremely frustrated. Take it from me, I have been there!
Treat it like you would a normal business.
Despite what others will tell you, MLM's are not a get rich quick scheme and would require a lot of research on your part to determine your target audience and who you will market to.
MLM's are in fact a numbers game where the more people who see your marketing campaign, the better chance you have of someone either purchasing from you and or joining your team.
Not for the faint-hearted.
I think we have determined that MLM's are not primarily for "BEGINNERS" as can be seen with the stats of between 50% and 65% who will have left the company before their first year is up.
It may be that you are a user of the product, such as CBD Oil.
Joining an MLM just to purchase the products yourself might seem like a good thing at the time, with discounts etc, but with a little research you are sure to find a similar product much cheaper.
What you find with MLM's are the product prices are inflated anyway.
---
Should you join an MLM Business or Not?
At the end of the day that is entirely up to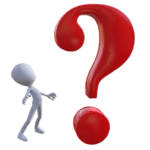 each individual, but if you are a newcomer coming into online marketing and looking to earn some good money, then of, course, you might have some success but it's very unlikely.
Based on my past experiences with MLM's I never earned a penny and nearly decided to call it a day trying to make a living from the Internet.
It can really put a massive dent in your overall confidence because many coming into this "Make Money Online" space "THINK"  that it is going to be easy, but quickly find out that isn't the case at all.
Many just call it a day after such a bad experience and you can understand why.
However, it isn't all doom and gloom, as there are some honest business opportunities about, you just have to find them and hopefully, this is where I come in.
You can of course not take my advice because you don't know me and therefore have no reason to trust me and that's fine, I can live with that, but this website you are on now, I created to help people like you.
After a few years wasted down the MLM track, I decided to research other ways of making a living online and came across affiliate marketing.
What I liked about it was the simplicity of the business model that anybody can learn.
Off course you can go down the road of YouTube to learn all about affiliate marketing, but I wanted to learn it the correct way.
That's where Wealthy Affiliate comes in. The training goes beyond anything I have come across on the Internet, and with a community that goes that extra mile to help.
Nothing compares, but don't take my word for it, why not try it out for yourself for FREE, and nobody will ask for your Credit Card details either!

---
Feedback, Comments and Subscribe
If you are reading this post then you are maybe thinking about joining an MLM business.
Maybe you already have!
Was the experience a good one or was it a bad one? Did you make any money or did you lose money? Did you find a good sponsor? Want to share your experience with others?
If you found this article interesting, why not share amongst your friends.
Just want a chat or need some advice, put them down in the comments section below. I reply to all my readers, comments.
Until next time, stay safe!