Welcome to this Life Activated Brands Review
They are just one of the hundreds of multi-level marketing companies manufacturing and selling health products.
A relatively new company but making waves all the same.
Maybe you were approached by a Life Activity Brand distributor telling you how good the products are or were it a family member or friend?
Whatever the reason you are here because something sparked an interest and you want to know whether LAB is a legit company or not.
Something that we can help you with here and in the next few minutes you should have your answers.
That hopefully will make things a lot easier for you to decide whether this company is worth looking at further or not.
Let's begin.
---
[Affiliate Disclosure: This Life Activated Brands Review has been thoroughly researched from information and testimonials that are in the public domain. This post may contain affiliate links which means we may earn a small commission, however, this won't affect what you pay!]
---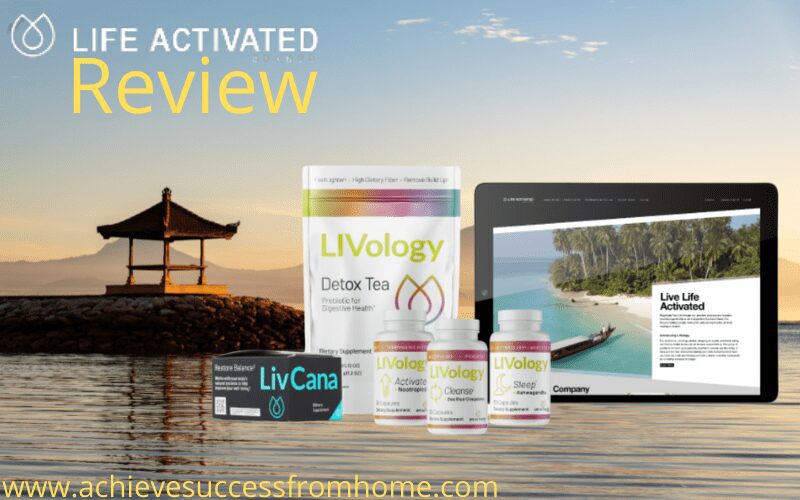 Product: Life Activated Brands
Founder: Jessica Hayes and Kimberly Coleman
Website: www.lifeactivated.com
Product Description: Nutritional health products MLM
Cost to join: $49
Best For: Experienced network marketers
Recommended: Maybe
Summary: The nutritional supplements industry is massive and will continue to grow and the choices are endless.
Even in the MLM business model but the biggest difference between MLM and normal retail merchant are the costs.
That makes it a little more difficult due to the competition but people's interest in MLMs is not primarily down to the products.
However, the products have to be good otherwise how do you convince others to purchase them from you?
No, interest in Life Activated Brands is normally because of the work-from-home opportunity.
Before we get into this review, you should know that MLMs are very difficult to succeed in.
The key element is sales and recruiting and if you excel in those disciplines then you stand a chance of succeeding.
Life Activated Brands Review – TOC
What is Life Activated Brands?
Life Activated Brands or LAB for short are a direct selling company manufacturing and selling.
Nutritional products that cover areas like overall health, energy and weight management.
They came onto the scene in November 2018 and are located in Florida.
The company's address states that they are based in Melissa, Florida which so happens to be the same address as Lacore Entreprises.
Which is owned by Terry Lacore, but there is no mention of him at all connected to Life Activated Brands.
Who Are The Founders of Life Activated Brands?
So, the co-founders of LAB are Jessica Hayes and Kimberly Colemen with Brandon Hayes taking the reigns as CEO and president.
Brandon has a string of successions to his name prior to joining Life Activated Brands.
He and his wife spent many years and made name for themselves with Ziga International working their way up to Black Diamond status.
After Ziga International was acquired by Isagenix in 2019 they decided to not move across but start LAB.
This was the previous year so it looks like the wheels were in motion.
With Coleman, the LAB website indicates that she has 8 years of experience in network marketing but we couldn't find anything to corroborate that.
Other than she and her family have always been involved in farming.
Is Life Activated Brands a Pyramid Scheme?
A question that is often asked and in most cases,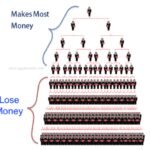 we have to say, most MLMs aren't pyramid schemes.
Just because a company's business structure is shaped like a pyramid doesn't indicate that they are running a pyramid scheme.
At Life Activated Brands you can make money without recruiting others and building a team.
What you might be asking, is if Life Activated Brands is running a pyramid scheme in disguise.
Let me explain!
Just for clarity on what a Pyramid Scheme is…
A pyramid scheme is when a distributor is getting paid for recruiting other people to join without a product or service.
What can often happen is that the company do have products and services but they don't have any real value and are only there to disguise.
What is actually going on could be termed as a pyramid scheme in disguise.
The FTC compiled a report about the performance of MLMs which you can read here.
You might like to check out this short video…
Success Will be Rare With Life Activated Brands
To get a better idea you have to go back to when the company was launched which takes place over 2 launches and not one.
This you might call a pre-launch!
The first launch is an invite-only for close friends and experienced network marketers.
This is to establish the company payment structure moving forward and believe it or not some network marketers are actually paid to join.
When the main launch takes place that is when you and I can join and we sit firmly at the bottom of the structure.
Unless you are in the top 1% then you will find it a struggle to advance to where the money actually is.
However, we are not saying impossible because if you worked extremely hard then given 5 years then who knows you could be up there too.
People who join as complete beginners usually have no concept of what is required to succeed in an MLM.
That is not detrimental on your part because we have been there!
That is why between 50 and 75 per cent leave within the first 12 months.
You might like to check what the Federal Trade Commission has to say here.
How Does Life Activated Brands Work?
Major companies are fortunate to have massive budgets for their marketing campaigns and don't need to rely on others to help out.
MLMs use distributors or independent business owners to spread the word and reach a wider audience.
In return are paid in some cases handsomely for what should be a win-win situation.
Before you consider Life Activated Brands as a potential work-from-home opportunity you have to ensure the products are legit and do what they say.
Life Activated Brands Products Line
At Life Activated Brands they don't have a massive range of products but what they do have seem to be well received by many.
The products cover categories like…
Overall health
Energy
Topical
Weight management
Morvida Daily Supplement Sachets – Smartship $80.10, Retail $89
Livology Sleep Capsules – Smartship $55.80, Retail $62
Livology Detox Tea – Smartship $26.10, Retail $29
Livology Cleanse – Smartship $55.80, Retail $62
Livology Activate – Smartship $55.80, Retail $62
Livology Max – Smartship $135, Retail $150
LivCana CBD Balm – Smartship $64.80, Retail $72
LivCana Premium Full Spectrum – Smartship $80.10, Retail $89
LivCana Energy Capsules + CBD – Smartship $53.10, Retail $59
LivCana Energy Mix + CBD – Smartship $49.50, Retail $55
They even offer packs or bundles where you can save even more money.
Fitness Bundle – Smartship $193.50, Retail $215
Livology Maintenance Bundle – Smartship $112.50, Retail $125
Livology 24/7 Bundle – Smartship $99, Retail $110
Livology Night Bundle – Smartship $99, Retail $110
Livology Cleanse Bundle – Smartship $99, Retail $110
Balance Bundles – Smartship $198, Retail $220
For a full description of the products, we would suggest heading over to the website.
You might like to check out some similar companies offering similar products…
Life Activated Brands Business Opportunity – What You Need To Know
For the ones who are thinking of taking Life Activity Brands home-based opportunity then this section is where you want to be.
How Much Does It Cost To Become a Life Activated Brands Independent Business Owner?
Life Activated Brands is a membership company which will cost you initially $49 to join which would be renewed automatically each year.
However, if you joined and took advantage of one of the discounted bundles or packs then the $49 membership fee would be waived.
Discounted packs…
Starter Pack – Wholesale $199, Retail $298
Enhanced Pack – Wholesale $499, Retail $705
Professional Pack – Wholesale $799, Retail $1173
What you get for your membership in the business suite…
Access to your back office
Personalized website
Support
Access to mobile App
How To Make Money As A Life Activated Brands IBO
There are 2 main ways of making money with LAB IBO which is highlighted as 1 and 2.
Retail commissions based on wholesale-retail
Residual commissions are based on sales from your team or downline
Various bonuses through the compensation plan
Life Activated Brands Compensation Plan
Compensation plans are how you get paid and they are often complicated for anybody to understand.
There are 8 different ways that you can get paid through the compensation plan.
There are a further 29 different ranks to climb which we have never seen before, 12 is the usual and we think that is too much.
The compensation plan can be found here or you could listen to the CEO and President take you through it in the video below.
Are Life Activated Brands IBOs Actually Making Money?
The company is relatively new and therefore not enough data to produce a report on.
But, after reviewing hundreds of MLMs we have a good grasp of what to expect.
We know that as many as .22% is where the main bulk of the wealth goes, which leaves the rest struggling.
That's 99.78% that do not earn enough money to replace an existing job and we know those figures look ridiculous.
But that is the stark reality of a multi-level marketing company.
Can You Make Money With Life Activated Brands?
We would be lying if we said you couldn't make money with Life Activated Brands.
But the amount you earn would be considerably less than what you would first think.
Many people join just to earn a few dollars here and there, pretty much like a hobby, but is it a hobby you are really looking for?
I suspect not, but like any business venture it is going to take several years of hard work and then there are no guarantees.
What happens if the company closes and MLMs do so all the time, this is certainly something you have to consider.
What About The Monthly Costs At Life Activated Brands?
Monthly costs are very seldom spoken about because the sponsor introducing you to the opportunity doesn't want any obstacles.
To stay active you have to maintain a personal volume or PV which in this case is only 70PV.
1 PV is usually around $1 so that means to stay active, would equate to around $70 each month.
Now we know that isn't a great amount especially if you are good at sales and recruiting.
But if you aren't you will have to purchase products to the value of 70PV just to stay active.
Now that doesn't necessarily mean that you will get a PV to dollar-cost equivalent. A product could cost you $120 for the 70PV.
That could cost you between $840 – $1440
Not to mention marketing costs that you would have to pay which could be between $50 and $100 a month which could be $600 – $1200
That's a yearly cost that you probably weren't aware of – $1,440 – $2,640
Is Life Activated Brands a Scam?
Life Activated is definitely not a scam because they pay their Independent Business Owners as they say they will.
What you might find is feedback from disgruntled ex-members who weren't successful.
Bearing in mind that 50 – 70 per cent leave within the first 12 months then it is clear that people are not going into this business with the right mindset.
Any business no matter what it is, is going to take time and you should be prepared to make a full commitment of 1 – 2 years.
The link below is a much easier solution and one that works without all the restrictions.

What we Like About Life Activated Brands
Legit Company:
The company has the backing of their current CEO and president who has a wealth of experience in network marketing.
Interest has never been that great although in early 2022 for some reason interest peaked and has levelled off.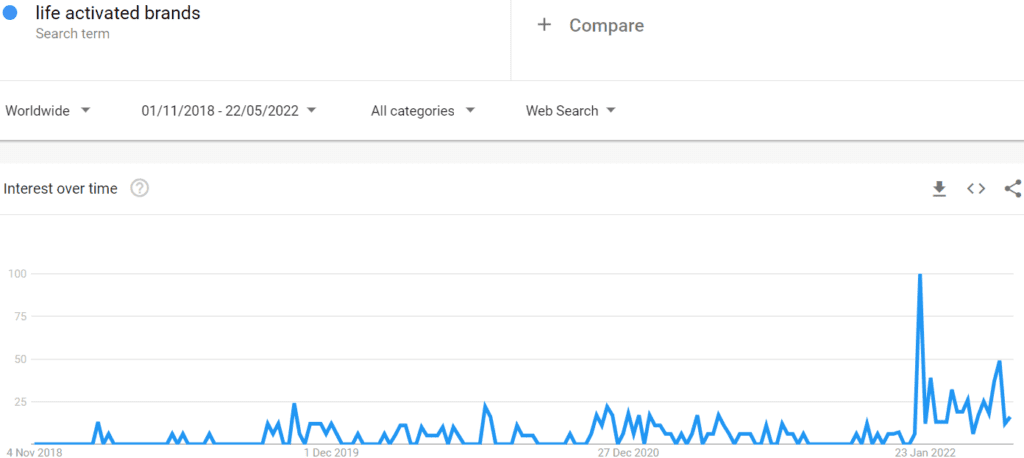 What We Don't Like About Life Activated Brands
Not Accredited With The BBB:
The Better Business Bureau is an organisation that reports on a company's performance as well as any complaints that are reported.
For this to happen the company first has to be a member and Lif Activated Brands is currently not a member.
The direct selling association is a group specifically for MLMs and becoming a member is not an easy task.
We can see that Life Activated Brands is at the moment, not a member but that could be because the company is still relatively new.
Where Do You Go After You Have Exhausted Your Social Crowd:
The first thing they will teach you when you join an MLM is to try and recruit all your friends and family.
That's definitely a no-no if you want to keep your relationships going.
What you can often find is the company promoting the same products on eBay and Amazon which makes it more difficult for you.
Not to mention that the products are always more expensive than non-MLM companies.
The industry is saturated when it comes to variety and it always seems like an uphill battle with MLM products being so expensive.
Life Activated Brands Review – Final Thoughts!
We are just about to wrap things up with this review, hopefully, you should have enough hard facts.
To determine whether to pursue this company further or not.
If you still want to pursue this company then we would suggest starting out as a customer and trying out the products first.
But remember that to have any success in any business venture takes a lot of hard work on your part.
It is not going to happen overnight and certainly not within the first few months either.
You have seen that there are 29 ranks to climb which can take several years and with no clear outcome that you would succeed anywhere.
If you are looking for a much better way to make money online please continue to read the next section.
How we Make Passive Income?
Affiliate marketing as far as we are concerned is a much better business model where there are no restrictions.
You can promote anything you like and this actually is a business that you can call your own.
Here are just a few differences where…
You can promote any product or service you like
You do not have to purchase or stock products
You do not have to answer to a sponsors
You do not have to recruit
You do not need to handle customer orders, shipping or returns
All you have to do is connect the customer with the merchant and your job is pretty much finished.
If you have a passion or love for something, then why not turn it into a profitable online business.
We can provide you with the tools, the rest is down to you.

Feedback, Comments and Subscribe
Ok Guys, hope you enjoyed this review and that you got some benefits from it.
If there are any questions you'd like to ask then feel free to just ask away.
Until next time, stay safe