Looking for a cashback site that you can trust then check out this unbiased
Mr Rebates review where I uncover everything you would need to know to determine whether it would be a right fit for you.
With so many cashback sites around to choose from you have to agree that it's just so difficult to find the best one to use.
All Cashback sites come with a certain amount of baggage, strong and weak points, and Mr Rebates is no exception.
In this review, I give you everything you would need to know with all the pros and cons so you can see both sides of the coin to allow you to make the right decision, so sit back and enjoy, or not, whichever comes first!
---
Product: Mr Rebates
Website: www.mrrebates.com
Price: 100% Free
Founder: Craig Cassata
Founded: 2002
Based in: Indianapolis
Summary: Get rewarded for shopping at over 2500 stores.
Recommended: Yes


---
Internal Summary and Links
---
What is Mr Rebates About?
Looking at the name and anybody would think this cashback site was related in some way to the very popular site Ebates, right?
Although they are 2 totally different companies they both operate in pretty much the same way.
Founded by Craig Cassata (you can find an interview here) back in 2002 and based in Indianapolis, the site offers its members cashback whilst shopping online.
In addition, they offer thousands of money-saving coupons, sales and deals to save you big money!
If you look hard enough you can find some cashback offers as high as 30%.
---
How Does Mr Rebates Work?
They operate in the affiliate marketing arena

where retailers pay Mr Rebates for advertising their sites on their website.
Another way would be to pay Mr Rebates for members clicking on the retailer's website. PPC (Pay Per Click)
What this means is that the shopper (the member) doesn't have to actually purchase anything from the retailer's store. All that's required is the member has to click on the offer or website for Mr Rebates to get paid.
There are currently over 2500 retailers promoting on Mr Rebates with many well-known stores such as Walmart, Amazon, eBay etc
Once you have clicked on an offer and been transferred to the retailer's website store, Mr Rebates' URL link along with the member's unique tracking code ensures that when you purchase goods that the retailer knows about it.
Once the order transaction has been verified by the retailer then the retailer pays Mr Rebates an amount (undisclosed), which is passed onto you (the member) in the way of a rebate known as cashback.
Pretty straightforward right?
If all the links work as they should then it is!
---
How to Get Started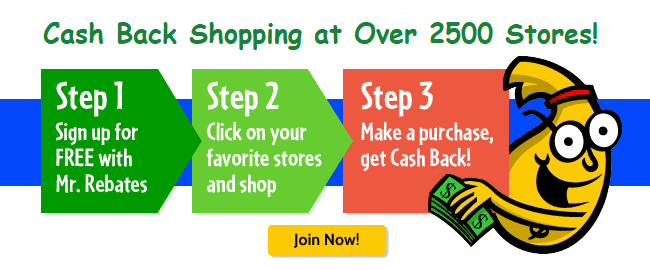 All you need is a valid email address and a password.
Once you have entered your details you will receive a welcome email with a link to get hold of the Mr Rebates cash back button for your browser. This ensures that you don't miss any offers!
Why not download and install the mobile app for when you are out and about which include many great features.
Now you can start shopping!
---
How do you Make Money with Mr Rebates?
There are 2 ways to make money. The first you already know with shopping as a member of Mr Rebates and cash back. The next is…
Refer-a-friend
Why not refer a friend or family member, I'm sure they will appreciate you recommending a new way to save and make a little money especially as they already shop online.
Mr Rebates as a pretty good referral program where you can earn 20% of everything your referral earns as cashback. Most cashback sites pay a one-off referral bonus and that's it! 
Your referral will be happy too, as there's a joining bonus of $5!
No restrictions either, as long as your referral is purchasing from Mr Rebates then you will receive 20% of the total cash back and that is for life if that is where it goes.
So click on the link below and start earning!
---
Some Suggestions to Get the Best out of Mr Rebates!
Purchase multiple products – When you order more than 1 product from the same retailer's website you must do this one at a time,  as a unique click-through link from Mr Rebates is required for each product purchased.
For example, place your first order at the retailers store through a Mr Rebates' link, then come out of the retailer's store and back to Mr Rebates, then click-through to the store again and place your second order. Long-winded and time-consuming I know!
Cashback issue – Ensure that cookies are cleared on a regular basis as this has sometimes been the reason given for not receiving cashback on a purchase.
Lost connection or sign-in problems – If you encounter problems with signing into the Mr Rebates website or that you keep getting signed out, this could be caused by your cookie settings. Check here for further details!
Cashback link is broken – Once you have clicked onto a retailers website, refrain from surfing to other discounts or other sites as the cashback tracking code can get lost which will cause your cash backlink to be broken, as a result of no cashback will be credited to your account. Apparently, this happens quite often!
Expiry time – When you have decided to purchase a product then it would be advised to complete the transaction ASAP, otherwise, if you leave the link to the retailer's site for any length of time the click-through link may be lost.


---
The Different Types of Cashback Status's Explained
Upon receipt of your order, the status will be set to "Pending".  These transactions can stay in pending for 90 days to cater for the different store return policies, order cancellations and to provide ample time for collection of commissions from stores.
Which is when the retailer has confirmed the order transaction and they have passed on the cashback amount. At this stage, you are able to retrieve the cashback providing you have a minimum balance of $10.
If you still haven't received the cashback after 90 days then get in touch with support.
The reason for this delay period of 90 days is to ensure that all eventualities can be met by the retailer regarding returns, and to avoid complications!
---
How You Get Paid?
There are 3 ways to get paid.
Request either a Check, Gift Card or PayPal
Checks – can only be paid to US and Candian citizens.
PayPal – All fees regarding the payment transaction are duly paid for by Mr Rebates which is very unusual, so I would double-check this 'cause normally there are fees at PayPal. Allow up to 4 working days.
Please note that all payments will be processed at the beginning of the following month. For example, any cashback payments for the month of July will be processed on the first business working day of August.
---
Mr Rebates Pros and Cons
All businesses no matter who they are, have their fair share of problems, which can be down to a multitude of reasons and in many cases down to just not reading the small print and making assumptions. We all do it!
The Internet makes it so much easier for people to voice an opinion and whilst Mr Rebates has some issues; nothing to really write home about, and on the whole, they do appear to be on top of any member complaints.
Pros
Free to join 
Large database of merchants.
One of the better refer-a-friend programs with 20% on all your referrals cashback for life.
Easy to follow website.
No restriction on demographics.
Better Business Bureau (BBB) A+ rated.
Support appears to be on the ball.
Cons
Cashback isn't always guaranteed.
This is where a little more thought could be taken by following the terms and conditions of each merchant. Take for example Amazon only allows cashback on certain categories which can change at any time, and therefore you have to pay particular attention.
The system isn't set up for multiple products against the same store.
If you want to purchase more than 1 product from the same store, they ask you to purchase 1 product then come out of the store and click back in so that your tracking link can be reset. Coming from a software background this should never happen and so easy to cater for, but I guess a good way to avoid paying the cashback out.
Issues with the store link.
Could be down to the store's system dropping, communication problems, or leaving too many sessions open. Once again, the latter should not be a problem but another way to avoid paying out cashback.
No in-store facility, only online merchants.
Many people just like to hit the retail stores themselves and I think Mr Rebates as missed out on additional revenue here. Not like Ebates!
Length of time to receive cashback.
This varies from one merchant to the next, although cashback normally arrives just a few days from the actual order, whilst some merchants will hold back any monies due for up to 90 days to take into consideration their refund policies.
---
Mr Rebates Review 2018 – Final Thoughts!
As you can see Mr Rebates is a legitimate cashback site and one you maybe should consider, especially if you are a regular online shopper.
Providing you use these cashback sites in the right manner then you should be able to save and earn yourself a few dollars, but you won't be telling your boss where to go any day soon.
If you need a helping hand on the cashback front then you may consider checking out Ebates and/or Swagbucks.
Maybe you would like to learn how these cashback sites actually operate and maybe put yourself in their shoes.
I mean come on, if you think you are getting a great deal with cashback, just think about what the owners of these sites are raking in.
Just check out this review and see what you think and any questions then don't hesitate to ask.
---
Comments
Are you a member of Mr Rebates? What do you think? Are you happy with the service? Thinking of joining?
I'd love to hear your thoughts or maybe you just want to ask me a question about Mr Rebates or anything for that matter.
Just leave me a comment below and I will get back to you at my earliest convenience.
Have a great day, until next time!
Mick