Hey Guys and welcome to this Free Online Courses on Coursera Review.
It is evident that in the last few years online training platforms have become very popular, and in this Coursera review, I show you why they are one of the best e-learning platforms.
Many of the best universities and colleges from around the world are willing to partner with Coursera and pass on their knowledge.
They also stand out as an accredited business, where some courses that are taken come with recognized certificates that are accepted in the real world.
With so many of these online training platforms available, it can be a little daunting when it comes to searching out exactly what you are looking for.
You need to do your research properly when it comes to deciding which course you are going to get involved with, and that's where I come in here.
Can't be too careful in doing research as it's the only what to avoid the scams that are out there and to find a legit training course.
Is Coursera an e-learning platform worthy of a top spot in this fast-growing niche?
Hopefully, this Coursera training review can help you to make that all-important decision.
As to whether online education platforms are worth it for you, so without further ado, let's take a look at what Coursera is all about.
---
[Affiliate Disclosure: This Coursera Review has been thoroughly researched from information and testimonials that are in the public domain. This post may contain affiliate links which means we may earn a small commission, however, this won't affect what you pay!]
---

Product: Coursera
Founders: Andrew Ng, Daphne Koller
Founded: 2012
Website:  www.coursera.org
Product description: Online education/training platform
Price: Free to signup with courses starting from as little as £29 or $40
Recommended: Yes
Summary: If you are looking for recognized certificates then look no further, with thousands of courses available plus a number of free courses.
Coursera works closely with universities and colleges across the board with involvement with corporations and governments.
They offer online courses and specialize in popular mainstream subjects such as engineering, IT, business, data science just to name a few.
With professional certificates, diplomas and degrees available, Coursera is recognized and accepted as an accredited organisation.
People mostly use Coursera for improving their career prospects and making their resumes stand out.
But it's still all about being out in the big wide world working that 9-5.
What about learning a skill where you don't have to answer to anybody and can work anywhere you want? That's the dream, right?

Coursera Review – Table of Contents
What is Coursera about?

Coursera is an online educational training platform that has been around since 2012 and is the responsibility of two Stanford professors.
They work closely with some of the top universities and organisations in the world.
Including Yale, Stanford, Princeton and the University of Michigan to name a few as well as working closely with corporate and government organisations.
They offer a wide variety of online subjects familiar in the business world, with specializations, degrees and course certifications that are recognized in the real world.
With over 20 master's and bachelor's degrees available in Business, Engineering and Computer Science subjects.
The number of courses available is well over 4,000, with a few hundred free courses which are also available.
As of January 2020, the total number of partners in over 200 in 30 countries throughout the world.
Currently with over 50 million users, from all walks of life and covering many countries and languages.
Who is Coursera for?
For anyone wanting to advance their careers in the comfort of their home without the pressure of attending schools and colleges, and at a pace that best suits you.
Many don't have the freedom to take full-time courses on campus, due to work commitments and raising families.
Whilst learning platforms like Coursera allow this through the course structure and flexibility.
Maybe you are a person who feels the need to learn new subjects and expand on your current knowledge because learning is your thing. Nothing wrong with keeping the mind active is there?
It could be that you didn't have the required academic qualifications from school to qualify for the course of your choice at university or college.
With a large catalogue of business-orientated subjects at your disposal, you are sure to find a subject that interests you.
Why not listen to what past and present students have to say about Coursera?
The Core Elements of Coursera
At Coursera, there are currently five different learning programs that you can choose from. Six if you include free!
With thousands of courses to choose from, taught by some of the very top instructors associated with the very best universities and colleges from all over the world.
The courses comprise of recorded, auto-graded, peer-reviewed real-world assignments, face to face interactive format with video lectures and community group discussion forums.
For students who complete a course, you'll qualify to receive a shareable electronic Course Certificate for a nominal fee.
Course certificates that are received through Coursera will not give you professional or academic qualifications though.
SpecializatioNs
For those who want to master a certain skill set, enrolling in a program under "specialization" will allow you access to a number of courses related so that you can achieve that goal.
Take for instance you might be interested in Data Science.
This particular program as you can see comes with a ten-course introduction to data science.
Programs within this category come with hands-on projects that have to be completed before you can carry on with the additional courses.
Once you have completed all the courses within this program then you will be eligible for a certificate that you can take to your prospective employers.
Coursera currently offers around 417 specialization programs.
Professional Certificate

There are currently only around 15 of these training programs available.
They are designed to prepare you for future jobs, so if it's a new direction or career path change you are looking for then these programs could set you on the right path.
Some of the programs give you the necessary skills needed to pass certified exams in your chosen industry and provide a level of experience required for your chosen career path.
A number of these programs do require you to submit an application for enrollment, and you will be required to pay for the program, take and pass all the courses on the program before you are awarded a certificate.
It might be worthwhile checking beforehand whether the professional certificate awarded may or may not be recognized in the real world and therefore I would check with Coursera or check on the certification pages for more information.
Once you have completed all the courses that come with the program you will receive your certificate from the institution responsible for the program and not Coursera.
Courses showcased here are from well-known corporations such as IBM, Google and SAS
MasterTrack Certificate 

The Mastertrack program is a little different to studying a full degree in that the full Master's course is split into modules which allows you to study in a cost-effective manner.
From some of the best instructors from around the world, in a real-time interactive format taking on real-world projects to give you the experience needed.
If you apply and are accepted to the full master's program, then your MasterTrack certificate does count towards your degree.
The number of courses is limited, at present, there are 21 which include IT, Engineering, Management and are covered by 7 universities that are in the top 10.
Degree
Currently, there are over 40-degree courses available on Coursera with most of them based around Business and IT.
Studying online is great for those courses that are only going to take you a few weeks at best to complete, but taking an online degree is something else because of the commitment and dedication that is required.
Working at your own pace to complete a 4-year online degree could take you 6 years to complete due to the nature of online learning at your own pace.
It could take less, that's all down to the individual.
There will be prerequisites required before being accepted onto the degree, obviously to ensure that you have a certain amount of knowledge so that you don't struggle.
Remember, if it's a degree that you are about to pursue, it really will be like going to university.
It just means that all the work will be done online.
You need to be aware that these degree courses can be popular and therefore you must get your application in early to avoid disappointment, as the college or university has the right to close the application once the allocation has been filled.
Struggling to pay and would like some help?
Coursera offers its students the option of a scholarship or financial aid where appropriate, and this isn't automatically given besides not all courses come with that offer.
The special form can be found on the course home page.
Ensure you fill in the form correctly, giving your academic background along with career expectations and your financial situation.
If approved the course will be paid for in full leaving you with a clear mind to focus and complete the course. Not bad eh?
What about Free Courses?
As part of your research in finding the right e-learning platform that gives you confidence, there is a number of Coursera Free Courses available for you to check out.
At the last count, I think there were over 1500 courses.
What better way than to take it for a test drive with one of the free courses first.
Let's take a look inside Coursera
Just go ahead and signup, it's free  and straightforward
Once you have signed up an email will be sent to you from Coursera Support to confirm your email address.
Once done you are free to wander and check out.
Just log in and explore.
The interface has been designed very well and is extremely easy to find what you are looking for.
Either click on the "explore" tab or just type in your query straight into the search bar.
You can see the sub-categories down the left-hand side which when clicked on give you a whole load of additional parameters to let you drill right down and find exactly what you are looking for.
Let's take a quick look at Information Technology.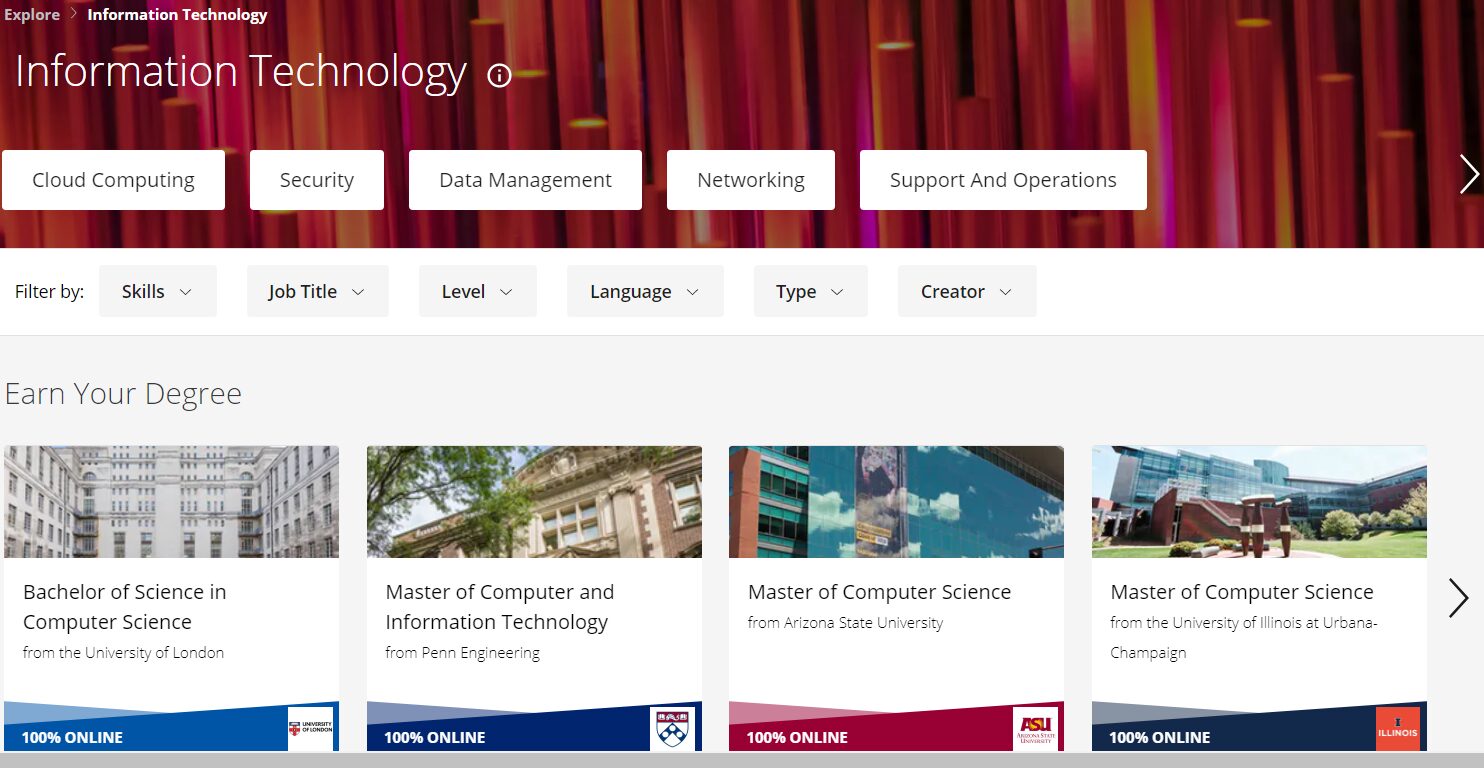 Across the top, you can see the sub-categories associated with IT and below you can filter the results further.
Skillset – Google services, Cybersecurity, Cloud storage…
Job title – Software engineer, C++ developer, Data Analyst…
Level – Beginner, Intermediate, Advanced, Mixed
Language – Of choice
Type – Courses, Specializations, Professional certificates
Creator – College, University, Corporate…
How to select the Best Coursera Courses
It goes without saying that before you purchase anything on the Internet you should research the product thoroughly before parting with your money, and selecting a course on what you perceive is a reputable company should be no different.
Check everything, especially payments for courses, subscriptions and cancellation policies, which many don't bother about doing.
That way there will be no surprises!
Let's take a look at a course and go through the process you should be taking before you decide that this is the course for you.

Check…
The number of students who rated the course and the rating.
Enrol for free gives you 7-days full access then a subscription will kick in.
Most come with "Financial Aid" which is useful to know.
Check out the number who have enrolled.
Check out some of the student reviews.
Skills you will gain.
Look at the "About Course" and check out the syllabus.
Take a look at the instructor and the ratings and other courses she or he runs.
Note:
The 7-day Coursera free trial is just that and after that period a monthly subscription will be charged. It could be that the course can be completed within the week in which case you could be OK. Check the policy link above for clarity!
Why not become an Affiliate
You could join Coursera's affiliate program and potentially make yourself some money by promoting their courses.
This could help you out in paying for the course that you looking to pay for.
If you are unsure just what affiliate marketing is, then check out this review.
Like pretty much all affiliate programs, they are free to join with commissions running as high as 45% of the purchase price providing the users actually join and pay for the course within 30 days of clicking on your referral link.
Professionally created banners and text links are provided to add to your website
There's a monthly affiliate marketers newsletter that will keep you abreast of things happening within the Coursera platform.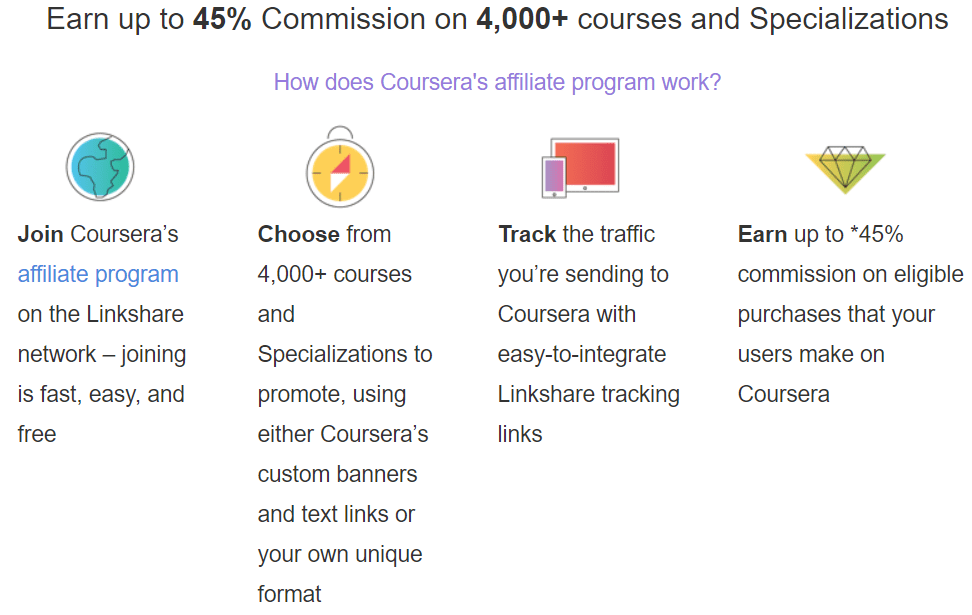 Businesses like Coursera operate in the Affiliate Marketing arena and are probably one if not the most popular industries to work in.
A simple business concept that anybody can learn.
If this interests you then I can recommend Wealthy Affiliate which is probably the best training platform online that specialize in this industry.
Is Coursera a Scam?
It depends on who you talk to because there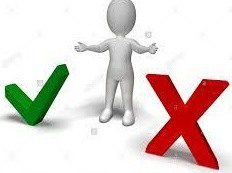 is a lot of bad press about Coursera.
We have taken several courses and didn't have any issues.
But, if you take a look at the various review sites such as Consumer Affairs there are a number of unhappy people.
Money has been taken out of accounts when it shouldn't have been.
Having issues cancelling a course before the trial period ends and therefore getting charged.
Problems with trying to get support when there are issues.
Some of the courses are sub-standard
Just be careful and read the small print first otherwise, overall the site seems to be OK.
However, you could shoot over to Udemy which we find a much better e-learning platform with over 100,000 courses and around 10,000 free courses to choose from.
On Udemy they discount courses all the time, so a course that might cost you $200 can be found for $10.
We should know it has happened to us.
But check the student reviews first.
That said if working the 9-5 is getting to you and you want to take back that precious time then check out the link below.

What I like about Coursera
It has got to be said that Coursera is a well

developed professional online education platform that comes with a lot of merits.
Masters and degree courses available.
Professors from world-class universities and organisations such as Yale, Princeton, Stanford, IBM and Google.
They are accredited and certifications are recognized throughout the business world.
Plenty of Coursera free courses to whet your appetite which can be taken and only requires a payment if you decide to go for a certificate.
The software platform is well developed and easy to navigate to find exactly what you are looking for.
Get access to the Coursera mobile app so that you can study on the move.
I like how the courses are split into Beginner, Intermediate and Advanced which means that you are not jumping in at the deep end.
What I don't like about Coursera
You are always going to find fault with anything,

but we are not going to criticize every little detail.
I am here to give you my honest opinion and being a member allows me to do that.
Whilst the number of courses exceed 4,000 I found that unless you were looking for a recognized specialized course then the choice was limited.
I found that in most cases they offer a free 7-day trial which isn't optional and once the trial period expires then you must pay a £29 or $40 monthly subscription.
Many of the courses can be completed within 7 days so maybe this isn't an issue but for some, it may be.
Probably worth checking the payments and subscriptions page here first.
Courses are a little on the expensive side although if it is a degree you are thinking of taking then costs on a comparison basis against a college or university are around half the price and less.
 What I found is that many of the courses can be completed in 7 days which implies that the course material is somewhat on the basic side, so you need to research the course properly before parting with your money.
Is Coursera Worth It?
I am a member of Coursera and for anybody looking for a recognized degree that will help you advance your career or maybe looking for a change in your career path, then Coursera offers that opportunity.
Online courses can be the right fit for many, simply because of the cost factor of a college and university and the freedom to take your time. No pressure then!
I have come across many reviews where people have said that the costs are quite high. I think they can be!
If you are struggling to pay for the course then you can apply for Coursera financial aid.
With the internet, people are always looking for "free" and aren't prepared to invest in themselves and you have to ask the question…
"How much do I value my own education and future"?
The Coursera Review 2022- Feedback, Follow and Subscribe
I think you will agree, that anyone who is interested in advancing their knowledge that Coursera is up there as one of the better learning platforms.
Whilst I found many subjects of interest, you may find that the level of learning is more on the beginner side, and if it is more of a selection that you are looking for then I would certainly check out Udemy as they offer over 100,000 courses.
Granted Udemy isn't accredited in any way, meaning that the certificates handed out aren't recognized in the business world, but for many (me included) does that really matter.
If it's a variety you are looking for, then check out a review I wrote about Udemy here.
However, if you are interested, I have another great training platform I can highly recommend and that's Wealthy Affiliate.
They specialize in affiliate marketing and it's free to join, no kidding, and you won't be asked for credit card details either. Check it out, what have you got to lose?

I appreciate you stopping by and if you need any advice or want a chat just add them in the comments field below.
I reply to all my reader's comments on a frequent basis.
Thanks for reading, until next time