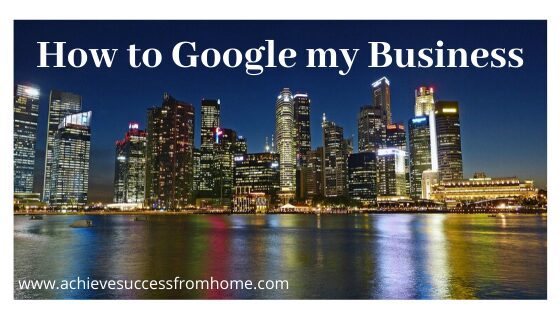 Welcome to this strategic guide on "How to Google my Business"
If you are looking for a cost-effective way to establish an online presence, and make your business or organisation more available in the Google Search Engine to prospective customers, then look no further.
Cost-effective because it's "free"
Google My Business or GMB for short gives you as a business owner all the tools to ensure your business is seen locally and by the billions who have access to the internet.
Business and telephone hand manuals are almost a thing of the past and with limited information anyway, due to almost everyone owning some sort of hand-held device and access to the internet, and this will only continue to grow.
Information is right there at our fingertips and instantly displayed with a quick Google search. People are impatient and need information yesterday!
Such as …
Telephone numbers
Hours of business
Is there any parking
Location
Reviews and ratings
Having this information instantly available to the consumer before they enter your website gives them confidence and speeds up the process and gives you a professional image.
With over 8 billion keyword searches entered every single day on Google alone, it makes perfect sense to use GMB, otherwise, you will miss out on so much potential.
It's free and it's easy to use!
In this guide, I will be showing you how important it is for business owners whether online or off and just how to create and optimize your "Google my business account".
---
Internal Summary and Navigation
---
What is

Google my Business About?
In a nutshell, it's an easy free way of promoting your business locally and setting you apart from the rest with some nice features and analysis tools at your disposal.
GMB is free and easy to use with all the tools available to bring your business or organisation to the forefront and available to the many people already searching in Google.
With marketing tools available which can be costly such as PPC (pay-per-click) or SEO which is free but takes time, GMB is a great alternative and because it's Google you have the ability to be seen quicker, and it helps with SEO as well.
You can help customers find your business or organisation quickly by setting up a number of parameters which we will go into later.
Control how your business is projected by telling your story and adding photos to showcase just who you really are.
A survey reporting statistics of businesses that post photos on GMB received around 43% more requests for directions through Google Maps and around 36% more website click-throughs than businesses and organisations that don't.
A whole host of tracking information is available on search results in search and maps which you can use when you are ready to create campaigns to get out the word of who you really are.
GMB is a very powerful tool when used correctly.
Not just to find basic information about your business or organisation but to increase revenue and valuable feedback from your customer.
Whilst your website is likely to show important information, GMB indexes your content so it is readily available in the Google Search Engine and Google Maps.
That way when the consumer searches for your business locally it will be there waiting.
These "Google My Business" results refer to a "SERP" feature "Local 3-Pack" which Google uses to display the top 3 businesses or the most relevant local listings for that search.
---
Why Business Owners should create a Google My Business Account
With Google alone taking around 92% of the overall search engine marketplace then it makes perfect sense to have a GMB account to help in page-ranking and hitting that all-important 1st page of Google.
It should be clear by now with around 2.5 trillion (yes, trillion) Google keyword searches which are done on a yearly basis, that you would be missing out on so much revenue without taking advantage of a GMB account.
Potential customers when searching for things very rarely go beyond Google Page-1, so it's extremely important to aim in that direction if you want to reap the rewards. That's why GMB is so important!
Google My Business helps you…
Control, index, and display important business information.
Interact with your potential customers and manage your online review credibility.
Curate customer-photos, videos, and other user-generated content.
Collect insights regarding how your customers are arriving on your website which will help in monetizing your listing and improving visibility.
Noticeable in Google search results
In the example above, a GMB listing can help your business or organisation stand out in the Google search results, and help consumers find your business, whether you are online or offline.
Whilst a GMB listing can guarantee that your business will appear in "brand name searches" a top position isn't automatically ensured.
A few factors have to be taken into consideration such as…
Competition in your local area and consumer review scores.
Your priority should be to get into the top 3, just like bloggers are always aiming for the first page of Google.
Having a GMB account set up and running correctly along with the help of SEO can ensure that traffic is driven to your business or website if you have one.
Importance of local search 
GMB is all about local searches which can come by way of a search near to your business or organisation, and searches that are made outside your area with the location attached.
Many local searches come from consumers out of the area who are searching for businesses like yours and with local SEO done right which is what GMB is all about, then your business has the potential to capture that audience.
GMB provides information that potential customers are looking for right now.
A recent survey reports that around 88% of consumers who search locally on their smart-phone visit or call a store within 24 hours and nearly 48% of all Google searches are looking for local information.
The survey also found that around 60% of mobile users were very likely to click on the first two or three results that are displayed, which is very significant given how "Google My Business" results appear in mobile searches.
Creating a GMB profile is key if you are looking to improve in the local search results.
Importance of mobile search 
It is very clear that more and more mobile devices are been used to access the internet with desktops sort of taking a back seat and it is only going to continue.
In Q4 2019 61% of Google searches were mobile users and a large portion of those searches was likely to be local.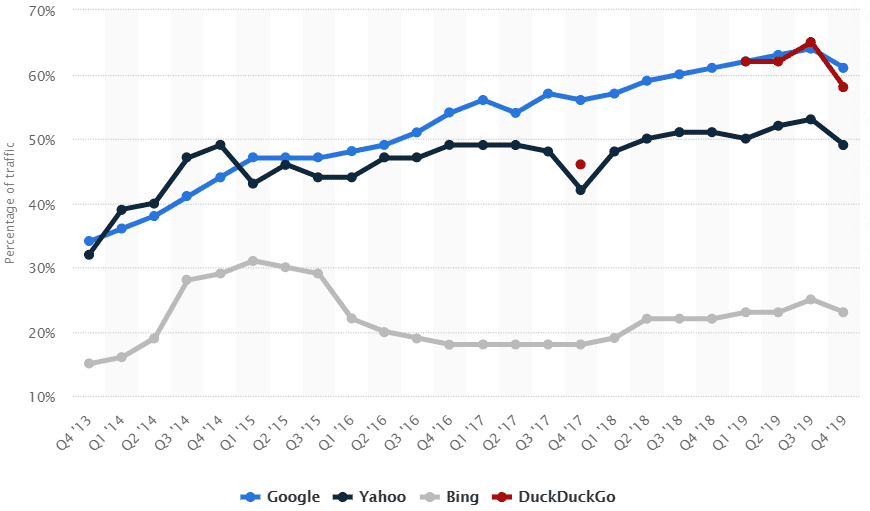 This is all the more important for mobile visibility and GMB is key to that as these listings are dominant in mobile search results.
It is evident that mobile devices are key and for many local businesses when searching the internet this means they are likely to make a real intention to purchase or make a visit. After-all, if you are searching for something with your mobile, it more than often means you are out and about. 
What about your competitors? 
Not every business will be taking advantage of a "Google My Business" account, in fact, locally you might find very few.
Simply put, many either don't know about this Google Freebie or think there is a lot of work involved and therefore don't have the time.
On the other hand, if there are competitors out there with listings, it just means that to find your business or organisation, people are going to have to work harder.
You are less likely to be high up in the pecking order and prospective customers are going to have to scroll through the results in order to find your business.
In order to be competitive, you must ensure that you are taking full advantage of the features and maintaining your listing on a regular basis.
Easier for consumers to find you 
A well-maintained listing with all the key information allows the consumer to quickly find a business and make a decision whether to visit or not.
Consumer reviews, Opening hours, Google maps to help with directions. In fact, by clicking on the actual map opens everything up and makes it so much easier to browse.
Credibility

 
Having a "Google my business listing" which is well maintained using all if not most of the features shows that you are a serious competitor.
Not only that but consumers become acquainted with constantly seeing your profile popping up in the search results which can lead to business credibility.
So much more professional with a listing that gives all the key information at a glance, which is what your potential customer is looking for.
Free and easy to set up so do it, otherwise you'll be missing out on so much potential revenue.
A Google my Business listing has many potential benefits, and even a relatively basic listing can help to improve your online search presence, so it's worth setting one up.
Indeed, if prospective customers search for your business and don't see a listing then that could be a problem for you.
Insights into consumer behaviour 
Google as always been at the forefront when it comes to saving data for you to analyse.
GMB is always changing with new features added on a regular basis to help you in many ways but in particular, it could help in consumer behaviour allowing you to monetize your listing to improve prospects to build that customer base.
Like actions taken after viewing your GMB listing and how they found you in the first place.
---
Creating your Google My Business Account
To make your business stand out above the local crowd it is critical that you get it right the very first time and whilst it is easy and straightforward many businesses are still getting it wrong.
There are many ways to optimise and improve your "Google My Business" listing but we need to start by creating a basic profile first without the niceties which will come later.
One of the biggest mistakes business owners make when it comes to technology is they start out with the right intentions but slowly become lax for whatever reason, and maintenance becomes an issue.
All that hard work could be for nothing if you aren't maintaining your GMB listing on a regular basis.
With Google My Business so important for local SEO, it's extremely important your data is accurate and up to date.
It wouldn't take much for potential customers to switch off and go to your competitor.
The steps required to create your Google My Business Account Listing which I'll summarize here. No need to go into any great detail as it is so easy to create!
Go to the GMB homepage and click on "Manage Now"
Find and manage your business – Add the business name and enter to create
What's the name of your business – click "Next"
Choose the business category and click "Next"
Add a location to Google Maps and click "Next"
Add your business address and click "Next"
Is this your business? Enter "None of these" and click "Next"
Add your location to Google Maps and click "Next"
Do you serve customers outside this location? Yes/No and click "Next"
Add the areas you serve and click "Next"
Contact details you want to be displayed and click "Next"
Want updates and recommendations on Google? Enter "Yes" and click "Next"
Finish and manage this listing? Leave defaults and click "Finish"
Choose a way to verify and that's pretty much it!
You can create your Google My Business account here
The final step is to verify that this business belongs to you but you can ask for verification to be done later. This way you can check out the GMB dashboard.
It is so quick and easy to create as you only need to enter the basic information, but the dashboard tells you another story, that it's an intricate system with many features to take advantage of.
In the toolbar, there are a host of options with many features attached.
Home: – Hours, contact info, Biz description, Biz logo, Virtual tour…

Post: – Create an offer post

Info: – Hours,phone,website,menu link,Order ahead links… 

Menu: – Add photos and menu details
Insights – Analyse your prospective customer habits. How they found you…
Reviews: – Maintain customer reviews
Messaging: – Maintain customer relations
Photos: – Showcase your business with photos and video
Booking: – Add a booking button
Website: – Create your website and reinforce your online presence
Users: – Manage user permissions
Create an add: – Market your business with Google Ads
Get custom Gmail: – Create business emails
Add a new location: – Add additional locations
Manage locations
Verify locations
Linked accounts
Settings: – Manage what you show to the consumer
Support
We are just scratching the surface in the above list with so many features to take advantage of that aren't highlighted.
Spend more time upfront to reap the rewards later.
---
How to optimize your Google My Business Listing
Once you have created your GMB account there are many things you can do to optimize your listing.
Get the basics right
Setting up your Google My Business account shouldn't take you too long if you follow the guidelines from Google but ensure that the main information that prospective customers are looking for are there, such as business name, address, and telephone number or NAP for short.
Ensure you are pretty specific about just what your business offers by making sure you choose the correct category otherwise you may end up been grouped within some of the bigger businesses and missing out.
Cutting corners and trying to use a category that "you may think" will attract more customers will have an adverse effect when it comes to the search results.
It pays to follow the instructions to a tee and make sure that you take a little extra time in the thought process.
Remember if you have set up your account incorrectly it may be several days or even months before you notice why you aren't getting any hits.
Add information that customers find useful
Always put yourself in the shoes of the consumer and think about what you would like to see when searching for a store or business.
Remember when people are searching for something they want to see all the relevant information so they can make a quick decision, and as they are normally out and about they won't want to hang about too long.
Many businesses miss out basic information like opening and closing times and consumers will skip onto the next business in the list. Missed a possible sale!
Ensure you describe the business correctly and don't forget to add some quality pictures as that's what people like to see. Take Instagram for example. A picture can speak louder than words.
Monitor and update regularly 
Technology can be great if used in the correct manner, but can also have an adverse effect if you don't have a plan of action.
A few minutes every day, that's all it takes to ensure your business information is current and up to date.
Remember this information will be seen first before the prospective customer even considers checking you out.
Adjust your opening hours if you need to if it's a certain holiday period, such as Christmas.
I mentioned earlier that people love pictures so make sure that you replace them with current and maybe more professional looking.
Why not include a virtual tour. A more recent feature which would really showcase your business.
Make use of any new features 
Google is constantly making changes and adding new features to Google My Business and therefore it pays to check in with Google from time to time.
You never know; a great feature that you had thought about may have been implemented.
Respond to gmb Reviews both positive and negative-Keep that link with your potential customers
Online reviews are an extremely important factor when determining whether you are going to buy or not.
I myself spend a lot of time reading product and business reviews and the misses would say too much time!
Check out some interesting facts that were recently published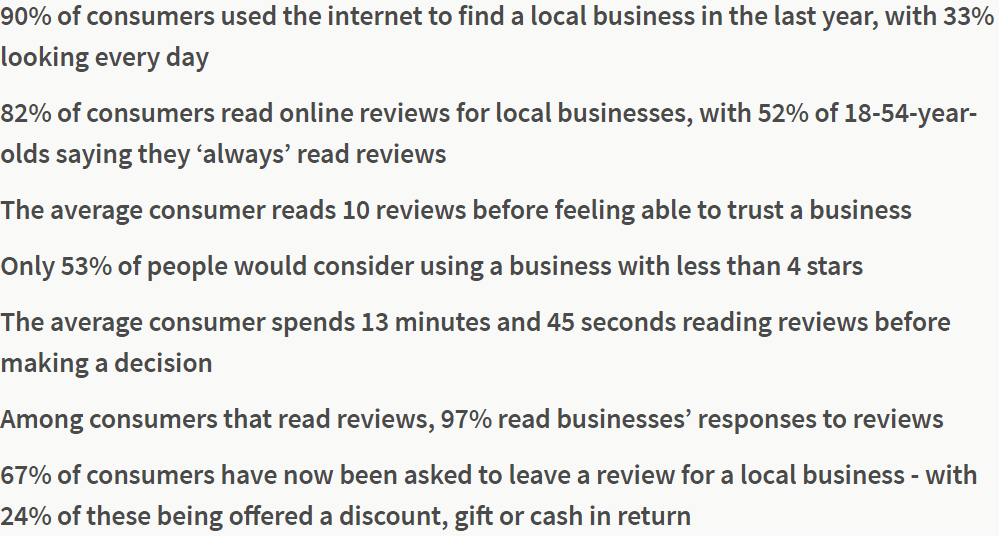 Online reviews are an important part and essential to your Google My Business listing and can make or break a business reputation.
The more quality reviews you receive the higher you will rank in the search results and remember you should be aiming for the "3-pack" which we mentioned earlier. "The top 3 in the listing results"
An important factor here is to ensure your business information is current which helps to encourage the consumer to leave a positive review.
However, motivating customers by giving them an all-round "top class service" will help to promote your business even more.
Check out this list of things to bear in mind when responding to reviews…
Always respond to both negative and positive reviews.
Respond in a timely manner.
Express appreciation and empathy.
Compose yourself in a professional manner and stay positive at all times.
Take the negative reviews in your stride and always try to respond in an appropriate way.
Be clear and authentic in any response.


---
Well, what do you think?
Nowadays it's all about information and how quickly you can get hold of it.
Most people have a mobile device at hand and when people are out in the shopping malls they want to know where to buy the next in-thing, and quick.
To compete you need an online presence and GMB to some degree gives you that and for free.  So, go ahead and sign-up, what are you waiting for?
What you also need if you don't already have one is a website to showcase your business which most people have nowadays.
Bill Gates once said, "If your business does not have a website, it won't be a business very long"
If you don't or are struggling and are looking for guidance, I can recommend a training platform that will really take your business to the next level.
Wealthy Affiliate is an online training platform with an amazing community, that I can highly recommend to anyone.

---
Feedback, Follow and Subscribe
It's very clear or should be that anyone who owns a business, whether this is online or offline should be taking advantage of this "free" tool, and with Google search being king when it comes to search engines then all the more important that you do.
With around 4.5 billion users who have access to the internet and it is forecasted that in 2020 around 2.4 billion of those will be using a mobile device of some description, then there's no better time as the presence.
Hope I got across what I set out to do and helped you in making a decision one way or the other.
Remember this costs absolutely nothing and could elevate your business to greater heights!
Thanks for stopping by and comments are much appreciated.
Stay safe!