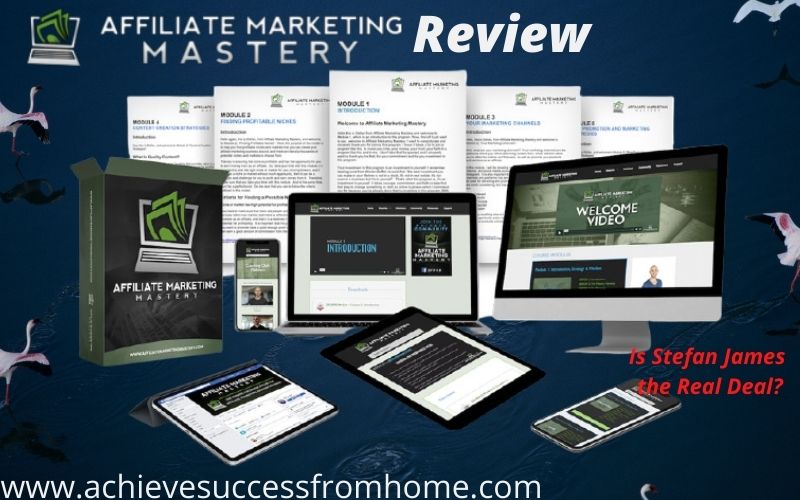 Hey Guys, welcome to the
Stefan James Affiliate Marketing Mastery Review
This is a course by a very popular and successful entrepreneur who goes by the name of Stefan James.
It basically teaches affiliate marketing which is probably one if not the best business model to learn and make a living from online.
If you have been looking for affiliate marketing training courses then you will know that you can get lost because there are so many of them.
The reason why there are so many is that it is such a simple concept.
You promote other people's products and when someone purchases that product or service through your link you are paid a commission.
That's it, simple right?
That's what attracts people to these courses because they believe this will be a quick fix, like a get rich scheme that won't require much work.
Forget it because the get rich quick schemes do not exist although most product creators do actually promote that theme.
Anyway, you are here because you want to know if Stefan James is a scam or more importantly if the Stefan James Affiliate Marketing Mastery course is a scam.
All of which will be revealed very shortly, but before we do, we'd just like to inform you that we are not associated with Stefan James in any way.
This means we are not getting paid to create this review which also means that we will provide you with all the facts about Stefan and his course.
That way you will be in a better position whether this course is for you or not.
So, let's begin.
---
[Affiliate Disclosure: The Stefan James Affiliate Marketing Mastery Review has been thoroughly researched from information and testimonials that are in the public domain. This post may contain affiliate links which means we may earn a small commission, however, this won't affect what you pay!]
---

Product: Affiliate Marketing Mastery
Founder: Stefan James Pylarinos
Website: www.projectlifemastery.com
Product Description: Affiliate marketing course
Cost to join: $997
Recommended: Yes
Summary: The Stefan James Affiliate Marketing Mastery is an online course that teaches anyone how to create their first affiliate marketing business.
If you are new to making money online then you may or may not be aware of, not only the vast number of courses that there are.
That claim to teach you affiliate marketing, but the vast number of online scams that there are as well.
This can make your job extremely difficult because more than often people will give up very early on without really trying.
This will also give them the idea that everything is a scam which isn't the case.
There are a lot of decent courses teaching this business model and Stefan James Affiliate Marketing Mastery is just one of those.
So, let's continue and see how this unfolds.

Stefan James Affiliate Marketing Mastery Review – Table of Contents
What is the Stefan James Affiliate Marketing Mastery About?
The Affiliate Marketing Mastery is a training course developed by Stefan James way back in 2016.
It teaches anybody (but is primarily for complete beginners) how to make money online through affiliate marketing.
It will teach you things like, how to find a profitable niche, how to create a website,  keyword research, writing content, email marketing plus a whole load of other disciplines…
The course is still operating today, that's 5 years after the course first came onto the scene, and a popular course that people still talk about today.
The course has helped many aspiring entrepreneurs start their very first affiliate marketing business.
Here you can get a feel for who Stefan James is as he discusses affiliate marketing.
Who is Stefan James?
Stefan James or Stephan James Pylarinos is a super affiliate and online business entrepreneur who is the founder of "Project Life Mastery".
A site that he started in 2012 to help others commit to everything that affected their lives through self-development. In other words, a life coach!
Like, fitness, health, finance, mindset, spirituality, creating an online business and more…I think you get the picture!
But, it didn't always go his way because at school believe it or not he was a very shy person who withdrew into himself.
Nowadays you can see him on stage in front of thousands and even share that stage with gurus like Tony Robbins.
Everything started for him when he was 17 on his self-discovery journey and by the time he was 21.
He had started his coaching and seminar business in Canada.
When he reached 27, he had become a millionaire through his businesses starting with kindle publishing with over 100 e-books.
Then he tried his hand at Amazon FBA, Shopify and then affiliate marketing where he excelled as an online entrepreneur.
You can find many courses through his website, Project Life Mastery which all come with a money-back guarantee.
He has been involved in a joint-venture with Dean Graziosi and Tony Robins who are 2 multi-millionaire entrepreneurs on a product called Knowledge Broker Blueprint.
He is even a philanthropist where he uses money from his business to improve poor countries by building schools etc
He manages his own YouTube channel of which you can find over 1.2 million subscribers and over 1,200 videos.
Covering everything you can imagine and even tips on making money through crypto bots.
What do you get with the Affiliate Marketing Masterclass?
In order to access the course, you will have to go through the free training that the webinar provides which you can do here.
No, you can't speed up the process and it is going to take a good hour.
The entire course is covered by seven modules which we have listed below with a brief description.
There are also a number of bonuses that come with the course too.
Module #1 – Success Starts with a Mindset and Strategy
In this module, James gives you an overview of the entire course and talks about how important it is to have a strategy and the right mindset.
He also mentions that affiliate marketing is not a get rich quick scheme and will take a lot of time, hard work and dedication to succeed.
That you require bags of patience which many just don't have and it's the impatience that makes people fail especially in this business.
He also talks about the 10 defining principles that he used to make him a seven-figure earner.
Module #2 – Markets and Keywords Research
It all starts with a niche and how to go about finding the right niche that is going to be profitable.
There isn't an ideal niche but what you are trying to find is one that has a substantial crowd and that is not overly saturated.
He touches base on keyword research which plays a very important role as it's the keywords that are going to relate to your niche.
These are what people are keying into the search engines.
Module #3 – How to Create and Build your Brand
Building your brand takes time and the focus here is on social media with the help of Facebook, Twitter, Instagram, YouTube…
Learn how to create your website and how to implement the various WordPress tools and get traffic to your site.
Module #4 – How to Attract Followers and Subscribers
There is a combination of 2 things here, keywords that people are keying into the search engines and content that people are going to want to read.
You want people to flock to your website and the keywords and content are key to this happening as well as social media outlets.
There is a well-known phrase, "Content is king"
Learn to create great content and people will keep coming back time and time again and they will share this content on social media.
Module #5 – Getting Visitors and Followers Fast
In this module, James gives the impression that you can create your social gathering very quickly.
Let me tell you there is nothing fast about this, it takes time and a lot of patience.
He talks about paid per click advertising and SEO or search engine optimization which I am all for.
Using PPC is expensive and very unpredictable and attracts the wrong type of crowd and besides.
You have to constantly tweak the campaigns and keep adding money whereas SEO is free, it does take more time but is more rewarding.
He focuses on YouTube videos and how to get the most by adding compelling headlines.
Module #6 – Now for Making Money
This module will show you how to monetize your brand through the use of your social media accounts.
Learn how to find the best profitable products and services that you can promote.
There are literally millions of products and services that you can promote and make a commission on.
Module #7 – Optimization and Performance Strategies
A very important aspect of running any business is monitoring just what is going on in the background.
There are many tools that you can pay for but Google has a free tool called Analytics to monitor your website performance.
YouTube and the other social media platforms have similar tools which are what you will be taught.
This module is an important one that you are going to need to be able to grasp things better.
What Else You Get When You Join
Advanced Affiliate Marketing Training
14 Q&A Webinar Recordings
Affiliate Marketing Case Studies
Affiliate Marketing Expert Interview Series
Instant Access to 90-day Email Coaching
Access to Private Facebook Group
Additional Bonus's
Bonus #1 – Sefan's Ultimate list of Affiliate Programs
Bonus #2 – Your very own Website Created for you
Bonus #3 – $1k+/month Fast Track Formula
Bonus #4 – Already made Sales Funnel
Who is Affiliate Marketing Mastery For?
This course is primarily aimed at the newbie, the complete beginner who knows nothing about affiliate marketing.
We are only here for a short period of time and we spend one-third of it at work, one-third asleep and the other third recovering from the day's work.
Is that a life that you want for the next 30, 40 or even 50 years or do you want to take back all that time and live life on your own merit?
Affiliate marketing isn't some exclusive business model that only the gifted can do and become a success at.
This is for anybody, but it isn't as easy as they make out which is what most think and that is no reflection on you as a person.
It's the "so-called gurus" giving you false hopes and that's why most fail, simply because they aren't prepared for the hard work.
Just think about it for a second.
Any business takes a lot of time, hard work, dedication, consistency and determination to succeed.
There is no point in joining a course like Affiliate Marketing Mastery halfheartedly, you have to go all in.
Otherwise, all you are going to end up doing is bouncing from one shiny object to the next.
Finding the right mentor is half the battle and providing the training is right there is no reason why anybody can't succeed.
How much does it cost to join Stefan James Affiliate Marketing Mastery?
The Affiliate Marketing Mastery course as of this review will set you back $997.
For those who are on a tight budget, there is a payment plan in place where you can spread the costs over three months costing $1,191.
There is also a 30-day full money-back guarantee in place for anyone who decides this course is not for them.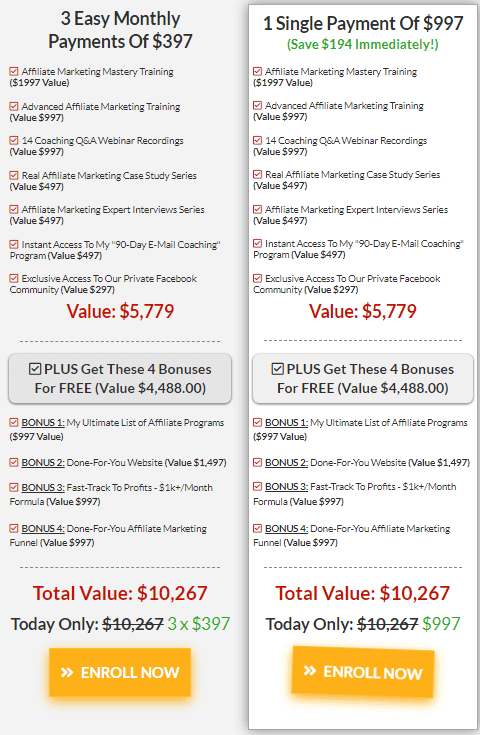 Is Stefan James Affiliate Marketing Mastery a Scam?
Is Stefan James Affiliate Marketing Mastery a scam? Absolutely not!
The course is full of content and is right for the complete beginner but anyone with experience will probably not benefit from it.
The course has been around for a number of years but people still seem to be purchasing it.
Although we cannot verify any of the reviews or testimonials.
In fact don't you find it a little strange that there aren't reviews all over the internet in places like TrustPilot?
James is a popular guy that many seem to flock to but his daily schedule is that of a very busy person.
The last thing he is going to want to do is to answer any questions from members who are having problems and struggling, right?
People are always going to be sceptical about online services and courses because at the end of the day that's all they are, a course or service.
It's what you do with the information as an individual as to whether you will succeed or not.
Systems don't fail, it's the people who fail.

Affiliate Marketing Mastery Pros and Cons
We try to group the main points both positive and negative and therefore we have tried to give you what we feel are the important ones.
PROS
There is a 30-day money-back guarantee

:
The course is decent and many will benefit from it:
CONS
The course is expensive compared to many alternatives that are out there:
Information In This Course Can Be Found All Over The Internet:
Lack of any real verifiable reviews and testimonials:
Stefan James Affiliate Marketing Mastery Review – Final Thoughts!
This course will definitely teach you the basics which is really all you need but don't expect to see positive results overnight.
If you are waiting for quick results forget it because that is not going to happen.
It took Stefan James a number of years to get where he is now and that was with a lot of failures.
He's developed this course to help people like you whereas nobody did with him.
It's where you take this training that will count and given 6 months but probably 12 months and beyond then you will see things happening.
Remember this, affiliate marketing is a marathon, not a sprint.
If you are looking for an affiliate marketing course that goes beyond anything that James's course provides then read on.
How we Make Passive Income Online?
We got involved with affiliate marketing in 2017 and are still with the very same training platform which you can read about here.
We spoke about help and support earlier and that with most courses that just isn't present and can take days to get answers.
With Wealthy Affiliate that will never happen because there are so many ways to get answers to questions.
Not to mention the community which has 800k+ active members.
What you would pay for Stefan James's course it would allow you to be a premium member at Wealthy Affiliate for nearly 3 years.
But, you can join for FREE so that you can review what is on offer and there aren't many systems that offer that kind of membership.
See what you think here and if you don't like it just call it a day.
But we can assure you if you are serious about building an online business you will be totally impressed.
Check out the links in the menu above for recommendations.

Stefan James Affiliate Marketing Mastery FAQs
Is The Course Really Worth The Money?
The course is pretty comprehensive and you are getting value for your money.
However, it's all about the help and support that are high on our list of top priorities and just how easy it is to get.
Often what you find with these types of training programs is out of mind out of sight.
What I mean by that is that help when you want it can normally take longer than 24 hours and even longer.
Which is not good when you are trying to learn and move forward.
These courses work much better if you are a go-getter, someone who requires very little intervention.
Can You Pay For The Course With Installments?
If you can't afford the full price of the course then, of course, you can spread the costs over three months.
This would be $397 but that would add an additional $194 to the actual price, which isn't bad really.
Is There A Refund Policy?
There is a 30-day full refund for anyone who changes their mind but anyone asking for a refund will be that person going into it halfheartedly.
Is Stefan James Legit?
I think you can see that Stefan James is a genuine person who comes across as a trustworthy person.
Just by looking at his YouTube channel alone with over 1 million subscribers, he shares a lot of useful information there.
Mind you he is getting a ton of money from YouTube for all those views.
Realistically, How Much Will I Need To Start Affiliate Marketing?
When you are starting out in any business there are always going to be costs that you don't take into consideration.
They are often not spoken about by the course owner because that would infringe on you moving forward and purchasing their course.
To give you some idea of the costs to run an affiliate marketing business we currently pay around $1.40/day which equates to $511/year.
You can take a look here.
Now, this is nothing, but you would be paying a lot more for the advice of Stefan James within this course simply because he would make a commission.
Can You Suggest Any Alternative Training Courses?
There are literally hundreds of similar products teaching affiliate marketing and there are a few below that you might like to check out…
Feedback, Comments and Subscribe
Hope you guys enjoyed this review of Stefans, Affiliate Marketing Master course and that you found some benefits.
If you have any questions, don't be shy and just add any question you'd like in the section below and we will get back to you.
Thank you for being patient and stay safe.