Welcome to
What is the Swagbucks Scam Review
Looking for a way to earn a little cash and you heard about Swagbucks. OK, so what is Swagbucks about, is it legit and can you really make some money on this site, but more importantly, is it really worth investing your time and energy?
I'm sure you'll agree that there are a vast number of opportunities on the internet with various claims. Promises of instant wealth or that making money online was easy to do.
I'm sure you've come across them all!
Well ignore those claims for the time being and let's see whether Swagbucks .com can deliver or not!
If taking part in surveys, playing games, watching videos, or discovering deals is something that interests you, then why not get paid for it?
In this review I'm going to show; what is Swagbucks about, how it works, how much you can get paid and whether it really is something worthy of spending your time doing.
---

Product: Swagbucks
Owned by: Protege
Website: www.swagbucks.com
Price: 100% free to join and take part in
Founders: Josef Gorowitz and Scott Dudelson
Founded: 2008
Summary: Is a search engine, and allows you to participate in certain activities including online surveys where you are rewarded with a virtual currency.
Recommended: YES – If you are ok about earning a few bucks here and there, but for me nowadays I have better things to do with my precious time.
---
Let's take a look at some facts before we dive into the review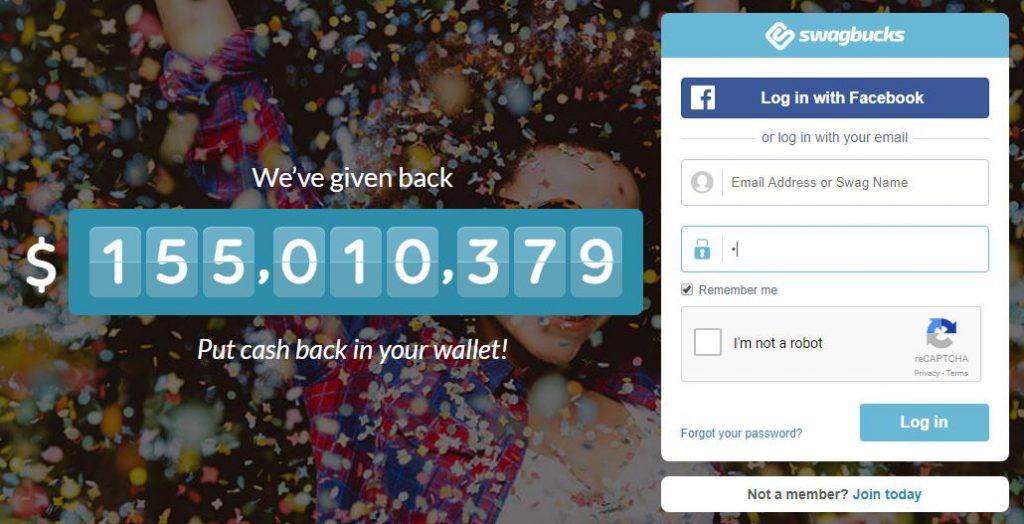 One of the fastest-growing companies in the US.
Is the leading digital rewards and performance marketing platform.
Celebrities like Kanya West and Kiss are known to use the site.
Music companies are now turning to branded search engine sites to reach their fans online.
One of the largest survey sites and paid out among most of its competitors.
Over 20,000,000 members can't be wrong.
Paid out over $80,000,000.
Can cash out for as little as $5 where most others are a lot more.
Have a stream of awards – check out Wikipedia.
Introduction of mobile apps for IOS and Android.
Mobile app –  SwagBucks TV feature.
Mobile app – SwagBucks Answer specifically for survey taking.
---
Swagbucks is one of the most legit survey sites that you will find on the Internet, which offer a wide range of money-making opportunities to earn rewards by way of Swagbucks ("SB"), from surfing the net, watching videos, playing games to filling in surveys, but it may not be for everyone.
---
What is Swagbucks about, is it legit and can you really make some money? Let's take a look, shall we?
I first came across Swagbucks.com, through social media and Facebook and was curious about its claims, and therefore decided to check it out.
The name Swagbucks I thought sounded a little iffy and if you break it down into 2 syllables like
Swag – money or goods, taken by a thief or burglar
Bucks– Dollars
Strange, but hey it's catchy all the same, unique and hard to forget!
The website at first glance looked a little busy and confusing but after a few minutes (and that's all it takes) I saw what it had to offer and found that maybe it could be a legit site and that you could make money from it. Just how much we are going to find out!
Swagbucks is a website who are owned and operated by the company Prodege, which is a provider of digital services including online rewards and loyalty portals which Swagbucks is.
Swagbucks is an online marketing website that gets paid by their clients (advertisers) for displaying their ads on their website, and where users like yourself get rewarded in the way of credits or digital currency identified as  Swagbucks ("SB") for participating in their online activities, such as taking surveys, watching videos and playing games, or simply for performing searches on their own search engine.
You must agree that as we are always on the internet purchasing products and services then why not be rewarded for doing so?
Could be a nice little earner!
By accumulating rewards in the way of Swagbucks ("SB"), which is a virtual currency that you can use for shopping online at your favourite retailers.
Sounds cool right?
Once you have accumulated your Swagbucks("SB") then you are allowed to redeem them in the way of gift cards for the many retailers including PayPal which you can redeem for cash.
Does Swagbucks have any Credibility?
Well, they do have their own search engine that you can be rewarded just for using as your main search engine, and the site is actually sponsored by Google, so it comes with a certain amount of credibility, right?
---
How does Swagbucks work?
First off you need to register your account with them which is pretty straightforward, and don't forget that Swagbucks.com is only available in certain countries.
As of when this article was published the countries that Swagbucks is available, and has a presence in, is, USA(and its territories), Ireland, France, Germany, Australia, New Zealand, India, Canada, Spain, Portugal, and United Kingdom. This may have changed in the meantime and you can check this here.
The way this works is that you choose an activity to participate in, such as taking surveys, watching videos, playing games and you are rewarded for doing so by way of "SB", their virtual currency.
---
Ways to earn Swagbucks

By using the advertisers' sites and purchasing products and services, you are rewarded with discounts, cash back, in the way of "SB".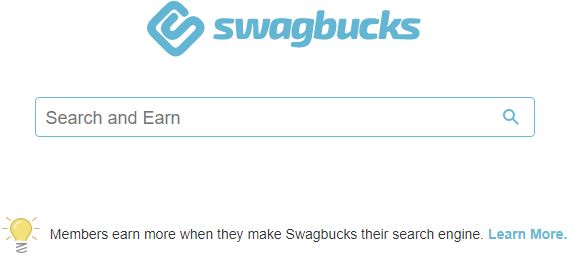 We all use Google, Bing, and Yahoo and we don't get rewarded for searching either, right?
So, why not make the built-in search engine your default search engine and get rewarded for all your searches?
Sounds good!

We all like watching videos don't we?
These might not be your usual YouTube fun type videos but it all matters, and adds to that rewards total.
Mind you some videos are anywhere from a few minutes all the way up to around 25 so maybe put one on and make yourself a coffee.
It's a way for advertisers to get people to watch their clips.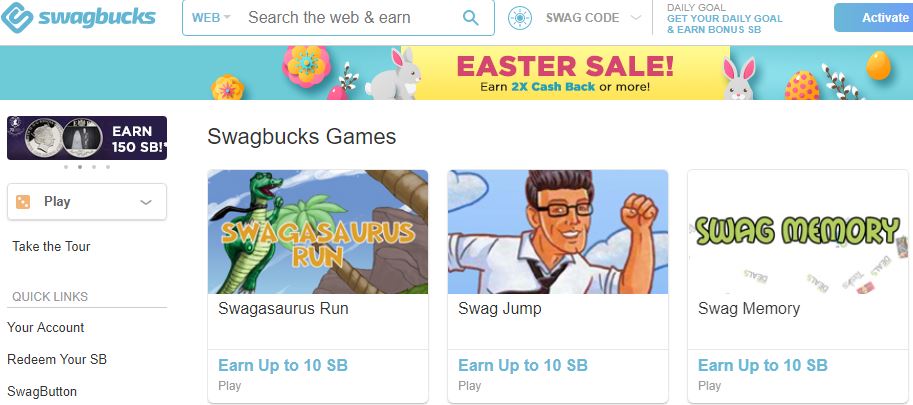 I love games, well the older ones, but I don't think you are going to find games like, Warhammer, World of Warcraft, Minecraft, or Doom here.
In order to play ensure you download the latest Flash Player – http://get.adobe.com/flashplayer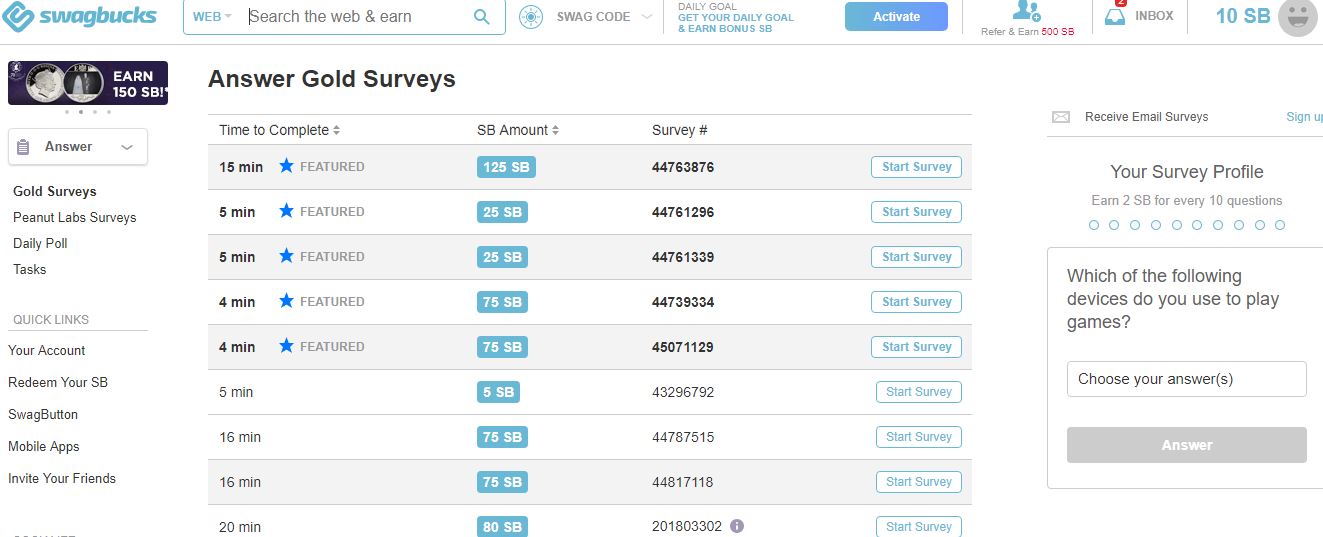 If surveys are your forte, then that's great except just like the videos they can take anything from a few minutes to over 20 and a little mind-numbing.
Check out the numerous amount of deals that are displayed.
Ranging from purchasing food, having a bet on the gee-gees to finding your next partner on a dating site.
Just click on the link to discover new videos and articles that are currently trending on the Internet. Choose one of the options and work your way through the list.
A close friend or family members birthday coming up or an anniversary, then check out the abundance of gift cards, such as Amazon, Wine and country gift baskets, Spa and wellness etc. Reward yourself with redeemable points.
I think you'll appreciate there is a little going on here and I can see that a lot of thought has gone into the website and that it is so well-thought-out, I just wonder whether spending your precious time in this manner is a worthy way to spend your day?
---
How do you get paid?
As you accumulate the SwagBucks virtual currency through the activities you have taken part in, you can redeem them for a variety of gift cards.
There is a multitude of gift cards you can purchase along with PayPal gifts cards that you would need to purchase if you intended to redeem the SwagBucks as cash.
---
Pros and Cons
Pros:
100% free to join
A huge variety of prizes given out
Definitely a legit work from home opportunity.
If participating in watching videos, playing games or taking surveys and getting rewarded with cash is your thing then great.
If you are one of the many who purchases products online then why not get rewarded for doing so.
Who rewards you for using their search engine? Swagbucks does for one!
Cons:
Accumulating Swagbucks rewards takes a lot of time and is painstakingly laborious, especially when taking the numerous surveys that are on offer. In some cases as long as 30 minutes for just a few Swagbucks.
I guess the big question is do you really want to spend a lot of your precious time for very little reward.
---
What is Swagbucks about – The Verdict
OK, so you found a money-making website with all the added benefits all in one place and the great thing about this is that it's 100% FREE!
I'm sure you'll agree that Swagbucks.com is, in fact, a legit website offering cash rewards, but you ain't going to be making any "Big-Bucks", any day soon using this website.
As we've seen, yes, you can make a little money but it's not going to help you pay your gas and electricity bills, and certainly won't get you into a position to tell your boss that you are calling it a day, or put you in a position to purchase your next brand new Audi.
Set that aside and if you are OK about making just a few bucks here and there, then I suppose then it is OK, but don't think for one moment that you are going to be rewarded with great amounts of cash because you won't.
Maybe your thing is taking surveys and if it is then that's OK, but they aren't fun at all!
I should know I have tried a few!!
There are more practical alternative solutions out there where you can focus and use your time more efficiently to make money online.
If "making money online" is your desire then why not check out what I do for a living.
The training is very straightforward, as a massive community ready and willing to help and it will not break the bank.
You can check it out here and one important factor and that is you ain't going to be taking Surveys!
---
Comments
Obviously, you can't make a living on this site and I wouldn't suggest that you try, but if you have worked out how to make some "Big-Bucks" then please let me know because I would very interested.
Are you a member of Swagbucks.com and are you happy? Are you a member of any other survey type sites? What's your overall impression of survey sites? Are you looking for an alternative way to make money online? How about me showing you one?
I'd love to hear any comments you have, and tell me what you thought about this review? I reply to all comments so let's make that connection!
All the best
Mick