Welcome to this strategic guide to AFFILIATE MARKETING and how to Google For Business.
Just Google it!
A common phrase I'm sure you are all aware of but are you fully aware of just how much Google can help you?
Google takes around 90% of the search engine market with close to 4.1 BILLION users. and with over 7 BILLION Google searches every single day you would think that we all know how to Just Google It, right?
So, wouldn't it be cool if we could find out what those internet users were searching for and make a ton of money? Interested?

It all starts with an Interest, Niche or Sub-Niche
Before we get started
[You will notice the term "KEYWORD" used extensively and this will all become apparent further into this post, so bear with me]
A  niche is a term used to identify GROUPS of things that are related and if you need some clarity then check out this article I wrote.
A niche can be anything, but it helps if you have an interest in it, such as maybe a hobby. Of course, you don't have to, but it will make building your business so much more interesting.
It is important to know that the BILLIONS of keywords that people are keying into the GOOGLE SEARCH ENGINE have the potential to become a NICHE or SUB NICHE.
Before we decide on a NICHE which is what your business is going to be about, we need to check that the NICHE isn't too BROAD and that there is enough interest…
By BROAD, I mean…
Health, Dieting, Electronics, Toys, Sport, Wealth, Fashion and so on…
These are termed as broad because these are the top-level niches. this is where all the "Big Boys" do all their marketing. Guess what? We don't have the money to compete at this level.
So…
…we concentrate on a sub-niche or micro-niche where the competition isn't so great but enough for us to earn a living from.
For this article, we shall be focusing on DRONES as our Niche!
DRONES is a sub-niche of "TOYS" and "ELECTRONICS" depending on the level and cost, but…
DOES OUR NICHE HAVE ENOUGH INTEREST FOR US TO MAKE ANY MONEY FROM?
This is a snippet from the Jaaxy Keyword Research Tool which is an essential tool that I use to determine what people are searching for and whether there is money to be made there.
As you can see by the results for the keyword "Drones"
There are approximately 38678 monthly GOOGLE searches for that particular keyword. A pretty popular niche and one we could use!
There is Nothing that you can't find in GOOGLE!
Just enter your search term or keyword into the Google Search Engine and hit the enter key, and instantly "like Magic" the results are there in front of you. Just think how long this would have taken you pre-internet!
Google even tries to help us by trying to predict what we are looking for by displaying popular "KEYWORDS" that people like ourselves are searching with by using…
GOOGLE INSTANT…
…and whether you have noticed this or just taken it for granted, it is there to help you, and by using it correctly it can help by displaying additional KEYWORDS to EXPAND our research.
JUST CHECK IT OUT HERE
Whilst I am entering "Best drones"
…into the Google Search Engine, a whole bunch of other keyword ideas instantly pop up that might be of interest.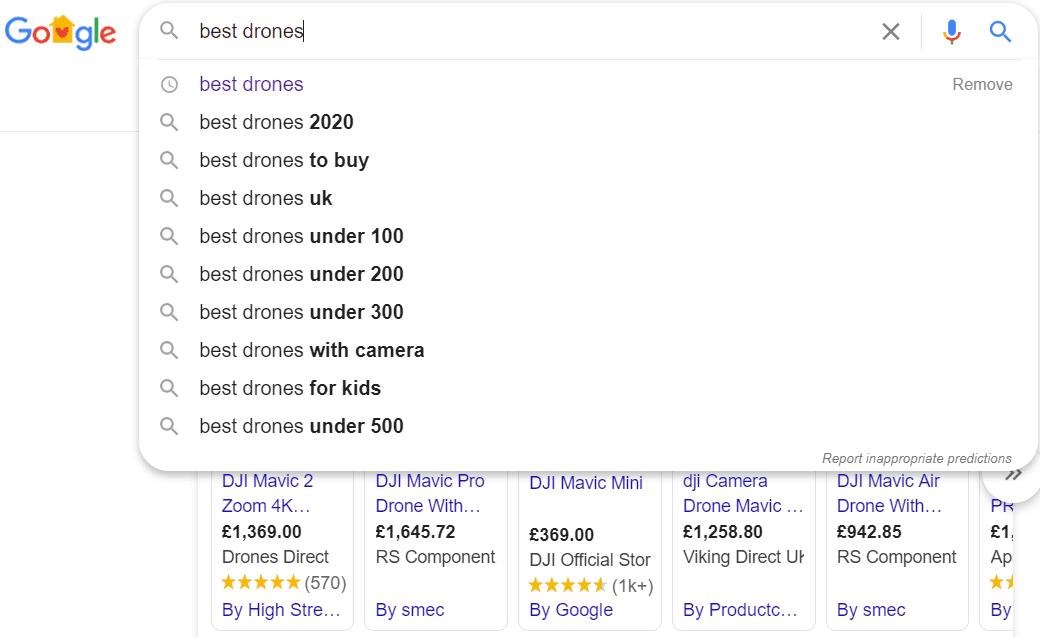 best drones 2020
best drones to buy
best drones uk
best drones under 100
best drones under 200
best drones under 300
best drones with camera
best drones for kids
best drones under 500
These are all keywords that thousands of people are keying into the GOOGLE SEARCH ENGINE, so straight away we have a bunch of KEYWORDS that we could potentially use.
We can even take this step further by using…
THE ALPHABET SOUP TECHNIQUE
What is The Alphabet Soup Technique?
In simplistic terms, this technique works in conjunction with the Google Instant function.
By entering a letter or letters before, after or in between words in the search engine, Google Instant will expand on your search criteria by displaying further keywords based on what people are searching for.
Like so…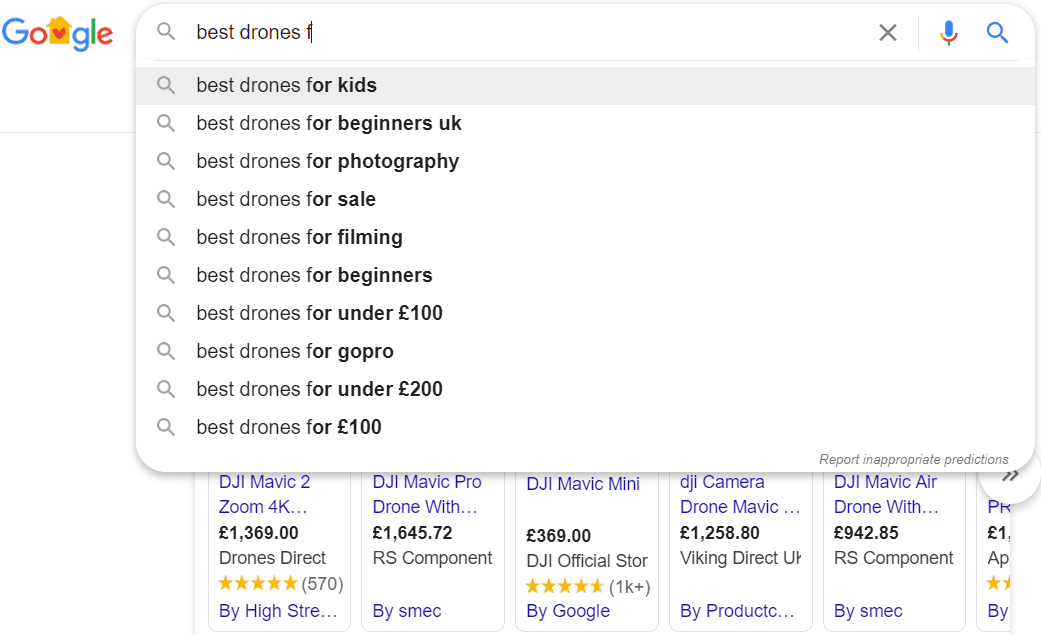 BANG…Another bunch of keywords
best drones for beginners uk
best drones for photography
best drones for sale
best drones for filming
best drones for adults
best drones for GoPro
All these keywords listed below are what people are searching in Google regarding DRONES.
best drones 2020 *
best drones under 100
best drones under 200
best drones under 300
best drones with camera
best drones for kids
best drones under 500
best drones for photography
best drones for filming *
best drones for adults *
best drones for GoPro
What started out as a basic search for drones as now expanded our research even further, so in around 10 minutes we have a bunch of keywords that we could research further.
The Alphabet Soup Technique combined with Google Instant and The Jaaxy Keyword Research Tool is a great way to expand our research and really highlight what a certain crowd of people are searching for.
Jaaxy Keyword Research Tool
A tool you shouldn't be without, for determining what people are searching for. It's easy to master, extremely fast and accurate and only returns the important data that is relevant to your business!
---
We'll need a Website to Showcase our Niche and Turn our Passion into a Thriving Business
A website gives you an identity, a little piece of the internet. A place where everything about your Internet Business resides.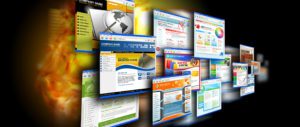 OK, I know what you are thinking, that building a website is going to take experience and technical know-how.
Well, maybe several years ago when something that can now take you seconds used to take weeks. Nowadays, it's just a breeze and so much more enjoyable.
Take it from someone who comes from a software development background, in fact, if I am honest, my skills are now redundant.
I use the software platform called "SiteRubix", which is a website management system that comes to you from Wealthy Affiliate and is Free to join.
Your professional website can literally be created within minutes rather than weeks!
With SiteRubix along with WordPress, you have the perfect combination, and with over 7000 free themes and 50000 plugins to choose from, for me, it was a no-brainer.
Learn HOW to ATTRACT VISITORS to our WEBSITE or we WON'T have a BUSINESS
Now we have our Website ready to go we need to get it out amongst the people who are searching for anything related to our niche, DRONES.
How would we do this?
As we mentioned earlier, people are searching for all sorts of advice and the people who are looking for advice on DRONES, are those people we are trying to help.
Remember, we need to help these people, not sell to them.
Trying to sell anything to a person you don't know is going to be hard, almost impossible. People need to trust you and that takes time!
Writing Articles and Reviews…
Before you run a mile, writing articles and reviews is not that big a deal.
We all do research when we are searching on Google for information and we all send emails and messages. Those are the prerequisites that are required.
What do we write about?
That's easy, in this case, you write about DRONES, what else?
Our chosen niche and what our website and business are about.
Remember, the people searching for all sorts of information regarding DRONES, it's our job to provide this information.
But, before we start writing anything there are a few things we need to take into consideration.
Earlier, when we were researching with Google Instant and the Alphabet Soup Technique, we produced a list of keywords that people are searching with, in the Google Search Engine.
We would use something like Jaaxy to determine the competition of those keywords and whether we could use them as the heading or title of our post or review.
I'd determined through Jaaxy that we could use 3 keywords from that list, which are laid out below.

"best drones 2020"
Avg (average number of searches that keyword receives in a month) = 679
Traffic (visits to your website if you rank on page 1) = 116
QSR (Number of websites using that exact keyword) = 81
Don't know whether you noticed in the image above, but Jaaxy comes with the Alphabet Soup Technique. Just enter the keyword and Jaaxy goes through each letter in the alphabet automatically. Great eh?


Each keyword and post targets a specific group of people
The more posts and reviews you add to your website the more traffic you will get. Eventually, your website will be generating money 24/7/365.
OK, so you want to know just where to get your information from in order to write your posts and reviews?
Well, that's easy as you can find everything you need for your content on the first page of the Google Results Query.
Just go ahead and type "Best drones 2020" into the Google Search Engine and hit enter, or click the link here.
How we get paid
Very important otherwise all that work would be for nothing!
Now we have discovered what we are going to write about and where to find our information, then what we need is to find…
AFFILIATE PROGRAMS…
These are programs that many businesses allow you as the Affiliate Marketer to join for FREE.
There are literally thousands of these programs covering literally everything.
By promoting products through the various Affiliate Programs, is where you would make a commission.
Commission rates vary from company to company.
From 1% all the way up to around 85%
How to Find Affiliate Programs
Just type…Drone affiliate programs
…into the Google Search Engine and press enter or click here
All your hard work is now rewarded by way of Commissions on the Sale of Products and Services Sold to your Customer or Subscriber 
Any commissions will be paid by the company that's responsible for the Affiliate Program that you joined.
A point to remember is that you don't handle…
Stocks
Orders
Delivery
Returns
Everything is handled through the Affiliate Program link that is unique to only your business.
So, what do you think, Interested?
Everything you see in this post is within everybody's grasp and such a straightforward and simple business model.
What we have covered here…
What a niche is and how to find one
Google Instant
Alphabet Soup Technique
Jaaxy Keyword Research Tool
Keyword Research
Websites and where you can create a beautiful site in minutes
Writing Content and where to get your information from
Affiliate Programs and where to find them
Wealthy Affiliate and the best affiliate marketing training available
Free versus Premium Membership comparison
But, How Long Will it Take Before I see some results?
That's up to each individual and how much you dedicate to your business.
Most people have jobs and families to consider in which case the amount of time that you could dedicate will be less than someone who isn't holding a job down and doesn't have a family to support.
Many see results in the first months and for many, it takes longer.
Dedication, persistence, hard work and the will to succeed, but that is the same for any business. You just have to want it!
Free and Premium Comparison
Just 2 options, free or premium, with NO UPSELLS. What you see is what you get!
I started as a free member much like everyone does and used that time to evaluate the training that was currently available.
You are under no obligation to upgrade and can stay as a free member indefinitely and use the training which is available. That isn't a problem!
If you took advantage of the bonus within the first 7 days you would have access to the premium membership for $19. That would give you a full month to evaluate the entire platform, which is what many do, I included.
If you are serious about learning and building an online presence then you would upgrade to premium.
Premium @ $49 a month = $588
But…
…if you paid upfront that would bring down the cost to $348 which is a saving of 39%
Or…
If you joined for free and upgraded for the year before May 11th at 11:59 PM PST, then the yearly Premium would be cheaper still. 
This would be $299 per year for Premium, which equates to less than $0.83 per day!
Which is an overall saving of 49%
Comparable hosting would cost you at over $250 per month (or $2,000+ per year).
That's the best training platform available online for less than $1 a day, and I can assure you nothing will compare.
Don't take my word for it, try it out for free.

Remember I will have your back on the inside, but if you need to research this further then you can check out a review I wrote about Wealthy Affiliate here, which covers many things but the easiest route is to join for FREE and check it out for yourself.
Feedback, Follow and Subscribe
So, I hope I gave you some food for thought.
Earning a living online is difficult and many fail without really trying but think about it, in 12 months' time you will be wondering what all the fuss was about.
If you liked this article then feel free and why not show some love by sharing it amongst your friends?
Have any questions for me then don't forget to put them in the comments section below. I reply to all my reader's comments.
Until next time
Stay safe