Welcome to the My Business Venture Review
If you are looking for a business opportunity in e-commerce and dropshipping, that is already done for you then you might like to consider

My Business Venture.
This is a company that has been around a number of years but is a ready-done dropshipping system the right way to go?
Or wouldn't you like to create a business from scratch that you can call your own and that would be so much more rewarding?
I know sometimes we struggle with allocating time to other things especially if we are trying to hold down a job and bring up a family.
Of course, the choice is yours, but I'm sure you want to know if My Business Venture is a scam or if My Business Venture is a legit business opportunity.
After all, this venture will be costing you a considerable chunk of money just to get started so you have to be 100% certain that this is right for you or not.
But before we get started we just want to set the record straight and tell you that we are not associated with My Business Venture in any way.
That means that we can provide you with an honest, unbiased account of what MBV is, with all the facts, pros and cons plus so much more.
This will hopefully make your decision whether to move forward with MBV or not a lot easier.
With that said, let's begin.
---
[Affiliate Disclosure: This My Business Venture Review has been thoroughly researched from information and testimonials that are in the public domain. This post may contain affiliate links which means we may earn a small commission, however, this won't affect what you pay!]
---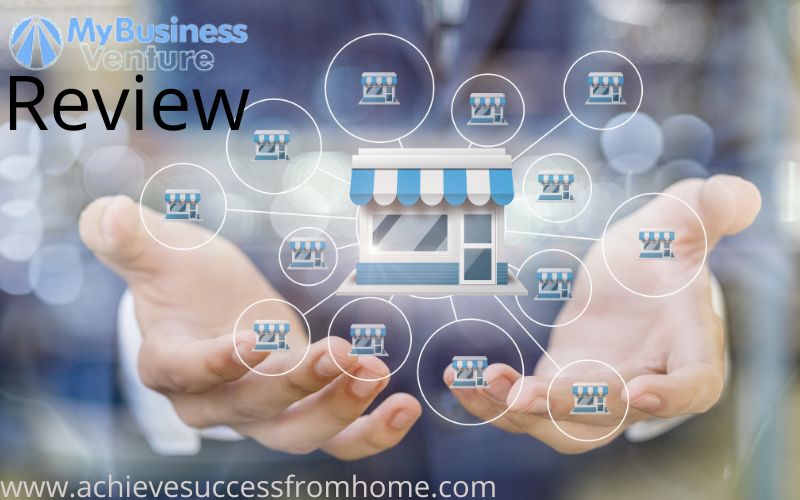 Product: My Business Venture (or MBV)
Founder: Thomas Stridiron
Website: www.onlinebusinessventures.com
Product Description: Done for you e-commerce dropshipping business
Cost to join: From $3995
Recommended: Maybe
Summary: E-commerce and dropshipping are seriously getting some traction nowadays with so many people interested.
It is after all a straightforward business that anybody can learn, even complete beginners.
The biggest hurdle in dropshipping is finding the right products and products that people want and therefore trending products.
It would appear that My Business Venture already has you covered here with products that are available for you on these ready-made websites.
The problem is that unless they change these products on a regular basis then you are going to have a static website with products that can be bought elsewhere.
People want interesting and trending products, not products that can be bought at Walmart and Amazon.
My Business Venture Review – TOC
What is My Business Venture About?

My Business Venture or MBV for short is a nationwide high-tech company that specializes in providing everything associated with an online business.
Such as POS, credit card processing, websites, shopping carts, strategic marketing campaigns, plus a whole host of other things…
They have been operating since the early 90s and started with a $100 investment, now today are a multi-million dollar company.
For the entrepreneurial type, they provide a ready-done website with thousands of products for you to promote.
A sort of one-stop shop!
They describe this opportunity as turn-key but a more appropriate term might be franchised as that is what many are saying
Meanwhile, if you don't have the time to start a business from scratch then My Business Venture might be a solution for you.
They claim that you can set the profit markup of between 35 and 200 per cent which is a considerable amount.
The company is recognized by the Better Business Bureau as an accredited business with an A+ rating that they have had since 2009.
With a traditional dropshipping business you would normally have a store like Shopify where you'd showcase probably only a few products.
My Business Venture includes over 1 million products that you can choose from to add to your website to a total of around 2,000.
So, in essence, what you have is a mini digital retail store all in one place and all you have to do is get people to it.
Sounds like a great business but there is a little more to it than that.
Complimentary Review: Sell The Trend – Dropship Solution
For Those Who Don't Know What Dropshipping is
Dropshipping is where you are the middle person whose job is to connect the customer to the merchant or supplier.
How you do this in the traditional sense of dropshipping is that you would create a website or shop on an e-commerce platform like Shopify.
This shop is where you would showcase the products that you want to sell to the customer.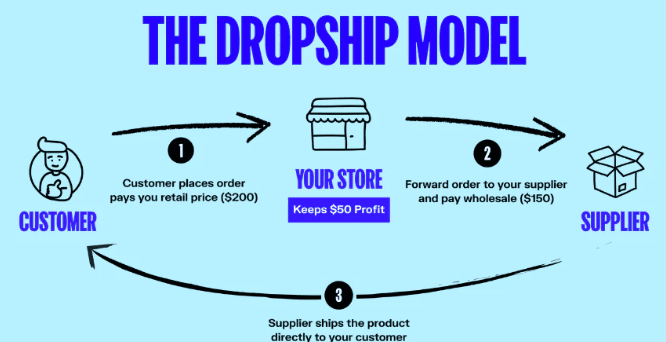 How you get the customer to your shop is through paid advertising which in this case would be through Facebook ads.
Once the customer finds your store and decides to purchase from you then the customer order is redirected to the merchant or supplier.
This is when they take over and manage the entire order, from picking to shipping and they would also take care of any returns also.
The biggest hurdle you are going to find is first finding the right products and then finding your target audience.
That is the simple version, now you can listen to a Shopify representative explain it in more detail.
Complimentary Review: Drop Ship Lifestyle by Anton Kraly
Who is Thomas Stridiron?
Thomas Stridiron is the CEO and founder of the My Business Venture a nationwide company helping people start their first dropshipping business.
As we have mentioned he started this business in a 2 bedroom apartment with only $100 to his name.
The business has grown exponentially over the years and has helped thousands get started with their first business.
Tom's a family person who is very active and partakes in Triathlons and can be found on many media shows and magazines.
Complimentary Review: Drop Ship Formula
What Will You Learn With My Business Venture?
My Business Venture provides you with a complete e-commerce solution from scratch.
That means you don't need to find the products or create your Shopify store or website because they will do the entire package.
They will even help you in creating and developing your brand.
However, handing over a ton of money doesn't guarantee that you will make any sales.
The hard part is marketing, finding your Target audience and driving sales but as everything else is done for you.
Then that leaves you with time to spend on learning how to do this through their MBV University.
If you didn't have the time or inclination then you could pay someone to do all this for you.
Someone like FatJoe, OutreachMama, Solvid…
Sounds cool but this would eat into any profit margins that you made!
Now, something else that you may consider for promoting your retail store, would be a long-term solution and which is much cheaper.
Would be to create a totally independent website of your own and create content based on the products that you are promoting.
This is called SEO or search engine optimization where you research the terms that people are searching for that relate to your products.
Done right and in maybe 6-12 months you will have people coming to your retail website by the hundreds, now that is something to consider.
My Business Ventures is a unique business and can help in many ways and they have their own MBV University to help too.
Complimentary Review: eCom Profit Masterclass
What do You Get With My Business Venture?
As we have already mentioned My Business Venture is an all-in-one dropshipping solution.
Where the only thing you need to do with your website is to select the products and add them to your website.
What You get with one of the three packages is…
Professional Responsive Website
Page Builder Editor
Access to Over 1 Million Products
Free Shipping Feature
24/7 Support
Live Customer Support
Quick Response Times
Dedicated Secure E-Commerce Hosting
24 Hour Monitoring and Backups
Website Security
Site Tools
Marketing Tools
Fulfilment Included
You also get access to what they are calling the MBV University which you get access to when you choose one of the 3 packages…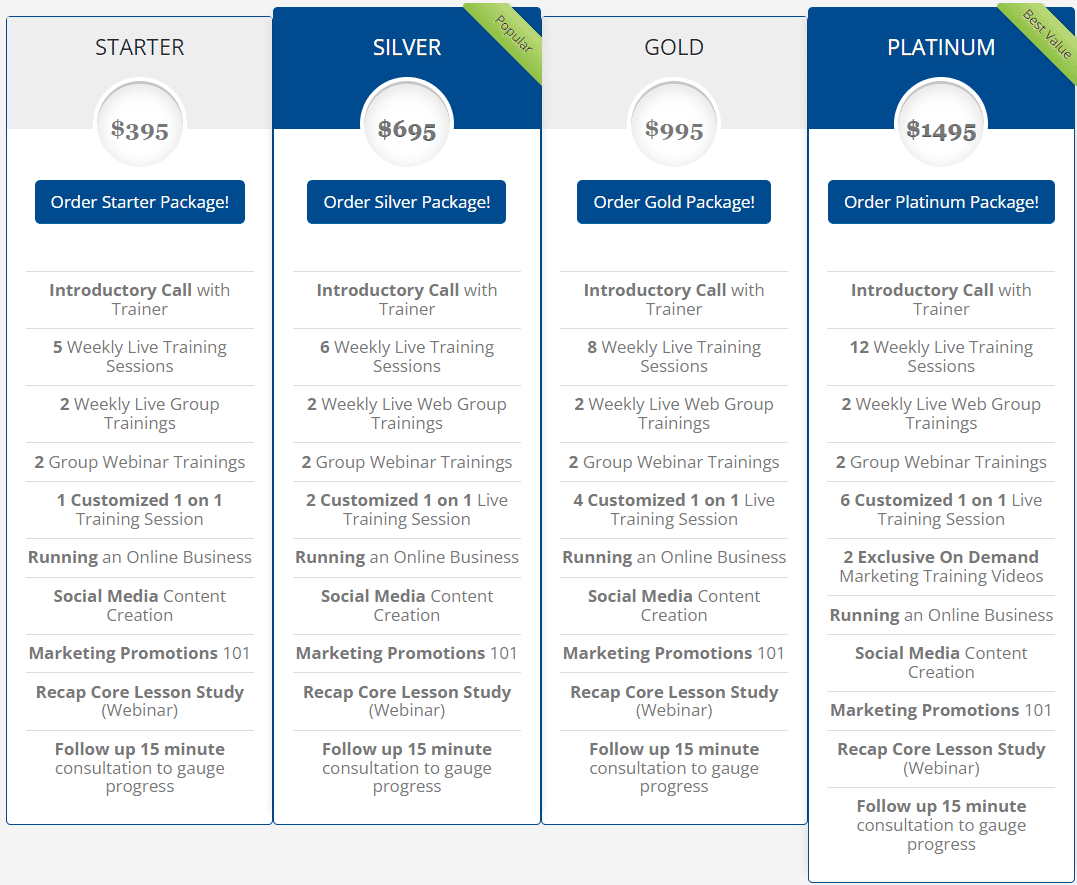 This training is for life or until you decide to stop running this business.
Complimentary Review: Drop Ship Unlocked by Lewis Smith
Who is My Business Venture For?
This could be for anyone but who it isn't for is someone who thinks they can chuck a load of money at it and expect massive returns.
Any business no matter what it is takes a lot of hard work.
But with My Business Ventures, you have most of the work that is already done for you so you can focus on marketing.
So who could this business model be for?
Anybody who doesn't know anything about e-commerce and dropshipping who only has a certain amount of time.
Someone who is looking for another business outlet to compliment what they already have.
All the same, that person has to be hard working and determined to succeed.
This is not a get-rich-quick scheme!
Is My Business Venture Worth It?
That depends and to find out you are going to have to shell out between 4 and 6 thousand dollars.
With no comebacks and no guarantee that you will ever make this business a success isn't it a jump too far?
Not to mention there is no refund either.
Furthermore, we understand that part of the interview process is to check to see if you are a suitable candidate so that you are not wasting your time or theirs.
How that works we are not sure because these calls use high-pressure sales tactics, and in our experience, we have found they are only after a sale.
At the end of the day, you are paying for a website that will have around 2,000 products for you to promote.
We have looked at a couple of these sites and the products that are displayed can be bought on Amazon for much less.
The amount of time and effort to see any returns is going to burn a big hole in your bank account with paid advertising.
Not just that but people are looking for a product, something that is trending and the products on your website don't fit that criterion.
So, I am going to stick my head out and say My Business Venture is not worth it but that is only my own opinion.
Can You Make Money With My Business Venture?
Yes, of course, you can make money with My Business Venture but how much that is entirely down to you and how hard you work at it.
At My Business Venture, they claim that you can be earning within 30 days but one or two sales isn't earning as far as we are concerned.
You have to look at this long-term and months rather than weeks and that all depends if you can crack the marketing aspect.
I personally would consider affiliate marketing because there you can start on a very low budget and there are no restrictions at all.
You wouldn't have to find thousands of dollars and the principle is the same as dropshipping except you are paid a commission instead of a sale.
My Business Venture Cost And Refund
It is going to cost a considerable amount of investment with My Business Venture which comes in three packages.
Starting with the Enterprise package which will set you back $3995.
The second is the Premium package which will cost you $4995.
The third which is the Millenium package will cost you a hefty $5995.
So what do you get for your money?
You get to select over 2,000 products from over a million and depending on which package determines the level of training you get.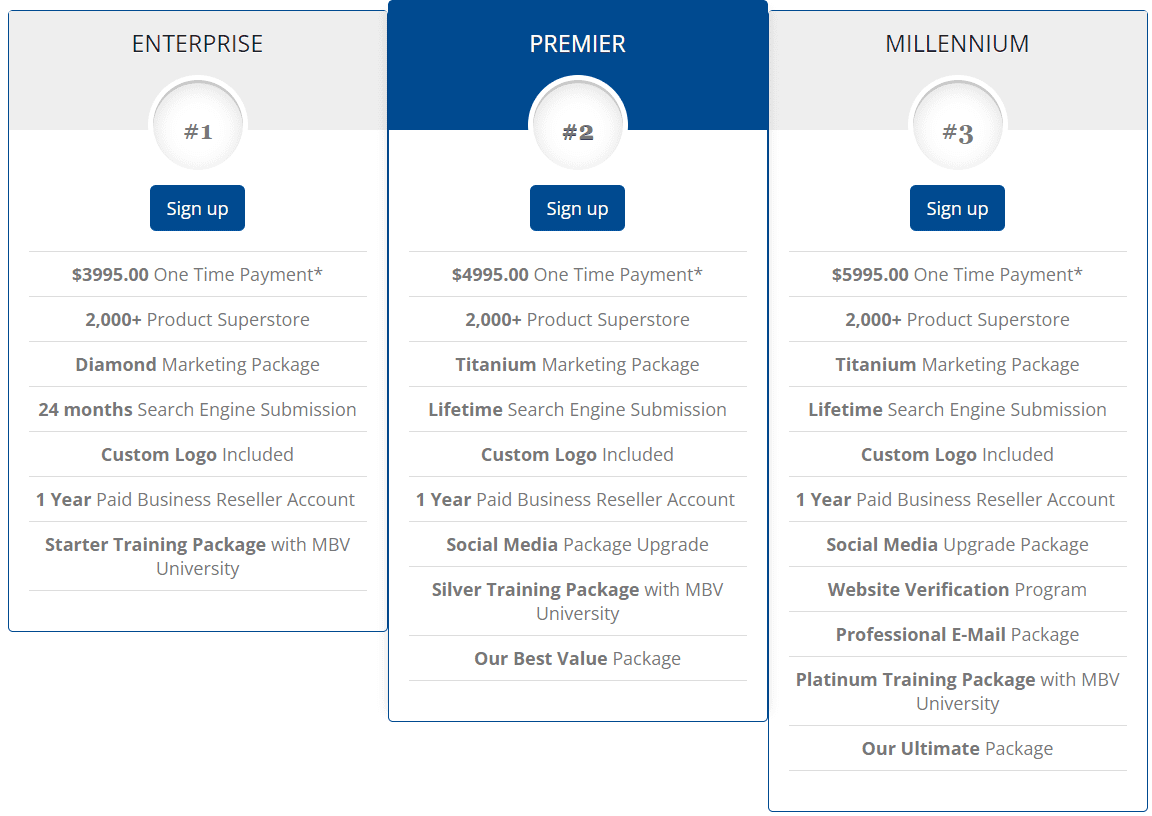 As you can see depending on which package you choose would determine what level of training you received and this is for life.
Starter – $395
Silver – $695
Gold – $995
Platinum – $1,495
Please note: All accounts require you to have a merchant account in order to take payment on your website.
Merchant accounts are provided by i3Verticals, LLC which is registered to the Merrick Bank, UT
Are There Any Upsells With My Business Venture?
There are no upsells as such but there are a lot of additional business solutions that you might need to purchase.
Are There Any Additional Costs We Should Factor Into My Business Venture?
As you will have already paid for a complete e-commerce dropshipping solution then all you have to do is get the word out there.
Find your target audience, people who are looking for what you have to offer.
The fastest way is obviously paid marketing either through Google, Bing or Facebook which is what people tend to use.
Facebook marketing is another learning curve because campaigns never work as you want them to, they require a lot of tweaking and this all costs.
But, as most of the real hard graft has already been done then you have more time to focus on this area.
Is There a Trial Period Offer With My Business Venture?
No, there is no trial period with My Business Ventures.
Is There a Refund Policy That Comes With My Business Venture?
This is a full commitment so you'd better have made the right decision because there are no refunds here.
Complimentary Review: eCom Success Academy
Is My Business Venture a Scam?
We wouldn't say that My Business Venture
was a scam but there are a few things that we didn't like about this investment.
The big issue we have is how expensive the packages are and with no comeback and no refund policy in place.
Although the company has been in business for over 2 decades we found it strange that we couldn't find any third-party reviews.
What will entice people into this business is the fact they receive their own website loaded with products of their choice.
The problem is that these products can be bought anywhere and besides why would anybody buy from you when they can go to Amazon?
Products need to be products that can't be bought anywhere else and they also need to be trending.
Despite My Business Venture not being a scam we also would not recommend this opportunity to anybody else.
If dropshipping is what really interests you, I would suggest taking a look at Sell The Trend which is an all-in-one dropshipping solution.
It will cost you a fraction of what MBV does and the tools are exceptional.

My Business Venture Student Reviews 
Whenever you are researching anything the first place you should go to is third-party review sites.
If you can't find any reviews then you have to ask the question why?
After all, we would expect reviews to be all over the internet especially when a company has been in business for 20+ years.
So, as you can probably imagine when we couldn't find any reviews we were a little surprised, to say the least.
We did however find some reviews from people who had experience with MBV but we had to look long and hard for those.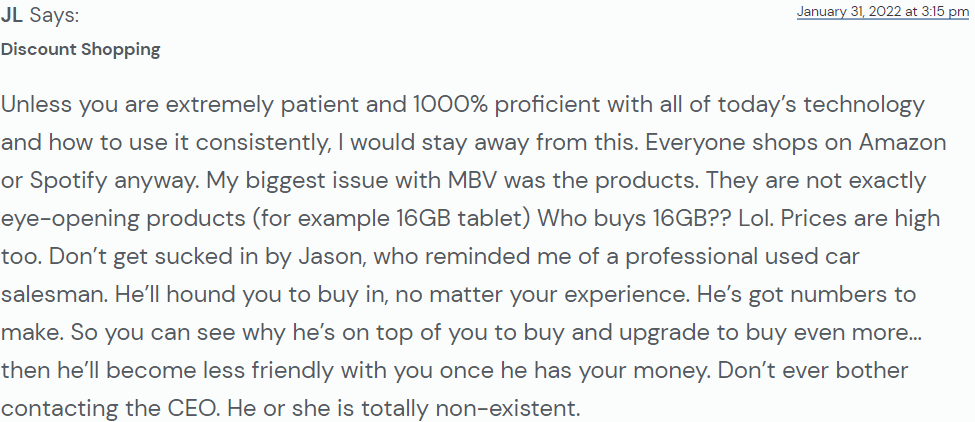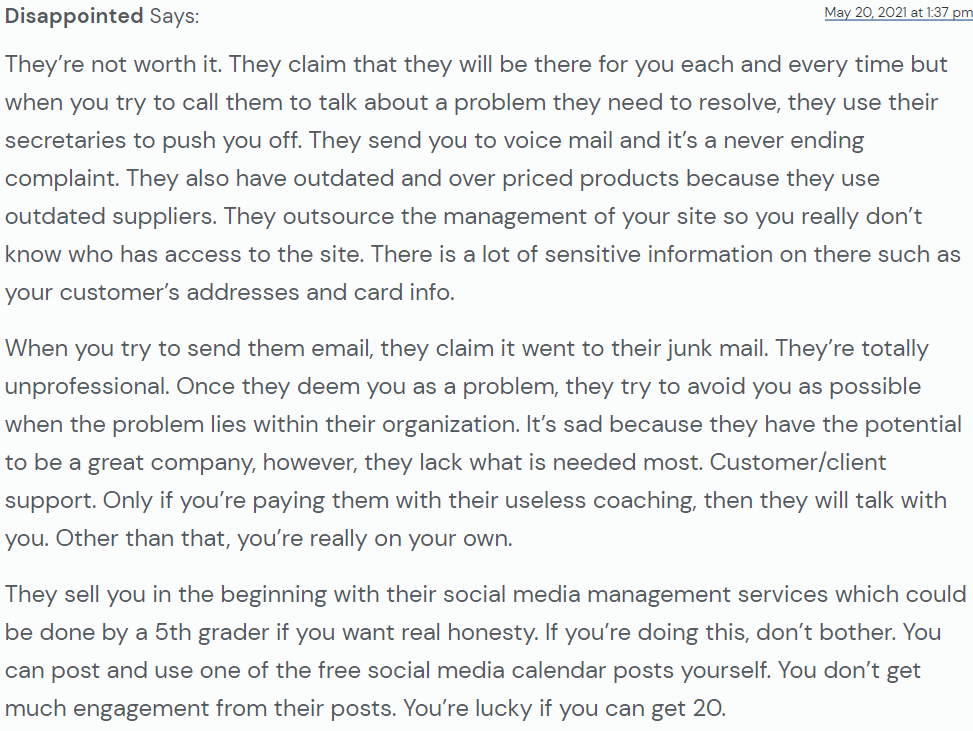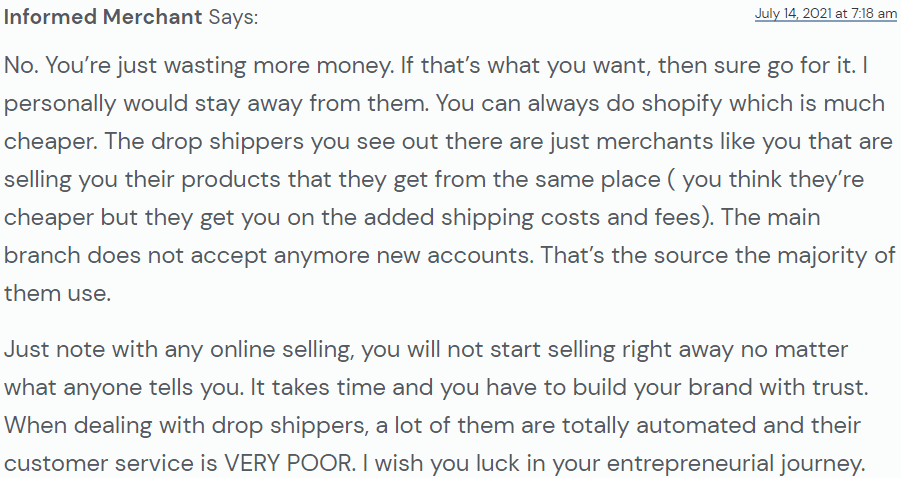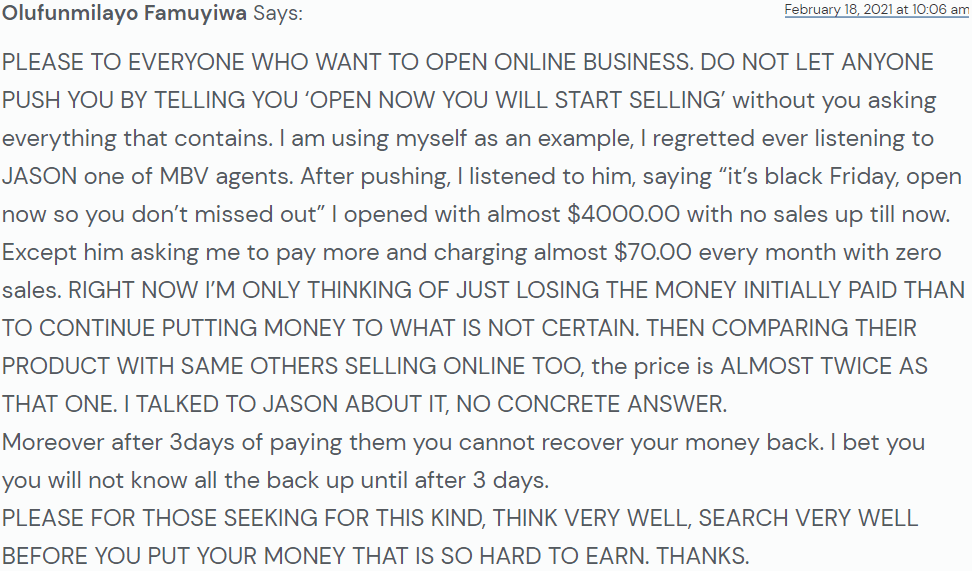 Now we tend not to pay too much attention to testimonials that you can find on the company's website because they can't be verified.
All the same, we have to be partial and try and give both sides of the coin and leave that for you to decide.
Complimentary Review: Advanced Dropshipping Academy
What we Like About My Business Venture
The Company Has Been Operating Over 2 Decades:
The company started in the early 90s and has been operating for 2 decades which has to stand for something.
All In One E-commerce Solution:
Having everything done for you might appeal to many but don't think that this is going to make it any easier to succeed.
Marketing and finding sales are key to any success you may have.
Provide Training That Comes With The Packages And For Life:
They do have an independent training platform which they are calling MBV University which you get access to if you purchase one of the 3 packages.
Remember, this training is for life and covers social media marketing in abundance.
Better Business Bureau Approval:
The BBB accredited My Business Bureau with an A+ rating which goes back to 2009 and basically gives you an indication of how good a company is performing.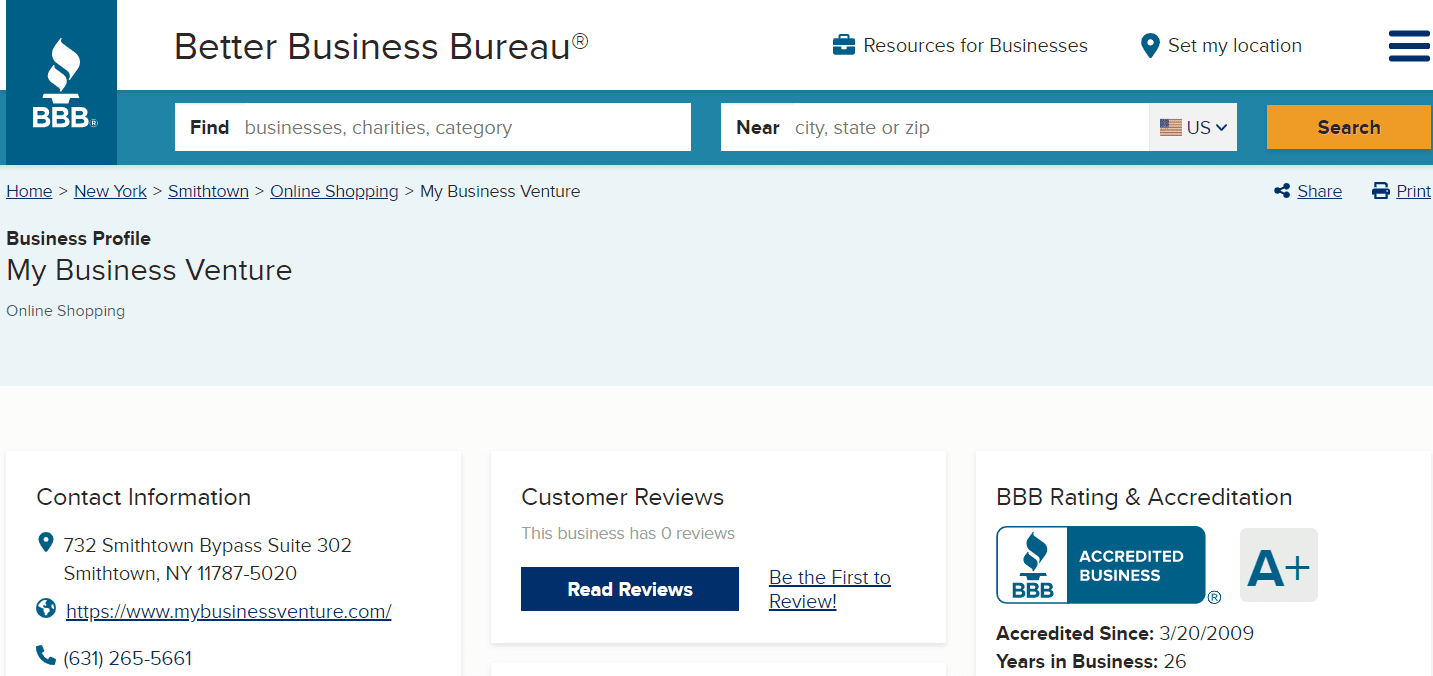 What we Don't Like About My Business Venture
Very Expensive And Not For Most People:
The idea of a ready-made website with a bunch of products to promote might sound like a good idea but in reality, it isn't.
But to find out it will cost you between $4 and $6 thousand dollars.
Dropshipping Is Not As Straightforward As It May Seem: 
Just promoting a website with a load of random products is not going to work, they need to be what people are looking for and different.
That's why people who get into this business take a lot of time selecting just the right products.
Get the right products and master marketing and you might have a business.
Selecting The Right Products:
We have already mentioned that products have to be trending and what people want or need and the trend usually has a lifespan.
What you are looking for ideally is the start of a trend.
Paid Advertising Is Expensive:
It doesn't matter how much experience you have at marketing it takes a lot of time and trial and error to get a campaign to work as you want it to.
Don't Be Fooled By The Sales Call:
The sales call is just a power call from probably a sleazy type car salesperson who is not interested in your welfare.
He or she wants your money because he or she is on a commission and couldn't give a damn about you no matter what questions you have.
Well, that is the type of experience we have regarding these tactics!
Currently Only For The US And Canada:
As of this review, My Business Venture only ships to the US and Canada but that doesn't mean that you have to be resident in those countries.
I just think that is the way they like it.
Can't Find Customer Reviews On Third Party Sites:
Don't you find it strange that you can't find reviews and testimonials anywhere other than the My Business Venture website?
You would have thought there would be tons of people shouting from the highest rooftops.
My Business Venture Review – Final Verdict!
With this business opportunity, you have to be 100% certain that this is the type of business you want to get involved in as there is no going back.
If you want to pursue this further then by all means check out more reviews first before taking the next step.
If you go through and arrange the sales call, ensure you have all your questions that you want to answer down on paper.
Furthermore, do not let them bully you into handing over your credit card details, this will be a sales pitch from an experienced salesperson.
But if you are looking for a more cost-effective business opportunity please continue to read further.
Dropshipping – Alternative Solution
It's called affiliate marketing which is very similar to dropping shipping except you don't have to worry about using a digital store.
The principle is the same in that you are the middle person and direct the customer to the merchant except you get paid a commission on a sale.
It also means that you are not restricted and are much more flexible.
Is a great and one of the best ways to create multiple income streams.
I have personally been a member of Wealthy Affiliate since 2017 and the main reason why I was able to kiss goodbye to my 9-5 job.
Just check out the reviews on Trustpilot.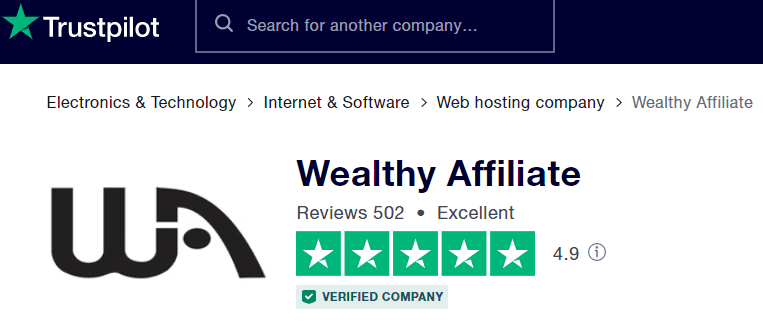 The training platform is a fully integrated one-stop-shop meaning that everything you need to succeed is in one place.
Education and training, Web development, Hosting your website, and a community that cares and is full of experience on many levels…

My Business Venture – FAQs
These are questions that people are asking in the search engines which we thought might help you in deciding whether this course is for you or not.
What Are Some Of The Brand Names My Website Will Be Featuring?
This will be your choice because effectively you will receive a blank website where you will have to select products yourself.
With over 2 million products to choose from and up to 2000 products to choose from, this will take you some time.
What Types Of Products Will I Have Access To?
There are many categories, such as electronics, pet items, gifts, novelties, colognes, perfumes, toys, games, jewelry, clothes etc.
How Do I Make Sales And Also Drive Traffic To My Website?
There are marketing packages which all offer education to help in your marketing journey.
Whether this is through Facebook ads, Youtube video marketing, Instagram and more.
At MBV they talk about 100 ways of marketing of which 70 are free methods.
Let me tell you, free marketing just doesn't work period but ok you might find the odd sale but you will struggle!
Can I Sell On eBay And Amazon?
Yes, you can but remember you will be met with plenty of competition.
Is The Online Industry Saturated?
Absolutely not!
With around 5 billion people who are online today with approximately 4.3 billion searching on Google.
These are people searching for products and services.
Feedback, Comments And Subscribe
Thanks for staying until the end, we hope that most of your questions were answered but if you have anything to add just put it down below.
Have you had experience with My Business Venture and would like to share it with us as we would love to hear about it?
Thank you for listening!
Take care!
Stay safe!