Hey guys and welcome to this Netz Commerce Review
If you have been looking for a course to teach you e-commerce then you may have heard of Luka Netz.
He's the guy behind the Netz Commerce training course.
But you are here today to find out if Luka Netz is legit, can he be trusted but more importantly is Netz Commerce a scam?
Well, in today's review of Netz Commerce we are going to be answering many questions and those are just a few we will be addressing.
With so many courses out there it can be a bit of a minefield when it comes to finding legit ones and that's what we are here for.
You see, not too long ago I was that person looking for ways to make money online and decided to create this website to help people like you.
So, rest assured that what we are going to provide today is an unbiased review with all the facts, pros, cons plus a lot more.
That way you can make an educated decision on whether Netz Commerce is the right training course for you or not.
We will even be giving you some alternative courses that you might like to look at to compare against.
So let's get started!
---
Affiliate Disclosure: The Netz Commerce Review has been thoroughly researched from information and testimonials that are in the public domain. This post may contain affiliate links which means we may earn a small commission, however, this won't affect what you pay!]
---
Product: Netz Commerce
Founder: Luca Netz
Website: www.netzcommerce.com
Product Description: E-commerce training course
Cost to join: $97 – $1700
Recommended: Decide for yourself
Summary: There are some great e-commerce training courses out there and there is a lot that you should stay away from.
Netz Commerce is a course that teaches you all about e-commerce but it can be a little pricey depending on which route you decide to take.
Take for instance if you want to take advantage of the entire training course it is going to cost you $1700 and with no guarantees.
Besides that amount, you will also need access to tools and traffic which ain't going to come cheap but these are something you have to factor in.
Netz Commerce Review – TOC
What is Netz Commerce About?
Luca Netz is the entrepreneur behind the c-commerce training course Netz Commerce which came onto the scene in December 2020.
The course teaches anybody all about e-commerce and dropshipping and is split into several individual courses.
Each with its own level of difficulty.
However, if you decided to go down the route of going through the courses from beginner to advanced.
Then this could end up costing you $2,975.
Ok, now before we get into this Netz Commerce review you really need to know who Luka Netz really is.
Related: Sell The Trend – All In One Dropshipping Solution
Who is Luca Netz?
Luca Netz is the person behind Netz Commerce but there isn't any real information about him other than what you can find from himself.
He seems to be a bit of a closed shop even though he claims to have made around $50 million.
If that was true then there surely would be a lot more information out there that could collaborate with his story.
He is however known in some circles as the Shopify King.
He dropped out of high school because he was disillusioned about working the dreaded 9-5 which most of us have to do.
Decided that he had to earn some money to help his mother so he started running these underground rap shows and parties.
Until he got found out by the police for underage drinking and was fined $20k so that was the end of that.
After several unsuccessful attempts at e-commerce through persistence eventually found his way and since has helped thousands online.
He is even known to have earned $500k in a single day.
He is also responsible for Supreme Patty which is a brand and has a Youtube channel with over 540k subscribers and 50 million reviews.
Related: Drop Ship Formula
Netz Commerce – How Does It Work?
Netz Commerce is a training platform that offers different courses that come in various levels of difficulty.
For anyone who is wanting to learn a new career in e-commerce and dropshipping this course comes in…
Beginner
Intermediate
Advanced
So you don't have to feel intimidated by taking on a course that is too advanced and can work your way through the various levels.
You can also start on the beginner course to see if e-commerce and dropshipping are for you or not.
What's Inside Netz Commerce
In Luca Netz's Netz Commerce you get five different courses and below we have listed them with a brief description of what each one entails.
Discord Access
Discord is an instant messaging social platform similar to Facebook but specializes in video calls, voice calls and text messaging.
It allows you to set up private communities to pass information around.
What you get in this course…
Bi-Weekly group calls
The ability to network with other like-minded entrepreneurs
Be able to exchange information
Be able to communicate via text, chat and video
As we understand, if you purchase the beginner, intermediate or advanced course then access to Discord is included.
Influencer Monetization
Luca Netz made a lot of his money by using influencers which are people who have massive followings on social media.
He used these influencers on Instagram to promote his products and explode sales.
This course teaches you all about traffic through influencer marketing and how to reach out to these influencers.
Beginner Course 
This package as the name suggests is for complete beginners and whilst you will learn something as a beginner.
What you will learn in this course…
Product research
Website development
Conversion boosting technique
Dropshipping infrastructure
We feel that the training in this course is extremely lacking in any real quality and thought that most of the information could be found online.
Intermediate Course 
The intermediate is the next level up and will give you more details but not necessarily more advanced topics.
This course will include the beginner package.
Product research
Website development
Conversion boosting technique
Dropshipping infrastructure
The various methods that you can use for testing Facebook ads
Learn how and what scaling means
How to find winning products
Access to Discord
Plus so much more…
Advanced Course 
The advanced course includes both beginner and intermediate courses.
This course includes things like…
Email and SMS marketing
Learn how to build a team
Infrastructure
Results
Access to fulfilment
Access to social media promo
Access to media buyers
Access to payment processors
How to increase your Facebook score
The secrets behind Luca Netz's $500K payday
Related: Drop Ship Unlocked by Lewis Smith
Who is Netz Commerce For?
Netz Commerce training is broken down into individual courses that will appeal to many with various levels of expertise.
So if you are a complete beginner and looking for a make-money opportunity like dropshipping then Netz Commerce could be for you.
Dropshipping is after all a straightforward business model that anybody can grasp and it doesn't require a big investment.
That's why we would suggest paying for the advanced course to get the most out of the training and to save you money.
Related: Savage University
Is Netz Commerce Worth The Money?
This is debatable!
If you ask if the beginner course is worth the money then we have to say no it isn't as the information can be found everywhere for free.
That's why, if you are considering starting and running a dropshipping business then you should be going all-in.
That means paying for the advanced course.
Netz Commerce Costs And Refunds
There are 5 courses that you can purchase off the Netz Commerce website.
The 3 main courses are…
Beginner – $425
Intermediate – $850
Advanced – $1700
Influencer Monetization – $697
Access to Discord – $97/month or $499/year
You will have to pay for the Influencer Monetization and Discord if you want to take part in this course.
Are There Any Discounts With Netz Commerce?
Yes, you can find discounts on the course which come up from time to time.
Are There Any Upsells With Netz Commerce?
There are no upsells with Netz Commerce as what you see is what you pay for.
Are There Any Additional Costs We Should Factor Into Netz Commerce course?
There are always additional costs to include with any business venture and something that many do not factor into their decision-making.
What, with tools that you will have to pay for and paid traffic which we believe you should set aside around $300 a month but more if you can afford it.
Does Netz Commerce Come With A Refund?
Netz Commerce does not come with a refund which is unusual as pretty much all courses will normally have some form of a refund policy.
Related: Drop Shipping Blueprint
Is Netz Commerce a Scam or is it Legit?
Luka Netz is a very successful drop shipper and social influencer who has earned a lot of money in only a short time.
So Netz Commerce is definitely not a scam!
It's sometimes hard to say that a product owner is legit and trustworthy because so many people who try these courses end up failing.
Many fail before they have even started just because they don't have the right mindset.
Whilst there are a lot of scams out there, Netz Commerce is not one of those so in this case if you failed it wouldn't be because of the course.
It would be because of a number of things such as the wrong mindset, insufficient funds, impatience…
If you listen to all the stories from entrepreneurs like Luka the one thing they all have in common is they all failed, not once but many times.
People who fail with taking a course like Netz Commerce fail once and call it a day.
If you went into this business venture wholeheartedly and listened and put into practice what Luca tells you, then there is no reason why you couldn't succeed.
This is a guy who has done it and is prepared to pass on his knowledge.

Netz Commerce Student Reviews 
Whenever you research a product like Netz Commerce you should always look for third-party reviews which are anywhere other than the actual website.
More than often this won't be possible for many reasons but mainly down to the course not been as possible as you may think.
But you can look at some feedback on the Netz Commerce website but I wouldn't read too much into them as they can't be verified.
Related: Advanced Dropshipping Academy
Netz Commerce Review – PROs
Comprehensive Course If You Pay For The Advanced Course:
If you are going to get some benefit from Netz Commerce then we would suggest going for the advanced course.
In a short career, Netz has seen a lot of successes whilst he has also seen some failures in the early years but that is just part of the nature of business.
Netz Commerce Review – CONs
The Beginners Course Is Lacking Depth:
The beginner's package is very basic and a little disappointing as this information can be found all over the internet for free.
There Is No Refund Policy: 
According to the refund policy, there is no money-back guarantee attached to this course.
The reason given is that this is a standard policy for online digital products which we have never come across before.
The Overall Course Is Far Too Expensive:
We aren't sure why Luca Netz broke the courses down into individual courses except for making more money.
We would say that anybody looking to get into dropshipping would probably pay for the advanced course.
Otherwise, it could cost you thousands if you took each course individually.
Dropshipping Is Not As Straightforward As People Make Out:
There is always a bigger investment required when you start any new business because you need to pay for tools, apps, traffic etc
A Total Lack Of Third Party Reviews:
You have to ask the question, if a system, product or course is so good then why can't you find testimonials and reviews all over the internet.
Netz Commerce Review – Final Thoughts!
Overall I think Netz Commerce is a good training platform but only if you decided to purchase the advanced course.
We think the beginner and intermediate courses are somewhat lacking in educational information.
Another thing to bear in mind with dropshipping is that it has become a very popular business model and that can only mean one thing.
Competition, and whilst some competition is good too much can add to another thing that may get you to stop.
It is obvious that Luka Netz knows what he is talking about, just look at the number of educational videos that you can find on YouTube.
However, if you want to know what we do for a living then please read on.
Alternative Solution to Dropshipping
It's called affiliate marketing which is very similar to dropping shipping except you don't have to worry about using a digital store.
The principle is the same in that you are the middle person and direct the customer to the merchant except you get paid a commission on a sale.
It also means that you are not restricted and are much more flexible.
Is one of the best ways to create multiple income streams.
I have personally been a member of Wealthy Affiliate since 2017 and the main reason why I was able to kiss goodbye to my 9-5 job.
Just check out the reviews on Trustpilot.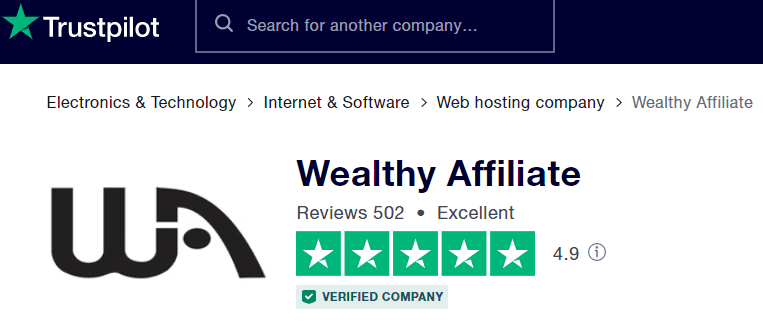 The training platform is a fully integrated one-stop-shop meaning that everything you need to succeed is in one place.
Education and training, Web development, Hosting your website, and a community that cares and is full of experience on many levels…

Netz Commerce Review – FAQs
Is It Worth Doing Dropshipping?
Whilst dropshipping is a very popular business model it is still worth the investment.
One thing that is for sure that is more and more people are on the internet today and looking for opportunities like this.
Granted the success rate is poor but it is across all business ventures.
Check out what Shopify has to say.
Do Most People Fail Dropshipping?
According to stats around 90% of people who start a dropshipping business fail within the first month.
These are a few reasons why people fail.
Choosing the wrong niche
Lack of patience
Not enough money to invest
Wrong platform
Shipping delays
The wrong supplier
Bad customer support
What Is The Success Rate Of Dropshipping?
This all depends on what you would classify as being successful.
The figure that we see mentioned a lot is between 10 and 20 per cent who are successful but that success is defined by the owner which is you.
How Much Does The Average Dropshipper Earn?
One thing you should know like any business this is not a get-rich-quick scheme and will take a lot of hard work on your behalf.
You should aim for 3 months before you start seeing profit and that is only if you have everything in place correctly.
Don't Fall Into The Trap When Someone Gives You A Sales Figure?
We see many who look at sales figures as profit but to give you some sort of idea is to take that figure and deduct around 50-60 per cent.
That way you will get a good estimate of what you can expect to make after deductions and tax.
Feedback, Comments And Subscribe
Thank you for reading this Netz Commerce review and hope you got some benefit and that we answered some of your queries.
If you have anything to add just drop us a line in the section below and we will get back to you.
Thank you for listening!
Take care!
Stay safe!