Welcome to this Shopify Freedom Review
This is the first course that Dan Vas created when he first started his drop shipping career in 2017.
Yes, I know why would anybody create a course at the same time you started your dropshipping business.
I mean, who gives you the right to market a course about a business that you haven't even got any experience in?
Anyway, that is for later but for now, you want to know who Dan Vas is and whether this Shopify Freedom course is worth the money.
First impressions don't look good.
You just get the feeling that this course was rushed through and what do you expect with the lack of experience he would have had at the time?
But before we start I would just like to introduce myself, after all, don't you want to know who I am and why you should listen to me?
I am Mick and I created this website to help people like you find your way in the make-money-online world.
On this website there are over 400 reviews of schemes, products and scams and whilst we have our fair share of poor products.
There are some decent courses in amongst them which should help you find your way.
---
Affiliate Disclosure: The Shopify Freedom Review has been thoroughly researched from information and testimonials that are in the public domain. This post may contain affiliate links which means we may earn a small commission, however, this won't affect what you pay!]
---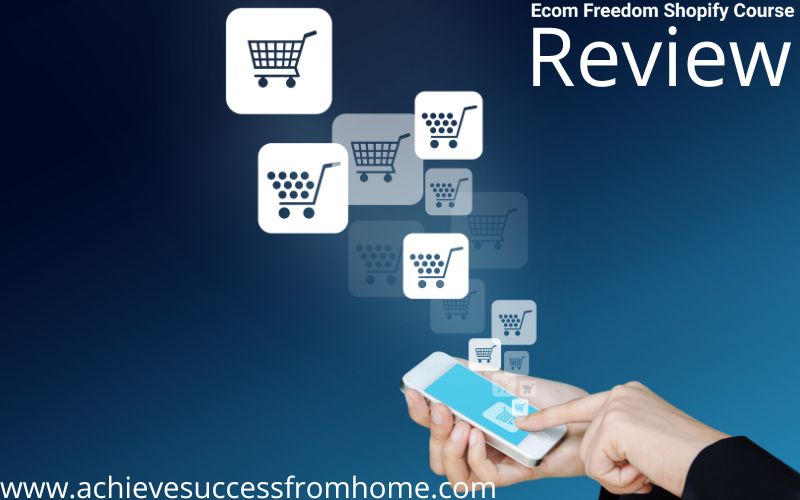 Product: Shopify Freedom
Founder: Dan Vas
Website: www.ecomfreedom.com
Product Description: Amazon FBA course
Cost to join: $97 – $1700
Recommended: Read this review first to find out
Summary: You might find it strange that someone who doesn't have any experience would create a course marketing themselves as an expert.
I know I do, which indicates to us that his intention all along was to market and sell his own product online which is certainly where the real money is.
I am sure now which is several years since this course came to market that he has been successful but at the time it was highly unlikely.
Shopify Freedom Review – TOC
What is Shopify Freedom About?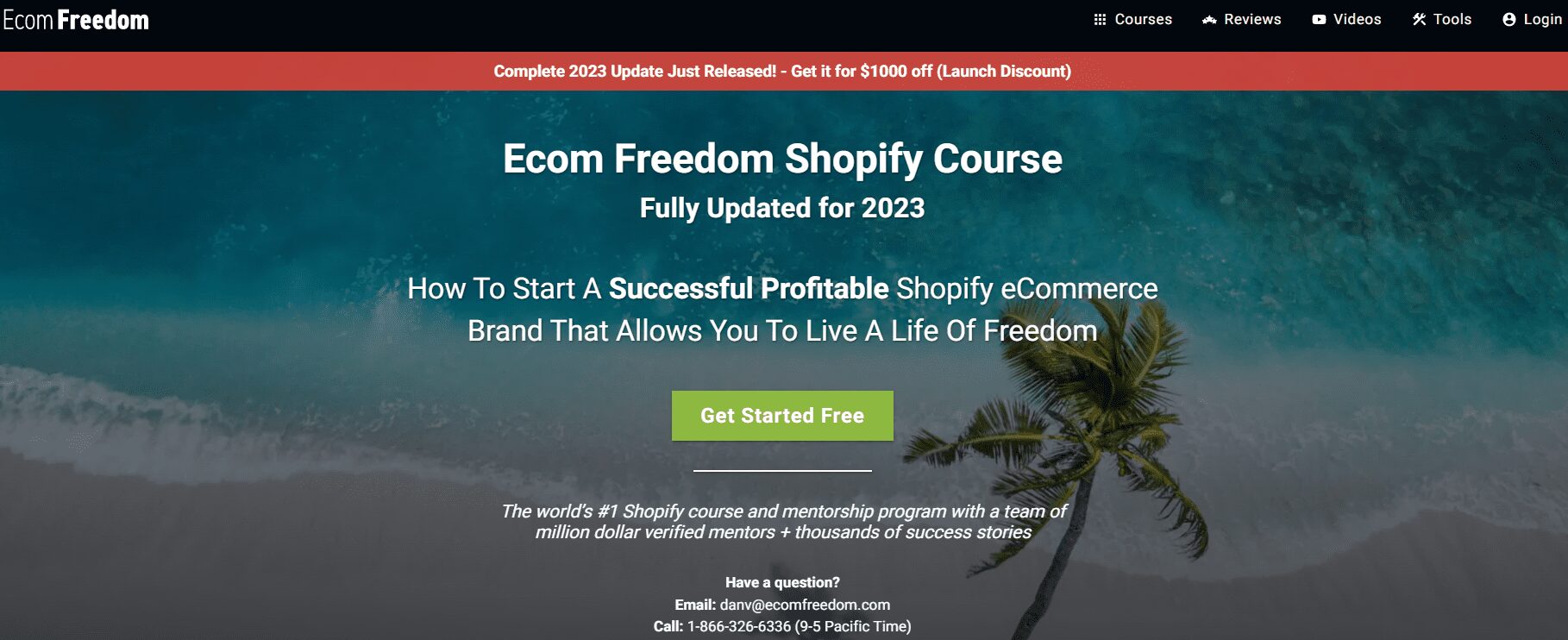 Shopify Freedom or Ecom Freedom Shopify which some identify it is a step-by-step training course that will take you to zero to $10k within 90 days.
Well, that is the claim that Dan Vas is making anyway.
As we have already mentioned this course was created the same year that Vas started his drop shipping career.
That meant that at the time he would have been failing more times than he'd care to remember yet he managed to create a course in Shopify.
For many, you would think that maybe after several years of experience that you would think about creating a course.
In fact, at about the same time he created Ecom Freedom and was criticized by many as being a scam.
Over the years this Shopify Freedom course has had a few changes where it has gone from a course with only 9 modules to where we are today with 16.
The course has now doubled in price so you would expect this to be a more than reasonable course.
But before we continue in this Shopify Freedom review we need to know just who Dan Vas is and whether he is a scam or not.
Who is Dan Vas?
Dan Vas is the person behind Shopify Freedom and also his most recent course Ecom Freedom which was created
at around the same time.
So Dan started his career in dropshipping with Shopify in 2017 and obviously realised that creating a course would be more beneficial.
Well anybody who starts a business venture within 12 months would not be classed as an expert but here we are with Vas making out that he is one.
This course that we are reviewing has had many updates since it first came onto the scene and whereas the original course was lacking in a lot of detail.
This current version is a little better, well it should be after so many claims regarding his initial attempt.
Since 2017 he has worked on his influencer skills through Facebook, Instagram and his YouTube channel.
Where he has over 440k subscribers and over 520 videos.
So just how has Dan made his money?
Is it through Shopify and Amazon FBA or is it through his YouTube channel and courses that he sells?
With over 15k students at $1,000 = $15 million.
I know which products I would be selling.
Related Review: Drop Ship Formula
What's Inside This Shopify Freedom Training Course?
Shopify Freedom comes with 16 modules with over 34 hours of video content.
Below are the modules that come with the Shopify Freedom course and a brief description.
One thing that we noticed that wasn't covered is automation and finding outside help to run the business so that you can take a back seat.
Module #1 – Welcome To Your New Future 
This module comprises 16 lessons and over three and half hours of video content introducing the course and who Dan is.
He also gives a brief introduction of what you can expect in this course and what the 7-day trial period course entails.
Module #2 – The Mindset 
In this module, Dan pays particular notice to the mindset and how important it is to start off on the right footing.
According to him, business is 80% mindset whilst the remaining 20% is actual work.
There are 14 lessons and nearly 2 hours devoted to the mindset.
Module #3 – Product Research 
With over 4 hours of content in this module and 17 lessons.
Vas goes into great detail about everything relating to the product and how to find the right products to promote.
What to sell and where to sell it, dropshipping vs bulk orders, branding, how to use AdSpy, spying on your competition…
How to use other social media platforms like Instagram, and TikTok to find product opportunities etc.
Module #4 – Choosing The Best Product 
In this module, he talks about having at least 5 top-selling products and about patents, seasonality and trademarks.
What to avoid when selecting your products and going through a product checklist to ensure this is the right product.
Modules 3 and 4 are extremely important and there are a lot of details here so you are going to want to skip over these.
Module #5 – Choosing Your Supplier 
Locating the right supplier is just as important as selecting the right products.
What you are looking for is reliability and being able to create a strong relationship.
Here lies the problem because most people who get into dropshipping do so by using Chinese suppliers which can come with all sorts of issues.
Poor quality, ridiculous lead times, orders fulfilled with the incorrect products.
All the above can have an adverse effect on your customers and bad reviews will go against you.
Nowadays more and more are moving away from Chinese suppliers and trying to source the product locally, obviously, costs are a big issue here.
Dan covers this topic pretty extensively with 21 lessons and nearly 4 hours of video content.
Module #6 – Creating A Powerful Brand
Branding plays an important role in any business and this is your identity and how people recognize you.
This module is all about creating a great brand name and logo that everybody is going to know you by.
Obviously using your brand on your products and packaging is going to add to your costs with print on demand.
Module #7 – Placing Your Inventory Order 
This module is pretty short and has only 6 lessons and could have gone into more detail.
Module #8 – Dropshipping Fulfilment 
This module is an introduction to CJ Dropshipping which is a competitor of AliExpress.
A look at the suppliers, processing and shipping times and costs.
Sourcing products on CJ Dropshipping, importing products, setting up a USA Drop and the benefits of USA Drop.
Module #9 – Bulk Order Fulfilment
In this module, Dan looks at the different routes of fulfilment, costs and fees etc.
Not too much going on in this module.
Module #10 – Creating Your Shopify Store 
In this module, there are 11 lessons with nearly three hours going into everything you need to know about creating your Shopify store.
How to set up your account, the legalities, how to add products, install the best apps, themes, landing page designs and so much more…
Particular focus on your store design and making it stand out amongst the crowd. First impressions and all that stuff.
Module #11 – Back End Marketing Systems
This module has over 4 hours of content and 20 lessons looking at the various ways to help in getting customers to your store.
He briefly talks about email marketing which is covered in just 3 minutes whereas you could have an entire talk for several hours.
A little disappointed here!
He covers the Klaviyo setup and integrations, campaigns, popups, welcome flow, abandons cart flow, SMS marketing, and signup forms.
Module #12 – Facebook Ads 
If you are new to Facebook marketing then you'll need to pay particular notice and over 5 hours of content should keep you engaged.
What you need to know is that Facebook like Google keeps changing their algorithm and making it more difficult for everyone.
It is also very easy to get banned on Facebook and you need a contingency for if this happens which Dans covers in the following modules.
Paid marketing is going to be key to any success you have and the amount of money that can be wasted normally can be staggering.
Module #13 – Organic Marketing 
With just short of an hour in this module, learn what organic marketing strategies are on Instagram, TikTok and Facebook.
Module #14 – Google Ads 
Another short module with just over an hour's content about Google Ads which only really explains what Google ads are.
This is a massive subject and does not show you anything of real substance, in fact, we thought this module was a complete waste of time.
Module #15 – TikTok Ads 
You might think that TikTok is for kids, well it is to some extent with their ridiculous 30-second videos.
But what we find nowadays are many marketers using this social media platform to a great extent to help in marketing.
If creating videos is not your thing, then guess what it isn't anybody's thing but people now realize that videos are where everything is leading so get with it.
Module #16 – Ongoing Store Operations 
This module just covers the everyday routine of running your business operations.
Related: Drop Ship Unlocked by Lewis Smith
Who is Shopify Freedom For?
Shopify Freedom is a far cry from when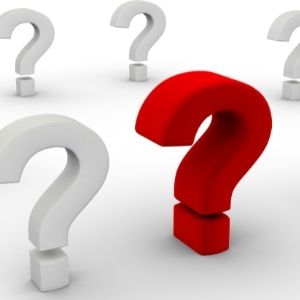 it first started way back in 2017 when Dan would have known diddly squat about e-commerce.
Since then the course has doubled in size and also doubled in price and whilst the course is better it still lacks a lot of detail.
If you are a complete beginner then you will learn all the basics and with a price tag of $1,000 might be beyond most people's budgets.
Related: Savage University
Can You Really Make Money With This Shopify Freedom Course
Of course, you can make money with Shopify Freedom but it all depends on whether you are taking this business venture seriously or not.
Most people and we are talking about 90% and more fail in dropshipping because of many things.
But mainly, the wrong mindset, lack of investment, too impatient, listening to the nay-sayers as well as a host of many other things.
Let's look at it this way.
If you were opening a retail business on the high street would you say to yourself, I'll give it a few weeks and see what happens?
Off course, you wouldn't, but because it's the internet people look at a business differently.
If you went into an online business the same way as a retail shop then three would be more people making a success of it.
All the information is there for you in this Shopify Freedom course to make it a success but any doubts and you might as well never have started.
Is Shopify Freedom Worth The Money?
When this course first came onto the scene in 2017 three were many people complaining about it, after all, Dan had hardly started in Shopify.
If you read some of the Shopify Freedom reviews from that period then you will know what I am talking about.
But since then this course has had many changes and you'd expect Dan to have the experience now and it's reflected in the course.
The course started life around $500 and now is double that price but the course has doubled in size so we think the course is worth it.
Shopify Freedom Costs And Refunds
As of this review, the Shopify Freedom course will cost you $997 if you pay upfront but don't forget you have a 7-day free trial that you can take advantage of.
We understand that the course may well be going up considerably so you'd better hurry up if you are thinking about this course.
Can You Pay For Shopify Freedom With Instalments?
Yes, you can and there are 2 methods of payment available.
2 * monthly payments of $547 = $1,094
3 * monthly payments of $397 = $1,191
Are There Any Upsells With Shopify Freedom?
No there aren't any upsells with Shopify Freedon, what you see is what you would pay for.
Is There A Free Trial With Shopify Freedom?
As we have mentioned there is a 7-day free trial which should give you enough time to decide whether Shopify Freedom is for you or not.
Remember, if you don't wish to continue with the course get in your cancellation well before the 7 days is up otherwise you will be billed.
To cancel you will have to email support@ecomfreedom.com.
Does Shopify Freedom Come With A Refund?
There is no refund with Shopify Freedom so once you have extended the free trial period you will be charged.
Related: Drop Shipping Blueprint
Is Shopify Freedom a Scam or is it Legit?
We can't really say that Shopify Freedom is a scam although many did claim this when it first hit the scene back in 2017 and we can see why.
How can anybody become a master of his trade within 12 months, but that's exactly how Dan Vas portrayed himself back then.
Doctors, lawyers, carpenters, plumbers, electricians, and nurses all have to have extensive training which takes years not months.
So we will leave that with you!
What we do know though is that Dan Vas has made more money by selling his Shopify Freedom and Ecom Freedom course.
Then any dropshipping or Amazon FBA store.
Something we can't verify is whether he has made any money through dropshipping or Amazon FBA!
Now it's 5 years down the road and this course has had a lot of amendments added which is reflected in the price tag.
So know Dan Vas isn't a scam but we wouldn't recommend purchasing any of his courses either.

Shopify Freedom Student Reviews 
Trustpilot rates Shopify Freedom with a 4.5 out of 5 but you must understand.
That these reviews are a combination of both Shopify Freedom and Ecom Freedom.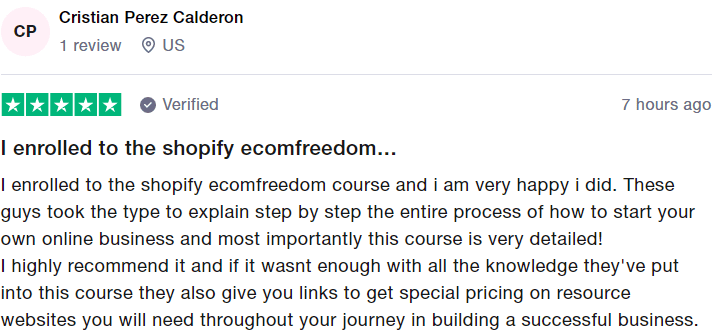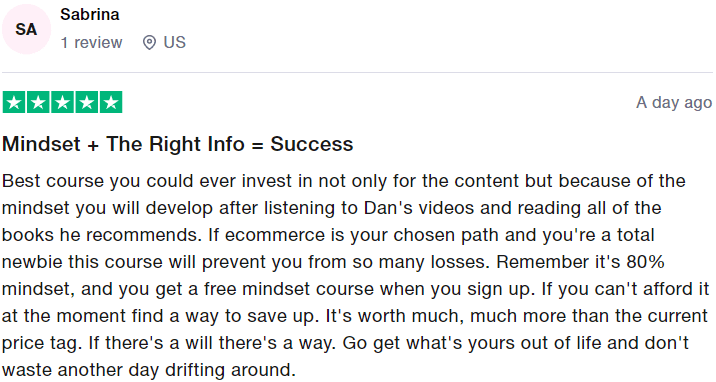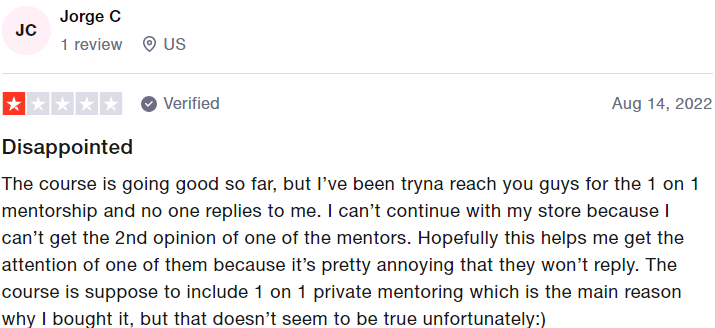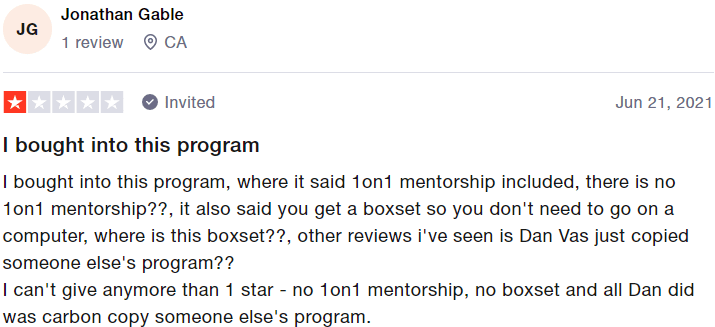 Related: Advanced Dropshipping Academy
Shopify Freedom – PROs
The Course Has Seen Some Changes Since It First Came Onto the Market:
Since 2017 the course has had many changes and has been extended considerably from 9 modules to 16 modules and the course has tripled in price.
Great Feedback From Students:

Shopify Freedom – CONs
How Did Dan Vas Actually Make His Money:
Dan started his dropshipping business in 2017 and went through a number of failures as everybody does.
But he was quick to create this Shopify Freedom course without any experience behind him.
He also created another course Ecom Freedom around the same time so you have to ask the question how can anybody become an expert within 12 months?
No Mention Of Automation And Outsourcing:
something that was missing in the course was outsourcing and automation which is what you would eventually be looking to do.
After all, you don't want to work 24/7 as the whole point of starting a dropshipping business was to free up time for the family
Dan Speaks Extremely Fast:
Whether he can grasp concepts easily or not people taking the course are not going to be able to and there is no reason why he could not have slowed down.
My past experience in business with people talking fast is that they are highly intelligent or they are full of CRAP.
Shopify Freedom Review – Final Thoughts!
If you go by the reviews on Trustpilot then this course should be up there as one of the better Shopify courses.
But with doing a little digging we have come across people complaining that the 1 on 1 mentoring isn't actually as it is described.
In fact, it doesn't really happen and the replies that people do get are very vague and with no real in-depth explanation.
He is also known to ban people in the Facebook group if he doesn't like what you are saying so remember not to be negative.
I am still not convinced that Dan made his money in dropshipping or Amazon FBA.
Do the maths!
If there have been over 15,000 people who have joined at the lower price of $500 instead of the current price of $997.
That's $7.5 million in revenue and that's just from Dropify Freedom, what about Ecom Freedom where that costs $1,497?
I guess we are probably talking about $15 million just on these 2 courses so why would you even bother with Shopify and Amazon FBA?
The risks far outweigh what he is making with his courses.
Just my opinion!
Is This a Better way to Make Money Online
It's called affiliate marketing which is very similar to dropping shipping except you don't have to worry about using a digital store.
The principle is the same in that you are the middle person and direct the customer to the merchant except you get paid a commission on a sale.
It also means that you are not restricted and are much more flexible.
Is one of the best ways to create multiple income streams.
I have personally been a member of Wealthy Affiliate since 2017 and the main reason why I was able to kiss goodbye to my 9-5 job.
Just check out the reviews on Trustpilot.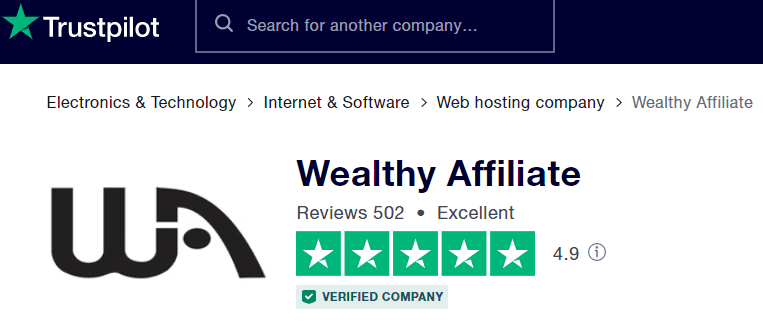 The training platform is a fully integrated one-stop-shop meaning that everything you need to succeed is in one place.
Education and training, Web development, Hosting your website, and a community that cares and is full of experience on many levels…

Feedback, Comments And Subscribe
Hope you guys enjoyed this Shopify Freedom review and that we managed to help you decide whether to pursue this course further or not.
Thank you for listening!
Take care!
Stay safe!